NOTE: We earn from qualifying purchases made via Amazon Associates and other affiliate programs. Learn more.
Are you looking for the best bed frame brackets?
Well, you are definitely at the right place!
Having a strong bed frame bracket is quite essential these days, as it is one of those core components which enhances the structural toughness of the bed.
Hence, this guide will brief you about some of the best bed frame brackets that you should use in your beds to make them more stable.
This detailed buying guide will give you a brief overview about some of the most strong and robust bed frame brackets available in market.
It enlists some of our top picks of the market, and will also compare them in detail according to pricing, toughness and other major factors.
So, let's explore below the best bed frames brackets you could buy today.
---
Whats On this Page
---
Best Bed Frame Brackets in 2023
Disclaimer: All links below go to Amazon.com
| | Bed Frame Brackets | Best For | Compatibility | Price |
| --- | --- | --- | --- | --- |
| | Zinus SmartBase brackets | Best for Zinus smartbase bed frames | 10-18 inch Zinus Smartbase bed frames | $$$ |
| | Ronin Factory | Best bolt-on to hook-on adapter brackets | Bolt-on bed frames & hook-on headboards | $ |
| | Bed Claw #10 | Best bed rail hook plates for wooden beds | Wooden beds that use hook plates with pins 2" apart | $ |
| | Kilofly | Best 4-piece set for headboard & footboard | Wooden beds that use hook plates with pins 2" apart | $ |
| | Kings Brand Furniture | Best footboard extension brackets | Bed frames with a headboard-only design | $$ |
| | Richohome | Best surface-mounted | Wooden bed frames | $ |
| | Desunia | Best heavy duty | Wooden bed frames | $$$ |
| | Linenspa | Best for metal frames | Metal bed frames | $$ |
| | CAFORO | Best modification plate brackets | Metal bed frames & headboards with a width difference of 4" or less | $ |
| | ZIYOO | Best mattress retainer brackets | Metal bed frames with non-recessed slats | $ |
---
Zinus was founded as an outdoor furniture company in 1979.
After making a name in the outdoor market by selling garden furniture, tents, etc. they chose to expand their focus indoors too.
Today, they produce mattresses, pillows, bed frames, and accessories.
Design and Construct
Zinus Headboard Brackets includes a set of two. These 18-inch premium-quality smart base brackets have the format of keyhole brackets.
They are composed of steel and give mechanical support to the frame all along its length. There are slots on the bracket which are intended for adjustable sizing.
This set comes with two brackets for the headboard. They may also be used for the footboard.
They may be used legs that are 18 inches high or can serve as legs' base. The sturdy steel holds keyholes carved into them that can be applied smartly.
Functionality
These brackets are quite easy to install. The brackets should be fitted from the outer part of the bed.
The type B screws are fixed through the slots in the leg. While the type-C screws are fastened into the frame of the bed.
The brackets come with great instructions that have you set in 15 minutes.
Just engage the safety hooks on the top of the mounts. Adjust the holes and fit the screws in place. These brackets fit adjusts to all the Zinus bed frames, which are made of metal.
Capacity
Zinus Headboard Brackets is triangular with a height of 18 inches. The weight is 4 pounds.
Added Features
Zinus Headboard Brackets arrive in a box. They have two brackets, four B-type and C-type screws along with an Allen key. A 5-year warranty supports these brackets.
Zinus Headboard Brackets are made up of high-quality steel and powder coated in black. Although these brackets are intended to be used with the 18-inch SmartBase bed frame by Zinus, they are suitable for any bed frame.
---
Ronin Factory designs and produces automotive and firearms products. They make high-quality products that you will not get anywhere else.
Design and Construct
The Ronin Factory Hook-On Bed Frame Brackets with an adaptor is the bolt-on kind of hook and claw bracket set.
It is composed of high-quality steel and glazed with zinc. These long-lasting brackets will take the headboard's weight.
The package includes two brackets and bolts to install the hook bracket to the headboard. You'll need to purchase another set to fix your footboard.
Functionality
Ronin Factory Hook-On Bed Frame Brackets is perfect for attaching a new metal frame to your old headboard. The hook and claw design are made of 25% thicker steel.
It is 0.10-inch-thick providing more stability to the headboard. The instructions are easy to assemble the brackets. You may use these brackets to fit your footboard too.
The adaptors are designed to complement the brackets ideally. The hardware necessary to match them is included. The offset mounting pattern provides versatility to these brackets. There is an adjustment plate that will help you in getting a better fit anywhere.
The simplest way to install the bed hook bracket it to put the bracket into the dent in the headboard. Then connect the bed frame and screw the two ends tightly at two points.
With this, you can turn a bolt-on bracket into a hook-on bracket. The adaptor plate can help by shifting the bed frame equivalent to the width of the adaptor plate on either side.
Capacity
Ronin Factory Hook-On Bed Frame Brackets weighs 15.2 lbs and is 8 inches long, 2.2 inches wide, and one inch thick.
Additional Features
Ronin Factory 711 comes with a 90-day warranty.
Pros:
Hook-on to bolt-on conversion
Package includes brackets & adaptor
Constructed of heavy steel
Cons:
Failed to work on a full-sized frame
Received a ripped empty package
---
Bed Claw is an American manufacturer owned by Homeplace Group, Inc. These numbers 10 Hook Plates can help you fix, restore, or augment your bed. All these hooks are made of good quality steel and ideal thickness.
Design and Construct
Bed Claw 21863 will work as a replacement for hook plates that have been damaged. These hooks can be used to build a new bed too.
These plates are built of 13 gauge steel and are of a standard configuration that will suit most American beds. It would be good to measure the distance between the two pins in your headboard and footboard to verify if they are 2 inches apart.
This will assure you have the right hooks to do the job. The mounting holes have a diameter of 0.34375 inches. There are eight mounting pins and four claws in a set. These plates are coated in nickel to make them rust and corrosion-resistant.
Functionality
If you're into old furniture, Bed Claw 21863 are the hooks to repair it. It goes suitably with those treasures you may get in the thrift shop.
Hook plates are perfect for retrofitting wooden rails or installing rails on any structure. They work well with the headboard, footboard, and rails. Measure the distance between the hooks to choose the plate for mounting holes.
In this modern era, when the earth is threatened by the overconsumption of resources, it's wise to reduce, reuse, and recycle. This means every piece of furniture can be augmented or fixed using these claws.
Think green, and do not throw the furniture away. Rather than spending tens of thousands, reuse and restore the furniture.
Capacity
Bed Claw #10 Hook Plates are 2.4 oz in weight. The sizes are 3.4 X 2.7 X 0.3 inches.
Extra Features
The Bed Claw #10 or Bed Claw 21863 Hook Plates includes a lifetime warranty.
Pros:
Versatile
Fits most beds
13 Gauge steel
Cons:
---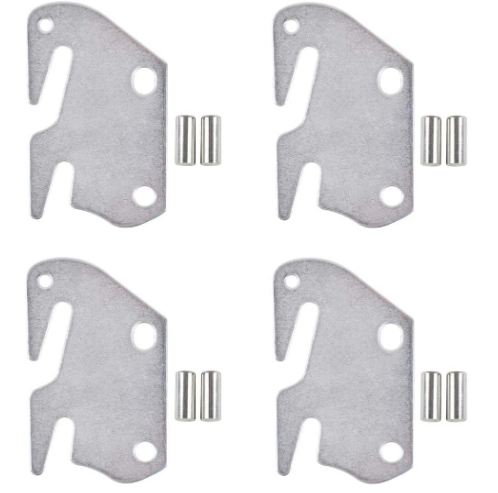 Kilofly is an online seller of an eclectic combination of homeware. They sell gamer glasses, socks, aprons, glazed pots, nature explorers kit, neckties, etc. They also sell women, tutus, placemats, party costumes, gym bags, etc.
Design and Construct
Kilofly has a number 10 hook plate and four brackets in a set. This set is of excellent value as you get 4 sets of top remarkable number 8 pins and 10 hooks.
These hooks are 0.34375 inches in diameter. The set is made of heavy-duty 13-gauge steel that suits most beds.
The design is streamlined and so simple that it fits most beds. The hook plates and pins are corrosion-free and rust-resistant as the set is made from premium zinc-coated steel.
The hook plate and pegs are built of high-quality load-bearing material.
Functionality
Kilofly Brackets and Hook Plate Set is very simple to install.
Just drill holes in the rail to adjust two pegs. Then fit the pegs into the two slots. Fit two of the left pegs into the side or in the recess of the headboard. Then, bring the rail with the hook closer to the headboard and fit them over these pegs.
Make sure that pegs or hooks are two inches apart for the hook plates to fit. You will need to make 11/32-inch holes to fits these pegs. Now fix these pegs into these holes with a mallet or hammer.
As noticed by the mounting process, these hooks and brackets are perfect for wooden beds, but as the pattern is simple, they can be welded onto a metal bed or used as a bolt-on too.
The set is standardized and built of 13 gauge that is perfect for most beds. The design of the pegs and plate makes them flexible and a suitable replacement for damaged hooks.
Capacity
Kilofly Hook Plate and Brackets Set is 5.5 X 3.9 X 0.1 inches thick. The plates have a weight of 10.6 ounces.
Additional Features
Kilo Brackets and Hook Plate Set is supported by a lifetime warranty.
Pros:
Premium quality steel
Versatile hook and peg design
Cons:
The package was tampered with
---
Kings Brand Furniture sells wood and metal furniture and accessories. These accessories include mounts, adaptors, foot and headboard extensions, etc. They sell furniture, replacement wheels, raisers, glides, and support legs.
Design and Construct
Kings Brand Furniture SYNCHKG111296 is footboard extension brackets set of a bed frame. This set contains extension rails that would work with a bolt-on style footboard.
These are perfect if you would like to bring a footboard with no brackets to a frame. But always make sure you have joined these to the footboard before fitting to the frame.
Functionality
These brackets are a footboard extension that will help you convert your bed into a twin, full, queen- or king-sized bed. These universal extensions connect to beds with only headboards.
The footboard can be connected after the extension has been fixed. These extensions are made for a secure connection that limits shifting and squeaking. The package contains the extensions and the necessary hardware, such as nuts, bolts, etc.
To build a bed with extensions, set the headboard against a wall. Then set the footboard at the opposite end. Join the extensions to the footboard. Now install the rails and attach them to the headboard. Attach the extension to the bottom end of the bed frame with a bolt-on mechanism.
Check if the bed is stable. The advantages are that these extensions work with any frame. The extensions are made from steel, which lends heavy-duty support. They've been tested to withstand extremely heavyweight.
Capacity
Kings Brand Furniture SYNCHKG111296 is 2 inches wide, 16 inches long, and 4 inches thick. They weigh 2.36 lbs.
Additional Features
Kings Brand Furniture SYNCHKG111296 comes with a lifetime warranty.
Pros:
Connects with headboard-only beds
Fits with bolt-on footboards
Heavy-duty support
Powder-coated black
Withstands heavyweight
Made from heavy-gauge steel
Cons:
Incorrect parts in the set
---
Richohome is an online seller of bed mounts, candle-making wick holders, grill scrapers, hook plates, etc. They also make jewelry organizers, non- mortise bed fittings, disposable plates.
They sell an eclectic mix of glitter stickers, travel journals, lobster crackers, and forks.
Design and Construct
These non-mortise bed brackets are galvanized in zinc and made of high-quality steel.
A set includes four pairs. One side consists of two hooks while the other is fixed with the bolts. The hooks work with these nuts, and hold them in a secure firm grip.
There are four pairs – two for the footboard and two for the headboard.
These brackets' design is so versatile it can be used with anything like couch and bed frames, headboards, footboards, and bed rails. They may be used to repair old furniture and construct or assemble a new one.
Functionality
These brackets do not come with screws. They need to be bought separately.
These brackets' advantage is they are non-mortise. This means you don't have to knock out niches in the head and footboard to fit these brackets. They can be screwed onto the wood's surface.
The other advantage of these brackets is that the furniture can be installed with ease. And it can be dissembled quickly for smooth shifting. The sturdy steel brackets are heavy-duty and can bear significant amounts of load
Capacity
It comes in a set of 4 hook plates and bolt-on plates.
The bolts are 3.6 X 2.6 X 1.9 inches. Their weight is 1.05 pounds.
Additional Features
These bed rail brackets come with a lifetime warranty.
Pros:
12-gauge steel
Galvanized to make rust and corrosion resistant
Non — mortise
Cons:
Brackets didn't hold the headboards
Moved the mattress it tilted out of shape
---
Looking for heavy-duty brackets that can support a heavy headboard or footboard? We recommend this set of four surface-mounted wood bed frame brackets. 
Pros 
Easy surface-mounted installation – no cutting needed. 

Heavy-duty steel construction. 

Complete a 4-piece kit with all the hardware you need. 
Cons
Costs more than most brackets. 
Our Review
The Desunia bed frame brackets are designed for installation on wooden bed frames. It allows you to attach a headboard and footboard to a wooden bed frame. 
The brackets are made with thick ⅛" steel, making them incredibly strong and perfect for supporting a heavy headboard or footboard. 
The heavy-duty construction also ensures there's no wobbling or squeaking once you install the headboard. 
Installation is pretty straightforward. One part of each bracket attaches to the bed frame while the other attaches to the headboard or footboard. 
You'll need a drill to secure the brackets using the included screws. 
Issues & Limitations 
Probably because of the heavy duty steel, the Desunia bed frame brackets are more expensive than most others. 
If you are shopping for cheap bed frame brackets, these are probably not what you are looking for.
---
The Linenspa headboard brackets are compatible with most metal platform beds. They also accept most kinds of headboards and footboards. 
Pros
Perfect for metal bed frames. 

Universal compatibility with headboards. 

Solid steel construction. 

Easy to install. 
Cons
The set includes only two brackets for the headboard. 
Our Review
The manufacturer says these brackets are specifically for the Linenspa bed frame. However, they are also compatible with most other types of metal bed frames. 
Just make sure your bed frame has pre-drilled holes for headboard installation. 
The Linenspa brackets let you attach just about any headboard you want. The brackets have multiple slots to fit different sizes and styles of headboards. 
Installation is pretty easy. But if your bed frame doesn't have holes or the existing holes don't align with the brackets, you'll need to drill new holes. 
The Linenspa bed frame brackets are made with solid steel, ensuring proper support and durability. They are finished in black, which blends well with the bed frame (but only if you have a black bed frame). 
Issues & Limitations
This set comes with just two brackets for the headboard. If you also want to attach a footboard, you'll need to order two sets, which makes the complete kit fairly pricey.
---
The CAFORO modification plate bracket lets you attach a slightly mismatched bed frame and headboard. For instance, you can attach a full size headboard to a Queen size bed frame or the other way round. 
Pros 
Allows compatibility between a differently sized headboard and bed frame. 

Easy to install. 

Can also be used when the bed frame holes don't line up with the headboard.
Cons 
The plates feel a bit flimsy. 
Our Review 
A bed frame modification plate bracket can be a lifesaver if you have a headboard that's smaller than your bed. 
Instead of buying another headboard, just use the modification plate to join the two. 
The CAFORO modification plate has an off center design with wide slots that accommodate the width difference between the bed frame and the headboard. 
You can attach a full size headboard (or footboard) to a Queen bed and a King size headboard to a Cal King bed frame. 
It also works the other way round: you can attach a slightly larger headboard to a smaller bed frame. For example, a Queen size headboard to a full size bed frame. 
The most important thing is that the width difference between the bed frame and the headboard be no more than 4 inches. 
The CAFORO modification plate is also handy if your headboard doesn't match the holes on the bed frame. 
Secure the plate to the bed frame, then the headboard to the plate. 
Issues & Limitations
The CAFORO modification plate brackets are made with steel, but it's not heavy-duty steel. Many users feel that it's a bit flimsy. 
So be careful about using it with a heavy headboard or footboard.
---
These ZIYOO non-slip mattress gaskets are different from other types of brackets. They are not for attaching a headboard or footboard. 
Instead you use them to keep your mattress from sliding around on the bed frame. 
Pros
Keeps your mattress from slipping. 

Easy to install – no hardware needed. 

Strong steel construction. 
Cons 
Nothing to protect the bed frame from scratches. 
Our Review 
If your metal bed frame comes with recessed slats (meaning there's a lip all around the frame that keeps your mattress in place), there's no need to get these ZIYOO retainer brackets.  
These are helpful if your bed frame slats are at the same level as the side rails, so your mattress is constantly sliding off the frame. 
Install the ZIYOO retainer brackets around the bed frame. There are six brackets in the set, so you can distribute them on the sides, top, and bottom of the frame. 
The brackets don't need any screws or hardware to install. Just push them over the bed rails. Make sure the rails are 25mm (0.98 inches) thick to ensure the brackets fit snugly. 
If your bed frame rails are thinner than this, attach sticky felt pads onto the rails then slip on the retainer brackets. 
Alternatively, get the 12mm brackets. ZIYOO also has large 30mm brackets for bed frames with thicker rails. 
The ZIYOO brackets are made of steel and are strong enough to retain a heavy mattress without bending. 
Issues & Limitations 
The inside of the ZIYOO non-slip mattress gaskets is all-metal. So there's a chance they can leave scratches on your bed frame. 
If this is a concern for you, you can attach tape or some other adhesive material onto the bed frame at the points where you'll install the brackets. 
---
Bed Frame Brackets Construction Techniques
The various frames, materials, and styles of beds are put together using a variety of techniques. With the screws, glue is used for extra strength when assembling the frame.
But you must remember that if you shift from home, you have to fit these beds of differing sizes — varying from twin to California king– through the door.
Then the strongest and simplest way of constructing the beds is using rail or mattress frame mounts.
Each pair of mounts has two interlocking components. One of these parts is connected to each of the horizontal rails. While the other mating parts are connected to the foot and headboard.
Once these components are nailed or screwed to the frame, they are hooked together to make a sturdy and robust joint. When required, these joints are easily undone.
---
Various Kinds of Bed Frame Brackets
There are many kinds of brackets to connect the side rails and headboard and footboards. These brackets can be found in varying sizes to accommodate any thickness of the rail and length of the leg.
They are made from steel and may or may not be plated with zinc. These are surface mounted brackets that don't need tenon and mortise joints. Just screw the plates into the head/footboard and rails.
The 90° Bed Corner Brackets join the corners with a strike plate and a hook plate. These brackets let you disassemble and transport the bed without difficulty.
Keyhole 90° Link Angle Brackets are fitted with screws into the corner. The bolt merges with the keyholes on the opposite plate holding it in a safe grip. The bracket is durable because it is made of one piece of metal. Flipping the mounts make it simple to use on the right and left side.
Bed Corner Brackets with Bolts for 90° Connection is made up of metal plates, hook brackets and corner bolts. The hook blends and holds on to these corner bolts in a safe grip. Usually, a set includes 2 left and 2 right hook brackets and 4 pegged metal plates with corner bolts.
90° Bed Corner Connecting Brackets with Dual Hooking System — consists of a set of curved L-shaped brackets that hook to one another and screwed into place.
Bed- Loc Corner Brackets are solid fixing systems in which the bracket is attached to the corner. A set includes 4 angles with threaded bushings, bolts, wood screws, and an Allen Key.
Bed Rail Fasteners help join the bed together. Both halves of the brackets need mortising the head, rails, and footboard. They are made from heavy steel and need chisel, drill, mallet, and its parts to mount.
Bed Corner Brackets are triangular trays equipped with screws in the edge of the frame. The tray provides support to the mattress or the box spring, while the sides hold the railing and head or footboard together.
---
Essential Features to Consider When Buying Bed Frame Brackets
There is a wide variety of bed frame brackets available in the market. You may use them to create your own bespoke bed or repair a broken frame.
They are available in a beautiful range for all kinds of bed frames. You can use them on upholstered or wooden bed frames. They can be found in a variety of depths, widths, and heights to offer you a secure and perfect fit for your bed frame.
Consider the following aspects while choosing bed frame brackets:
Legs or feet – The thickness of the railings can help you decide which bed frame mounts to use. If the headboard and rails are large and thick, you'll use larger sturdier brackets.
If they're slim, then you'll select the ones that match the dimensions that fit in the corner while creating a sturdy joint. In case you have an upholstered bed or one with wide side rails equipped with the headboard and footboard, your bed may stand on feet. In such kind of bed, you can use more solid bed frame brackets.
The sizes of your bed's legs – The height, length, and breadth of your bed's legs will determine what sizes of Bed frame brackets you will need. As there should be sufficient space to fix the bracket in that corner.
Assembly and Disassembly – Select Bed frame brackets that allow you to assemble and disassemble the bed easily.
If you move frequently, this quality of the feature of the brackets is beneficial. As they ease the use of simple tools to assemble and disassemble the bed. Some Bed frame mounts allow tool-free assembly or disassembly when they have been fitted into the frame such as the 90-degree connection brackets, hook brackets, etc..
Height Of Your Bed Rails Or Frame – Bed frames are not similar to bed rails. Bed frames are independent structures that hold the box spring and mattress by itself.
You don't need a head and footboard to support the structure to stand by itself. The frame is completely connected, and the pliers or beam throughout the frame offer added support to the construction.
On the other end, bed rails are coordinated rails independent of one another. This bed needs a head and footboard to stand. These parallel rails could be connected by another railing at the center. These joints between the rails, headboard, and footboard depend upon the size of the bed.
The average height ranges from 18 — 36 inches. Most contemporary beds are 18 inches high, while standard beds might be 25 inches high, and classic or old-fashioned beds maybe 36 inches off the ground.
Ease of fitting – it should be simple to attach the Bed frame brackets into the bed. They should be compatible with wooden and metal frames.
---
Bed Frame Brackets: Frequently Asked Questions
What are bed frame brackets used for?
Bed frame brackets connect a bed frame and a headboard or footboard. 
In traditional wooden beds, bed frame brackets are an essential part of the bed's structure. That's because they are the only connection between the side rails and the headboard and footboard. 
Without the brackets, the bed cannot stand on its own. 
In modern bed frames, brackets are added to a complete bed frame. They are there just to hold up the headboard or footboard. 
Can I use bed frame brackets on any type of bed?
There are no truly universal bed frame brackets. There are different types of brackets for different types of beds. 
For instance, wooden beds use different kinds of brackets from metal bed frames. 
If you have a vintage headboard, you may also need a special type of adapter bracket to make it compatible with a modern bed frame. 
Do I need a professional to install a bed frame bracket?
No, you don't. Bed frame brackets are designed for easy DIY installation. You may need to do a bit of drilling, but it's easy work if you have the tools. 
In fact, you can also go ahead and attach the headboard yourself. 
Of course, you can always call a pro if you need help. Just know that it'll cost you. 
Can I attach a footboard to any bed frame?
Most headboard brackets can also be used to attach a footboard at the bottom of the bed. Check to see if your bed frame has holes for the footboard.
If it doesn't, you have to drill new ones. Alternatively, get one of those extension brackets that let you attach a footboard to a headboard-only bed frame. 
Can I mount a headboard on the wall?
If attaching a headboard to your bed frame seems like too much of a hassle, another option is to attach the headboard to the wall right above the bed. 
You'll need sturdy wall mounting brackets like these ones from Picture Hang Solutions.   
You can also get a headboard designed to be mounted. It'll be lighter and may come with all the hardware you need to mount it. 
---
Conclusion
Summarizing the above, it is quite clear that you should always use best-in-class brackets for your bed frames to make them more stable and strong.
Therefore, this guide is precisely crafted to help you out in the same cause, to let you choose the best brackets for your bed frames so that their structural robustness always remains steady.
---
Affiliate Disclosure
Affiliate Disclosure: I may earn a small commission (at no cost to you) if you purchase a mattress after clicking a referral link or using a coupon code on this site. That said, all content and opinions on this site are my own and are NOT affected by these payments.
This site participates in the Amazon Services LLC Associates Program, an affiliate advertising program designed to provide a means for sites to earn advertising fees by advertising and linking to Amazon.com.
*Amazon and the Amazon logo are trademarks of Amazon.com, Inc, or its affiliates.
---