NOTE: We earn from qualifying purchases made via Amazon Associates and other affiliate programs. Learn more.
Shopping for a heated mattress pad?
With winters getting colder each year, a heated mattress pad is a must-have. Let us help you choose a suitable one from our list of the top five best-heated mattress pads. 
---
What's In This Buying Guide
An easy and convenient solution to the cold bed problem is heated mattress pads. They not only keep your bed warm but also add a little cushioning. 
To help you out, we have gathered the top five best-heated mattress pads in this buying guide. Some come from notable brands, while others have unique features or rave reviews.
Shop a suitable one from our list by comparing them against the buying guide at the end of the article. It will most certainly help you choose better. 
---
Best Heated Mattress Pads
Disclaimer: All links below go to Amazon.com
---
The Sunbeam Heated Mattress Pad is one of the best products we have seen. With 5 ounces of filling, it is one of the most comfortable mattress pads. It gets warm quickly and instantly improves the overall feel of the mattress. 
Pros
Evenly circulates heat throughout the bed

It is one of the more affordable and cost-efficient models 

You can choose a personal heat setting from the ten different heating levels 

Sufficiently filled for added comfort 

Machine washable for ease of cleaning 
Cons
The cables are inconveniently connected on top rather than at the bottom

Automatic shutoff is locked at 10 hours 
Our Review
The Sunbeam Heated Pad is a versatile heated mattress pad that does it all while staying within an affordable range. It features a durable polyester build with a moisture-wicking cotton topper. There are five ounces of fill inside the pad, and the surface is quilted for more comfort.
It is so soft that you cannot feel the wires underneath yourself. The plug-in port is towards the bottom, while the controller is attached towards the top. 
The easy-to-use controller offers ten different heat settings, which gives you a wide range of temperature levels to choose from.
You can adjust the warmth according to your preference and enjoy a good night's sleep with this spread underneath. Another feature that makes it very comfortable is its fine thermostat wiring that is insulated with fiber.
Unlike the big and bulky wiring installed inside otter mattress pads, this wiring ensures that you don't feel a thing. As a safety measure, it also has an automatic shutoff feature that prevents overheating. 
The mattress pad is also useful for pain relief. The heat gently soothes the aching muscles to eliminate body pain as you sleep. So elderly people will find it a useful addition to their bed. Similarly, youngsters will also like it for the comfort and ease it delivers.
And the best part is, it comes in a variety of sizes to fulfill the varying demands of buyers. Whether you have a twin bed, full bed, queen-sized, or even a king-sized bed, you can easily purchase it in the appropriate size. 
---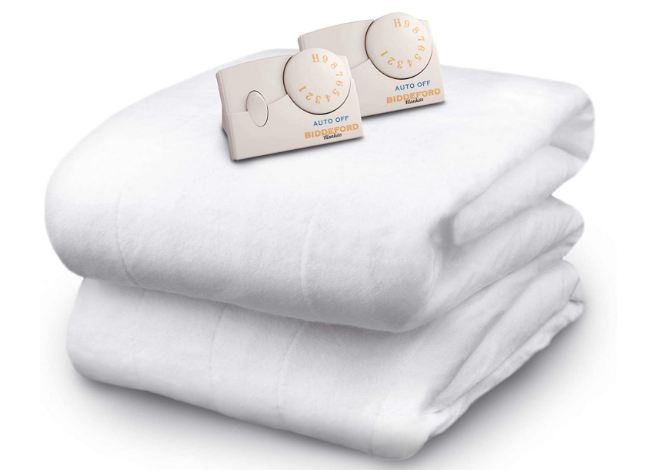 Polyester heated mattress pads are generally cheaper than their cotton counterparts, but they deliver similar comfort and coziness. This polyester version from Biddeford Blankets proves so. It comes with an analog controller, making it very simple and easy to use. 
Pros
Made with 100% polyester fabric

Bigger sizes come with dual controllers and heat zones 

Backed by a 5-year limited manufacturer warranty 

Suitable for all sleeping positions 

It comes at a budget-friendly price 
Cons 
Connectors are placed near the foot

It does not support preheat functionality 
Our Review 
If you are looking to substitute your expensive heating system with a more affordable heated mattress pad, look into getting the Biddeford Electric Heated Mattress Pad. It has a 100% polyester construction that makes it very soft and fluffy.
And it comes in a large variety of sizes so you can easily find a suitable one for your mattress. Whether you have a mere twin bed or a fully-fledged California king, this mattress is available in all sizes to facilitate customers. 
It comes with an updated analog controller and features ten different temperature settings set around a turn dial with auto-shutoff. It can continuously heat your bed for up to ten hours, after which the auto-shutoff will turn it off to prevent overheating from becoming a threat.
It features ultrathin wires thoughtfully incorporated into the pad to preserve its softness. They are undetectable and friendly for all sleeping positions. Whether you sleep on your side, back, or stomach, it will allow you to have a restful sleep. 
A good thing about this mattress pad is its dual heat zones. This means the pad has two sets of wiring, one on each side that comes with separate controllers.
This feature allows you and your partner to regulate the temperature on your side of the bed according to your personal preferences. Although these apply to bigger sizes only, users find it very convenient to set up a personalized heat setting. 
This heated mattress pad is one of the most durable and reliable units on our list. It is as cozy as many other cotton variations and remains soft to touch and sleep on. The wires are unnoticeable, but they sufficiently warm the bed. It is safe to wash in a machine, making it convenient to clean and easy to maintain. 
Furthermore, it comes with a five-year limited manufacturer's warranty. If you run into any problems with this product, you can call the manufacturer for assistance, repair, and replacement. Finally, coming at a very affordable price, this pad is a considerable choice for you to check out. 
---
If you are looking to stay warm and cozy even on a frigid night, look no further than the Electrowarmth M60Fxld. It is available in a wide range of lengths, including long and extra-long. Along with the sizes, you also get to choose the number of controllers for temperature regulation. 
Pros 
Very apt at relieving aches and pains

It comes with a choice of one or two controllers

Available in a variety of standard and non-standard sizes

Fitted with a skirt to cling to your bed

Sufficiently filled for a soft and comfortable feel
Cons 
More expensive than other models on our list 

The attached warning label creates noise when you change positions 
Our Review
Electrowarmth is a renowned manufacturer of heated bed accessories. It has been around for a while and has come up with some amazing gadgets. The Electrowarmth M60Fxld is no different. They have thoughtfully supplied this heated mattress pad in a wide range of sizes, some of which are traditional while others are unique. Each unit comes with an attached skirt that fits snugly over the mattress, so the pad does not slip. 
While it may appear to be similar to the other products on our list, a unique feature is its quick heat-up. The feature is very useful for people who don't turn on the pad until the last minute. Even if you turn it on after getting into bed, its quick heat-up feature will warm your bed in no time. Furthermore, it returns to the last heat settings it was left on, so you don't need to fiddle with the settings every time you turn it on. 
A debatable feature is that it plugs in at the foot of the bed. Some people may find it convenient, while others may find it a nuisance. The thin unnoticeable wires extend throughout the pad except for the head region. They stop just around the shoulders and spread warmth evenly. Though, people who sleep with their head under the pillow or those who want the heat to soothe their neck pain will not appreciate it. 
Otherwise, this pad is a solid contender for you as it comes with a 30-day money-back guarantee. You can take a sleep trial, and if you don't like it, you can return it within a 30-day period. Additionally, it is backed with one-year warranty coverage. 
---
This mattress pad from Perfect Fit boasts the thinnest heating wires inside itself. Unlike traditional heated pads, you cannot feel the wires through Perfect Fit SoftHeat. This makes it softer and more comfortable than its competitors, so it's our top choice for kids and pets. 
Pros 
Larger sizes come with dual controllers and heating zones 

Safe to use with its low-voltage technology 

Controllers are backlit for convenience 

Features an exceptionally plush top for a luxurious feel

Safe to wash and dry in a machine 
Cons 
Thin wires can sometimes snap with rough handling 

Some issues have been reported with circuit boxes emitting noise
Our Review
When you are dealing with small children, you cannot take any risks. That's why we suggest you give this Perfect Fit heated mattress pad serious consideration. It features thin, barely noticeable wires.
These wires are not just thin, but they deliver excellent performance while consuming minimum power of about 25 volts. They have strategically placed the wires three inches apart to deliver even heating throughout the surface. Over these, they have placed a soft micro plush cover for added cushioning. 
Another great thing about the Perfect Fit SoftHeat mattress pad is its cord and connector placement. Rather than being at the foot of the bed like other models, they are located at the corners.
The thoughtful placement comes as a big plus because having the connector right in the middle is a nuisance not everyone is willing to handle. 
With its patented Safe & Warm low-voltage technology, this heated mattress pad can address both soreness and pain. Whether you have an aching back, stiff neck, or sore muscles, sleeping on the warmth it provides eliminates the pain when you wake up. Simply choose between its ten heat settings and let it gently soothe your pain away.
---
This amazing mattress pad from Degrees of Comfort allows you to regulate the heat settings on either side of the bed. If you and your partner have different heat tolerance levels, you can easily use separate controllers to customize the warmth on your side. 
Pros 
It comes with a thoughtfully placed plug connector 

Topped with plump padding that makes it very comfortable

The therapeutic heat soothes your body and relieves pain 

A fitted skirt keeps it from slipping or bunching up

Safe to machine wash and dry
Cons 
Requires two outlets in the wall

There are five heat settings only 
Our Review
Degrees of Comfort Dual Control Heated Mattress Pad comes from a well-known manufacturer of dual-use weighted blankets. It is an excellent pad that comes with extra padding, making it very soft and comfortable. The plush padding is quite thick and can make the firmest mattress feel incredibly cozy. 
It is available in a wide range of sizes. Although the dual controller setup is only available in larger sizes, you can still enjoy comfortable warmth with a single controller as well.
It offers five different heat settings for you to choose from. If you and your partner like different levels of warmth, you can set your side to heat up accordingly. Also, you can leave the pad to preheat so when you finally climb inside the bed, it is nicely warm and cozy. 
Every heating product emits some electromagnetic radiation. Not every manufacturer tells you about the amount of heat their heated mattress pad emits.
However, with Degrees of Comfort Dual Control Heated Mattress Pad, you can rest assured. It does not emit too much EMR and is clearly very safe to use. 
---
Who Should Buy a Heated Mattress Pad?
A mattress pad is a thin layer of cushioning material that you place on top of your fabric for additional comfort. It not only enables you to enjoy a more comfortable sleep but also serves as a protective layer to prolong your mattress's life.
It either comes with elastic straps or sewn-in elastic, like that in a fitted sheet, to hold it in place. 
Similar to traditional mattress pads, heated mattress pads also provide comfort and protection, but with the added benefit of warmth. They feature an electric-powered heating element that warms up your bed to drive the cold away during winters. 
While people who feel cold buy one of these for warmth, they are not the only ones who buy heated mattress pads.
It is such a convenient bed accessory that more and more people are opting to purchase one. Here is a comprehensive account of who should buy a heated mattress pad:
People who want temperature regulation 
The primary purpose of a heated mattress pad, of course, is temperature regulation. These pads are useful for those winter months when the biting cold makes your sleeping haven cold, too. Nobody likes sleeping in a cold bed, so people who have cold intolerance should buy a heated mattress pad. It will keep them warm and comfortable in their beds. 
People who want more comfort
Although a traditional mattress pad would also serve this purpose, a heated mattress pad, with its fluffier fill and breathable covers, tends to be more comfortable. It'll cushion the hardest mattress and make you feel more comfortable and supported.
So people who have relatively firm mattresses and are looking for something to make them soft and plushier should get a heated mattress pad. 
People who want cost-efficiency
Many homeowners find themselves cranking up the heat when it gets unbearably cold. While this is a simple action, it does jack up your utility bills to a surprising extent. So if you want a cheaper alternative, consider investing in a heated mattress pad. 
Overall, these pads consume less energy and are especially great for nighttime usage. Instead of heating up the entire room, you can simply heat up your bed and enjoy a comfortable night's sleep without worrying about your bills.
Hence, people who want a more cost-efficient device for warming purposes should buy a heated mattress pad. 
People who want pain relief 
As people age, their muscles and joints start losing their flexibility. This leads to various aches and pains in various parts of the body, especially the back. Heat – even if it is gentle – has a soothing effect on aching muscles and joints.
Using a heated mattress pad will certainly help alleviate the symptoms. Although it won't address the underlying problem, it will most certainly help with pain management.
So people who suffer from chronic or acute pain should look into buying a heated mattress pad. 
---
Buying Guide: What to look for in a Heated Mattress Pads
Shopping for a new sleep accessory is a daunting task. However, if you want to improve your sleep quality, look into getting the right sleeping accessories.
A quality heated mattress pad can certainly help you get better sleep. It can adjust your overall comfort by regulating the temperature as well as cushioning your mattress.
Most brands will market their heated mattress pad as a universal solution that is suitable for everyone. Yet, not every sleeper has the same requirements as the other.
You have to consider your own unique needs and requirements before making this important bedding purchase. Here are some features that impact a heated mattress pad's performance: 
Heating element
Heated mattress pads rely on two heating methods to regulate temperature: wires or water. Water heated pads come with a separate unit that heats up a reservoir of water and circulates it throughout the mattress pad via strategically placed tubes. 
Meanwhile, wired heated pads contain a network of wires that are thin enough that you can't feel them through the padding. However, in such a model, it's better to look for a pad with a more generous fill. It heats them up to provide gentle warmth to your bed. 
Then some mattress pads use pumps to push warm air out the side of your bed, so there are no wires or tubes at all under your covers. If you are interested in one of these, check out our BedJet V3 Heating System Review. 
Controller
All heated mattress pads come with an attached controller. It is typically equipped on the end of the cable. Some also feature a compatible smartphone app for more convenience. The controllers may vary in design, but they are very simple to use.
They usually feature a turn dial with small numbers written around it. You can turn them on a number according to the heat setting you want. Alternatively, they may have a digital controller that simplifies the process even more. 
Queen-sized or bigger heated mattress pads come with two controllers, one on each side so both you and your partner can increase or lower the heat of your side of the bed.
However, it is sometimes hard to regulate the temperature of the center of the bed because heat from both your body and heated pad starts building up here. 
Safety
For safety purposes, heated pads and blankets are awarded either a UL or ETL certification. They are both independent bodies that test such products for safety purposes. So check for safety certificates before purchasing any unit. 
Nowadays, manufacturers don't want their products to be unsafe, so they make sure to include multiple safety features. These include an auto-shutoff function that turns off the heating element after 10 hours or so of continuous use.
Some also feature sensors that detect overheating and turn off the heating operation. 
The easiest way to learn about the safety of any product is to check its customer feedback. It tells you about not only the durability of the pad but also its safety features. It's best to avoid units that have complaints about electrical faults.
Moreover, we suggest that you check the pad for any defects or faults not just before but after purchasing it as well. If it develops any problems afterward, use the warranty to have it fixed. 
Warranty
The warranty coverage of different heated mattress pads ranges from one to five years. Additionally, some units come with a trial period that helps you determine whether it is suitable for you or not.
Ideally, they also feature a no-questions-asked policy so you can analyze and be satisfied with the different aspects of its performance. All of these are important considerations you should never ignore while purchasing a new heated mattress pad for yourself. 
Cover material and fill
The cover materials and fill quantity of a unit play an important role in determining its performance. You'll find heated mattress pads offered in two types of cover: cotton and polyester. 
Cotton is certainly more breathable and handles the sweat building up inside the pad. Polyester, on the other hand, is softer and stretchy, especially in microfiber form. You can sometimes even come across blended cover material as well that offers the benefits of both materials in a single fabric. 
The filling quantity inside a mattress pad also plays a vital role in its choice. If you can feel the wires through the fill, it is arguably lacking. So the more filling there is, the more comfortable it is.
However, there certainly is a limit to how much they can pad them out to maintain safety and let the heat flow. So be sure to purchase a pad that has equal to or upwards of five ounces of filling. 
Cleaning
It may come as a surprise, but many heated mattress pads are machine washable, though they require a special cycle usually consisting of a short, cold wash.
And you can dry them as well. Just be sure to not wash or dry on regular settings; be careful about the washing instructions for your specific unit, and don't wash it more than necessary. Similarly, also pay attention when drying it in a dryer. Opt for a shorter and cooler cycle, or skip the dryer and air dry. 
While you are careful about following the washing instructions, also be vigilant that your machine, either washer or dryer, does what it says it does.
For example, some dryers run too hot even in the coolest settings. So, it's better to be sure about what the cycle will do before putting your mattress pad in for washing or drying. 
Quality Materials
It is also important to invest in a durable and reliable heated mattress pad. One way to figure that out is to check the quality of materials used in its construction.
High-quality materials like cotton and polyester tend to last longer, making the unit more resilient. It can stand up against regular use and cleaning with occasional rough handling as well.
However, units that consist of low-quality materials are not only flimsy, but they also cannot hold their own under rough conditions. They often develop issues and may wear and tear more easily. 
Price
Price is the number one consideration in any purchase, and heated mattress pads are no different. They are available at a vast range of prices, so people with any budget limit can easily purchase one without stretching beyond their limit.
Although as the price increases, so do the features.
Of course, high-end models have more advanced features and are generally higher in quality. Yet even in the lower price range, you will come across some pads that are both reliable and long-lasting. It's best to look for a unit that offers good value for the price.
Fit 
Fit is another important consideration in any heated mattress pad. You don't want a pad that is too small or too big for your bed.
A small one won't cover it entirely, while a bigger one will keep slipping and bunching up. It's important to know your mattress dimensions so you can pick up a reasonably-sized mattress pad. 
Additionally, knowing its depth helps as this will help elasticated sides or elastic bands fit snuggly. A bunched-up heated mattress is a safety hazard as it can overheat, so be sure to measure your mattress's size before investing in a suitable unit. 
---
Final Verdict: What Is the Best Heated Mattress Pad?
We think these are the best-heated mattress pads. Out of these, the Sunbeam Heated Mattress Pad stands as our top pick. It is a versatile unit that provides even heat throughout the mattress.
Closely following behind is the Degrees of Comfort Dual Control Heated Mattress for its safety and efficiency.
And on the third spot stands Electrowarmth M60Fxld Queen Two Controls Extra Long Heated Mattress Pad for its ease of cleaning and maintenance. 
---
Affiliate Disclosure
Affiliate Disclosure: I may earn a small commission (at no cost to you) if you purchase a mattress after clicking a referral link or using a coupon code on this site. That said, all content and opinions on this site are my own and are NOT affected by these payments.
This site participates in the Amazon Services LLC Associates Program, an affiliate advertising program designed to provide a means for sites to earn advertising fees by advertising and linking to Amazon.com.
*Amazon and the Amazon logo are trademarks of Amazon.com, Inc, or its affiliates.
---