NOTE: We earn from qualifying purchases made via Amazon Associates and other affiliate programs. Learn more.
Shopping for the best sheet straps for your bed?
You've come to the right place.
If you're a restless sleeper, then you are familiar with messy beds and unruly sheets. Rearranging the sheets every morning isn't fun.
This, of course, is where sheet straps come in handy.  Sheet straps keep your sheets in place.  But you knew that.
What you may not know, however, is that there are different kinds of sheet straps available, from individual straps to a system of bed extenders that keep sheets smooth – and this variety of options can quickly bog your shopping down.
That's where this guide can help.
We've reviewed and selected the best sheet straps and fastener systems sold today, to help you narrow your selection.
---
What's In This Buying Guide
Sheet suspenders are easy to use, and hold down your bedsheets to prevent them from becoming messy. They are available in different types, so you can choose one according to your preference.
This guide explores the different types of sheet straps and reviews the best in each category.
We also explain some important aspects to help you choose a good sheet fastener and the pros and cons of using one.
In the end, we address some common queries related to sheet straps.
If you want to improve your sleeping experience, check out our picks of the best luxury bed sheets.
And if you want some good bedsheets for your memory foam, check out our roundup of the best bedsheets for a memory foam mattress.
---
Best Sheet Straps for a Bed
Disclaimer: All links below go to Amazon.com
Sheet Strap
Award
Design
Total Number of Straps
Material
Number of Clamps in Each Strap
Adjustable
Compatible Mattress Sizes
S SEEOOR Bed Sheet Straps


Best Individual Sheet Straps
Individual Sheet Straps
4
Stainless Steel
Plastic
Nylon

2
Yes
Twin
Twin XL
Full
Full XL
Queen
King
California King
YYST Criss Cross Sheet Straps


Best One Unit with Several Straps
Crisscrossing Straps
4
Polyester
Nickel-plated clamps

2
Yes
Queen
King

RUBBER HUGGER Sheet Holder Band


Best Sheet Holder Band
Elastic Band
1
Rubber
None
No
Small: Twin and Full
Medium: King and Queen
Large: California King, RV, and Campers mattress

Raytour Bed Sheet Holder Straps


Best Triangle Elastic Sheet Clips
Triangular Bed Sheet Corner Holders
4
Elastic Nylon
Nickel-plated clamps

3
Yes
Twin
Full
Queen
King
California King

---
The S SEEOOR Bed Sheet Holder Straps come as a set of 4 individual straps, each featuring elastic nylon straps with strong metallic clips on both sides.
The gripper clips are made of heavy-duty stainless steel and feature a plastic clenching system that firmly grips your bedsheets without damaging them.
The S SEEOOR straps are easy to use and versatile, and they can accommodate different sizes. Whether you have a twin-sized bed or a huge California King mattress, these adjustable straps can easily hold your fitted sheet without breaking!
Pros
Affordable
Do not damage the sheet
Come as a set of 4 individual straps
Suitable for mattresses of all shapes and sizes
Rust-free, heavy-duty stainless steel clamps
Cons
Difficult to use with heavy mattresses
No instructions included
Our Review
The S SEEOOR straps feature a simple individual strap design that you can attach diagonally to the corners of your fitted sheet. The strap length is adjustable from 7.1 to 13.2 inches.
Once attached, the S SEEOOR suspenders go underneath the bed, so they stay out of sight, and your bedsheets stay put even if you toss and turn the whole night.
They are available in 3 color choices, so you can choose the one you prefer.
These S SEEOOR straps are made of elastic nylon with heavy-duty stainless steel clamps on both ends. Each clamp is fitted with a plastic clenching system that holds the sheet without ripping or damaging it.
You can use S SEEOOR sheet fasteners on a wide variety of mattress sizes. The set of 4 can easily accommodate twin, twin XL, full, full XL, queen, king, and California king-sized mattresses.
Although S SEEOOR Bed Sheet Holder Straps are fairly easy and safe to use, we recommend not tightening them too much; otherwise, they can snap off or tear the sheet.
---
Many popular bedsheet fasteners only attach to the corners. But the YYST Criss Cross Sheet Straps offer more security with their crisscross style.
This unit features a central ring with 4 straps extending out of it. Each strap further divides into two adjustable straps, ending with a nickel-plated clamp to hold the sheet. So, the YYST's individual unit with 8 clips holds the sheet firmly in place.
The central ring is adjustable, which means you can either arrange it in a plus shape and attach the head, foot, and sides of the sheet or make a cross and clip the corners of the sheet.
The YYST suspender works best with big mattresses.
Pros
Criss-cross style provides a better hold
Nickel-plated clamps are corrosion-resistant
Adjustable sheet elastic straps
Suitable for queen and king mattresses
Two buckles at the end of each strap instead of one for a better hold
Cons
Not suitable for smaller-sized mattresses
Can be hard to put on by yourself
Our Review
The YYST sheet fastener stood out to us because of its sturdy and reliable design. It features 4 polyester elastic straps attached to a single circular ring in the centre.
Each of the four straps on the YYST sheet suspender features 2 adjustable straps with metallic clamps. In total, this sheet strap has 8 metal clamps to ensure the fitted sheet doesn't pop off the bed.
With the YYST Criss Cross Sheet Strap, you don't have to worry about your bedsheet tearing. Fabric protectors attached to the clamps help protect the material of your sheet.
The sheet strap also comes with 2 tie stays for free!
Although the design is very functional, the YYST sheet straps are suitable for large mattresses only. The adjustable clips accommodate large and tall mattresses easily but struggle with smaller beds like twin beds.
The straps also work great with mattress toppers.
---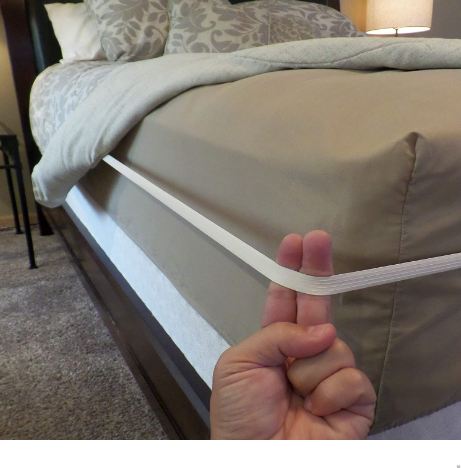 The Rubber Hugger is a one-of-a-kind sheet strap that keeps the bedsheet from becoming a messy ball each morning. It features an all-natural rubber construction that fits around the entire circumference of your mattress and prevents the bottom sheet from coming out.
Rubber Hugger is available in 3 different sizes – small for twin or full mattresses, medium for queen and king, and large for California king and RV mattresses.
It is essentially a giant rubber band without any clamps or clips to fiddle with. You simply have to slip it on your mattress to keep the sheets in place.
Pros
Simple and very easy to use
Uses horizontal and vertical tension to secure the bedding
No need to lift the entire mattress to fit the sheet holder
You don't need to remove the sheet holder to change the sheets
Stays on the circumference of the bed
Cons
No universal size
You might need help while putting it on bigger mattresses
Our Review
Unlike the other sheet straps on our list, the Rubber Hugger is the simplest one to use.
It is a flat elastic strap constructed from a combination of natural rubbers. It is engineered with patent-pending embossed ribbing that creates horizontal tension to keep the sheets from coming off.
There are no clips to attach or straps to extend. Instead, installing the Rubber Hugger is as simple as stretching the band and putting it over your sheet. You don't even need to lift your heavy mattress!
You can also choose to tuck the top sheet inside the band. The entire assembly goes underneath the duvet so that it stays hidden and out of the way, leaving the bedding looking neat and tidy.
Although the Rubber Hugger doesn't have a universal size, it is available in 3 sizes. You can also use the Rubber Hugger with an adjustable mattress with the included adjustable strap.
---
If the corners of your sheets keep coming out, check out the RayTour Adjustable Bed Sheet Corner Holder straps. These triangular sheet straps attach to the corners of the bedsheet to keep them tucked. The set of 4 features a 3-way strap with clamps on each end to grip the bedsheet.
RayTour Adjustable Bed Sheet Corner Holders are pretty stable and prevent the corners from plopping out. They are suitable for regular mattress sizes and will help keep your bed neat.
Pros
Sturdy and very reliable
Nickel-plated clamps with nylon teeth
Thicker and wider elastic bands
3-ended straps make for a more secure fit
Highly stretchable and adjustable
Cons
Clamps are a bit difficult to open
Fasteners can come off sometimes
Our Review
The RayTour Bed Sheet Holder Straps feature wide elastic bands and a triangular design to help ensure a snug fit. They keep the corners neatly tucked in, so there is no chance of the sheet coming out.
The entire set from RayTour keeps your sheet taut and crease-free throughout the night, even if you regularly twist and turn in your sleep.
The RayTour fasteners come as a set of 4 durable triangular corner holders designed to provide a stronger hold.
The bungee cords are adjustable and stretch as far as 18 inches. When relaxed, they measure a mere 7 inches in length. Each RayTour strap ends in a fine-texture, rust-resistant nickel clamp.
Plus, each clamp has a built-in plastic clenching system that holds the sheet snugly but does not cause any damage.
You can also use the RayTour straps for purposes other than holding the sheets, such as holding sofa covers, tablecloths, and crib sheets.
---
Bed Sheet Strap Buying Guide
Why Buy Sheet Fastener Straps?
A sheet strap fastener keeps the sheets from moving as you toss and turn on the bed. It is easy to install and holds fitted sheets, flat sheets, and even mattress pads in place.
Here are some reasons why you should purchase a set:
Keep fitted sheets smooth
If you are a restless sleeper, the chances are that your sheets are almost always out of place.
The constant movement and change in positions cause the sheets to slip out from under the mattress. Using a sheet strap ensures that your fitted sheets remain in place no matter how much you twist and turn in your sleep.
Ensure a good night's sleep
Bunched up sheets are not only uncomfortable to lie on, but they also threaten to slip entirely off the mattress.
A sheet strap keeps your sheets smooth, so you can enjoy a peaceful night's sleep without readjusting the sheets every time you move.
Save you from tedious bed-making routine
With a sheet fastener, you can cut down on at least one tedious and time-consuming step of your daily bed-making routine.
It can keep your fitted sheet smooth and crease-free, so all you have to do is put on the top sheet and duvet and rearrange the pillows.
And if you also want to do away with the hassle of putting a top sheet, sheet holders are a good choice. You can use them to keep your flat sheets in place without a top sheet.
What Is a Sheet Strap Fastener – and how does it work?
Although all fitted sheets have elasticated edges, only some fit your mattress well and stay put. Others slip off the mattress when you move around, even if they are the same size.
Sheet strap fasteners, also known as sheet holder straps, sheet suspenders, or simply sheet straps, are usually clip-on devices that hold the sheet so it does not plop out while you sleep or move about in bed.
So how does it work?
A sheet strap usually consists of an elasticated strap with clips on the edges. Depending on the design, there are 2 or more clips on each strap.
In a basic 2-clip sheet strap, you attach one clip to the bottom of the fitted sheet and feed the other end to the opposite side under the mattress. Stretching the elastic strap attaches the other clip to the other end of the fitted sheet.
As the elastic strap relaxes, it pulls the clipped fitted sheet with it, stretching it over the mattress smoothly. Once the sheet is pulled tightly, it does not move or slip while you're sleeping.
Types of Sheet Straps
While all sheet straps have the same purpose, they differ vastly in design and shape. To find a suitable set for yourself, you should know the different types of sheet suspenders available in the market.
Here's a brief overview of the different types:
Individual Straps
These are the most basic type of sheet straps. Sold as sets of 4 or more, these straps have 2 clips – one on each edge – that attach to the corners of the fitted sheet.
Once attached, they pull the corners together, so the sheet doesn't come off. They feature an elastic band that you can tighten and loosen according to your needs.
This type of sheet strap offers the greatest versatility. You can set the straps in a crisscrossing manner, horizontally, vertically, and even diagonally. You can also make a grid by setting some of them horizontally and arranging some vertically to further secure the sheet in its place.
One Unit with Several Straps
Similar to a spider web in design, these sheet straps feature a central piece (usually a ring) attached to multiple straps.
Just like their individual counterparts, these are also adjustable and elastic, so you can adjust them according to your mattress size.
Each strap features a clamp that attaches to the fitted sheet. Once all the straps are attached to the different ends of the sheet, they pull the sheet together under the mattress and hold it tightly in place.
Drawstring Fitted Sheets
Quite different from other types of bedsheet fasteners, this type is essentially a fitted sheet with a drawstring cord around its perimeter.
You can pull the cord to loosen and tighten the sheet around the mattress as desired. This design holds the fitted sheet tightly in its place with the help of a drawstring.
What to look for in Bed Sheet Straps
Since there are a number of bedsheet straps out there, it can be difficult to choose the right one.
To make sure you make the right investment, look out for:
Adjustable length
Sheet straps usually extend across the full length of the mattress. Since there are many different sizes and shapes of mattresses, it is important that the sheet strap set you purchase features an adjustable length. This way, you can adjust it to fit your mattress.
Material
Common materials used for making sheet straps include chrome metal, nickel-plated metal, plastic, elastic cords, and so on.
Also, look for units that include materials to help protect sheet fabrics. Plastic or nylon inserts on metal clips prevent the metal from clipping directly onto the fabric, which can sometimes rip the sheet.
Fastener System
Different sheet straps feature different fastening systems to hold the sheets. Some have metal clips to hold the sheets down, while others have elastic bands that prevent the sheet from coming off.
You should carefully assess the different styles and choose the one that is easy to clip on and does not damage your sheet.
Compatibility
Although most sheet suspenders are adjustable elastic straps and easily accommodate mattresses, make sure to check their mattress compatibility before finalizing the purchase.
Some products, despite their adjustability, cannot accommodate a huge California king or an extra-high mattress. You should read the product description closely to determine whether it will fit the mattress in question or not.
Durability
The durability of a sheet strap is important to consider because it is supposed to work under high tension.
Look for a product with wide elastic straps and metal clamps to securely hold your sheet. Try to avoid plastic clamps as they can give away under high pressure.
However, a plastic lining inside the metal clips will protect the sheet from tearing, so look out for that as well.
Return Policy
Just like other sleep products, sheet straps with a good return policy are a great way to find the best ones for yourself.
Since mattresses, sheets, and sheet straps all vary in sizes, styles, and depths, you cannot be sure which works for you. With a good return policy, you can try out potential products and find the one that works the best for your bed.
Warranty
Sheet straps are a combination of elastic, plastic, and metallic pieces. Since you will place them directly under the mattress, they will be under the combined pressure of the mattress and yourself. So having some sort of quality assurance brings peace of mind.
Some manufacturers offer that assurance in the form of comprehensive warranty coverage and replace the product if yours gets damaged. That's why we suggest you also choose sheet straps that come with a warranty.
Pros and Cons
Sheet straps are stretchable elastic bands with fasteners or clips to hold your sheets in place. They eliminate the annoyance of your sheets sliding off the corner of your mattress but have their own set of limitations that you should know about.
Pros
A simple way to keep a bedsheet in its place
The basic purpose of a sheet strap is to prevent your bedsheet from bunching up or coming off entirely. You can use it to hold your fitted sheet, top sheet, and even the mattress pad securely on the mattress.
Sheet straps are usually inexpensive, simple to attach, and pretty easy to care for. They are especially a good addition if you struggle to keep a fitted sheet on the bed at night.
Available for every budget
Sheet suspenders are available in a wide range of styles and price ranges. Whether you have a few bucks to spare or are on an extremely tight budget, you can easily find a set that fits within your range.
Work on oddly-shaped mattresses too
A good thing about sheet suspenders is their versatility. They work well for traditional rectangular mattresses as well as oddly-shaped ones like a round mattress, air mattress, or RV bed. Being very simple to put on, you can easily clip them on and off without any worry.
Create a smooth sleeping surface
Nobody likes sleeping on and waking up to messy, bunched-up sheets. It creates an uncomfortable sleeping experience and makes the bed-making routine more tedious. A sheet suspender keeps the sheet taut and creates a smooth sleeping surface for you to sleep on.
Cons
Some styles are tricky to get on and off
While most sheet fasteners are quite simple to attach, some models are tricky to install. Their clips are either difficult to attach or may require two persons to get them on the right way.
Can stretch out elastic in fitted sheets
Since sheet suspenders pull on the edges of the fitted sheet, they can stretch out the elastic in the long run. This is especially true for straps that attach horizontally or vertically.
How to Use Bed Sheet Straps Correctly
The correct way to use bedsheet straps depends on the type and style of the fasteners you purchase.
Most sheet straps attach to the elastic edge of the fitted sheet that tucks beneath the mattress. Meanwhile, others have an elastic loop style that slides over the edges of the mattress and keeps the sheet secured in its place.
Individual straps are the simplest to install though you will have to lift the mattress.
First, attach the clips along one edge of the fitted sheet. Now put the sheet on the mattress.
Now stretch the straps and attach the other clips on the other end to the opposite edge of the fitted sheet.
Adjust the straps so the sheet is nice and taut. Don't tighten them too much; else, you risk damaging or tearing the sheet.
And if the sheet strap you have is one individual piece with several straps attached to the centre, you'll first need to place it underneath the mattress. Now put on the fitted sheet and stretch the sheets one by one to meet the edges of the fitted sheet.
Lastly, drawstring fitted sheets feature drawstring cords instead of elastic. These are the simplest to use; you just have to put it on and pull the cord tight to cinch the sheet securely around the mattress.
---
Frequently Asked Questions
Are sheet grippers worth it?
Yes, sheet grippers are surely worth the money. They keep your sheet smooth, prevent it from coming off, and create an overall pleasant sleeping experience.
You can easily find a suitable one for yourself because they work for most mattress sizes, are quite affordable, and come in a wide range of styles and designs.
Do bedsheet straps last long?
Since sheet straps are essentially elastic straps, they do stretch out over time. However, if you use them according to manufacturer instructions, a good set of sheet grippers will last you a long time before needing a replacement. On average, they last anywhere from 2 to 5 years.
---
Final Verdict: What are the best sheet straps?
After carefully reviewing many sheet straps sold today, we believe the Raytour Bed Sheet Holder Straps are the best sheet straps for most people. They are durable, easy to use, and versatile.
YYST Criss Cross Sheet Straps are a top choice for thicker beds, because the crisscross style provides a firmer hold.
S SEEOOR Bed Sheet Holder Straps are the best individual sheet straps due to their sturdiness, adjustability, and of course, the bargain price.
---
Affiliate Disclosure
Affiliate Disclosure: I may earn a small commission (at no cost to you) if you purchase a mattress after clicking a referral link or using a coupon code on this site. That said, all content and opinions on this site are my own and are NOT affected by these payments.
This site participates in the Amazon Services LLC Associates Program, an affiliate advertising program designed to provide a means for sites to earn advertising fees by advertising and linking to Amazon.com.
*Amazon and the Amazon logo are trademarks of Amazon.com, Inc, or its affiliates.
---