NOTE: We earn from qualifying purchases made via Amazon Associates and other affiliate programs. Learn more.
Farmhouse bedrooms are full of country charm designed with rustic and natural elements. We love farmhouses for their warm, welcoming, and comforting vibes.
And khaki green is the ultimate color scheme to bring that warm and relaxing vibes into your bedroom.
Designing a farmhouse-style bedroom in khaki green may seem to be a daunting task to some people. But with the right tips and tricks, one can easily incorporate this natural and lovely shade into their individual space.
Check out these ten warm and inviting farmhouse bedrooms in khaki green to help yourself redesign your space.
1.) Bring it Through Your Bedding
One of the best ways to incorporate any color scheme!
Check out this warm and cozy bedroom with a metal bed with comfortable dot patterned bedding and pillows in khaki green.
2.) Paint it Down
Either paint it down to your entire bedroom or just on a single wall to make it an accent.
3.) Monochromatic Decor
You can go for a monochromatic décor like this bedroom with a comfortable bed, pillows, and a plant sitting in a jute pot.
4.) Seating Area
Design your seating areas like this bedroom with a wooden chair with padded seating and backrest, a woven lamp hanging, and a wooden table.
5.) Fabrics are a Great Idea
The easiest way to incorporate any color scheme into your bedroom is through your bedroom fabrics.
6.) Boho Decor
A warm and cozy farmhouse bedroom in khaki green with boho décor including rattan lamps, a swing chair, and a jute basket.
7.) Wooden Detailing
A classic bedroom revealing wooden furniture, khaki green walls, and a lovely chandelier hanging over a comfortable bed.
8.) Green Bedroom
A green eco-friendly bedroom with plants, white comfortable bed with knitted blanket and night lamp on bedside desk.
9.) Olive Bedding Set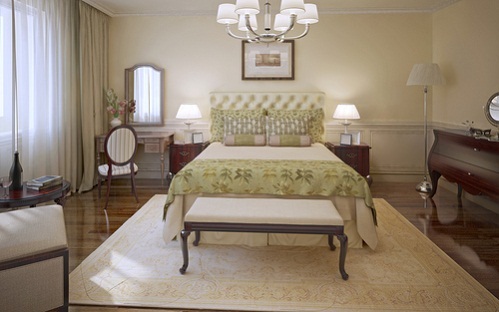 Consider this kind of lovely bedding set revealing a beautiful bedroom for your farmhouse bedroom.
10.) Add Warmth
Add warmth and coziness into your khaki green bedroom with lots of pillows in white or any complementing color.
A great color scheme makes a big impact on home interiors. And when it comes to the bedroom, a soothing and calming shade is what we all need. That's why khaki green is the new choice among most interior designers. And hope now it's yours too!
Happy Decorating!
---
Affiliate Disclosure
Affiliate Disclosure: I may earn a small commission (at no cost to you) if you purchase a mattress after clicking a referral link or using a coupon code on this site. That said, all content and opinions on this site are my own and are NOT affected by these payments.
This site participates in the Amazon Services LLC Associates Program, an affiliate advertising program designed to provide a means for sites to earn advertising fees by advertising and linking to Amazon.com.
*Amazon and the Amazon logo are trademarks of Amazon.com, Inc, or its affiliates.
---