NOTE: We earn from qualifying purchases made via Amazon Associates and other affiliate programs. Learn more.
When we purchase new linens or a new mattress, the first thing to worry about is fitting problems. This may lead to tucked linen slipping off our bedding throughout the night, which can get quite frustrating.
How can you solve this problem? Well, besides maintaining your sheets on the mattress, our suggestions will also help you keep your bedsheets wrinkle-free and tightly tucked in. Here we present our favorite hacks so you're not waking up on top of your foam bed while your linens are bunched up around on your toes. Quite messy, right? It doesn't have to be!
---
Using Suspenders to Strap Your Sheets On
You may have learned to fold a fitted sheet. But what can still be a problem? It might be that you are not exactly sure how to keep your bed sheets from sliding off your bed. A quick fix? Suspenders. They offer the best solution to sort out this issue.
You can find suspender clips on Amazon for an affordable price. They clip onto both sides of the corners of the fitted sheet, creating tension along the corners to keep the sheet in place all night long.
Another variant on Amazon includes three clips, all attached to the corner. They can be fastened on the sides and down in the middle. Both metallic or plastic locking clip options are available. Our advice is to put them about 6″ out on both sides of the sheet corner seam.
Remember, you will have to lift your mattress corner to tuck the linen in the right ways. It might be a little tricky if your mattress is not too thick or heavy. If that's the case, you may want to proceed and wash your sheets and make them clean and pleasant before attaching the clips. This is a excellent fix if you don't want to lift your mattress anytime soon.
Some other sheet suspenders on Amazon are much longer to cross, slanting from one corner to another. You will want to turn your mattress entirely over with this one, and clip one side of the suspender towards the upper left corner. Secure the other end on the bottom right edge (or the pattern you prefer).
---
Keeping Sheets Tight DIY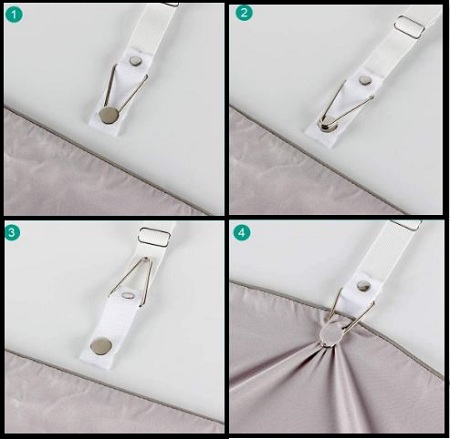 If the suspenders you find on Amazon are not doing the job for you, you can create your own! All you would require is some elastic and a bunch of safety pins. Choose an elastic band that's on the thicker side (around an inch thick or more), so it's nice and strong.
Measure out 6″ down on both sides, and clip your safety pins in place.
Then assess the hypotenuse (the line between the two safety pins). This is how long your elastic will be stretched, so cut it a bit shorter to let it stretch tight. You are going to need four of them – one per corner.
To complete the task, lift the edge of your mattress and tighten the elastic with your safety pins on each side of the fitted sheet.
Measure out 6″ down on both sides, and clip the safety pins in place. Now, assess the hypotenuse.
This is how long your elastic should stretch. So cut it slightly shorter for it to stretch tight. You are going to need four of these – one per corner.
To finish the job, lift the edge of your mattress and tighten the elastic with your safety pins on each side of the fitted sheet. Now you have the suspenders to keep your loose sheets on the mattress.
---
Other Strategies for Maintaining Your Fitted Sheets Tight
If none of these methods work for you, we will advise you to peek at your sheets.
Make sure your sheets are the appropriate size. They may be popping off because you are trying to put King-size bed sheets on a queen-size mattress.
If you pulled your sheets from the linen cupboard and had tossed the packaging aside. During this process, you may have forgotten the accurate dimensions. How to solve this? Check the tags.
Also, your bedsheets may have difficulty staying on since your mattress is too thick. This occurs a lot with thick coil and hybrid mattresses. You may have to update to "heavy" sheets that, can handle up to 15″ thick mattresses. You can search for deep-pocketed sheets on Amazon.
Standard sheets can generally only fit mattresses that are 7-14″ thick. For those who have an insanely heavy mattress or for some reason feel the need for the sheets to expand on your box spring, start looking for extra heavy sheets that may span 16-22″ thick beds.
Lastly, examine the material of your sheets. Bedsheets come in many different materials, and by shifting the sheets, you will fix your problem. Sheets that are made of  silk, satin, or bamboo materials tend to be slippery.
You might want to change them to a linen or cotton sheet, which will better hold on to your mattress. Consider comparing your choices to determine if you're able to find the best sheets for your mattress.
Additionally, buying new sheets may be a good idea It is a viable thing to do if you have white sheets that have lost their pristine whiteness. There are various brands to select from, such as Tuft and Needle, Purple, and Boll and Branch.
---
Affiliate Disclosure
Affiliate Disclosure: I may earn a small commission (at no cost to you) if you purchase a mattress after clicking a referral link or using a coupon code on this site. That said, all content and opinions on this site are my own and are NOT affected by these payments.
This site participates in the Amazon Services LLC Associates Program, an affiliate advertising program designed to provide a means for sites to earn advertising fees by advertising and linking to Amazon.com.
*Amazon and the Amazon logo are trademarks of Amazon.com, Inc, or its affiliates.
---