NOTE: We earn from qualifying purchases made via Amazon Associates and other affiliate programs. Learn more.
Casper is one of the first startup online mattress companies, having launched in early 2014. The new Casper mattress was an immediate hit, earning over $1 million in sales in its first month.
Leesa is a more recent entrant into the budget foam mattress business; however, Leesa also found itself a large and loyal market very quickly.
The rapid success of both companies is because both sell an excellent-quality foam mattress at a rock-bottom price.
What's In This Comparison
In this head-to-head comparison you'll learn how Casper and Leesa compare & contrast on a range of criteria including materials & construction, comfort & feel, prices, discounts, warranty & return policies and of course: sleep experience.
My aim is to give you enough detailed information on how these two products differ to help you decide which mattress best fits your sleeping needs and preferences.
Ready to dive in?
---
Casper vs. Leesa: Which Mattress Should You Buy?
Here's my bottom line on which of these two popular mattresses you should buy – keep reading this page to learn more about how these mattresses differ:
[one_half]

I gave the Casper mattress an overall rating of 4.5 out of 5.0.
BUY CASPER IF:
You prefer a firmer mattress.
You want a bit more bounce on top.
[/one_half] [one_half_last]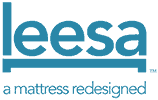 I gave the Leesa mattress an overall rating of 4.6 out of 5.0.
BUY LEESA IF:
You prefer a softer mattress.
You share your bed with a fidgety partner.
[/one_half_last]
Price Comparison: Leesa vs Casper
Both mattresses are comparable in price and really affordable, thanks to their direct-to-consumer business model that eliminates middlemen.
You can get any size for less than $1,300. If you were to buy similar-quality mattresses in a store, you should expect to pay double that or more.
Listed below are the normal discounted prices for both mattresses.  That said, deals can change quickly so click a link below to see the latest price.
Coupons
Save Up To $700  Now, click here to place your order on the Leesa website.
Shop Now on a Casper Mattress.
Keep reading to learn more about these differences.
---
The Brands Behind The Beds
Leesa
Leesa was founded in 2015 by David Wolfe, with the aim of improving mattress quality while bringing prices down.
Wolfe and his team wanted to eliminate the pricey and often useless fillers that traditional manufacturers add to mattresses.
Today, the company is totally focused on creating a one-size-fits-all mattress designed to be a perfect fit for most sleepers.
The company prides itself on their 100% US manufacturing process and their commitment to using only the best materials and manufacturing practices.
They also donate one mattress to a charity organization for every ten they sell. So far, they've donated over 30,000(!).
Casper
The original online mattress rebel, Casper, is almost a household name these days.
They've been featured in numerous publications from the New York Times to Forbes and received many accolades from business leaders.
After launching in April 2014, in November the company expanded delivery beyond the contiguous United States into Canada.
The company uses safety-certified materials in their mattress, and their manufacturing is also handled wholly in the United States.
Casper has experienced rapid growth in the relatively short time it has been around.
Their innovation and exceptional customer service has kept them ahead of the industry.
This comparison only compares the Casper Original bed vs. Leesa.
To learn more about Casper's other offerings, read our in-depth reviews of the Casper Wave, Casper Hybrid, and Casper Essential.
---
Mattress Construction: Leesa vs Casper
Leesa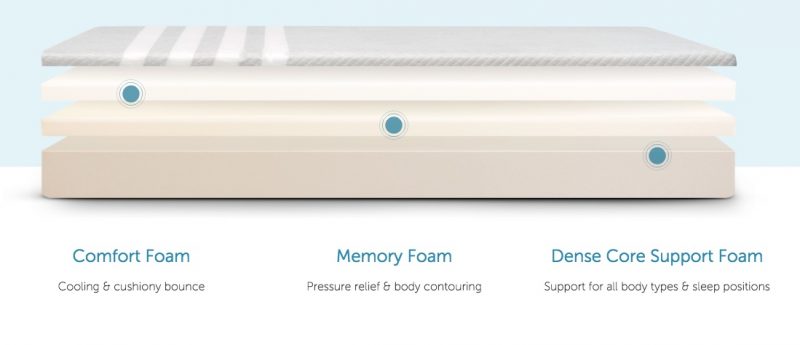 The Leesa Original mattress is made of three simple layers of high quality foam. Each layer is designed to achieve a specific purpose.
Together, the three layers create an amazing sleeping experience, especially for the price.
The cover on the Leesa mattress is made from quilted poly-lycra blend fabric. This is the same material used in sports clothing and is highly breathable and comfortable.
Leesa's top foam layer is comprised of 2 inches of a special type of foam called LSA200.
LSA200 foam provides several advantages for the Leesa mattress, including:
LSA200 foam offers the cooling and comfort of latex foam, but it is more durable.
LSA200 foam provides a softer bounce than Casper, which is better for sleeping.
LSA200 foam is breathable, which keeps the Leesa cool and moisture-free at night.
LSA200 foam is really good at inhibiting motion transfer, so couples won't interrupt each other at night.
The second layer in the Leesa mattress consists of 2 inches of memory foam. This layer is responsible for body contouring and pressure relief, which the Leesa excels at vs. other foam mattresses at this price.
At the bottom of the Leesa, the foundation layer is made from 6 inches of high-density support foam, bringing the entire mattress thickness to 10 inches. The foundation foam provides foundational support and is also breathable, which further helps in keeping the Leesa mattress cool on warm summer nights.
Casper
Casper has three layers.
The open-cell foam (Casper calls it Airscape foam) in the Casper's top layer helps to keep the mattress cool and provides a nice bounce – a bit more than the Leesa, which makes the Casper more friendly for amorous couples 😉
A second zoned memory foam layer provides three zones of varying-density foam that supports your hips with a firmer foam to provide better support and gives your shoulders a softer foam so they sink a bit deeper. This makes the updated Casper a good choice for side sleepers.
The bottom layer is made of high-density foam, providing support to the top layers of the mattress.
All together, the three layers bring the mattress thickness to 11 inches, an inch taller than Leesa.
While not 100% natural like Leesa, the memory and foundational foams in the Casper are Certipur certified.
---
Comfort & Firmness: Leesa vs Casper
Both Leesa and Casper offer one-size-fit-all comfort level mattresses. You have no firmer or softer options.
Note: If you're looking for inexpensive foam mattress that offers a choice of comfort levels, take a look at Dromma, Nectar or Helix.
Leesa Original Foam
Leesa's comfort level is medium-firm.
On a scale of increasing firmness from 1 to 10, the Leesa falls between a 6 and a 7, which is perfect for most people.
Casper Original Foam
The Casper comfort level rates a slightly firmer 7 out of 10.
Comparing the two, the Casper does feel slightly firmer, especially if you are on the light side.
Casper's use of zoned foam in their second support layer makes this the slightly better choice for side-sleepers.
---
Sleeping Experience: Leesa vs Casper
A number of factors combine to create a great-sleeping mattress.
A mattress first has to provide adequate support. This means it spreads your body weight evenly across its surface and provides the right amount of body contouring to avoid pressure points.
In addition, body heat and moisture need to be dissipated, to keep the mattress cool while you sleep.
Finally, you don't want the mattress to sink too much, which can cause posture problems to develop – especially if you sleep on your side or stomach.
Leesa Original
Leesa scores very well in all of these areas.
Their patented LSA200 foam provides excellent cooling power, while Leesa's middle memory foam layer works to keep the sleeper comfortable and adequately supported.
Where the Leesa mattress really shines, however, is in body contouring (also called compression support). Leesa's memory foam layer seems overall better at body contouring than Casper's.
The foam conforms to body curves and angles really well, cradling them in a soft hug to prevent any painful pressure points. If you are a side-sleeper, this will matter a lot.
Another area where Leesa performs well is in limiting motion transfer, which is a good thing for couples who tend to fidget around at night.
Casper Original
Casper has thousands of customer reviews online, and most of them speak highly of the mattress. It's hard to argue with their customer satisfaction.
But there are some differences vs. the Leesa.
One notable difference is that the Casper is a slightly firmer mattress, although it still falls within the universal range.
Because of the extra firmness, sinkage is less pronounced in Casper, making it slightly better for back sleepers. Heavier sleepers might also prefer Casper to Leesa, because it sinks less.
In regards to motion transfer, the Leesa outperforms Casper. If your significant other moves around at night, you'll feel it more on a Casper. This may be due to the type of foam used on top.
Where the Casper mattress excels, however, is in temperature control. The open-cell latex used in the top layer is exceptional in dissipating heat away from the mattress.
---
Warranty and Returns: Leesa vs Casper
Both mattresses are about the same on warranty and return policies. Buying from either Leesa (or Casper) is a no-risk experience.
Leesa Original
Leesa gives their customers 100 days to test the mattress.
A return can be made during the first 100 days for a full refund.
Returned mattresses are given to charities.
Customers making returns from Alaska and Hawaii will be charged $100.
If you decide to keep the mattress, it will be covered under a 10-year full replacement warranty covering structural defects and workmanship issues.
Read Leesa's warranty & return policy to learn more.
Casper Original
Casper also offers a 100-day test period.
If you don't like it, Casper also offers fuss-free and zero-cost returns.
They'll send someone to pick up the mattress from your home and deliver it to a charity or recycling facility.
Read Casper's warranty & return policy to learn more.
---
Shipping and Delivery Options: Leesa vs Casper
Leesa
Leesa ships free of charge to customers in all 50 United States, including Hawaii and Alaska. Shipping is done at no cost to the customer.
It will probably take 5 to 10 days for a Leesa mattress to get to you, though, because each mattress is made to order. This is a few days longer than Casper.
Like Casper, the Leesa mattress comes in a compact box.
Leesa offers an in-home setup service that costs $150 on top of the cost of the mattress.
Casper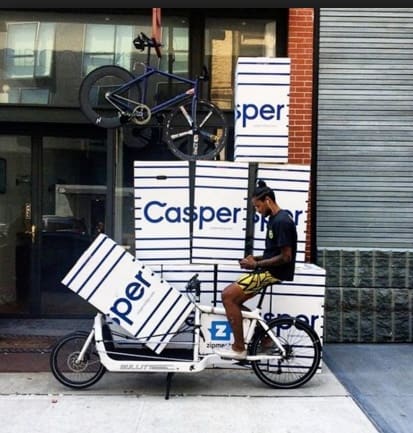 Casper ships mattresses via UPS Ground in the United States and via UPS Air in Canada. Shipping is free but only to contiguous states. Hawaii and Alaska customers pay for shipping.
In the US, it'll take 2 to 5 business days to get your Casper, while delivery to customers in Canada takes about 3 business days.
If you live in New York, you can get your Casper delivered in just an hour or two.
Casper provides in-home setup services for a small fee (currently not available because of COVID-19).
Leesa Is The Right Mattress For You If:
I recommend buying the Leesa over the Casper, if any of the following apply to you:
• You share your bed with a fidgety partner. Leesa is better at inhibiting motion transfer than Casper.
In my overall rating, I give the Leesa mattress a very high rating of 4.6 out of 5.0.
---
Casper Is The Right Mattress For You If:
I recommend getting the Casper instead of the Leesa if either of the following describe you:
• You prefer a bouncier mattress. The top layer gives Casper a better bounce that makes it a great choice for sex.
I give the Casper a slightly lower 4.5 rating overall, mainly for the materials used in their construction and the firmer/bouncier feel, which I don't appreciate.
---
More Leesa Mattress Comparisons On This Site
More Casper Mattress Comparisons On This Site
---
Affiliate Disclosure
Affiliate Disclosure: I may earn a small commission (at no cost to you) if you purchase a mattress after clicking a referral link or using a coupon code on this site. That said, all content and opinions on this site are my own and are NOT affected by these payments.
This site participates in the Amazon Services LLC Associates Program, an affiliate advertising program designed to provide a means for sites to earn advertising fees by advertising and linking to Amazon.com.
*Amazon and the Amazon logo are trademarks of Amazon.com, Inc, or its affiliates.
---