My Take
Summary
With a recently-updated design, Nest Love Bed remains one of the best mattresses you can buy for sex.
Great Choice for: amorous couples who plan to give their bed a workout – and don't want to pay too much
Avoid if: you don't like latex or a lot of bounce.
Save Up To $744 Now
NOTE: We earn from qualifying purchases made via Amazon Associates and other affiliate programs. Learn more.
NOTE: this mattress has been replaced by Nest's new Quail mattress (read our review here). 
Established in 2011, Nest Bedding was one of the first companies to enter the direct-to-consumer mattress industry.
The company sells a collection of mattresses focusing on user comfort, product quality and eco-friendliness.

One of Nest's best-known products is the Alexander Signature Select mattress, a luxury series that includes soft, medium and firm mattresses.
Nest also offers a simpler, less expensive option with a far catchier name: the Love Bed.
In this review, we'll take a close look at the Love Bed's materials, quality, firmness, price, sleep experience, and heat and motion characteristics.
In addition, we'll cover a few issues we found with off-gassing, sinkage.
Table of Contents
This page has a LOT of information. Use this table of contents to skip to the features you care most about.
To return to this outline, touch ↑ Table of Contents.
About Nest Bedding
Nest Bedding was established in 2011 as a family business and remains so to date.
The motivation behind its launch was to fill an urgent need for a hassle-free, inexpensive and straightforward mattress buying process.
By selling the mattress directly to consumers, Nest Bedding has cut out the middleman, providing their customers with a high quality yet affordable product.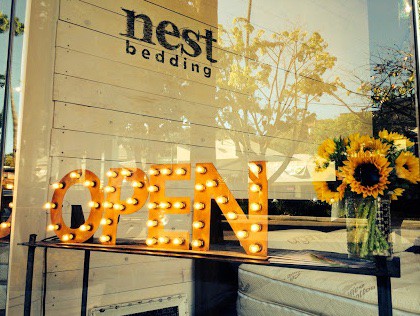 Currently, the company has five locations in the United States. The locations include Albany, San Francisco, Mountain View, Studio City and New York City.
To know more, check out our in-depth nest bedding review and Sparrow Signature review.
Social Impact
Nest Bedding prides itself on providing eco-friendly, American-Made products to their customers. Not only does this promote American industries, it also ensures that the mattresses are of the highest quality possible.
The company has also partnered with the charity Carter's Kids, to help build community parks and children playgrounds across country. The aim is to boost kids' self-esteem through fitness and play.
Online Purchase Process
The only recommended place to buy the Love Bed is Nest Bedding's website, where the purchase process is easy, quick and straightforward.
On the Nest.com website, you will find two comfort levels for Love Bed mattresses: Medium and Firm.
Later on, we will take a look at the characteristics of each and explain how to select the best one for you. Most people will find the Medium mattress to be just perfect, however.
You can also choose from the several mattress sizes available:
Twin size
Twin XL
Full size
Queen size
King size (split option available)
California King (split option available)
The best size for you will depend on your preferences, size of bedroom and number of people sleeping on the mattress.
For kids, the Twin Size or Twin XL is perfect.
If you are sleeping alone, the Full Size mattress is large enough.
Couples should go for Queen or King Size.
My preference is the California King.
As for price, the Love Bed is really affordable.
While most high-end mattresses in stores cost upwards of $3,000, the Love Bed starts at just $399.
Price
Despite the fact that the Love Bed's performance is comparable to high-end mattresses, the price is extremely low, starting at only $679.20
This is thanks to a direct-to-consumer business model and the simple construction of the mattress. Here is the full price list:
| | |
| --- | --- |
| Twin size |  $849 |
| Twin XL |  $899 |
| Full size |  $1,049 |
| Queen size |  $1,299 |
| King size |  $1,499 ($899 split) |
| California King |  $1,499  ($899 split) |
If you purchased a comparable mattress in a furniture store, it would easily cost twice as much.
If you need to finance your purchase, Nest has you covered. Through their partnership with Affirm, Nest Bedding provides Zero Percent financing to qualified customers, just like the big stores do. You'll pay the same amount, with no hidden fees.
Delivery & Shipping
Nest Bedding ships to all 50 states in the United States and World Wide through their international partner, International Checkout.
Normally, shipping within the US takes 2-3 business days.
Nest Bedding offers expedited shipping for those who want their mattresses sooner. Contact the company to find out your expedited shipping options and any applicable fees.
The company also provides White Glove Delivery, which will also incur an additional charge.
When your mattress ships, you'll be provided with a tracking number to make it easier for you to determine the delivery date and make necessary arrangements.
Aesthetics/Styling
The aesthetics on the Love Bed are minimal. Nest Bedding uses a simple white/cream style on most of the mattress. The effect is an overall clean look and feel.
The sides are covered with a mesh design, which gives the mattress a modern clean look. The minimal styling is ideal for most people's tastes.
If it does not appeal to you, just remember that the mattress will not be visible most of the time.
Technology
The Love Bed is designed with two goals in mind; comfortable sleep and – wait for it – great sex.
The company uses several techniques and technologies to ensure these goals are achieved.
One technology applied is the use of latex foam in the top layer. This foam is designed to provide just the right amount of cooling, support and bounce. In many aspects, it performs better than memory foam.
The support layer has been constructed using convoluted foam (resembling an egg crate), which contributes immensely to the overall feel and comfort of the Love Bed.
The individual columns at the top of the support layer provide support to the comfort latex foam layer above while also ensuring that air flows freely within the mattress.
Other areas where Nest Bedding applies technology is in designing a quilted cover that is comfortable while at the same time excellent at keeping your body dry and cool.
Mattress Construction
The construction of both Love Bed mattresses are similar, with just a few differences that define their firmness.
Below, we take a look at these four layers in detail
1. Top Layer: 2″ of Soft Quilted Foam
The top layer, also referred to as the comfort layer, plays the crucial role of providing support and comfort to the sleeper.
The Dunlop latex used on this layer helps to create the right balance between comfort and support.
It's important to note that the latex used is Oeko Tex Certified to ensure the highest quality of raw materials and processing.
2. Support Layer: 2″ of Energex Gel Foam (1″ in Firm)
This is the layer where most of the support is concentrated. It ensure that you sleep comfortably with your body receiving adequate and even support.  It also regulates heat transfer.
This layer is made of Energex, a high performance, durable and breathable hybrid foam made without latex.
The foam is CertiPUR-US certified, ensuring the best in materials and processing standards.
3.  Third Layer: 1″ of SmartFlow foam
Nest's proprietary Visco SmartFlow Foam is an air flow foam system with punched holes and breathable layers to achieve maximum air flow.
 4.  Foundation Layer: 6″ of Edge Support Base Foam
The Love Bed's foundation (base) layer is made of a medium-density foam with additional edge support built-in.
Compared with other mattress brands such as Tempur-Pedic or PlushBeds, the Love Bed's construction is simple.
But this simplicity does not come at much of a loss of quality or performance. The simple construction and design allows for low prices and a quality product that just works.
Cover
At the very top of the mattress, you will find a quilted cover made from a bamboo-blended fabric. This fabric consists of 35 percent bamboo and 65 percent polyester.
The Love Bed's cover is super-soft to the touch and works really well in dissipating body heat away from the top and out of the mattress.
The fabric is also great at wicking moisture away from your skin, so even if you get a bit sweaty at night (like my husband sometimes does), the mattress will remain dry, cool and comfortable.
Underneath the cover, Nest added a thin layer of visco foam which is of a different thickness depending on your firmness level.
The Luxury Firm Love Bed mattress only has the cover & lacks the soft visco foam underneath.
Smell/ Off Gassing
One concern among all foam mattress buyers is the issue of off-gassing.
A lot of mattresses produce a "new mattress smell' when they are opened for the first time. This can be uncomfortable & distracting at night for people who tend to be extra sensitive to smells.
From tests on the Love Bed and reports from customers, there really is no off-gassing with this mattress.
Though the mattress is delivered in a box (a common cause of off-gassing), you can use it immediately without being bothered by any factory smells.
There is no need to air the mattress for a few hours or days before using it.
Firmness
Nest offers two comfort levels for the Love Bed: medium and firm. Both cost the same. To remind: we rate firmness on a scale of 1 (very firm) to 10 (very soft).
Medium – the firmness rates a 5, or slightly firmer than most medium-firm mattresses sold online. It provides the perfect balance between cuddly soft and firm support and should meet the needs of 80% of sleepers. It is ideal for back and side sleepers as well as individuals with joint or back problems. If you like the cuddly feel without sinking in, pick the medium level.
Luxury – At a firmness level of 8, the Firm Love Bed is one of the firmest mattresses in the market.  I found it pretty-hard, to tell you the truth. Not recommended for most sleepers, since it can create uneven pressure points.
If you buy the Quail mattress and find out that the firmness level is not for you, Nest will generously provide a 100-day trial period within which you can return the mattress.
Sinkage
Another important issue for buyers is sinkage. This is a measure of how deep a mattress sinks when weight is applied. It is meant to gauge how much sinkage a sleeper would experience, and thus determine the comfort and support capability of a mattress.
As you would expect, the soft Love Bed Mattress exhibits the greatest sinkage. It sinks around 2 inches when in a normal lying position. This is quite deep, compared to most other soft mattresses in the market.
The medium mattress depresses 1 – 1.5 inches in a normal sleeping position. This is the ideal sinkage for most sleepers.
The very firm Love Bed mattress sinks less than one inch.
One area where the Love Bed fails is in edge support. Sitting on the edge, the mattress sinks more than 4 inches.
A mattress with good edge support should only depress 2 to 2.5 inches when sitting on the edge.
With the Love Bed, you will feel a big difference in comfort and support when you sit at the edge and when you lie on the mattress.
Motion Transfer
This is another area where the Love Bed does not score a full 5 stars.
Naturally, memory foam is better at reducing motion transfer than latex or innerspring mattresses. For a couple sharing the same bed, you should expect some motion transfer on the Love Bed, though it is fairly minimal and does not cause much disturbance.
Hot/Cold Issues
Despite the lack of complex technology, the Love Bed mattress performs surprisingly well at temperature control.
The top bamboo-blended cover absorbs moisture produced by your body and keeps the area in contact with your skin dry. Deeper down, the mattress circulates air freely in and out of the mattress.
The result is a mattress that remains dry throughout the night and sleeps cool.
You won't have to add a gel topper or anything else to address temperature issues.
Sex Experience
Seeing that Nest Bedding promotes the Love Bed as being good for sleep and sex, it is important to check whether their claims are true.
I won't reveal my proprietary methodology, but The Love Bed really is better than most mattresses when it comes to sex.
This is probably because of the type of latex used in the top layer. Memory foam tends to cause a 'stuck' feeling, whereas a spring mattress can creates excessive bounce.
With the Love Bed, though, you get the perfect combination of bounce and support that actually reduces the energy you need to, uh, complete the job.
When the time comes, you will definitely appreciate how much this mattress contributes to a great sex experience.
Warranty
Nest Bedding offers an industry-standard warranty period of 10 years.
This warranty applies only to the original buyer of the mattress and covers material defects and workmanship issues.
The Love Bed warranty can be voided if the mattress is used improperly or sustains defects such as burns and stains.
For full warranty details, visit https://www.nestbedding.com/pages/nest-warranty.
Return Policy
Nest Bedding has a very friendly return and exchange policy.
That said, before you can make a return or exchange, you have to use the mattress continuously for a period of not less than 30 days.
The reason for this requirement is that it takes time for the body to adapt to a new mattress. Any discomfort you might have felt in the beginning may fade away as you break in your new mattress.
By the end of 30 days, you will know whether The Love Bed is the right mattress for you, or not.
If you are still not sure after this period, the company provides an additional 100 days to completely make up your mind. Within this extended period, you can return your mattress for a full refund, upgrade to another mattress or request an exchange.
When you return a mattress, you have two options. Either donate it to a charity, in which case you incur no fee, or have staff from Nest Bedding pick it up from your home. With the second option, you will incur a $75 fee.
All returned mattresses are donated to charity or recycled depending on local regulations.
Pros and Cons
Pros
Very affordable! With a price range of $599-$899 and a no-interest financing option, this is one of the most affordable luxury foam mattresses you can buy.
Performs well on almost all fronts. The Love Bed mattress scores highly on issues of temperature control, comfort, support and durability. Overall, the sleeping experience is good with very little to complain about.
Friendly return policy. You have 100 days to try out the mattress and determine whether it is perfect for you. That is a very generous return policy. Furthermore, returns are easy and hassle-free.
Available in three firmness levels to suit all types of sleepers.
No off-gassing
Cons
Poor edge support
Noticeable motion transfer
The Firm Love Bed is pretty darn firm.
Save Up To $744 Now at Nest Bedding
This Mattress is Perfect For You If….
You are looking for a high-quality, simply made and budget-friendly foam mattress with a proven reputation for great sleeping experience.  And good sex!
Conclusion
Dozens of mattress companies have entered the mattress-in-a-box industry since Nest, Casper and Saatva opened shop online a few years ago. And a lot of these companies are very young startups who produce sub-par products.
In contrast, Nest Bedding continues to produce high-quality and affordable products coupled with great customer service. And they're not going anywhere.
The Love Bed has been an outstanding success for Nest because it's affordable, simply made and sleeps really well.
What more do you want?
Shop Now!
---
Affiliate Disclosure
Affiliate Disclosure: I may earn a small commission (at no cost to you) if you purchase a mattress after clicking a referral link or using a coupon code on this site. That said, all content and opinions on this site are my own and are NOT affected by these payments.
This site participates in the Amazon Services LLC Associates Program, an affiliate advertising program designed to provide a means for sites to earn advertising fees by advertising and linking to Amazon.com.
*Amazon and the Amazon logo are trademarks of Amazon.com, Inc, or its affiliates.
---