Affiliate Disclosure: I may earn a small commission (at no cost to you) if you purchase a mattress after clicking a referral link or using a coupon code on this site. That said, all content and opinions on this site are my own and are NOT affected by these payments.
In this head-to-head hybrid mattress comparison, I pit Leesa's new Sapira mattress against the Alexander Hybrid mattress by Nest Bedding.
Leesa and Nest Bedding are among the best known online mattress brands. Both companies focus on creating high quality mattresses that are affordable and easy to buy online.
Leesa was founded in 2015 and has experienced robust growth since then. They initially launched with one foam mattress, the excellent Leesa, which turned out to be a huge success.
In 2016, Leesa expanded their line with the launch of Sapira, a luxury hybrid (innerspring + memory foam) mattress.
Nest Bedding has been in the game longer than Leesa, having launched in 2011. They make a variety of mattresses with the Alexander Hybrid being one of their most recent best sellers.
So how do their two hybrid mattresses compare?
---
What's In This Comparison
In this hybrid mattress showdown, you will learn how the Sapira and Alexander hybrid mattresses perform in a number of areas, including price, warranty, comfort, construction and sleeping experience.
My aim is not to tell you which mattress is the best, but to give you the details you need to make a confident choice between these two mattresses.
So let's get going!
---
Sapira vs. Alexander Hybrid: Which One Should You Buy?
Here's my bottom line on which one you should buy, based upon your preferences and budget – keep reading this page, to learn more:
I gave the Sapira mattress a 4.7 overall rating (out of 5.0).
Buy the Sapira if:
You want the support & feel of an innerspring mattress.
You are a back or stomach sleeper.
You don't mind a little motion when sleeping with your partner.
I gave the Alexander Hybrid mattress a 4.8 overall rating (out of 5.0).
Buy the Alexander Hybrid if:
You or your partner sleeps on your side (choose the medium comfort).
You want the longest warranty
You need softer or firmer comfort choices.
You want a split-mattress option.
You want to pay $100s less
Keep reading to learn more about these differences.
---
Mattress Construction
Sapira Construction
A pocketed coil layer is the main feature of the Sapira mattress.
While there are lots of mattresses with pocketed coils, Leesa has re-engineered the Sapira's inner-coil technology, resulting in springs that are stronger, longer lasting and more responsive.
Each Sapira mattress is equipped with a thousand of these coils distributed all over the mattress for support right up to and including the edges.
The Sapira mattress has three layers, as follows:
At the top is a 1.5 inch hole-punched foam layer designed to keep the surface of the mattress cool and breathable.
The second layer consists of 1.5 inches of pressure relieving memory foam. Its work is to create contours around body curves, thus eliminating uncomfortable pressure points.
The third and thickest layer consists of pocketed coils sandwiched between two thin layers of stabilizing foams, each 1 inch thick.
Covering all these layers is a soft and stretchy cover made from a fabric called Poly-Lycra. It is a combination of polyester, which gives it a soft and breathable feel, and Lycra, which makes it stretchy and snuggly.
Alexander Hybrid Construction
The Alexander hybrid mattress packs quite a bit of technology in its 13 inches of thickness.
Like Sapira, it has pocketed coils located within the bottom layer of the mattress. These coils are designed to add foundational support and increase mattress durability.
Nest Bedding is also obsessed with temperature control.  To keep things cool, the Alexander Hybrid mattress employs three tactics:
The top layer uses a convoluted (like an egg tray) structure. This improves airflow, hence ensuring heat and moisture flow away quickly.
An inner layer uses copper-infused gel foam. Copper is a great heat conductor, which contributes to cooler temperatures at night. The gel infused into the foam also helps to keep heat flowing out.
A third piece of technology is in the SmartFlow layer, where punched foam ensures that proper airflow is maintained.
Finally, the Alexander Hybrid uses zoned pocketed coils to add durability, air flow and support.
The mattress has four distinct layers, as follows:
a convoluted top foam layer (2 inches)
a copper-infused gel foam layer (2 inches)
a SmartFlow layer with punched foam (2 inches) and finally,
a foundational support layer with pocketed coils.
There is also a non-removable soft fabric cover.
---
Comfort/Firmness
Sapira Firmness Options
Sapira is a single-comfort medium firm mattress with an approximate firmness rating of 6.5-7 out of 10 (10 being the highest firmness level).  There are no other firmness choices available.
When you lie on it, it feels a bit firmer than expected. But the memory foam layers on top quickly soften, creating nice contours as it adapts to your body size and shape.
By combining the best of memory foam on top w/ the support of pocketed coil springs, Sapira is provides both firm support and soft comfort. This is the ideal level for most types of sleepers.
However, if you sleep on your side or just love to sink into a plush mattress, you'll probably feel the Sapira is a bit too firm.
Alexander Hybrid Firmness Options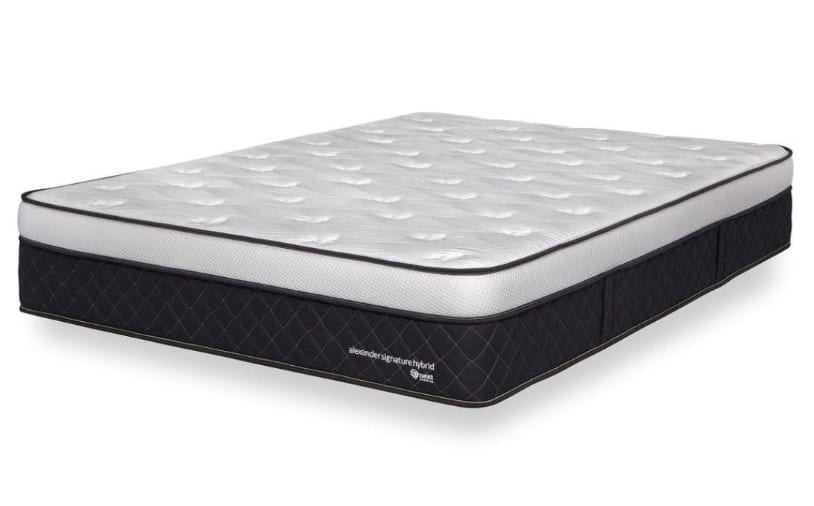 Unlike Sapira, you can choose from different firmness variations of the Alexander Hybrid mattress. There are three firmness levels: plush, medium and luxury firm.
The Plush mattress is quite soft, rating a 3 out of 10 where 10 is the firmest.
The Medium Alexander Hybrid mattress is slightly softer than Sapira, coming in at around 5-6/10.
The Luxury firm is much firmer than Sapira. Its firmness level rate a 8/10.
The medium option is ideal for most types of sleepers. Back and stomach sleepers will find it firm enough to provide even support and good spinal alignment, and side sleepers will be pleased with the soft contouring provided around the shoulders and hips.
Although it's not my cup of tea, the Luxury firm is a great choice for those who like a nice, firm spring mattress feel with little give. It is still comfortable but without the cozy 'hug' of the medium option.
---
Sleeping Experience
Sapira Sleeping Experience
Being a hybrid mattress, Sapira provides the best of two worlds. It has the pressure relief and comfort of a memory foam mattress and the responsiveness and support of an innerspring mattress.
Overall, it scores a 9/10 in terms of sleeping experience.
As a medium firm mattress, sinkage is about average for this type of mattress. Back and stomach sleepers will experience a 1.5-inch sinkage while side sleepers will see a slightly deeper 2-inch sinkage.
Try sitting on the edge and you will be impressed by the excellent level of edge support, which is partly due to the pocketed coil layer.
As with most foam-topped mattresses, motion transfer is minimal.  In addition, the pocketed coils help. This is thanks to the coil design where springs are separated from each other, ensuring that disturbance does not move from one point to another.
When it comes to temperature control, the Sapira mattress does a great job for a foam-topper. With its breathable cover, a hole-punched top layer and a coil layer that allows airflow, it never sleeps warm.
Alexander Hybrid Sleeping Experience
Alexander Hybrid also combines the strengths of memory foam and inner coils to create a great sleeping experience.
It provides adequate support – and most users say it is very comfortable, as long as you choose the right firmness level.
Sinkage depends on whether you are sleeping on the plush, medium or luxury firm.
The medium mattress is softer and has average sinkage, around 1.5 inches when you are sleeping on your back or stomach and almost 2 inches when you are lying on your side.
Sinkage is not as extreme as in other mattresses at the edges. This is thanks to the edge support system in the coil layer. This ensures even support whether you are sleeping in the middle or at the edge.
In addition to providing support, the coil layer also minimizes motion transfer. Any disturbance generated at a point is not transmitted since the coils are separate.
As for temperature control, Nest Bedding went to great lengths to ensure that the mattress remains cool.
The cover is highly breathable, the top layer has a convoluted design, the second layer is infused with copper and gel, the third layer has punched foam and the last layer contains coils that boost airflow.
So essentially, every layer of the mattress has been designed to keep things cool. The result is a mattress that is guaranteed to stay cool and fresh at all times.
---
Warranty & Returns
Sapira offers a standard non-prorated 10 year warranty (click to read it now). The company promises to cover all replacement or repair costs for 10 years after you buy the mattress on the conditions that it is used properly and is in your ownership during this time.
In contrast, Nest Bedding offers a lifetime warranty on the Alexander Hybrid (click to learn more).  You must use the mattress with the correct platform and keep it in your ownership for the warranty to be respected, however.
As for returns, both brands offer the same deal.
Sapira lets customers to try their mattress in-home for 100 nights. This is true no matter where you purchase the mattress. During this period of time, Sapira buyers can make a return if they feel the mattress is not right for them.
Nest Bedding also offers 100 nights to try out the Alexander Hybrid mattress.
In addition, both companies require that customers sleep on the mattress for at least 30 nights before deciding to start the return process.
---
Shipping and Delivery
Sapira
Sapira offers free shipping to all states in the US including Hawaii and Alaska. The mattress takes 4-7 days to be delivered to you depending on your location, but it could take as long as 1-3 months, depending on demand.
If you need help setting up your new Sapira mattress, choose the $99 white glove delivery option when checking out. Upon delivery, the mattress will be carried inside your house and set up in the room of your choosing. If you also have an old mattress that you want taken away, the total cost will be $149.
Alexander Hybrid
Nest Bedding also offers free shipping to all states in the US.
It goes a step further than Sapira, by shipping to most countries around the world. The applicable international shipping fee will be calculated at checkout.
Each mattress is handmade to order (which takes 2-3 days). You can request expedited shipping, although it will add fees.
A tracking number given to you will help you monitor the delivery process from start to when it is delivered to your location.
Nest also offers white glove delivery for the Alexander Hybrid. Contact them before ordering to get a quote for in-home delivery and setup.
---
Price
Both mattresses are extremely affordable, when compared to comparable store-bought mattresses.
The Alexander Hybrid is the best deal between these two. as you can see in the discounted price comparison below. But not by much.
NOTE: The comparison table below lists prices after applying our exclusive SleepDelivered discounts of $235 on Sapira and $100 on Nest Hybrid.  Just click a link below and order on the company's main site to claim your discount.
Bed Size
Sapira
(w/ discount)
Nest Hybrid
(w/ discount)
Twin
$860
$699
Twin XL
$960
$899
Full
$1,160
$1,099
Queen
$1,360
$1,199
King
$1,660
$1,499
CA King
$1,660
$1,499
Split King
n/a
$1,799
Split CalKing
n/a
$1,799
Deals and Discounts
If you prefer the Sapira,  then click here to visit the Sapira website and save $235 on any size (no code required).
If the Alexander Hybrid mattress is your choice,  then visit the Nest Bedding website to save $100 now – enter code DELIVERED100 when ordering.
Think you might keep shopping? Sign up for our newsletter and we'll send you all of our latest coupons, right away.
---
Sapira Mattress Is The Right Choice For You If:
You want the support of an innerspring mattress.
You are a back or stomach sleeper.  The Sapira's firmer feel is perfect.
You don't mind a little motion when sleeping with your partner.
---
Alexander Hybrid Is The Right Choice For You If:
You want to pay less. The Alexander Hybrid costs $150 less on most sizes.
You want the best warranty.  Nest's warranty is forever.
You need a softer or firmer comfort choice.
You need a split-mattress option. Unlike Sapira, Alexander Hybrid lets you customize two halves of the same mattress (King and Cal King sizes only).
You sleep on your side.
---
Save BIG On Your Next Mattress Purchase
Join our mailing list and get my LATEST COUPONS delivered immediately!
Send Me The Coupons
---
Learn More
Compare Mattresses Side-by-Side
---
Affiliate Disclosure
Affiliate Disclosure: I may earn a small commission (at no cost to you) if you purchase a mattress after clicking a referral link or using a coupon code on this site. That said, all content and opinions on this site are my own and are NOT affected by these payments.
This site participates in the Amazon Services LLC Associates Program, an affiliate advertising program designed to provide a means for sites to earn advertising fees by advertising and linking to Amazon.com.
*Amazon and the Amazon logo are trademarks of Amazon.com, Inc, or its affiliates.
---
SHARE THIS PAGE