NOTE: We earn from qualifying purchases made via Amazon Associates and other affiliate programs. Learn more.
Blush pink is becoming a popular choice for home interiors today. Once called a feminine shade, blush pink now marked its impact as a most versatile color for adults' bedrooms and family rooms.
Blush pink is calm but glamorous and subtle yet stylish. Whether you add it to your wall, furniture, fabrics, or accessories, blush pink will take your bedroom to a new level.
Want to incorporate blush pink into your bedroom? Check out these ten bold, new Hollywood regency bedrooms in blush pink to get some inspiration:
1.) Bold Black & Gorgeous Pink
A Hollywood regency bedroom in bold black and gorgeous pink revealing baroque style furniture, decorative walls, and lamps.
2.) Artistic Details
A high-class royal bedroom revealing artistic details on walls and a canopy bed in pink.
3.) A Baroque Bed in Blush Pink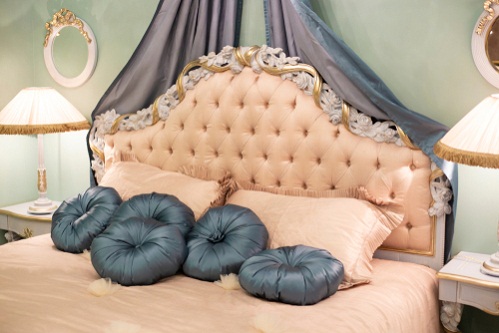 A luxurious royal bedroom with a baroque-style bed in blush pink with a grey canopy and pillows.
4.) Bring a King Size Upholstered Bed
Check out this lovely king-size upholstered bed in pink against a decorative wall in white perfect for your highly luxurious Hollywood regency bedroom.
5.) One for Your Little Princess
A lovely bedroom in blush pink for your little princess, lighters of walls, different pillows on the bed, and rabbit toys on the bedside desk.
6.) Soft & Luxurious
A soft and luxurious bedroom setting in green and blush pink! A soft green bed with blush pink bed linen and a mix of pillows, pink drapes, wallpaper, and flower vases.
7.) A Chic Sofa in Blush Pink
Consider this kind of chic carved sofa in blush pink for your Hollywood regency bedroom!
8.) Ornate Cornice
A luxurious classic bedroom in blush pink and soft blue revealing a lovely upholstered bed, glided molded walls, ornate cornice, and an upholstered bench.
9.) Classic Pink Finish
A lovely interior concept for your bedroom in blush pink and white!
10.) For Your Boudoir
A classic boudoir idea for a girls' bedroom!
A Hollywood regency bedroom in blush pink looks more glamorous and dramatic when paired up with other colors. The common color choices are Black, blue, white, and green. You have to choose one that blends in perfectly.
I hope you got some inspiration from our posts! Happy Decorating!
---
Affiliate Disclosure
Affiliate Disclosure: I may earn a small commission (at no cost to you) if you purchase a mattress after clicking a referral link or using a coupon code on this site. That said, all content and opinions on this site are my own and are NOT affected by these payments.
This site participates in the Amazon Services LLC Associates Program, an affiliate advertising program designed to provide a means for sites to earn advertising fees by advertising and linking to Amazon.com.
*Amazon and the Amazon logo are trademarks of Amazon.com, Inc, or its affiliates.
---