NOTE: We earn from qualifying purchases made via Amazon Associates and other affiliate programs. Learn more.
Once thought of as a color of a dreamy princess bedroom, blush pink has made a big comeback in home interiors. With so many changes today, pink-hued bedrooms have become a popular trend for the adult bedroom too.
Never dull, pink works well with various shades, from bold and dark to light and soothing. So, you can create a color contrast or mix different colors so that everything looks balanced.
Hence, whether you add a little or a lot, blush pink is a great color to incorporate into your bedroom.
Here are ten sleek new modern bedrooms in blush pink that help you know how cool and exciting pink spaces can be:
1.) A Beautiful Blend of Blush Pink
A lovely bedroom reveals a beautiful fusion of brown with blush pink with a white bed with blush pink blanket and pillows.
2.) Scandi-Inspired Bedroom
Check out this Scandi-inspired bedroom in pink, revealing an accent wall in pink, grey furniture, and white and pink bedding.
3.) Make it an Accent
Check out this modern and stylish bedroom in grey with accents of blush pink on the bedding and pillows.
4.) A Cool & Stylish Setting
A modern minimalistic bedroom reveals a cool and stylish setting with a modern bed with bedding and pillows in blush pink, bedside tables with clock, nightlamp, and flower pots.
5.) An Accent Bed in Blush Pink
A lovely upholstered bed in blush pink makes a perfect choice for a modern bedroom with a blush pink color scheme.
6.) Want to Add Tiny Accents?
If you're going to add tiny accents of pink in your modern bedroom, consider this kind of lovely rug in pink.
7.) Bright & Beautiful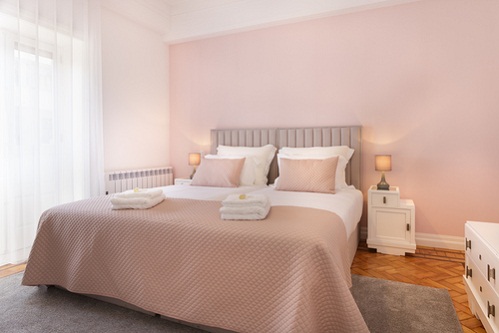 A bright and beautiful bedroom in pink with a comfortable bed against a pink blush wall, complementing bedding and pillows, an area rug, and a bedside table with a night lamp.
8.) Monochromatic Setting
A stylish bedroom is revealing a monochrome setting in blush pink.
9.) How About Pink & Grey
Check out this bedroom with a perfect amalgamation of pink & grey, revealing grey furniture in blush pink interiors.
10.) Accent Wall
An accent wall is a perfect idea to implement any color scheme without making huge changes to your bedroom.
I hope you got some inspiration from our picks! Modern bedrooms with a blush pink color scheme look elegant, charming, appealing, soothing, and relaxing.
So, go ahead and have fun decorating!
---
Affiliate Disclosure
Affiliate Disclosure: I may earn a small commission (at no cost to you) if you purchase a mattress after clicking a referral link or using a coupon code on this site. That said, all content and opinions on this site are my own and are NOT affected by these payments.
This site participates in the Amazon Services LLC Associates Program, an affiliate advertising program designed to provide a means for sites to earn advertising fees by advertising and linking to Amazon.com.
*Amazon and the Amazon logo are trademarks of Amazon.com, Inc, or its affiliates.
---