NOTE: We earn from qualifying purchases made via Amazon Associates and other affiliate programs. Learn more.
Rustic bedrooms are warm and cozy spaces decorated with rugged elements, casual area rugs, upcycled furniture, and warm tones. While decorating a bedroom, the first thing to consider is the right color scheme.
Soft black is a warm and sophisticated color that brings natural elegance and warmth into your rustic bedroom. Whether paint your walls or bring it through fabrics, a soft black is the most customizable color for your bedroom.
We have pulled out these ten cozy and warm rustic bedrooms in soft black to help you design a perfect relaxing spot.
1.) A Soft Black Bed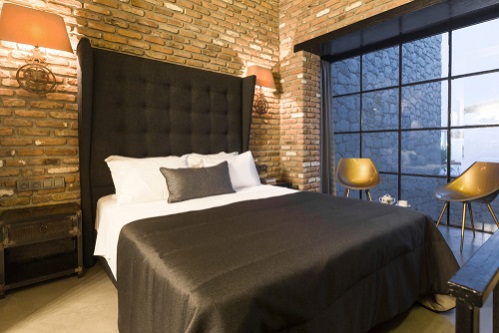 Check out this rustic bedroom with a soft black bed with white bedding and black comforter, brick walls, and two golden chairs.
2.) Punctuate It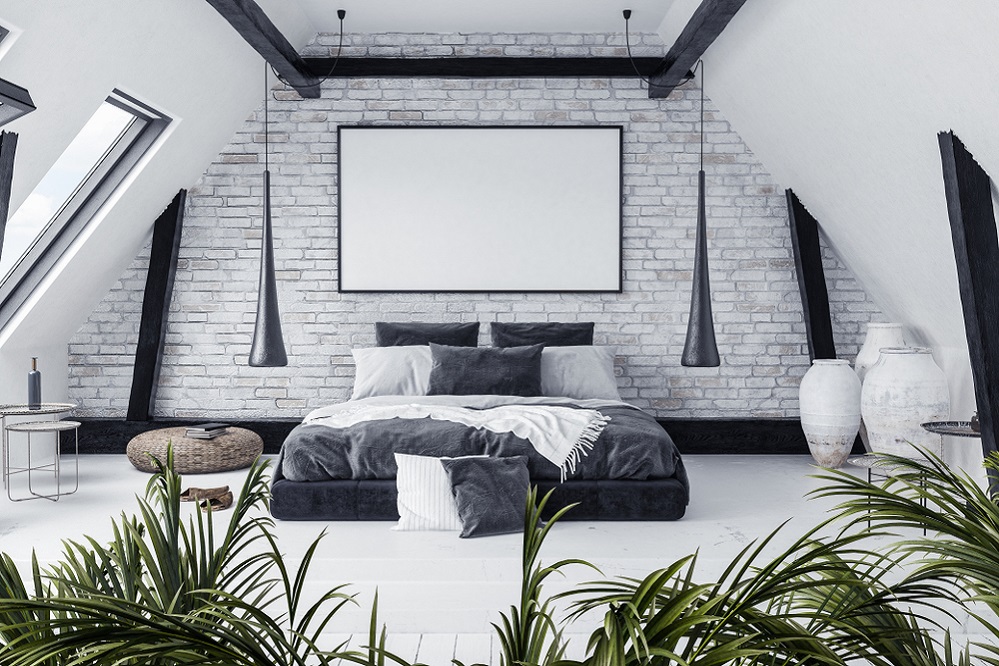 Check out this attic-style interior in white punctuated with black with a bed, pouf, vases, and a few tropical plants.
3.) Ethnic Decor
A rustic bedroom with black walls, a wooden bed with black bedding and pillows, rattan lamps, and ethnic décor.
4.) A Soft Black Blanket
Check out this rustic bedroom with a rustic king-size bed with orange bedding and a black blanket.
5.) Little Accents of Soft Black
A rustic bedroom in white with a bit of accent of soft black on the pillows, duvet, paintings, and cushion on the swing.
6.) A Rustic Black Dresser
A rustic black dresser like this makes a perfect choice for your rustic bedroom in soft black.
7.) Bed Linens
Check out this rustic bedroom with a white bed with black bed linen and pillows against a wooden wall, and two lamps standing on the floor.
8.) A Patterned Rug
A patterned rug in soft black is a perfect thing to elevate your rustic bedroom.
9.) An Accent Bed
Check out this rustic bedroom with an accent bed in soft black with a blue blanket, white and black pillows, black lamps, and white drapes.
10.) Accent Pillows
Check out this bedroom in gray with a comfortable bed and accent pillows in soft black.
I hope you got some inspiration from these picks! However, these are just a few ideas, and the options are endless. Go ahead and mix and match everything to create a super chic rustic bedroom.
Happy Decorating!
---
Affiliate Disclosure
Affiliate Disclosure: I may earn a small commission (at no cost to you) if you purchase a mattress after clicking a referral link or using a coupon code on this site. That said, all content and opinions on this site are my own and are NOT affected by these payments.
This site participates in the Amazon Services LLC Associates Program, an affiliate advertising program designed to provide a means for sites to earn advertising fees by advertising and linking to Amazon.com.
*Amazon and the Amazon logo are trademarks of Amazon.com, Inc, or its affiliates.
---