NOTE: We earn from qualifying purchases made via Amazon Associates and other affiliate programs. Learn more.
Want to build a timeless concept for your bedroom? Caramel is the classic color scheme that never goes out of style.
A bedroom is a place where we meet ourselves and spend quality time. So, it must be warm, relaxing, homey, as well as appealing.
Being a natural and earthy tone, caramel lends warmth and coziness to your bedroom. But, how does it really work in a bohemian-style bedroom?
Let's walk through these eclectic and interesting boho chic bedrooms in caramel to get some inspiration:
1.) Rattan Decorations
Check out this bohemian bedroom with a rustic caramel interior with a comfortable bed and rattan decorations.
2.) Modern Bohemian
A modern boho bedroom is set with a wooden bed, caramel walls with matching bedding, white pillows, a rug, and a pouf.
3.) Accent Wall
Check out this chic boho bedroom with an accent wall in caramel against a white bed, a white dresser, rattan chair, plants, and ethnic décor.
4.) Accent Pillows
Add two or more accent pillows in caramel color for a warm and homey setting.
5.) Ethic Decor
A beautiful bohemian setting is highlighting a caramel wall with ethnic décor against a comfortable bed with soft linen and pillows, a jute basket with plants, and a round jute rug.
6.) Contrast With Green
A beautiful bedroom is revealing a perfect contrast of green and caramel, giving a natural and charming appeal.
7.) Bed Linen
Bring your bed linen in caramel color to lend natural warmth to your bohemian bedroom.
8.) A Warm Blanket
Check out this bohemian bedroom revealing a comfortable bed draped in beige linen, a warm blanket in caramel, a rattan chair, and two round wooden tables with a vase and camera.
9.) Punctuate It
Check out this bohemian bedroom punctuated with caramel with a comforter, rug, and a wooden partition.
10.) Make it An Accent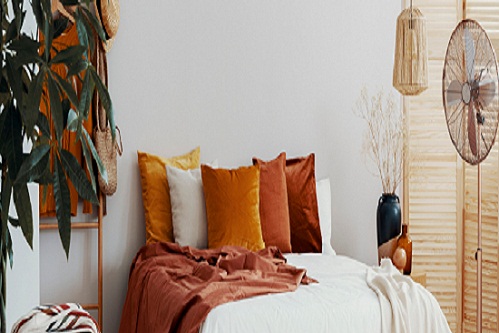 Add little accents of caramel into your bohemian bedroom by bringing it through your bedding and pillows.
Bohemian bedrooms are unconventional, artistic spaces with eclectic décor. There is some natural warmth and elegance about boho decors. Bohemian is a style of free spirit and helps you explore your artistic side.
With bohemian style, you have the opportunity to play with so many different colors to make a good pair with caramel.
I hope you got some inspiration from our picks! Happy Decorating!
---
Affiliate Disclosure
Affiliate Disclosure: I may earn a small commission (at no cost to you) if you purchase a mattress after clicking a referral link or using a coupon code on this site. That said, all content and opinions on this site are my own and are NOT affected by these payments.
This site participates in the Amazon Services LLC Associates Program, an affiliate advertising program designed to provide a means for sites to earn advertising fees by advertising and linking to Amazon.com.
*Amazon and the Amazon logo are trademarks of Amazon.com, Inc, or its affiliates.
---