NOTE: We earn from qualifying purchases made via Amazon Associates and other affiliate programs. Learn more.
Signifying calm and relaxation, ice blue is the fastest growing trend in home interior designing. Whether it is your living room or bedroom, an ice blue makes a great style statement.
Mid-century bedrooms embrace art, decors, and elements that date back to the middle of the 20th century. But that doesn't mean fussy and outdated.
With the right choice of sleek furnishings, subtle fabrics, and the right color choice, your mid-century bedroom can turn into a luxurious cocoon. An ice blue is a muted and natural shade that brings tranquillity and serenity into any bedroom.
Here are ten iconic mid-century bedrooms in ice blue that will definitely invite you to revamp your bedroom:
1.) Accent Pillow
The simplest way to add any desired color to your bedroom is to bring it through accent pillows.
2.) Make it an Accent
Light and bright bedroom in white accent with blue on the comforter, pillows, and a rug.
3.) Bring it Through Bedding and Pillows
Check out this bedroom with black and blue décor revealing a perfect space to relax.
4.) An Accent Bed
How about an accent bed in ice blue? Well, it makes a great choice for your bedroom, especially if you pair it up with white bedding and pillows.
5.) Blue & Pink
The union of blue and pink looks charming and elegant like this bedroom in white with blue, and pink accents on bedding and pillows.
6.) Blue Sheets & Pillows
Check out this bedroom in white with a comfortable bed with blue bedding and pillows.
7.) Pops of Color
A fun and interesting bedroom with pops of color including ice blue, yellow, and pink.
8.) Bring an Ice Blue Sofa
Create a comfortable seating area into your bedroom with this style of sofa in ice blue with a button-tufted design.
9.) Vintage Inspired
A vintage-inspired bedroom in beige with tiny accents of ice blue on the night lamps.
10.) Add Patterns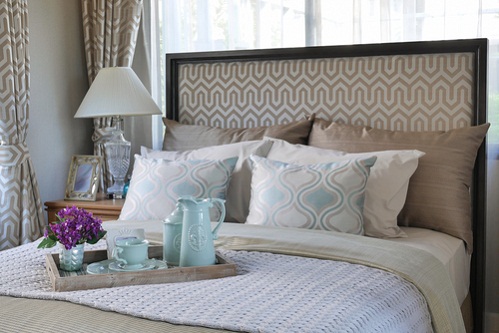 Add patterns into your mid-century bedroom with your bedding, pillows, and other fabrics.
The ice blue chic mid-century bedrooms feel warm and beautiful with accents of other soft shades and mixed patterns. Just be selective and pick what appeals to your eyes and bedroom.
I hope you got some inspiration from our picks! Happy Decorating!
---
Affiliate Disclosure
Affiliate Disclosure: I may earn a small commission (at no cost to you) if you purchase a mattress after clicking a referral link or using a coupon code on this site. That said, all content and opinions on this site are my own and are NOT affected by these payments.
This site participates in the Amazon Services LLC Associates Program, an affiliate advertising program designed to provide a means for sites to earn advertising fees by advertising and linking to Amazon.com.
*Amazon and the Amazon logo are trademarks of Amazon.com, Inc, or its affiliates.
---