NOTE: We earn from qualifying purchases made via Amazon Associates and other affiliate programs. Learn more.
Fireplaces have been in and remained in trend for many decades. No matter where you live, a fireplace makes any home complete.
No one can deny the warmth and coziness that a fireplace gives. In ancient times, people used to burn wood or coal to add warmth to space.
The idea of a fireplace advented from there. And this sparks the trend for installing a fireplace in homes to provide warmth. Not only that, it creates a style statement.
Read on to find ten smart new bedroom fireplace ideas to help transform your bedroom into a warm and cozy place.
1.) Sleek & Concrete Look
A sleek and concrete fireplace design like this is just what a modern bedroom needs.
2.) A Long & Rectangular Fireplace
Here's a long and rectangular fireplace design to keep the classic look of a modern bedroom.
3.) A Gas Burning Fireplace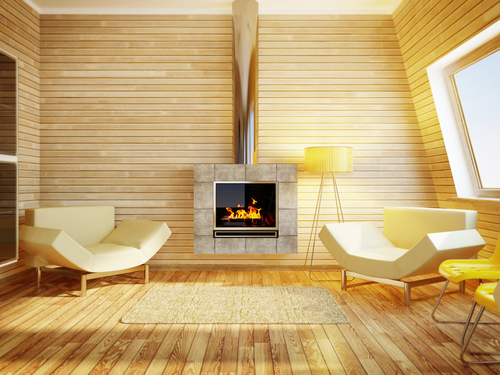 A gas-burning fireplace is integrated into the PVC walls. Note the trendy and stylish chairs for an extravagant setting.
4.) Modern Linear Gas Fireplace
A modern linear gas fireplace is installed in a wooden wall. Note the wall clock, fur carpet with cushions for seating, and the two vases with plants on both sides of the fireplace.
5.) A Two Way Fireplace
A two-way fireplace to heat up your bedroom and bathroom at the same time. No more cold feet during your visits.
6.) Black Metal Stove
An elegant black metal stove with log wood makes a perfect addition to a contemporary bedroom.
7.) Electric Fireplace on a Brick Wall
An electric fireplace is in trend for the last many years. It gives a real warmth that a gas or wood-burning fireplace provides.
8.) Napoleon Fireplace
The napoleon fireplaces highlight real-looking logs and are an elegant item for your modern bedroom. It also provides an attractive glow with a subtle warmth.
9.) White Electric Fireplace
An elegant white fireplace decorated with red and white candles. The modern electric feel and the white look make it a posh eye view.
10.) Decorative Electric Fireplace
A modern decorative electric fireplace with a beautiful burning flame will provide a gorgeous look with subtle warmth to your bedroom.
Hope you like our picks! A modern fireplace features a clean and polished look with a metallic finish. Either you choose a gas or an electric fireplace, it will equally add to your ambiance and style.
Enjoy decorating!
---
Affiliate Disclosure
Affiliate Disclosure: I may earn a small commission (at no cost to you) if you purchase a mattress after clicking a referral link or using a coupon code on this site. That said, all content and opinions on this site are my own and are NOT affected by these payments.
This site participates in the Amazon Services LLC Associates Program, an affiliate advertising program designed to provide a means for sites to earn advertising fees by advertising and linking to Amazon.com.
*Amazon and the Amazon logo are trademarks of Amazon.com, Inc, or its affiliates.
---