NOTE: We earn from qualifying purchases made via Amazon Associates and other affiliate programs. Learn more.
We start and end our day in our bedroom. Hence, it must be a soothing, warm, and inviting place, right? It's where we begin our morning with high energy and unwind ourselves after a long hectic day.
Nothing is more soothing, relaxing, and inviting than a modern white bedroom. Painting your walls in all-white brings coziness, warmth, and relaxation. And further, adding furniture and fabrics in neutral shades makes a place feel homely.
Whether you share your bedroom with your partner or live solo, your bedroom should reflect your personality and values.
Here are ten sleek new modern bedroom ideas that will help you bring warm, inviting, and positive vibes into your home.
1.) Sleek & Stylish
Check out this all-white bedroom revealing a sleek and polished look by keeping all the things inline. Note the comfortable king-size with a white blanket, wooden floor, white walls, and stylish bookcase standing near it.
2.) Earthy Shades Fabrics
Make your all-white bedroom more interesting by choosing fabrics with earthy shades. The earthy tone makes your bedroom more appealing while maintaining its serenity.
3.) White Patterned Headboard With Similar Bedding
A lovely patterned headboard with complementing bedding in white is what you need to elevate your all-white bedroom. Note the various frames on the wall, a beige nightstand sitting on the floor, and a flower vase on a white wooden table.
4.) Keep Luxury in Mind
Make your all-white modern bedroom luxurious with a careful selection of furniture and fabrics like this bedroom.
5.) Elegant White Bedroom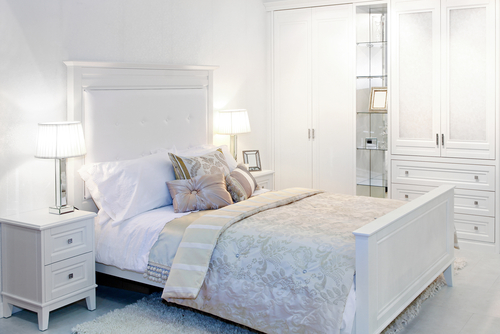 Check out this elegant bedroom in white, highlighting a queen-size bed with a large headboard, comfortable bedding and comforter, a white bedside desk with a nightstand, and a few comfy pillows.
6.) Spacious & Clutter-free
Modern bedrooms are often clutter-free and spacious, revealing a clean and polished look like this in white.
7.) Large Windows
If you have a backyard or garden, keeping your windows large will allow you to experience nature while being inside your bedroom.
8.) Pure White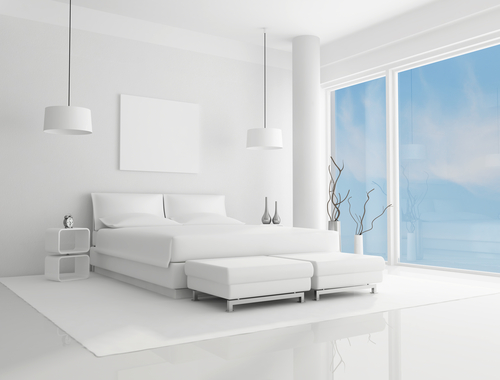 You can also keep your bedroom pure white by selecting everything from furniture to fabrics. All in white!
9.) Neutral Shades
A spacious white bedroom looks interesting with neutral shades such as grey for instance.
Check out this bedroom where everything from furniture to fabrics is accented with a grey shade!
10.) Grey Bed in White Bedroom
This grey bed pops out against the white wall making it the focal point, and the bedroom is looking more appealing.
Hope you got inspired by these ideas and maybe want to revamp your shades.
Modern bedrooms are simple, minimalistic, and clutter-free spaces accommodating sleek furniture, minimal décor, a few architectural elements, and photo frames, and lastly, the PVC walls make it the right topping for an immaculate interior.
If you want to add a little bit of color into your modern white bedroom, go with fabrics in neutral shades such as soft grey, light blue, beige, off-white, and some earthy tones.
Enjoy decorating!
---
Affiliate Disclosure
Affiliate Disclosure: I may earn a small commission (at no cost to you) if you purchase a mattress after clicking a referral link or using a coupon code on this site. That said, all content and opinions on this site are my own and are NOT affected by these payments.
This site participates in the Amazon Services LLC Associates Program, an affiliate advertising program designed to provide a means for sites to earn advertising fees by advertising and linking to Amazon.com.
*Amazon and the Amazon logo are trademarks of Amazon.com, Inc, or its affiliates.
---