NOTE: We earn from qualifying purchases made via Amazon Associates and other affiliate programs. Learn more.
Bedrooms are the most personal spaces in your home. It's a place where you can shut out the world and create an oasis just for yourself, so it makes sense to put love into every little detail of them! One way to do this is by decorating with cobalt blue shades that evoke calm serenity like sea waves onshore or tranquil water reflecting light from above.
Every person deserves their own retreat when they need relief from life's stresses – one which reflects who they truly are! Your bedroom should be decorated as uniquely as you are.
Don't settle for anything less than what will make you feel happy inside and outside of bedtime hours.
With these ten warm and inviting farmhouse bedrooms in cobalt blue, we hope you get some inspiration for your own:
1.) Cobalt Blue Linen
Check out this farmhouse bedroom in white with a comfortable bed draped in cobalt blue linen, blue and white pillows, and two tables with a lamp and a flower vase.
2.) Punctate It
A farmhouse bedroom in white punctuated with cobalt blue on pillows, mirrors, and paintings on the wall.
3.) A Luxury Setting
A luxurious bedroom with a cobalt blue bed, printed linens and curtains, and upholstered seats.
4.) Small & Cozy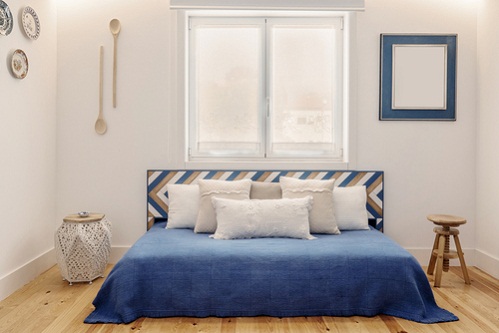 A small and cozy bedroom with a comfy bed draped in cobalt blue linens, white pillows, and a blue mirror on the wall.
5.) Subtle Fabrics
A farmhouse bedroom in blue and white with a comfortable bed with subtle fabrics creating a warm and cozy atmosphere.
6.) Add Lots of Pillows
Throw more than a few pillows in blue and white for a warm and homey feel.
7.) Accent Pillows
Add two or more accent pillows in cobalt blue to complement the color scheme.
8.) Accent Bed
An accent bed in cobalt blue is a fantastic addition to elevate your bedroom.
9.) Blue Walls
Cobalt blue paint on walls sets a perfect backdrop for your furniture and fabrics.
10.)  Blue Curtains
Check out this bedroom in white with a comfy bed with blue pillows, a fabric bench, and lovely curtains in cobalt blue.
Many people view a farmhouse bedroom as something rustic and natural. However, that doesn't mean you can't also create an atmosphere of luxury with some simple decor tips for space. Happy decorating!
---
Affiliate Disclosure
Affiliate Disclosure: I may earn a small commission (at no cost to you) if you purchase a mattress after clicking a referral link or using a coupon code on this site. That said, all content and opinions on this site are my own and are NOT affected by these payments.
This site participates in the Amazon Services LLC Associates Program, an affiliate advertising program designed to provide a means for sites to earn advertising fees by advertising and linking to Amazon.com.
*Amazon and the Amazon logo are trademarks of Amazon.com, Inc, or its affiliates.
---