NOTE: We earn from qualifying purchases made via Amazon Associates and other affiliate programs. Learn more.
Want to give your farmhouse bedroom a cool and refreshing look. An ice blue color scheme is the best way to make your bedroom more energetic without losing its warmth and calmness.
An ice blue is a calm, refreshing, and appealing color for your bedroom as well as the living room. Ice blue brings serenity, tranquility, and a relaxing vibe to your bedroom space. The right color will determine the atmosphere of your overall space.
But the question is, how to incorporate this cool and refreshing shade into your space? Here are ten warm and inviting farmhouse bedrooms in ice blue that will appeal to you.
1.) Add it in Your Bedding & Pillows
A lovely bedroom with tints of ice blue on a comforter and pillows on a wooden bed, a plant sitting in a glass jar, a hanging bulb, and a wooden table with a book and glass jar.
2.) How About a Lot of Ice Blue?
Check out this bedroom decorated in ice blue with a mix of pillows on a comfortable bed against a blue wall and a hanging lamp.
3.) White & Ice Blue
A lovely bedroom is revealing a simple blend of white & ice blue with comfortable bedding and pillows in white, a beautiful wooden dressing table, and walls in ice blue!
4.) A Bedroom in Beige & Blue
A farmhouse bedroom revealing a rare yet lovely blend of beige and ice blue with an upholstered bed, carved white dressers, and pillows, and a rug in ice blue.
5.) Different Shades of Blue
A classic farmhouse bedroom is revealing different shades of blue-ice blue on the walls and dark blue on the bedding and pillows.
6.) A Warm & Cozy Bedroom
A warm and cozy bedroom in ice blue with dark wood furniture, white bedding and pillows, and paintings on walls.
7.) Light & Simple
Check out this bedroom with a Provence-style bed against a wall in ice blue, bedside tables with night lamps, and a beige rug.
8.) Add it in Your Fabrics
A warm and cozy farmhouse bedroom revealing a king-size bed with comfortable bedding and pillows, brass night lamps, a comfy armchair, and a designer rug.
9.) A Classic Bedroom in Ice Blue
Check out this classic bedroom setting in ice blue, revealing a perfect harmony between each element.
10.) Accent Pillows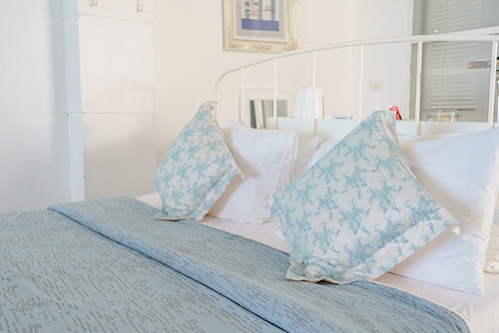 Check out this vintage-style bedroom with accent pillows in ice blue and beautiful patterns.
You can easily use more than a few pillows in different patterns and colors to make your farmhouse bedroom extra warm and welcoming!
People love the farmhouse design scheme for the warmth and serenity it adds to any space. And designing farmhouse spaces with an ice blue color scheme will heighten your space.
I hope you got some inspiration from our picks! Happy Decorating!
---
Affiliate Disclosure
Affiliate Disclosure: I may earn a small commission (at no cost to you) if you purchase a mattress after clicking a referral link or using a coupon code on this site. That said, all content and opinions on this site are my own and are NOT affected by these payments.
This site participates in the Amazon Services LLC Associates Program, an affiliate advertising program designed to provide a means for sites to earn advertising fees by advertising and linking to Amazon.com.
*Amazon and the Amazon logo are trademarks of Amazon.com, Inc, or its affiliates.
---