NOTE: We earn from qualifying purchases made via Amazon Associates and other affiliate programs. Learn more.
Shopping for a bed fan that will help you sleep cool at night?
You've come to the right place.
Cooling mattress toppers and sheets are great for most people. But for those who sleep extra-hot, you need an active cooling system like a bed fan.
A bed fan delivers cooler air to your bed, thus helping lower your body temperature. The cooler air also helps with sweating and hot flashes, consequently ensuring a comfortable night's sleep.
---
What's In This Buying Guide?
In this buying guide, we recommend the best bed fans for cooling at night. There's one obvious choice if you want the best bed fan – BedJet.
We'll also review two other cheaper brands, namely bFan and Night Bliss.
Because under-sheet bed fans are not very common (we could only find three brands), we'll also include a couple of standard fans that are perfect for bedside use. These are not as effective as an under-sheet fan, but they can still help you sleep cooler.
If you want to learn about other ways to sleep cool, read our reviews of the best bed cooling systems. We also have a very detailed and helpful post with proven tips on how to keep your bed cool.
---
Best Bed Fans
| Product | Award | Type | Temperature Control | Fan Speed | Timer | Warranty |
| --- | --- | --- | --- | --- | --- | --- |
| BedJet 3 | Our top pick | Under-sheets | Cools & warms | Variable fan speeds | Yes | 2yr warranty |
| bFan | Best budget | Under-sheets | Cools | Variable fan speeds | Yes | No warranty |
| Night Bliss Cool Flash 3+ | Most powerful blower | Under-sheets | Cools | 4 fan speeds | Yes | 1 yr warranty |
| Honeywell Kaz HT-904 | Best bedside fan | Floor/table fan | Cools | 3 fan speeds | No | 1 yr warranty |
| Dreo 42 inch | Best quiet tower fan | Tower fan | Cools | 6 fan speeds | Yes | 1 yr warranty |
---
1. Our Top Pick: BedJet 3
BedJet 3 is the best bed fan you can get. It's not just a bed fan; it's a complete climate control system that can both efficientlycool and warm you.
You can set a precise temperature, program hour-by-hour temperature settings for the night, and set a silent warm wakeup alarm.
The only downside of the BedJet 3 is that it's much more expensive than most other bed fans.
Pros
Cools and warms your bed.
Temperature selection.
Great for extra-hot sleepers.
Dual-zone option for couples.
Wireless remote control.
Cons
Our Review
BedJet works by taking air from around the room and delivering it under your sheets to keep you cool.
Usually, the room temperature at night is low enough for the air to be cool. The problem occurs when you cover yourself with bedding that traps warm body air around your body, causing you to get hot and eventually profusely sweat.
BedJet not only delivers cool air right to your bed, but it also keeps air moving around your body to prevent stagnant hot air.
BedJet's cooling performance depends a lot on ambient temperature. You can set a temperature as low as 66F, but your bed will likely not get that cold.
Luckily, most people don't need to be that cold to sleep comfortably. A majority of BedJet users say that a setting between 70 and 76 degrees, depending on where you live and your sleep preferences, is adequate.
Note that BedJet (and all other bed fans) is not a replacement for your AC. You'll need to keep your AC on to maintain a comfortable room temperature. If the room temperature rises beyond 79 degrees, BedJet will struggle to deliver cool air.
That said, you still get energy savings since you can set your thermostat a few degrees higher than usual.
BedJet 3 comes with a heating element that instantly delivers warm air when you increase the temperature. It's perfect for winter and people who get cold feet at night.
The included wireless remote control is easy to use and even comes with a screen so you can see all the settings and options.
In addition to adjusting temperature, you can adjust fan speed, select various modes (turbo, heat, dry, and cool), set an auto-off timer, and program the Biorhythm feature that lets you set different temperatures for different times of the night.
BedJet is available in a single zone and dual-zone option. The dual-zone version includes two units and two remote controls, so couples can adjust the temperature on their side of the bed.
BedJet also sells a Cloud Sheet that hooks up directly to the blower hose for more efficient air delivery.
Issues & Complaints
The main issue with BedJet 3 is its price. It's one of the most expensive bed fans you'll find online.
But we think it's worth it. It works extremely well in keeping you cool or warm.
Many users say it can be a bit noisy when you set the fan speed on high. You can easily solve this by lowering fan speed to 50% or less. You still have a decent amount of wind cooling or warming you, without the noise keeping you awake.
Bottom Line
BedJet 3 is best for: Anyone looking for an advanced bed fan that can cool or warm the bed.
Avoid if: You are shopping for a budget bed fan.
---
2. Best Budget: bFan
If you aren't ready to shell out a lot of money on a bed fan, bFan is a cheaper alternative.
The bFan works a lot like BedJet 3 – it delivers cool air directly to your body under the sheets. However, it doesn't have the same cooling performance as BedJet, and you can't select a preferred temperature, but it works well enough for most hot sleepers.
Pros
Cheaper than BedJet.
Easy to set up.
Quiet.
Adjustable fan speed.
Made in the USA.
Cons
Our Review
The bFan consists of a base unit and an adjustable height bar. The bar is curved at the top, such that it rests on top of your mattress and delivers air under the bedding.
The actual fan is at the base of the unit. This, combined with the brushless motors used in the bFan, make it quiet. Even at the highest fan speed, it maintains its quiet operation and won't keep you awake.
The fan pulls in air from the room and delivers it through the connected bar. You can adjust the bar to fit the height of your bed. There are two bar options available.
For low beds, select the version that can adjust from 19" to 28". For tall beds, get the 28" to 38" version.
The bFan is easy to set up. You can set up the unit at the foot of the bed or on the side. You then attach the bar and place bedding over it.
To get the best out of bFan, the manufacturer recommends using high thread count sheets (at least 400 thread count). This keeps air from leaking out of the bedding, thus giving it time to reach your entire body and cool you down.
One thing bFan users love about it is that the airflow feels comfortable against the skin. If you don't like the idea of wind constantly blowing on you, bFan is perfect. It feels like a very gentle breeze.
Most people don't even feel the air moving. They only notice the sheet rising up and that they are feeling cooler.
Note that bFan works best for a single person. It's not powerful enough to cool two people in the same bed. For couples who both want to sleep cooler, we recommend buying two bFans, and setting them on each side of the bed.
bFan comes with a wireless remote control that lets you adjust fan speed, save settings, and set an auto-off timer.
Issues & Complaints
bFan doesn't come with a filter, a surprising omission for a fan. So sometimes, critters and dust from the floor will find their way into the fan and blow into the bed.
If you think this will be a big problem for you, check out the Night Bliss fan below, which draws air from higher up to avoid this issue.
Bottom Line
bFan is best for: Anyone shopping for an affordable bFan.
Avoid if: You prefer the powerful cooling and warming of BedJet 3.
---
If you like the idea of a budget bed fan like bFan, but want something more powerful, we recommend you try the Night Bliss Cool Flash 3+.
It is the best affordable bed fan for really hot sleepers, menopausal women with hot flashes, and people with serious night sweats.
Pros
Powerful cooling performance.
Easy to set up.
Wireless button on neck pendant for easy control.
Adjustable fan speed.
Quiet.
Collects air from higher up, ensuring no dust or critters get into the fan.
Cons
No programmable temperature settings.
Doesn't warm you.
Our Review
The most impressive feature of the Night Bliss Cool Flash 3 is how powerful it is. Three powerful fans in the unit deliver 12 MPH wind in seconds, enough to dome your bed as the air lifts the bedding.
It also cools you down quickly.
Though Night Bliss works largely on the same principle as BedJet and bFan, there's one major difference. The Night Bliss Cool Flash doesn't have a floor unit.
The main unit sits at the foot of your bed, with intake vents facing the outside and outlet vents delivering air inside the bed.
This makes the Night Bliss fan easier to set up. It also ensures you are not receiving dirty air from the floor – no dust or critters getting into the fan.
To ensure you don't kick the unit off the bed while you'reasleep, the Night Bliss Cool Flash 3 comes with a support brace that holds the fan in place.
When ordering the Night Bliss Cool Flash 3, you can also order a separator bar if you want the cooling to be on just one side of the bed. This is great for couples where only one of you needs the cool breeze.
You can also use the bar to run two Night Bliss fans in one bed. This is handy if you like different levels of cooling. You can each set the timer and fan speed to your preferences.
You can select one of four wind speeds on the control panel of the Night Bliss bed fan. You'll also receive a wireless button attached to a neck pendant that you can wear in bed for easy access.
The button lets you start and stop the fan without sitting up and reaching for the control panel. It also lets you set an auto-off timer or set the fan to run all night.
Issues & Complaints
If you want year-round comfort, your best option is BedJet. Night Bliss is great, but it's good for just cooling. It will not warm you when it gets chilly.
Night Bliss alsodoesn't have programmable temperature settings. So, you have to play around with the fan speeds and timer to get the cooling exactly how you like it.
Bottom Line
Night Bliss Cool Flash 3 is best for: Hot sleepers, people with night sweats, and people with hot flashes looking for an affordable but powerful bed fan.
Avoid if: You want to be able to set a specific temperature. Also, not suitable if you want a fan that also keeps you warm in winter.
---
If you want an even cheaper way to sleep cool, get a bedside fan instead of an under-sheets bed fan. One of the best fans for your bedside is the Honeywell Kaz HT-904.
It's small enough to sit on a bedside table, blows a lot of air for its size, and it runs pretty quietly.
Pros
Cheaper than an under-sheets bed fan.
Powerful.
Quiet.
Pivoting head directs air where you want.
Adjustable fan speeds.
Cons
Not as effective as an under-sheets fan.
Doesn't pivot downwards.
Our Review
Because the Honeywell Kaz fan doesn't deliver cool air directly under the sheets, we recommend it mostly for mild hot sleepers.
If you sleep just a tad warmer than you'd like, or the nights get a bit too warm during certain months of the year, the Honeywell Kaz fan might help.
It moves air around the room and blows cool air at you. This can eliminate some of the hot air trapped around your body and help dry sweat on your skin, which also helps keep you cool.
Like other bed fans, Honeywell Kaz does not replace your AC. If the air in the room is too warm, moving it around with a fan will not make it any cooler.
But you can increase your thermostat a few degrees and still sleep cool with the fan on.
You can place the Honeywell Kaz fan on your bedside table and pivot it to blow air at you. You can also place it on the floor and pivot it upwards towards the bed.
Because the fan does not tilt down (only up), we recommend placing it where it'll be lower than or at the same level as your bed.
The fan is surprisingly quiet even at the highest speed. But if you want even more quiet to sleep well, you can select among three fans speeds.
Issues & Complaints
If you sleep really hot, get hot flashes quite often, or experience serious night sweats, the Honeywell Kaz fan is not for you.
It will be much better for you to get an under-sheets bed fan instead, like BedJet, bFan, or Night Bliss. These are much more effective coolers because they blow air directly on you without bedding getting in the way.
Another limitation of the Honeywell Kaz fan is the lack of a downward pivot. It only pivots upwards, meaning you have to keep it level with your bed or lower. This limits its versatility.
It also doesn't come with a remote control or an auto-off timer, both handy features for a bedside fan.
Bottom Line
The Honeywell Kaz HT-904 fan is best for: Anyone looking for a cheap but powerful bedside fan to help them sleep cooler.
Avoid if: You sleep really hot, you have night sweats, or you experience hot flashes. An under-sheets bed fan is a better choice.
---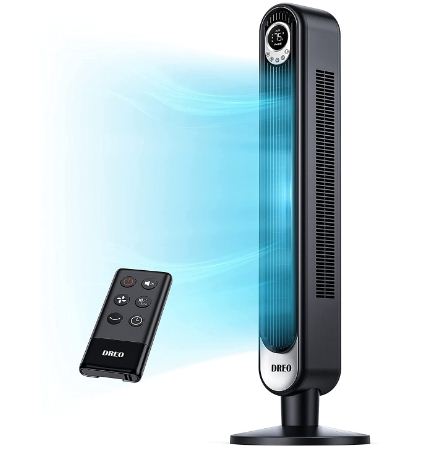 If you are looking for a more powerful bedside fan, the Dreo 42 inch tower fan is a great choice. It puts out lots of air to cool larger bedrooms, it has an ultra-quiet bladeless design, and it comes with numerous features (including a dedicated sleep mode) to help you sleep better.
Pros
Powerful and quiet.
Multiple modes and speeds.
Auto-off timer.
Auto mode.
Temperature display.
Cons
Not as effective as an under-sheets bed fan.
Our Review
Though bigger and more powerful than the Honeywell Kaz HT-904 fan we've reviewed above, the Dreo tower fan is still cheaper than an under-sheet bed fan.
Most mild and average hot sleepers will find the Dreo fan's cooling to be adequate for a good night's sleep. All you need to do is lighten your bedding or switch to more breathable bedding.
With a height of 42 inches, the Dreo tower fan delivers air right to your bed. You can set the fan to oscillate to get a nice and uniformhead-to-toe air distribution.
The Dreo tower fan has a bladeless design. It's able to push out lots of air fast while staying quiet.
It quickly cools the room about 5-6 degrees, helping you sleep more comfortably. Note that you still need to keep your AC on, but you can raise it a few degrees to save energy.
The Dreo fan has a small display that shows the current temperature. So, you can see just how effective the fan is.
For effortless control, you get a wireless remote control with this device. The remote control is super user-friendly and offers plenty of features and options.
You can set the Dreo fan to one of three modes: normal, natural (simulates a natural breeze), and a dedicated sleep mode (gradually lowers fan speed and turns off display).
Each mode has six selectable speeds, allowing you to adjust the noise and cooling level.
The Dreo fan also has an auto mode. In this mode, the fan speed adjusts automatically depending on room temperature. If it gets warmer, the fan kicks into a higher speed to keep you cool. It lowers speed when it gets cooler to save energy and keep you from freezing.
The Dreo fan comes with an auto-off timer that you can set between 1 and 12 hours.
Issues & Complaints
If you are an extra-hot sleeper or have severe nights sweats or hot flashes, we don't think the Dreo tower fan is right for you.
As powerful as it is, it cannot replace the effectiveness of an under-sheets bed fan.
Bottom Line
The Dreo 42 inch tower fan is best for: Hot sleepers looking for a powerful and quiet tower fan that will cool a large bedroom.
Avoid if: You have severe hot flashes or night sweats. Get an under-sheets bed fan instead.
---
Bed Fan Buying Guide
What is a Bed Fan – and How Does It Work?
A bed fan is a type of fan that's designed to deliver air directly to your bed. The typical design consists of the main unit that sits on the floor with an attached hose that blows air under the sheets onto your body.
The only exception is the Night Bliss Cool Flash that sits on your bed and blows air from vents instead of a hose.
The main advantage of a bed fan is the superior cooling and sweat drying it provides.
While a normal fan may cool the room and help you sleep a bit better, the cool air doesn't interact with your skin. This doesn't help most hot sleepers, women experiencing hot flashes, and people with night sweats sleep as cool as they need.
With a bed fan, the moving air blows over you, preventing hot body air from building up and quickly evaporating sweat from your skin. The cooling effect of a bed fan is usually instantaneous. It's so effective that the bed could get too cold.
A bed fan works like any other fan. Using a fan or multiple fans, it pushes air around the room. As long as the AC is on and the room temperature is not too high, the fan cools the bed by a few degrees.
Note that in our buying guide above, we've reviewed only three bed fans (the only good ones we could find online). The other two (Honeywell Kaz and Dreo) are standard fans that are great for bedside use.
Why Get a Bed Fan?
If you only get a bit hot in bed and that too only occasionallyon some nights, you probably don't need a bed fan. A bedside fan may be enough for those warm nights.
But if on most nights, you find yourself sweating and kicking off the blankets because it's too hot, a bed fan will be much more effective than a standard fan.
A bed fan is also great for menopausal women experiencing hot flashes. You enjoy a cool blast of air that reduces discomfort.
Most hot sleepers try to get comfortable in bed by lowering the thermostat. But that often doesn't work since the air and humidity trapped under the blanket still make you hot, sweaty, and stuffy.
Buying a bed fan can actually save you a few bucks on central cooling. Many people find they can crank their thermostat a few degrees (to between 70 and 75 degrees), which saves money.
Limitations of Bed Fans
As great as they are, bed fans have a few limitations that you should know before buying one.
The biggest one is that they do not replace central cooling. Similar to a ceiling or floor fan, a bed fan cannot cool you down to whatever temperature you wish.
It simply moves air around. If the room is hot, you'll not experience any cooling.
So, you still have to keep your AC on, whether it's a central AC, a window AC, or a portable AC. But you can increase the temperature by a few degrees, and the fan will ensure you still sleep cool.
Another limitation is that most bed fans only cool you. They will not warm you on chilly nights.
BedJet is the only exception. It has a heating element that warms the air that's then delivered under the blanket.
Most other bed fans are only good for warm nights.
What to Look For in a Bed Fan?
1. Cooling Performance
How well does the fan cool the bed? That's the most important thing to consider.
An effective bed fan has powerful airflow that delivers lots of cool air to keep you comfortable and quickly dry sweat.
Check customer reviews to see what other people had to say about their experiences with a particular bed fan. Even with the AC set fairly high in the 70s, a good bed fan should be able to keep you cool and dry.
2. Setup & Installation
Different bed fans have different kinds of setups. Check what type of installation a particular fan requires, and see if it'll work for your bedroom situation.
For example, BedJet 3 needs some under-bed clearance for it to work properly. The Night Bliss Cool Flash works on any bed since it sits on your mattress.
3. Features & Settings
Check to make sure the bed fan comes with a remote control. It'll be handy when you need to adjust fan speed or turn the fan on/off in the middle of the night.
Check what kind of options and features the remote control offers. Here are the two most important ones.
Fan speed settings – This lets you control the amount of cooling as well as noise level.
Auto-off timer – This lets you set the bed fan to run only for a certain number of hours, which ensures you don't wake up freezing because the fan ran for too long.
Depending on the bed fan you get, you'll find various additional features. Some of our favorites include Biorhythm and programmable temperature settings in BedJet 3.
4. Noise Level
The last thing you want is a noisy fan right next to or under your bed. Fortunately, the three bed fans we've reviewed operate quietly.
You'll hear the fan when you select the highest fan speed, but you'll rarely need to run the unit all night on high. Once you turn down fan speed, you'll only feel a cool breeze on your skin.
The two bedside fans in our buying guide are also quiet – that's a big reason we chose them for the bedroom.
5. Bed Fan vs. Bedside Fan
The last thing to consider is whether you want an under-sheets bed fan or a traditional fan that you can set up next to your bed.
Here's our recommendation.
Get an under-sheets bed fan if you sleep really hot, have serious night sweats, or experience hot flashes. An under-sheets bed fan is hands down the most effective way to deal with these issues.
Get an ordinary bedside fan if you are on a budget (ordinary fans are cheaper), and you are a mildly hot sleeper.
---
Frequently Asked Questions
How much power does a bed fan use?
Very little. Since there's no compressor cooling and, in most cases, no heating, bed fans typically consume less than 100W of energy per hour.
Can you leave a bed fan on all night?
Yes, most bed fans give you that option. But you might wake up freezing in the middle of the night as temperatures drop and the fan delivers colder air to the bed.
A better option is to set an auto-off timer so that the fan switches off after a few hours.
If you sleep hot or night or sweat a lot, set the fan speed to low, then leave the bed fan on all night. This will keep you comfortably cool without getting chilly.
Can I turn off my AC if I have a bed fan?
No, do not turn off your AC when using a bed fan. That's because the fan needs the room to stay at a comfortable temperature for it to blow cool air.
What you can do is increase the thermostat a few degrees to save money on central cooling.
---
Final Verdict: What Is the Best Bed Fan Sold Today?
BedJet 3 is without question the best bed fan sold today. It's powerful, it heats and cools, and offers plenty of great features.
---
Affiliate Disclosure
Affiliate Disclosure: I may earn a small commission (at no cost to you) if you purchase a mattress after clicking a referral link or using a coupon code on this site. That said, all content and opinions on this site are my own and are NOT affected by these payments.
This site participates in the Amazon Services LLC Associates Program, an affiliate advertising program designed to provide a means for sites to earn advertising fees by advertising and linking to Amazon.com.
*Amazon and the Amazon logo are trademarks of Amazon.com, Inc, or its affiliates.
---