NOTE: We earn from qualifying purchases made via Amazon Associates and other affiliate programs. Learn more.
Shopping for a bed climate control system that can heat and cool you while you sleep?
You've come to the right place.
Bed climate control systems warm and cool your bed directly based on settings you provide.  Some use forced air and others use water in mattress pads to accomplish this.
Bed warming and cooling systems are great if you normally sleep hot or cold – and especially if you suffer from hot flashes or night sweats.
Even if you don't get particularly hot or cold at night, you will love the extra cooling during the summer and the toasty warmth on chilly winter nights.
The best part about bed climate control systems is that they give you all-year / all-season comfort while reducing the need to run your central heating/cooling system as hard – which can save you money.
---
What's In This Buying Guide
In this buying guide, we review and compare the best bed cooling + warming climate control systems sold today.
We also explain how these systems work and discuss the features and options you should consider to choose the right model for your bed.
If your sole issue is that you sleep hot, experience hot flashes, or suffer from night sweats, then check out our recently-updated roundups of the best bed cooling systems, the best cooling mattress pads & toppers, and the best bed fans a read.
---
Best Bed Climate Control Systems (Heating + Cooling)
---
1. Our Top Pick: BedJet 
In our opinion, the BedJet is the best bed heater and cooler system for most people.
It blows hot or cool air under your sheets to cool and warm your body all over, which provides instant cooling/warming and dries sweat. 
Couples can order a dual zone BedJet to set individual temperatures for each side of the bed. So no more arguments over the thermostat!
My husband and I tested the BedJet V3 last year and still use it in our master bedroom. 
I love the ability to control my own side of the bed, and I prefer the feeling of warm air enveloping my body on a cold night (more than a warming mattress pad).
Pros 
Instant cooling and warming. 

Great for people with night sweats. 

Programmable temperature control. 

Biorhythm sleep technology and silent alarm.

Advanced remote control. 
Cons 
A bit loud when on high. 

Cooling performance depends on room temperature. 
Our Review 
BedJet is one of the most popular bed cooling and warming systems, and one of very few use forced air to heat and cool you under your sheets. 
The main advantage of an air-based bed climate control system is speed. Because air is blowing directly on you, you'll feel warmer or cooler as soon as you turn it on. 
Forced air is also great for drying sweat from your skin. For people with night sweats, BedJet is the by far the best bed heater and cooler. 
The BedJet system consists of the main unit that sits under or next to the bed and a connected hose that sits on top of your mattress and bottom sheet. 
Once you cover yourself with a comforter, the hose delivers cool or warm air over your body through holes embedded in the bottom half of a special two-layer sheet called the Cloud Sheet.  You don't have to purchase the Cloud Sheet – but I strongly recommend you do.  It's far superior to just blowing air under your sheet.
The BedJet comes with an outstanding remote control with a color screen. You can select your favorite temperature between 66 and 104 degrees, adjust the fan speed, set a timer, and select one of several pre-programmed operating modes. 
For example, you can use the Biorhythm feature to match your sleep cycle to different temperatures and you can set set a silent temperature alarm to wake you with cool or warm air in the morning. 
Issues & Limitations 
On cooling mode, BedJet is not a compressor-based unit. It's essentially a powerful bed fan. This means its cooling performance will be limited by your room's ambient temperature and humidity. 
You'll need to keep the room at 79 degrees or lower to get a cooling effect. But you'll save energy because you won't have to set your thermostat as low to sleep comfortably. 
When it comes to heating, BedJet uses an electric heating element that rapidly warms the air, which is then blown into the bed.  During the winter you don't have to worry about the ambient temperature of the room.
Another minor issue with BedJet is the noise level. It's 'minor' because it's not a big deal for most people. BedJet is really only noisy when fan speed is on high. But you'll rarely sleep with the fan set high. That's only useful for initial cooling or warming. 
Once you are comfortable, you can turn the fan speed low – at that point, it generates a soft white fan noise that I find very soothing.  
Bottom Line 
The BedJet is best for: Anyone looking for a fast-acting bed cooling and heating system. It is also the best choice for people with night sweats & hot flashes. 
Avoid if: Your bedroom exceeds 80 degrees F at night. If this is your situation, we recommend buying a true compressor-based air conditioner before a BedJet. 
---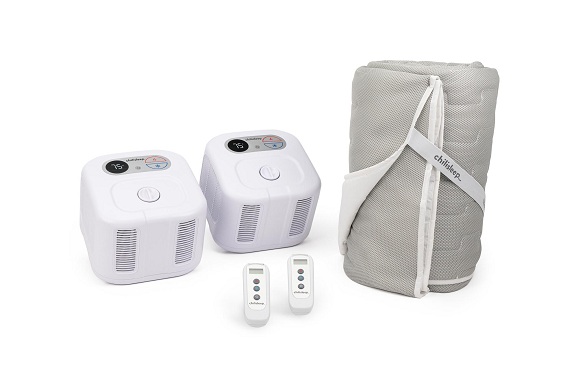 Use code SLEEPME to get 15% off the Cube Sleep System.
While the water-based Sleepme Cube doesn't have the same instant heating/cooling effect of BedJet, it offers some unique advantages. 
The Cube system has a wider temperature range than the BedJet, for example, and it works more efficiently than an air-based system like BedJet. 
It's also the best choice if you don't like the feel of air blowing over you. 
Pros 
Widest temperature range. 

Cooling is less affected by ambient temperature. 

Helps with hot flashes and night sweats. 

Fairly quiet – produces a gentle hum similar to white noise.

Single and dual zone options. 
Cons 
Doesn't heat or cool you instantly. 

Some people may not like the feel of a tube-filled mattress pad under their back. 

Side-sleepers may find the pad too firm.

Limited set of controls (upgrade to the OOLER or the new Dock Pro for more programmability).
Our Review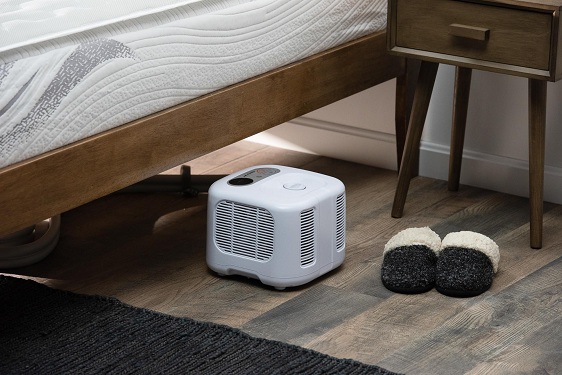 Like the BedJet, we reviewed the Sleepme Cube in our master bedroom for a few weeks straight.   Overall, it did a great job, but we prefer an air-based system over a water pad system.
Instead of a hose blowing air into your bed, the Cube sleep system circulates cooled or warmed water through tiny tubes inside a soft mattress pad that sits directly beneath your fitted sheet. 
You place the Chili Cool Mesh pad on your mattress (on top of the mattress protector) and set the Cube on the floor next to your bed.  
The Sleepme Cube takes a bit longer – about 5-15 minutes – to achieve your target temperature, which is much slower than the BedJet.  We found ourselves starting up the Cube about 20 minutes before bedtime, which is easy.
Because it is a water-based cooling system, the Cube can remove a lot more heat per minute from your body than the BedJet can.
If you your room regularly exceeds 80 degrees F, then the Sleepme Cube is the better choice. 
The Cube's temperature range is 55 to 115 degrees F, compared with BedJet's 66-104F range. 
Because of water's thermal characteristics, the Sleepme Cube heats and cools you more efficiently than BedJet. It's also affected less by ambient temperature, making it great for those who want to set their AC a bit higher to save more energy. 
The Cube sleep system is great for night sweats, though it doesn't evaporate your perspiration away as quickly as BedJet does. But once it gets cool, you'll feel plenty cool through the night. 
Similar to the BedJet, the Sleepme Cube does not use a compressor. It uses air in your bedroom to cool water that's then circulated through the mattress pad.   
But because water has far more heat absorbing capacity than air, the cooling effect is much more pronounced.
You'll still need to keep your AC on (but set the thermostat higher), to ensure your room stays cool enough for the Cube to work properly. Without the AC, the Cube can actually make the room warmer as the heat pulled from your body is dispersed around the room. 
The Cube sleep system is available in a single zone and dual zone option.
The dual zone version (which we tested) comes with a 2-zone cooling pad and two Cubes so sleeping partners can control the temperature of their side of the bed independently.
Issues & Limitations
Because water takes time to warm or cool, the Cube sleep system doesn't provide instant heating or cooling. But you can set it to pre-cool or pre-warm the bed a few minutes before you get in bed. 
The mattress pad did not make our mattress feel any different, but other owners have reported feeling the tubes under them. 
The Sleepme Cube comes with a remote control, but it's pretty basic. You can only adjust temperature up and down. You can't even adjust fan speed.
It also lacks the advanced programming the BedJet remote control provides such as a timer, hour-by-hour temperature settings, and a silent alarm. 
Fortunately, Sleepme makes a smarter system called the OOLER that provides all of that – and more.
Their newer Dock Pro sleep system is even smarter and cools better than both OOLER and Cube.
Bottom Line 
The Sleepme Cube is best for: Anyone looking for a water-based bed heating and cooling system. 
Avoid if: You prefer an air-based bed climate control system. Also not suitable if you want a system with advanced settings and controls. Get a BedJet or OOLER instead. 
---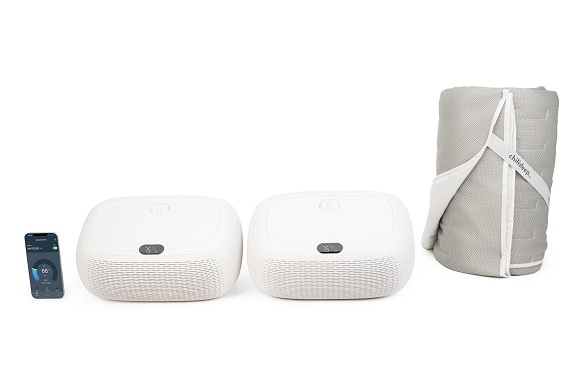 Use code SLEEPME to get 15% off the OOLER Sleep System.
For those who want a more customizable bed heating / cooling experience, we recommend buying the Sleepme OOLER. 
It offers personalized sleep schedules, warm awake, and smartphone app control. 
That said, it costs a bit more than its sibling, the Sleepme Cube sleep system. 
Pros 
Customizable comfort settings. 

Wide temperature range. 

App control.

Efficient water cooling and warming. 

Dual zone option. 

Self-cleaning with UV.
Cons 
No physical remote control.

Doesn't heat or cool instantly like BedJet. 

Pricey. 
Our Review 
In terms of functionality, the OOLER is similar to the Cube. They both use the same mattress pad, the Chili Cool Mesh pad. 
The main unit cools or warms water then pumps it through tubes in the mattress pad. 
Cooling and warming performance is similar to Cube. It cools really well and does a great job keeping you warm on cooler nights. 
You can select temperatures between 55 and 115F, though how cold the pad can get depends on ambient temperature. We recommend keeping your AC on but raising it a few degrees to save energy. 
Where the OOLER differs from the Cube is in its settings and options. Instead of the basic remote control you get with the Cube system, OOLER has a companion smartphone app. 
In addition to adjusting temperature, you can adjust fan speed (great for fan noise), set a silent warm awake alarm, and set a personalized temperature schedule. 
The personalized schedule feature works roughly the same way as BedJet's Biorythm. You set different temperatures for different periods at night. 
Most people like to sleep cool when they first get in bed, then get a bit warmer as the night gets colder. You can adjust OOLER to whatever schedule you find most comfortable. 
As for maintenance, the Chili Cool Mesh pad that comes with both the OOLER and Cube systems is machine washable. 
OOLER has an integrated UV light in the reservoir that keeps mold, mildew and bacteria from growing inside. 
Issues & Limitations
If you are shopping on a budget, Sleepme Cube is the cheaper option and it cools and warms the bed just as well as OOLER. If you don't care about personalized settings and app control, just go with the Cube system.
OOLER's app control is nice to have, but we wish the system also came with a physical remote control. Not everyone wants to use an app to adjust settings (especially those who prefer keeping gadgets out of the bedroom). 
And sometimes the app fails to connect to the system. The main unit has some buttons on it but only for adjusting temperature. You have to use the app to adjust fan speed, set an alarm, and create a customized temperature schedule.  
Bottom Line 
Sleepme OOLER is best for: Anyone looking for a water-based bed heater and cooler with app control and customizable temperature settings. 
Avoid if: You are shopping on a budget, or prefer a system with a traditional remote control. 
---
The Eight Sleep Pod Pro cover does so much more than just cool or warm you; it also tracks your sleep and health and includes plenty of other smart features. 
All this doesn't come cheap – the Pro Pro cover is the most expensive bed heater and cooler among our picks. 
Pros 
Wide temperature range. 

Personalized temperature control. 

Sleep and health tracking. 

Fits snugly on most mattresses. 

Dual zone option. 
Cons 
Mattress pad can change the feel of your mattress. 

No remote control.

Pricey. 
Our Review 
We've always loved Eight Sleep's smart mattress. The only problem was that all the cool stuff was in the cover and had to buy the mattress to also enjoy the tech in the cover. 
That's no longer a problem. Now you can order the smart cover on its own and use it with your current mattress. There are two options available: one for mattresses between 11 and 16 inches thick and another for 10 and 11 inch mattresses. 
The Pod Pro cover offers two big things: thermoregulation and sleep/health tracking.
Let's start with thermoregulation. The Pod Pro cover is a water-based bed heating and cooling system. There's the main unit where you add water and a pad that contains a grid that distributes cooled or warmed water. 
Interestingly, Eight Sleep does not offer a single zone option for the Pod Pro cover. It's only available in Full to Cal King sizes, all of which have dual zone temperature control.
Another notable difference with other water based systems is that the Pro Pro uses a single main unit for both zones. This is great for small bedrooms. 
To control temperature, you'll have to download the Eight Sleep app and connect your phone to the Pod Pro system. 
You can then adjust temperature between 55 and 110 degrees and set individual temperatures for each side of the bed. 
The Pod Pro cover has a smart mode that automatically adjust temperature through the night to keep you comfortable. 
It also features a gentle alarm that combines increased temperature with a soft vibration to wake you up. 
As for the sleep and health tracking, it's handy if you want to monitor various health and sleep metrics without using any wearables. 
Sensors are embedded in the pad and track different things including sleep cycles, sleep duration, heart rate and breathing patterns. 
When you wake up, you can check how you are doing on the app. You'll get a sleep quality report, a sleep fitness score, and you can even monitor your sleep trends over time. 
Issues & Limitations 
The Pod Pro Cover is expensive. If all you are interested in is the cooling and warming, go with one of the other picks above. They are cheaper and will keep you just as comfortable. 
But if you like the idea of tracking how well you are sleeping, then the Pod Pro cover is worth it. 
One issue to note before you get the Pod Pro is that the pad can change the feel of the mattress. You won't feel the grid inside the pad, but the thin layer of foam on the pad can make your mattress a tad softer. 
That said, it doesn't change the comfort or support of your mattress. You'll quickly get used to the slight change in softness. 
Another thing to note is that the Pod Pro Cover doesn't come with a physical remote control. If you are not big on using apps to control gadgets and devices, get BedJet or Sleepme Cube. 
Bottom Line 
The Pod Pro Cover is best for: Anyone looking for a smart bed heater and cooler with advanced temperature control. Also great for anyone who want to track their sleep without using wearables.
Avoid if: You are shopping on a budget. 
---
If you are on a really tight budget, you may need to consider a passive heating and cooling system that doesn't involve air or water. Our top pick is the Kömforte Dual Zone Comforter. 
Normally, passive systems like toppers and comforters only help with cooling. In contrast, the Kömforte comforter keeps you cool or warm depending on which side you sleep under. 
Pros
Cheaper than active cooling and heating systems. 

Dual zone for couples.

Doesn't use any electricity.

Machine washable.
Cons 
Not suitable for night sweats and extra-hot sleepers.
Our Review 
Passive be heaters and coolers are not as effective as active air and water based systems. But they are cheap, and can be adequate for people who need just a bit of help to sleep cooler or warmer. 
To provide both cooling and warming, the Kömforte comforter is split into two sides with different filling densities. 
One side has down filling with a density of 150 GSM (grams per square meter) and the other has a density of 300 GSM. 
So one side is thinner than the other. The thinner side with less down filling traps less heat and sleeps cooler. This side is for the partner who tends to get warm at night. 
The thicker side has more filling and traps more heating, so it sleeps warmer. It's great for the partner who sleeps cold.
The Kömforte comforter has labelled tabs so you can identify which side is which. 
Issues & Limitations 
As good as it is, the Kömforte comforter cannot match the cooling and heating performance of active systems like BedJet and Sleepme. 
If you sleep really hot or sweat a lot at night, the Kömforte comforter will not be much help. Keep in mind that it contains synthetic filling and a polyester cover which are not as breathable as natural materials like cotton and down. 
Bottom Line 
The Kömforte comforter is best for: Couples who have different sleep temperature preferences and are looking for an affordable bed heating and cooling system. 
Avoid if: You sleep really hot or have night sweats. Get an active system instead. 
---
Buying Guide: Bed Heating and Cooling Systems
Why Do I Need a Bed Heating and Cooling System?
Sleep temperature is important when it comes to sleep quality. Generally, your body should be cooler for you to fall asleep easily and sleep deeply. 
If you are too cold or too warm, you'll have trouble falling and staying asleep. 
If you have an air conditioner, whether central or portable, you can use that to keep your bedroom at the right temperature (60-67 degrees is ideal). 
But that may not be enough to keep you comfortable especially if you have a heat-trapping mattress. It also uses a lot of energy just to keep the bedroom comfortable. 
A bed heater and cooler is not only more effective at thermoregulation, it's also much more efficient. Instead of heating or cooling the entire room, it focuses only on the bed. 
A bed heating and cooling system can help if you are a hot or cold sleeper. You can dial in your preferred sleeping temperature and slumber away. 
People with night sweats can also benefit from a bed heater and cooler. By turning the temperature down, you can cool your body and reduce or even prevent excessive sweating. 
A bed heater and cooler can also come in handy during the hot or cold months of the year. You can enjoy a cooler bed in summer, and a cozy warm bed in winter. 
Types of Bed Heaters and Coolers 
There are generally two types of bed heaters and coolers: active and passive. 
Active systems use either air or water to keep you comfortable. These are great because you can select exactly how cool or hot you want to selep. 
That said, they are limited by ambient temperature and humidity especially when it comes to cooling. You have to keep your AC on (but set a few degrees higher to save energy) to maintain good cooling performance. 
Water-based active bed heaters and coolers are better for people who sleep extra-hot. These systems can keep the bed colder because of water's thermal properties. 
Air-based systems (BedJet is the only one we know about) are the best for hot flashes because they provide instant cooling. They are also great for night sweats. The moving air quickly dries your skin. 
As for passive systems, most of them only offer cooling. These include mattress toppers, cooling pads, and breathable sheets and duvets. We only found one comforter that has both cooling and warming. 
Passive systems are ideal if you are on a budget and only need mild cooling or warming. They are not effective for extra cold or hot sleepers, and people with night sweats. 
What to Look For in a Bed Heating and Cooling System
1. Water vs. Air Cooling and Heating 
The first thing to decide is whether you want a water or air based cooling and heating system. Both are pretty good, but have some key differences. 
An air system like BedJet cools or warms you instantly and is great for night sweats. 
On the downside, it has a smaller temperature range and its performance is affected more by room temperature. 
A water cooling/heating system like Sleepme or Eight Sleep Pod Pro needs a bit of time to get to the set temperature. But it has a wider temperature range (ideal for extra hot/cold sleepers) and is affected less by ambient temperature. 
2. Temperature Range 
Check the temperature range of the system to make sure it's adequate for your comfort needs. This is especially important if you need extra-strong cooling or heating. 
3. Dual Zone
Most bed heaters and coolers offer a dual zone option for couples. This allows each partner to set their side of the bed exactly how they like it. 
If you sleep alone or your partner doesn't need any cooling or warming, you can save money by getting a single zone system. 
4. Settings & Controls
At the very least, you should be able to select a specific temperature unless you get a passive cooling system. 
Some bed heating and cooling systems like Sleepme Cube stop there. Others offer more advanced and customizable settings. 
Some of our favorite settings include: 
Ability to set different temperatures through the night. This keeps you comfortable till morning. 

Smart scheduling that adjusts bed temperature based on when you go to sleep and wake up. 

Warm awake alarm that raises bed temperature to naturally wake you in the morning. Much better than a shrill alarm.  

Adjustable fan speed to reduce fan noise and enjoy quieter sleep. 
Something else to check is whether the system comes with a remote control, an app, or both. 
Generally, we prefer a remote control even if there's also an app. Remote controls are easier to use, and you don't have to carry your smartphone to bed if you don't want to.
But apps tend to provide more features and personalization. And for apps that work via WiFi, you can control the heating and cooling system from anywhere.  
5. Bed Compatibility 
Don't forget to check if the system is compatible with your bed. Some systems work with beds of a certain height and mattresses in a particular thickness range. 
Limitations of a Bed Heating and Cooling System 
The main limitation of bed heating and cooling systems is ambient temperature. Their heating and cooling performance depends on the temperature of your bedroom. This is especially the case with cooling. 
That's because bed heating and cooling systems do not contain compressors or refrigerants. They use the air in the room to cool you. So if your room is not cool enough, they won't work well. 
That's why a bed heating and cooling system is not a replacement for your AC. You can adjust your AC to save energy, but you'll need to keep it running.
---
Frequently Asked Questions
What is the best sleep temperature?
To sleep comfortably, set the thermostat to between 60 and 67 degrees. 65 degrees is the sweet spot for most people. 
Do bed heaters and coolers use a lot of energy?
Generally, no. Most have an energy consumption of around 100W or less. 
How can I make my bed feel cooler?
Start by replacing your bedding with cooler and breathable bedding such as cotton percale sheets and a lightweight duvet. 
You can also try a cooling mattress pad or topper. 
If you sleep really hot, consider getting a bed heating and cooling system like BedJet or Sleepme Cube. 
---
Final Verdict: What Is the Best Bed Heating + Cooling System?
Our overall favorite bed climate system for most people is the BedJet V3. The BedJet's forced-air system provides immediate cooling or heating relief and is the best choice for anyone who suffers from night sweats.  And we love the remote control – it's perfectly designs and lights when you reach for it. Turns back off when you sleep.
If you prefer the more efficient cooling and more accurate temperature regulation of a water-based mattress pad, then the Sleepme Ooler is our favorite. The additional programmability makes this a better choice than the Cube.
The rest of the bed climate control systems on the market today don't really come close to BedJet and Sleepme products in terms of temperature control, regulation, and scheduling options.
---
Affiliate Disclosure
Affiliate Disclosure: I may earn a small commission (at no cost to you) if you purchase a mattress after clicking a referral link or using a coupon code on this site. That said, all content and opinions on this site are my own and are NOT affected by these payments.
This site participates in the Amazon Services LLC Associates Program, an affiliate advertising program designed to provide a means for sites to earn advertising fees by advertising and linking to Amazon.com.
*Amazon and the Amazon logo are trademarks of Amazon.com, Inc, or its affiliates.
---