NOTE: We earn from qualifying purchases made via Amazon Associates and other affiliate programs. Learn more.
Shopping for a Cooling Pillow?
Almost everyone is familiar with the feeling of having to turn over to the "cooler" side of the pillow for some comfort at night. Normal pillows retain heat and can grow uncomfortable in the middle of the night. This is where a cooling pillow differs from a regular one; it offers continuous cooling all through the night. 
A cooling pillow can save you from sweating and general discomfort while sleeping and prevent daytime fatigue due to interrupted sleep. When you get quality sleep, you wake up feeling refreshed and happy.
In the overall bedding, one can say that the pillow plays the most important role.
---
What's in This Guide
We have set up this guide for you to help you get an idea of some of the amazing cooling pillows available on the market and the factors you need to keep an eye out for if you want to purchase one.
After going through a very long list of cooling pillows, we have come up with the top 7 ones that would be worth your money. Each has its own unique feature, and we have reviewed the pros, cons, and user experiences, so you can choose the one that seems the most suitable to you.
---
Best Cooling Pillows
---
If you feel too warm while sleeping and are craving for a cooler night's sleep, the Tempur-Cloud Breeze Dual Cooling Pillow will be the most suitable option for you, given that you prefer memory foam. It has amazingly soft contours that offer just the right amount of firmness and endless comfort.
Pros
Proprietary TEMPUR-Breeze® gel layer on both sides, which draw heat from the body

100% cotton-quilted, removable and washable cover

It has a breathable casing that helps your pores breath

Memory foam contours to support the head and neck
Cons
The brand does not offer a night trial

Cooling may dissipate over time
Our Review
The Tempur-Pedic dual cooling pillow comes with an extensive range of features and benefits. It has a perfectly sized loft, measuring 6.5-inches in height. The cooling gel pads on either side give the cooling effect, keeping you comfortable throughout the night.
Some users recommend keeping a breathable fabric cover through which the gel pad is easily viewable. This ensures easy dissipation of heat with minimal interruption.
Double-stitched seams help keep the memory foam in shape, no matter how much pressure is applied. The sensible approach in the placement of the zipper to avoid any rubbing against the pillowcase is also quite evident.
It does an excellent job at cooling, and when it comes to comfort, it offers a traditional, single-piece foam pillow aesthetic. It may not be the perfect fit for side sleepers, but it is the most suitable choice for back and stomach sleepers. 
Even though there is no night trial available, the brand does offer a generous 5-year warranty covering any workmanship or material defects.
---
If you prefer a pillow that would hug your bodily contours, you will enjoy using the Nest Bedding Easy Breather Memory Foam Pillow. It is a great cooling pillow option for side sleepers.
Pros
Soft and breathable cover to prevent sweating

minimal chemical off-gassing compared to other pillows

Easy to use and easy to clean.

Users can adjust it according to their comfort level
Cons
Some users having a shorter body frame have found the height of the pillow to not be very comfortable.
Our Review
The best thing about the Easy Breather is its temperature regulation, which helps retain the cooling sensation throughout the night. The cover does so using its special cooling fabric technology that helps dissipate body heat. The fabric's soft and thick nature also provides a cozy feel, which is something that helps people fall asleep quicker.
The memory foam confetti in the core avoids overheating, which is the main concern of people who go for memory foam as a pillow material. If you find the height too much, you can easily unzip it and scoop some of the shredded memory foam out.
The contouring helps in pressure relief, and the breathable pockets help with the cooling.
However, some people may not be a fan of the sinking feeling, in which case they can go for an even firmer pillow.
The Easy Breather comes with a trial period of 30 days, so if you are not satisfied with its quality, you can always approach the brand and ask for a replacement or a refund.
---
If you prefer a mattress that hugs your body, you'll love sleeping on the Coop Home Goods Eden Adjustable Pillow. It is especially great for side sleepers.
Pros
Entirely machine washable 

Great for all

sleeping positions

Features an amazingly soft, breathable cover

The inner filling is customizable, so the user gets more freedom in choosing the firmness

It comes with extra filling
Cons
Removing the filling can make a mess

The pillow takes a long time to dry
Our Review
This Eden adjustable pillow design is a combination of crosscut, gel-infused memory foam, and polyester microfibers, so the user gets the firmness of their choice. It does not go soft with extended use, and it comes with an extra bag of filling if needed later.
It is suitable for back or side sleepers as it is neither too full nor too flat. The adjustability of the firmness is also super easy with this pillow as it has polyester microfibers that hold the foam pieces together, to avoid a messy situation when the user wants to take out some of the foam.
The textured cover made from viscose is smooth to the touch and machine washable. However, it is recommended that you wash or dry it when you really need to retain its original state over time.
It takes a long time to dry, about three to five hours in a tumble setting, but this is typical of memory foam pillows. It comes in three sizes so the user can choose the one most suitable for them.
Finally, Coop Home Goods offers a warranty of five years for this Eden pillow and a 100-night trial period.
---
If you are looking for a comfortable low-budget pillow that will keep you sweat-free, we recommend the Xtreme Comforts Hypoallergenic. It has a layered design that ensures hygiene by preventing heat and sweat from reaching the core of the pillow.
Pros
It comes in three sizes (17×23, 18×26, 18×23 inches)

Great for stomach sleepers as it has medium plush firmness

Eco-friendly design through the use of viscose derived from bamboo

It comes with a 30-night trial period
Cons
Not suitable for people who like their pillows with a lot of firmness
Our Review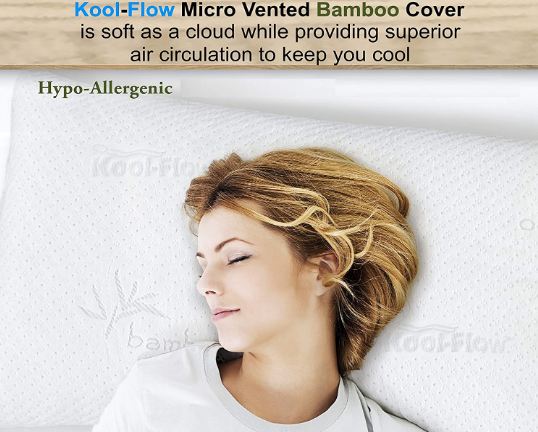 The hypoallergenic pillow was originally designed by the brand specifically for back and neck pain. Now, people use it widely to retain a good posture. It is 2 inches lower in comparison to other shredded pillows, and the brand doesn't offer adjustability for this pillow because it is already designed, keeping ergonomics in mind.  
The shredded memory foam filling allows for a soft, compressible feel, while the bamboo cover helps with wicking moisture and retaining good airflow. This saves the user from any heat-related discomfort while sleeping.
What distinguishes this pillow from others is that it is from a brand that uses eco-friendly construction processes. In this sense, the pillow is naturally antibacterial, microbial-resistant, and hypoallergenic. It is also double-stitched for durability and is entirely washable.
This pillow is backed by a 30-day guarantee with hassle-free returns and a 65-year manufacturing warranty, which speaks for its build quality.
---
Confused about which pillow will meet your need for comfort? We recommend the Saatva Pillow. Its adjustable construction and medium firmness make it an excellent choice for all types of sleepers.
Pros
It comes with a 45-night trial

You can reduce the height by removing the latex insert

It comes in two sizes (king, and queen)

The inner filling is made from naturally sourced Talalay latex.
Cons
Some side sleepers have found it to be too high to be comfortable.
Our Review
Comfort is directly dependent on how much you can adjust your pillow. The Saatva pillow is made to cater to your comfort. It comes in two sizes, queen and king, and is 8 inches in height, which reduces to 2 inches if the user decides to remove the latex insert.
The pillow itself is super soft and has a feather-like feel to it as it is made from shredded Talalay latex, which is completely naturally sourced.
The materiality makes it hypoallergenic, dust-mite resistant, and mildew-proof. It comes with a cotton casing which you can easily remove if needed. The pillow also has a zipper, which makes the inner latex filling accessible.
Overall, this is a great design for side sleepers, It offers support for under the neck and head, making spinal alignment better and allows for tissue relaxation.
Lastly, this Saatva pillow comes with a 45-night trial period and offer one year a warranty, so you can make yourself at ease with its use.  
---
6. Best Latex Cooling Pillow – Purple Harmony
Latex cooling pillows do not come cheap, especially those made with natural latex. However, we found one just for you; the Purple Harmony.
Pros
Made from a patented hyper-elastic polymer

It comes with removable poly-foam bolsters for users to adjust the height

It also has a moisture-wicking ability
Cons
On the high end of the spectrum 
Our Review
Coming from a luxury pillow brand, the Purple Harmony embodies everything you to enjoy for a relaxing night's sleep. It is made from a patented material called a hyper-elastic polymer.
This pillow is a flagship model and comes with two removable poly-foam bolsters meant to increase height and firmness.
The Talalay latex covered by the Purple Grid is a match made in heaven as it gives just the right amount of comfort and pressure relief. It is a suitable choice for those who want a durable pillow that maintains its shape even under high pressure.
It is good at heat retention because of the excellent ventilation technique it employs and the breathable mesh cover that prevents moisture from getting to the pillow core. Some users have experienced a mild odor as soon as they unpack it, but the smell dissipates within a week or so.
Overall, this pillow design responds quite well to the pressure points, giving a sense of comfort to the user throughout its usage. The brand offers a trial period of 100 nights and a warranty of one year for this pillow.
---
For some people, back pain can take away a good night's sleep. This calls for a medium-firm pillow that can offer the right balance of softness and support. This Helix Ultra-Cool Pillow is our top pick for sleepers experiencing back pain.
Pros
A great option for people with back pain

Suitable for people with large body frames

It suits all types of sleeping positions
Cons
Not made for people with smaller body frames.
Our Review


This Ultra-Cool pillow by Helix is inclusive such that it is designed for all kinds of sleepers. It is completely adjustable, having two inserts and a gusset on the top and bottom. The pillow is made using polyester and Ultra-Cool Knit Polyethylene Fabric for the cooling effect.
Without the inserts, the pillow has a height of 2.5 inches, making it extremely suitable for stomach sleepers. With a single insert, it has a height of 5.5 inches, which is good for back and side sleepers. With both the inserts, it has a height of 8.5 inches. Either way, it is good for people with large body frames.
However, short-framed people might not find this too comfortable unless they make use of it as a backrest for watching TV.
Finally, this pillow has a 100-night trial period with a one-year warranty.  
---
Buying Guide: How to Choose a Cooling Pillow
When choosing a cooling pillow, you should take some factors into account. All individuals have different sleeping requirements, and factors such as the firmness, weight, and sleeping position can help you choose the right one.
Cooling Properties 
The cooling properties of a pillow depends on its ability to regulate the temperature and disperse heat. This helps you sleep comfortably at night.
Some pillows have passive cooling property, which means the material used in them allows for natural ventilation or encourages airflow through itself.
Other materials like gel, copper, or graphite are conductive, which means they attract heat and then dissipate it. Then there are materials like wool, cotton, and bamboo that are good for moisture-wicking and can prevent one from sweating at night.
These are also super breathable, so they prevent heat retention in the first place. So, make sure to look out for the material of the pillow over any other feature.
Pressure relief
Some pillows are made to target some pressure points. People with back, shoulder, or neck pain may find these more effective than regular cooling pillows. These pillows offer additional support and help in relieving pressure and tension by conforming to the shape of the head and neck.
This keeps your spine aligned and in shape. The best material for pressure relief is memory foam, as it has a very flexible nature. The second-best material for pressure relief is latex.
Sleeping Position
The position that an individual sleeps in should help decide the type of firmness and loft (height) you should seek in a cooling pillow.
For example, side sleepers require a cooling pillow with a high loft that can fit in perfectly in the space between the neck and shoulders. This helps with maintaining a good spinal cord posture and also reduces pressure on the shoulder. 
Back sleepers neutralize posture but need a pillow that keeps their head level and not tilted too far forward or back. Meanwhile, stomach sleepers prefer thinner pillows that keep their head and neck at a comfortable angle.
Price
Pillows are available at various price points, so knowing your budget beforehand is viable. You should keep in mind that some materials, especially those that are naturally sourced may be more expensive than others. A high-quality cooling pillow can cost you between $50 to $150 or more, which is a lot pricier than an average pillow. 
Quality Materials
The material determines a cooling pillow's durability. Natural latex and foams are materials that offer the most shape retention and support. Normally, a cooling pillow lasts longer than a usual pillow as it is designed with more sophistication.
Firmness Level
Most people prefer a medium-soft to a medium-firm pillow. Materials like wool, down, and shredded memory foam offer less firmness. On the other hand, solid foam and latex cooling pillows are firmer, so people with posture issues could use them. The firmest cooling pillows are made of buckwheat. 
Loft
The loft is the height or overall thickness of the pillow and consists of any inserts that the pillow might have along with its cover and inner filling.
Cooling pillows usually have a medium to high loft in materials like shredded foam, down, and wool. These also compress easily. 
Some cooling pillows offer adjustability when it comes to the loft, so the user can add or remove the filling to make it perfectly suitable for themselves.
Side sleepers may find a higher loft better, while back sleepers prefer medium loft. A low loft is only suitable for stomach sleepers. 
---
Final Verdict 
In our opinion, the Tempur-Pedic TEMPUR-Cloud Breeze Dual Cooling Pillow is the best cooling pillow because of its value for money and the flexibility of its material. It is also super inclusive in nature as it can cater to the comfort needs of most sleepers.
---
Affiliate Disclosure
Affiliate Disclosure: I may earn a small commission (at no cost to you) if you purchase a mattress after clicking a referral link or using a coupon code on this site. That said, all content and opinions on this site are my own and are NOT affected by these payments.
This site participates in the Amazon Services LLC Associates Program, an affiliate advertising program designed to provide a means for sites to earn advertising fees by advertising and linking to Amazon.com.
*Amazon and the Amazon logo are trademarks of Amazon.com, Inc, or its affiliates.
---