NOTE: We earn from qualifying purchases made via Amazon Associates and other affiliate programs. Learn more.
Shopping for the Best Earplugs for sleeping?
You've come to the right place!
Earplugs are an efficient, quick and straightforward solution to block out loud, annoying noises that could disturb your sleep. These include loud traffic noises, a loved one's constant snoring, or general ambient sounds in and around your personal space.
Many earplugs for sleeping that are commercially available today ensure you get a comfortable night's sleep either at home or when you are traveling.
Depending on your needs, you can either choose silicone earplugs that reduce noise exponentially or the ultra-soft foam earplugs that provide maximum comfort.
Why Use Earplugs for Sleeping?
If you live in an area with a high volume of traffic or have a partner who snores too loudly, then using earplugs for sleeping is the easiest and fool-proof way for you to get a peaceful and uninterrupted night of sleep.
Not only do they cancel out noise, but some earplugs also protect your hearing and provide comfort while traveling—all in all, wearing earplugs while sleeping helps you relax and get a good night's rest.
---
What's in this Buying Guide
Looking for earplugs to reduce loud noises while sleeping at night? Or do you want earplugs to help you relax while traveling?
In this buying guide, we share some of the best options of earplugs for sleeping you can get your hands on today.
We also discuss the types available, why you should prefer earplugs to other options, and what to look for when buying a pair.
In the end, we also answer some common questions, so you can easily choose the right pair.
---
Best Earplugs for Sleeping
---
The ZQuiet advanced sleep earplugs boast a noise reduction rating (NRR) of 27 decibels that significantly reduce loud noises while you sleep. Thanks to their specialized noise filters, they are also great for work and traveling purposes.
Pros
Hypoallergenic silicone
Advanced noise filters
Rubber seal
Cons
Our Review
The ZQuiet Earplugs are made of hypoallergenic silicone and feature firm tips that you can remove and reuse.
The high-quality inner rubber seal eliminates any dirt or moisture from building up in and around the earplugs.
The ZQuiet earplugs for sleeping are available in packs of 2 and include ear tips, filters, cleaning brushes, and an aluminum case for you to store them in after each use.
In addition to helping, you sleep better at night, these sleep earplugs come in handy at outdoor concerts and loud workspaces due to their advanced patent-pending noise filters.
---
If you want earplugs for sleeping that reduce noise and also provide optimal comfort, then the Eargasm Squishies are an excellent option.
Pros
Ultra-soft material
Waterproof
Large size
Can be broken into small segments
Cons
Can come loose
Less noise reduction
Builds moisture inside the ear
Our Review
Not only are these Eargasm Squishies soft to the touch, but the silicone material molds itself to fit almost any ear shape. They are bigger than most other earplugs available, but they can also be broken up into smaller segments to fit securely into your ear canal.
The Eargasm Squishies feature an NRR of 22 decibels and reduce loud ambient noises that disrupt your sleep at night or while taking a nap during the day.
The waterproof material of these earplugs also makes them useful while swimming, working out, and traveling.
The Eargasm Squishies come in a pair of 8, making them quite useful for the entire household.
---
The EarPlanes Earplugs are best suited for people who travel frequently and want to relax on their journey and have a super-comfortable flight.
Pros
Compact
CaremX filter
Significantly reduces noise
Disposable
Latex-free silicone
Cons
Can cause ear pain
Uncomfortable fit
Our Review
These EarPlanes earplugs feature a new and improved CeramX filter designed specially to reduce ear discomfort while flying. Plus, the latex-free silicone is very soft and ensures a comfortable experience.
These EarPlanes earplugs reduce loud noises during your flight while you catch up on some much-deserved sleep. They also come in handy during bus, train, or car rides where you want to block out loud music, traffic noise, or other unnecessary sounds that bother you.
Plus, they are disposable, so you do not need to worry about storing or keeping them clean after use.
---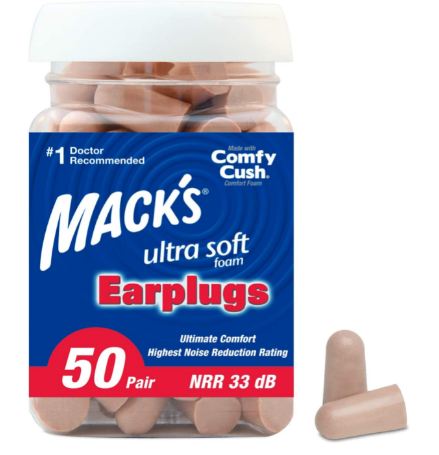 If you're on a short budget, check out Mack's ultra-soft earplugs. These affordable earplugs have a high NRR of 32 decibels and feature a noise-reducing foam that protects hearing and prevents hearing loss.
Pros
Affordable
Good compression
High NRR of 32 decibels
Lightweight
Cons
Our Review
The Mack's ultra-soft foam earplugs block out even the loudest of sounds, be it your partner's persistent snoring, honking cars, construction site noise, plane engines, or musical events.
Their compact and lightweight nature makes them easy to use at home or take to work or outdoor trips.
These ultra-soft earplugs are available in a plastic bottle that includes 50 pairs and has an easy-to-use flip-top for your convenience.
---
The Hearprotek earplugs for sleeping feature upgraded memory foam tips that snugly fit the ear canal. The ergonomic design of these earplugs provides maximum comfort and makes them rather beneficial for side sleepers.
Pros
Upgraded foam tips
High NRR of 33 decibels
Washable & reusable
Ergonomic design
Cons
Tips can come loose
Uncomfortable fit
Cheap material
Our Review
The Hearprotek foam earplugs for sleeping come in a set of 9 and feature a high NRR of 33 decibels. The new and improved foam tips provide a good fit, so you do not have to worry about them falling out while you sleep. They also include one set of silicone tips that you can wash and use again.
The Hearprotek earplugs have an advanced ergonomic design that provides maximum comfort, reduced noise levels, and absolutely no pain to the ear canal. This is why they are best for side sleepers, too.
You can take these Hearprotek portable earplugs to block out chatter at work or to relax during daily commutes or while traveling.
Also, with the convenient zippered case and plastic box that these earplugs come in, you can store them comfortably without worrying about losing them. These stylish Hearprotek earplugs are available in sparkling white and light purple and are a trendy accessory.
---
These high-tech QuietOn 2 earbuds are battery-operated and offer effective noise-canceling technology. Plus, the soft memory foam tips fit into your ear canal comfortably, resulting in optimal comfort.
Pros
Good for traveling
Effective noise-canceling
Soft tips
20 hours of battery
Cons
Our Review
The battery-operated QuietOn earbuds have an NRR of 33 decibels and offer 20 hours of battery life. They include a USB charging cable compatible with most USB outlets so that you can charge them easily and quickly in the comfort of your bedroom.
The memory foam tips cancel loud traffic noises and other ambient sounds so that you can get a comfortable night's sleep.
These high-tech QuietOn earbuds are available in three sizes, small, medium, and large, so you can choose those that fit your ear canal better.
They are also a great product to have on hand while traveling due to their compact size and advanced silencing mode option.
The QuietOn earplugs come with a one-year international warranty and a 14-day money-back guarantee in case you are not satisfied with them.
---
Earplugs for Sleeping: Buying Guide
Types of Earplugs for Sleeping
Earplugs for sleeping are available in many shapes, sizes, and materials. They also include some unique features that help you sleep better.
Earplugs for sleeping can be best categorized as:
Noise-Masking
Noise-masking earplugs come in handy, especially if you have a loud snoring partner that disrupts your sleep suddenly during the night.
These earplugs are designed to stay in one place throughout the night, even when you move or turn. They fit securely inside your ear canal and block out any sound that could potentially wake you up.
Noise-Cancelling
Noise-canceling earplugs are not only a good solution for undisturbed sleep but are also recommended for when you are at work, commuting, or traveling.
You can wear them at work to drown out loud chatter, on the train or plane to eliminate engine noise, or at night to cancel out loud traffic sounds. These earplugs work best in places with continuous noise that hinder your sleep, work process, or general well-being.
Noise Reduction
Noise reduction earplugs are recommended for people who want to protect their hearing and also prevent hearing loss. They help reduce loud and harmful sounds that could disturb you while sleeping or out and about during the day.
Noise reduction earplugs are also designed to fit snugly in your ear for optimal comfort and results.
Why Buy Earplugs Over Other Sleep Remedies?
Along with earplugs, many other sleep remedy products help reduce noise, such as white noise apps, soothing pillows, white noise machines, and headphone headbands. While some of these seem attractive at first, they are not always effective in providing you with a noise-free night.
For instance, a white noise machine features various soothing sounds, but it also disturbs your partner if the volume is too loud.
Similarly, the soothing pillow can disturb others around you, even though you lay your head down on it.
On the other hand, headphone headbands and similar products may do the job, but they are ridiculously expensive and take up too much space.
Sleeping with earplugs is a simple and affordable solution to block out loud noises. Earplugs are lightweight, compact, and easy to store.
You can also take them along to work, outdoor events, and while traveling.
Plus, you can choose from a wide variety of shapes, sizes, materials, and quantities.
How to Use Earplugs for Sleeping Safely
Earplugs are usually relatively safe to use while sleeping. To ensure safe use, make sure you keep in mind the following:
Daily Use of Earplugs
The most common problem that users face is the buildup of earwax over time, resulting in a blocked canal that causes itching, dizziness, cough, and hearing problems. This is why you should wear earplugs only when necessary to avoid long-term pain or infections.
Inserting Earplugs, The Right Way
There are many ways to use earplugs safely, depending on the type of product you have.
Foam earplugs are generally quite soft, and they expand and sit comfortably in your ear canal without causing irritation or damage. All you need to do is roll them in your fingers and put them halfway inside your ear for the best results.
Silicone earplugs are slightly more challenging and do not expand, so you need to be extra careful while inserting them into your ear canal.
What to Look for in Earplugs for Sleeping?
Some key factors to keep in mind when buying earplugs for sleeping include:
Price
Earplugs for sleeping usually range between $5 and $35, depending on size, material, and quantity.
Many foam earplugs are available in large quantities and prove to be the most affordable option.
Then there are silicone earplugs made of hypoallergenic material and offer other attractive features like being waterproof, which makes them slightly more expensive.
Reusable vs. Single-Use
Both reusable and single-use earplugs have their benefits.
Reusable earplugs are recommended if you want a regular sleep solution to reduce or cancel noises at night. You can easily clean and maintain them according to the manufacturer's instructions. Some reusable earplugs need to be washed regularly, while others just need to be wiped dry.
Single-use earplugs are the most popular type because of their affordability and simplicity. Since they are disposable, you can discard them after use without worrying about losing them.
These earplugs are designed to provide maximum comfort and fit the shape of most ear canals securely. One drawback to single-use earplugs is the increased waste after discarding.
Materials
Earplugs are available in many different materials, including foam, latex, silicone, and wax. The most common earplugs are foam and silicone. They are cheap and offer efficient noise reduction qualities.
Foam earplugs are also highly comfortable and reduce loud sounds while you sleep.
Silicone earplugs may not be as comfortable, but they are safe to use and don't cause any damage to your ear canal in the long run.
Latex and wax earplugs generally mold their shape according to your ear canal. They are also comfortable and affordable but could result in allergies if you are sensitive to wax gel or latex.
Noise Reduction
The noise reduction rating of earplugs or NRR is calculated by their decibels and usually ranges between 22 and 33 decibels. The higher the decibel level, the more efficient the earplug at reducing loud noise.
Noise reduction from earplugs also protects your hearing and prevents hearing loss in the long run.
If you need earplugs for daily use to block continuous sounds near you, opt for one with the highest decibel level. But, if you want earplugs for occasional use to block out sounds while traveling or at work, then one with a lower decibel level will work, too.
Comfort
An essential part of wearing earplugs is to be comfortable while sleeping.
If you want a soft pair of earplugs, then go for foam. They fit easily into the ear and stay in one place even if you turn or move while sleeping.
However, long-term foam earplug use can cause earwax buildup.
Silicone earplugs may not be as comfortable as foam earplugs, but they reduce noise exponentially, ultimately resulting in a comfortable and restful night's sleep. They also sit halfway through the ear canal and do not push inside and cause any damage in the future.
Pros and Cons
Wearing earplugs while sleeping has many benefits, but it also has a few disadvantages. Here's a quick rundown of both aspects:
Pros
Improves quality of sleep by reducing loud noises
Affordable
Lightweight and compact
Good for traveling
Easy to store
Variety of brands
Cons
Potential ear damage
Can cause earwax buildup
It might not wholly eliminate loud noises
Ill-fitting
Easy to lose
---
Frequently Asked Questions
Can you wear earplugs every night?
Wearing earplugs daily while sleeping is considered relatively safe, but it could lead to issues like earwax buildup in the future. But eliminating loud and harmful sounds while sleeping is essential for good health in the long run.
Silicone or Foam earplugs – Which ones are better?
Foam and silicone earplugs reduce noise to ensure that you are not disturbed while you sleep at night.
Foam earplugs are soft to the touch and fit into your ear quite comfortably. They also prevent itching and damage to your ear.
On the other hand, silicone earplugs do not always fit in your ear canal properly and can cause discomfort while you move or turn around in your sleep.
What is Noise Reduction Rating (NRR)?
Noise Reduction Rating or NRR is a measure of the decibels an earplug can block out. The efficiency of hearing devices like earplugs can be decided by how high or low the NRR is. For instance, an earplug with a decibel level of 33 reduces noise much more than one with a decibel level of 22.
How can I further reduce noise while sleeping?
Other options to reduce noise while sleeping include white noise machines, different apps, soothing pillows, and noise-cancelling headphone headbands.
White noise machines feature different soothing noise options that you can adjust according to your needs. White noise apps provide the same functions, but they are installed on your phone, making them a good solution for working or traveling.
Soft, soothing pillows play soft music or sound as you lay your head down on them.
And headphone headbands are wireless and rechargeable, so you can block out loud sounds and listen to your favorite music while sleeping.
---
Final Verdict: What is the Best Earplug for Sleeping?
After carefully going through all the various options, we have really come to like Mack's ultra-soft foam earplugs. They are quite affordable and very effective at reducing loud noises at night.
Plus, they are comfortable, ergonomically shaped, and protect your hearing while preventing hearing loss in the future.
---
Affiliate Disclosure
Affiliate Disclosure: I may earn a small commission (at no cost to you) if you purchase a mattress after clicking a referral link or using a coupon code on this site. That said, all content and opinions on this site are my own and are NOT affected by these payments.
This site participates in the Amazon Services LLC Associates Program, an affiliate advertising program designed to provide a means for sites to earn advertising fees by advertising and linking to Amazon.com.
*Amazon and the Amazon logo are trademarks of Amazon.com, Inc, or its affiliates.
---