NOTE: We earn from qualifying purchases made via Amazon Associates and other affiliate programs. Learn more.
Shopping for a Floor Mattress?
You've come to the right place.
Floor mattresses have recently started becoming quite popular due to their portability, versatility, and minimalist design. You can take one out if an unexpected guest arrives and easily put it away during the day.
They are also great if you are a frequent traveleror go camping quite often and like to remain comfortable for the night.
Or, even if you are short on space and don't want to crowd the room with a bed, a floor mattress is a great alternative. It promises the same comfort at a lower price and takes up less space.
What's In This Buying Guide
If you are looking to buy a floor mattress pad, this buying guide is a perfect place to start.
We first list and compare some of the best floor mattresses available today, review them in detail, and mention their pros and cons.
We also discuss the crucial factors you should know before buying a floor mattress. In the end, we answer some common questions that first-time floor mattress buyers usually have.
---
Best Floor Mattresses
Disclaimer: All links below go to Amazon.com
---
Looking for a quality mattress that doubles as a floor and bed mattress? Look no further as the Milliard Tri-Folding Memory Foam Mattress is the perfect solution. Its plush 6-inch memory foam gives you the ultimate sleeping experience.
The tri-fold design allows you to use it in multiple settings or take it camping. Meanwhile, the removable and washable jacquard cover keeps the Milliard Tri-Folding mattress fresh and comfy.
You can get this great mattress in twin, queen, and full size.
Pros
Memory foam surrounds and conforms to your body, allowing support and balance
Breathable fabric ensures a cool surface
Easily washable and removable jacquard cover
Easy tri-foldable design
Portable
Cons
Our Review
Milliard is known for its premium-quality mattresses, and the Milliard Tri-Folding Memory Foam Mattress is no different.
Regardless of your sleeping position, you wake up well-rested and comfortable once you sleep on this mattress. Its memory foam conforms to your body, hugs it, and takes its shape around you. This gives you maximum support and balance throughout the night.
Instead of sleeping on something warm and waking up sweaty, most people prefer sleeping on a cold mattress. This tri-fold mattress from Milliard is a perfect fix to that.
It is ventilated, so it allows air to flow, which, in turn, helps regulate your body and sleep temperature for optimal comfort and support.
The tri-fold design of this Milliard mattress makes it highly versatile. You can use it practically anywhere. In fact, it is also a perfect solution for temporary sleeping accommodations, like when you have unexpected guests.
And since it is quite compact, it is great for camping trips and mobile homes. In its flat position, the mattress measures 78 x 58 x 6 inches, and in its folded position, it measures 58 x 26 x 18 inches.
The Milliard 6-inch mattress is fairly thick and has high-density construction. It is made of 1.5 inches of plush 3-pound luxurious memory foam and has a supportive 4.5-inch foam base. Collectively, it offers maximum support and a fantastic sleeping experience.
The memory foam is CertiPUR certified, so you can expect it to retain its shape and be free of any toxic materials.
In addition, this tri-fold mattress comes with an easy-to-remove jacquard cover with an anti-slip bottom. If you think it is dirty, just throw it in the washing machine and dryer, and it will be as good as new without harming the quality. Putting the cover back on is also very easy.
---
Want a durable yet stylish floor mattress? The MAXYOYO Futon Mattress is one of its kind, with its portable and easy-to-fold design. The 5-layered pliant mattress is a great travel companion for all.
This futon mattress is available in various designs and sizes, and you can use it for multiple purposes.
Unlike air mattresses, the Maxyoyo futon mattress is not only easy to use but also easy to store. It comes with multiple storage accessories and a dust-proof cover that prolongs the mattress' life.
And if you have clinical conditions that keep you from having a good night's sleep, you are in luck. This medically-approved floor pad for sleeping might be able to help you immensely.
Pros
It can be used by adults, kids, and pets
Lightweight and portable
Well-padded and doesn't sink in with your weight
Medically approved
It comes with 2 dust-proof covers, 1 canvas storage bag, and 1 storage bag
Cons
Our Review
The MAXYOYO mattress is highly durable, lightweight, and portable and can serve as your sleeping companion on every occasion.
Thanks to its 5-layered structure design, you can use the mattress not only as a guest bed but also as your cohort on camping trips, road trips, and backpacking.
The top and bottom layers are microfiber cotton, followed by a first and third layer made of soft microfiber cotton and a middle memory foam layer. The middle layer provides extended back support, allowing you to have a restful sleep.
The MAXYOYO Futon Mattress is suitable for adults, kids, and pets alike. It comes with a dust-proof cover that makes it less susceptible to dust mites and bacteria. This also makes the mattress medically approved for people who suffer from dust allergies or asthma.
This versatile, easy-to-fold futon mattress is available in multiple sizes, designs, and colors. You can buy the mattress in a twin, king, or full size according to the space available.
The queen size of the MAXYOYO futon mattress is 4" thick x 80" long x 60" wide and weighs around 14 pounds.
In addition, the MAXYOYO mattress comes with its own hand-carrying case, making it easier to store and carry around on camping trips. Also, the mattress features straps to keep it in place. It also comes with a pair of bandages and a canvas storage bag.
Unlike many of its counterparts, the stylish roll-away MAXYOYO mattress is well-padded and does not sink into the floor. You can also partially unroll it and use it as a couch or turn one of its sides into a make-shift pillow.
All in all, with its compact yet comfortable design, this MAXYOYO mattress is a steal.
---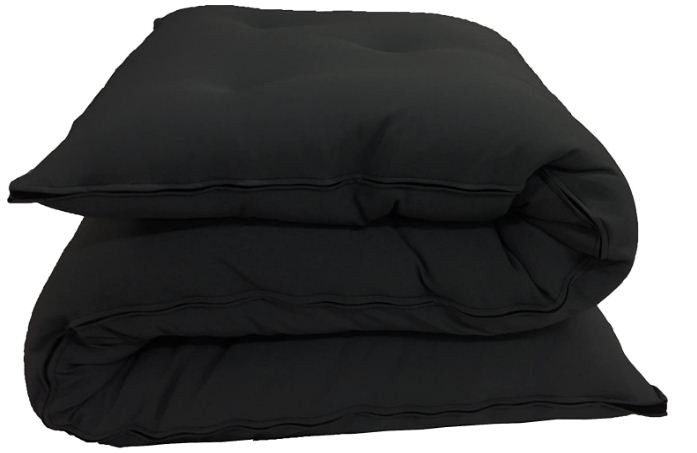 The D&D Futon Furniture Floor Mattress is a wonderful option if you are on a short budget. It has 1-inch memory foam, so it is exceptionally comfortable. The compact design allows for easy storage and portability and is fire-retardant.
Pros
Features a space-saving design
Easy maintenance due to spot cleaning
Comfort and support of a plush memory foam
Perfect for family reunions or sleepovers
100% polyester
Cons
Cover cannot be removed or washed
Our Review
The D&D Futon Furniture Floor Mattress provides just the right comfort and support but doesn't have any fancy features. It is a 3-inch black-colored mattress on the firmer side, perfect for those who like firm support.
The D&D mattress comprises 90% white cotton batting and 5% polyester fiber batting, making it resilient and firm. Plus, the 1-inch memory foam hugs your body quite comfortably, keeping it well supported and rested throughout the night.
The foldable design of the D&D Futon mattress allows you to keep it neatly tucked away in a compact storage space. If a guest arrives, you can just roll it out and use it.
It is super easy to maintain as you just have to spot-clean it if you drop something on it, or you can also let it rest in the sun.
Concordant with state laws, it is also fire-resistant to an impressive extent, making it even more suitable with kids around.
---
Want a mattress that the entire family can enjoy inside and outside the house?
The Lucid 4″ Folding Mattress is a convertible mattress that you can use as a sofa, mattress, or playing pad.
It has two handles, a removable and washable cover, and a memory foam with gel beads that allow comfort and ventilation. Plus, the CertiPUR certification vouches for its construction quality.
Pros
Features a handle for easy carrying
Washable and removable fabric cover
Can be easily used as a sofa, play pad, or mattress
Provides great support and comfort
Easy to set up
Cons
Heavy sleepers might find it a bit uncomfortable
Our Review
The Lucid 4″ Folding Mattress is one of the most versatile mattresses on the market. It has a foldable design that allows you to use it according to your needs.
We believe it is highly suitable for families as they can get the most use out of it. You can use it as a sofa or a playing pad for your kids. And in case a guest comes over, you can just unfold it to use it as a comfortable floor mattress.
You can also use this Lucid mattress outdoors. It comes in 5 sizes: twin, twin XL, full, full XL, and queen. You can easily take it camping or anywhere with you while traveling. It doesn't take up too much space and gives you a good night's sleep every night.
The mattress has a thick layer of memory foam and is medium-firm. So it is not too soft or too hard and provides sufficient comfort and support, whether you use it as a mattress or a sofa.
Memory foam is famous for its body-hugging design that reduces pressure and distributes weight evenly on the mattress. So, you can easily use this floor mattress for guests or kids without worrying about back or neck pains.
The mattress foam also has gel beads that allow the mattress to breathe and create airways that facilitate ventilation. This creates a cool surface that most people prefer for mattresses and pillows and is beneficial for the sleeper too.
Another thing that we really like about the Lucid 4″ Folding Mattress is how convenient it is to use. It has a washable fabric cover that you can just take off to clean, although the cover itself resists stains, so it does not get dirty very easily.
You will also find two double-stitched, sturdy cover handles that make picking up and moving the mattress around much easier than just dragging it or lugging it around.
According to the manufacturer, you can also use this as a mattress topper because of its commendable cushioning support. You can even use it as a substitute for trundle beds or bunk beds.
The mattress is also CertiPUR-US certified. So, you can rely on it to not have any allergens or toxic and harmful materials.
In fact, the manufacturer uses hypoallergenic materials to fight the growth of dust mites or bacteria. So, it is also an excellent option for people with asthma.
---
Looking for the perfect mattress to take with you on your next camping trip? The Better Habitat SleepReady is the perfect solution.
Its twin-size memory foam not only provides an impressive comfort but is really easy to set up, thanks to its compact size and rollout design.
The portable design allows you to use it in multiple settings or take it camping, while its waterproof nature makes it perfect for children and rainy trips.
Get this amazing mattress to save space and enjoy a comfortable and peaceful sleep. Plus, you can buy it in either twin, single, or a children's size.
Pros
Low VOC emissions for indoor air quality
Waterproof and lightweight
It helps with joint pain and improves health, mobility, and overall energy
Features an easy unclip and roll-out design
Portable and versatile
Cons
Our Review
If you are planning for a camping night, the Better Habitat SleepReady mattress is the best choice for you because of its easy setup, compact size, and remarkable comfort.
The Better Habitat SleepReady is available in a twin size for adult camping vacations, making it ideal for a comfortable night's sleep in a tent, RV, or camper.
Unlike air mattresses, the SleepReady roll-up mattress is easy to set up and take down. You can unclip it and roll it out in seconds for a comfortable camping bed. When you're finished, wrap it up and place it in its sack, which has an easy-carry strap.
The SleepReady memory foam mattress is 3 inches thick. Its medium-firm cushion encircles your hips and shoulders and protects you from rough sleeping surfaces.
You won't have to worry about shifting while sleeping under the stars because the bottom is non-slip. It has high-quality stitching, fasteners, and zippers that won't be easily ruined on rocky and other uneven surfaces.
The Better Habitat Sleep Ready Memory mattress is most suited for tent campers looking for a compact but comfortable camping mattress and those with limited storage space and require a waterproof portable mattress for rainy conditions.
Most importantly, the SleepReady features a Certi-PUR-US Memory foam. It is free of chemicals and substances like mercury, lead, formaldehyde, phthalates, fire retardants, & ozone-depleting agents, providing peace of mind and low VOC emissions for indoor air quality.
The Better Habitat Sleep Ready mattress measures 75 x 25 x 3 inches and comes with a 12-month warranty.
---
What Is a Floor Mattress?
As the name suggests, a floor mattress is a mattress that you can use on the floor or any other surface that is not a bed. It is an excellent alternative to a bed frame, especially for those short on space. Similarly, a floor mattress is a portable option for those who often travel or go camping.
---
What are the Pros and Cons of Using Floor Mattresses?
Floor mattresses are very convenient, and many people find them to be a valuable purchase. However, they do have some drawbacks.
Here are both aspects:
Pros
Saves Space
Traditional bed frames can take up a lot of space which poses a problem for those who live in smaller apartments.
A floor mattress is a great way to save some space. You can put it away and take it out when you need it.
Best for Guests
You can use a floor mattress to accommodate unexpected guests that drop by. You can also use it for sleepovers and slumber parties.
Easy to Carry
A floor mattress is a great purchase for people who like to spend time outdoors. Its portability makes it easy to carry. You can use it for picnic and camping trips.
Cost-Effective
The cost of buying a bed and a mattress can end up in thousands, and not everyone is willing to spend that kind of money.
A floor mattress is a much more affordable option that provides the same level of comfort.
Cons
Accumulates bacteria
The floor accumulates a lot of bacteria that the floor mattress can absorb. These germs can be a cause of concern for people who use floor mattresses for more extended periods.
Closer to insects and other animals
Sleeping closer to the floor puts you at the risk of coming in contact with small insects like cockroaches, spiders, and, depending on the area, other animals like snakes and rats.
Back pain
Back pain is a serious concern for people in older age groups, and a floor mattress might not be the perfect fit for them. If used over longer periods, it can further contribute to chronic back pain unless you use a floor mattress specifically designed to cater to this problem.
---
Who Should Buy a Floor Mattress?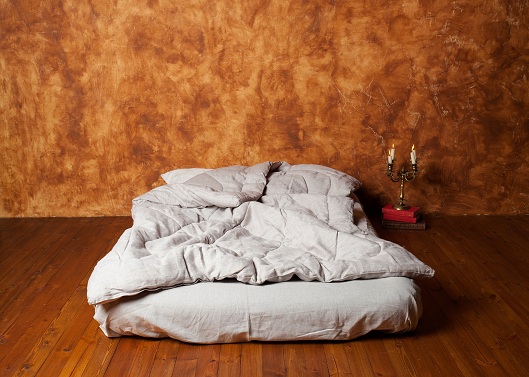 A floor mattress isn't limited to one segment of the market. There are various options available, and they are suitable for multiple purposes.
People who like traveling can take it with them to catch up on a good night's sleep. For people living in smaller apartments, a floor mattress can provide comfort and ample room to have a good night's sleep. It's also the perfect solution for people who entertain guests frequently.
Types of Floor Mattresses
There are primarily two types of floor mattresses: foldable and rollable.
Foldable floor mattress
A folding floor mattress folds up to save space. Most foldable mattresses have multiple layers of foam, and these mattresses have creases on them that you can use to stack up and store them to save space.
You can also use them as yoga mats or play mats for children. Foldable mattresses can be bi-fold with a single crease or tri-fold with two creases.
Rollable floor mattress
Rollable mattresses are generally thinner than foldable mattresses and can be rolled up into a cylindrical space and tied up to save space. Rollable mattresses usually have one layer of foam. You can also store them in portable overnight bags.
---
What to Look For When Purchasing a Floor Mattress?
The variety of floor mattresses for sleeping available today make it hard to choose one. But to make sure that you pick the right option, look out for:
Materials
Depending on your choice, materials range from cotton, polyester, and foam. If comfort is your top priority, foam and cotton are the best choices. And if you want to use the mattress outdoors, polyester is the right pick.
Base
The base covers two things: the ultimate bottom part of the mattress and the foam.
A rollable mattress generally has a non-slip base that allows you to remain comfortable. You can also get this feature in a foldable design with a thicker model.
As far as the foam is concerned, memory foam remains the popular choice. It hugs your body quite comfortably and provides great comfort.
Thickness
The thickness of the mattress varies depending on the model. Most foldable options are usually thicker than rollable mattresses. Based on your living space and other requirements, you can choose from these options.
Maintenance
Maintaining a floor mattress is very easy and convenient.
Most mattresses come with a removable cover that you can wash and reuse.
Additionally, you should make sure not to get your mattress drenching wet. The foam absorbs and retains water for a long time, negatively affecting the mattress's overall thickness and comfort level.
Portability
The most significant advantage of foldable mattresses is their portability. They are so portable that you can carry them easily, making them a great solution for people who are constantly on the go. You can fold or roll up these mattresses into compact units to take them outdoors where space is generally limited.
Longevity
Most floor mattresses are not used regularly, but they usually have a life expectancy of 7 to 8 years.
But with the right care and maintenance, they can last longer.
Comfort
Although floor mattresses are an inexpensive alternative to a bed frame and traditional mattress, they provide the same comfort level. Comfort can also vary depending on the model and your preference.
Some foldable mattresses provide higher levels of comfort but take up more space, whereas some rollable options save space but are less comfortable.
Comfort is also subjective. While some enjoy a soft mattress, others like the support of a hard mattress as they believe it keeps their head and spine aligned.
So, it is important to have a sleep trial option.
---
Frequently Asked Questions
Is it true that sleeping on the floor causes my allergies to flare up?
The floor generally has a lot of bacteria, insects, mites, and dust. So, sleeping on the floor can often aggravate people's allergies.
Should I sleep on a floor mattress if I have chronic pain?
The answer to this question varies from person to person.
While some people find it comforting to sleep on a floor mattress, others might experience even more pain.
But in many cases, sleeping on a harder surface, like a floor mattress, can help with chronic pain, which is why most medicated mattresses are hard.
Is it safe to sleep on a floor mattress?
Yes, sleeping on a floor mattress is perfectly safe. Just make sure the bedding doesn't touch the ground. Additionally, keep it clean and choose a mattress that suits you.
How do you keep a mattress on the floor from getting bed bugs?
Keeping the mattress elevated such that the bedsheets don't touch the floor helps keep bed bugs at bay. Also, ensure it gets ample air circulation as that counters mold growth.
Is there a way to prevent a mattress from sliding on the floor?
The easiest and most inexpensive way to prevent the mattress from sliding is using a small carpet underneath the mattress. You can use Velcro tape or non-slip mattress pads for a more permanent solution.
Is it possible to put your mattress straight on the floor?
It is possible, but we advise against it. This is because it will slip a lot, so it won't be comfortable. Plus, using a mattress cover is a good idea as it can protect your mattress from getting dirty or becoming infested.
You can also try a low bed if you want something low but don't want the mattress directly on the floor.
Can I wash my floor mattress?
The chances of a foam floor mattress getting dirty or contaminated with dust mites or bacteria are very high, so we understand why you would want to clean it. But washing the mattress can harm the foam. Instead, we recommend you just regularly vacuum it.
---
Final Verdict: What is the best Floor Mattress sold today?
We firmly believe that the best floor mattress sold today is the Milliard Tri-Folding Memory Foam Mattress. It is 6 inches thick, has a removable and washable cover, comes in three sizes, and is extremely versatile and portable. And as if all these features weren't amazing as it is, this mattress also has the CertiPUR certification, which speaks volumes about its quality.
---
Affiliate Disclosure
Affiliate Disclosure: I may earn a small commission (at no cost to you) if you purchase a mattress after clicking a referral link or using a coupon code on this site. That said, all content and opinions on this site are my own and are NOT affected by these payments.
This site participates in the Amazon Services LLC Associates Program, an affiliate advertising program designed to provide a means for sites to earn advertising fees by advertising and linking to Amazon.com.
*Amazon and the Amazon logo are trademarks of Amazon.com, Inc, or its affiliates.
---