NOTE: We earn from qualifying purchases made via Amazon Associates and other affiliate programs. Learn more.
Shopping for a Hospital Bed to Use in a Home?
You are in the right place.
---
What's in This Buying Guide
In this buying guide, we review and compare the ten best hospital beds available in the market and answer the most frequently raised questions related to the purchase of one.
---
Who Needs a Hospital Bed at Home, and the Benefits?
There are a number of ailments and conditions that call for the use of a hospital bed. It could be breathing problems, spinal discomfort, disability, or age. Whatever the reason warranting the need for a hospital bed; it is imperative that you find a product best suited to your loved one's specific needs.
Hospital beds usually come with a hefty price tag, so it becomes all the more important to make sure your first investment is the right one.
Hospital beds stand to provide additional comfort when a patient needs it most. The bed comes with an adjustable head and foot, This, enables the patient to easily change positions without having them exert themselves too much, without leaving the bed, and often without requiring assistance from someone else.
This also allows them to elevate specific body parts as needed and offer a range of sleeping or laying down positions, which in turn helps prevent bedsores and muscular stiffness. 
The adjustability of a hospital bed further facilitates transitioning between daytime activities and sleeping, encouraging a lifestyle as healthy and active as the patient's condition allows.
---
Best Hospital Beds for Home Use
Disclaimer: All links below go to Amazon.com
---
If wireless control is your top priority in a hospital bed, we recommend the Smart Electric Beds Foundation Bed Frame. Highly rated by users, it is for good reason that we crown this bed frame as the best available hospital bed for home in the wireless control category.
Pros
Extremely easy to assemble.

Wireless remote control.

Padded footing to prevent foot sores.

It comes with legs that can be folded flat.
Cons
Only one bar to keep the mattress from sliding off.
Our Review
Seeing users rave about how easy it is to set up this bed got us curious to try it out ourselves. Taking all of ten minutes in total to assemble, the Smart Electric Beds Foundation bed frame is ready to be used just like that: You don't even have to pair the wireless remote!
Let's begin with the standout feature of this bed: The wireless remote control. The remote control is ergonomically designed; Therefore, it is extremely comfortable to hold and operate single-handedly. One feature we loved most about this wireless remote was the remote lock.
You can lock the remote, and rest assured that your bed won't change positions if a button gets pressed by accident. There aren't many beds with this feature, which makes the Smart Electric Beds Foundation bed frame stand out even more.  
This bed is height-adjustable. The two individual leg units are 5-inches and 7-inches each; respectively, and offer a total of 12-inches when combined.
The bed frame is compatible with all standard mattresses up to 12-inches in height, and it has a retainer bar at the foot of the bed to prevent the mattress from slipping away. 
Moreover, this great product has an all-around mattress frame instead of one bar to better secure the mattress in place and allows users to adjust without worrying about the mattress skidding off the bed frame.
---
Our recommendation for patients on the higher side of the weight spectrum is the impressively well-built Invacare 5410IVC Electric Bed. Fully electric and easily adjusted, this is a convenient choice for both the patient and the caregiver.
Pros
Fully electric.

Impact-resistant, scratch-resistant panels.

Full rails included.

Innerspring mattress.
Cons
Our Review
Invacare 5410IVC is a fully electric hospital bed, but it also has a manual crank that you can use in case of power failure. A detachable full rail is also included, making it a very safe choice.
What makes this bed stand out is that it is especially suited for heavier people. It is 88-inches long, 36-inches wide, and adjustable between 15 and 23 inches in height.
The bed can support patients as heavy as 350-pounds, with an additional 100-pound capacity for medical equipment stored in the bed's rails.
This bed also comes with an innerspring mattress, saving you the cost of buying an air mattress while also keeping the patient from bedsores. The mattress has a waterproof cover, making this ideal for conditions like urinary incontinence.
This also eases the cleaning of the mattress, just like the motors' waterproof case, which allows the bed to be washed using standard pressure.
---
If you are looking for a high-end, premium hospital bed with massage functions, the Lucid L600 Adjustable Bed Base Frame is the way to go. It has every unique feature you may need.
Pros
19 remote functions.

Four preset positions, one memory position.

Dual massage.

4 USB ports.

Compatible with Siri.
Cons
You cannot change the height.
Our Review
The Lucid L600 Adjustable Bed Base Frame is one of the most advanced hospital beds available out there in its price bracket. With the head of the bed adjustable up to 68 degrees and the foot up to 35 degrees, this bed has a total of 4 preset positions and one memory position.
It also has a flashlight, under-the-bed lighting, 4 USB ports, and a child lock.
However impressive these specifications may be, they are not why the Lucid L600 is on our list. Instead, we have made it our top pick for massage-enabled hospital beds because it has a dual message feature that allows the patient to get both their feet and head massaged.
The massage can easily be managed using the handheld wireless remote or via Siri, and the patient can choose from 3 massage modes, three levels of massage intensity, and three timer settings.
The only feature some might find lacking is height adjustability. The bed is fixed at 12-inches. However, the variety of functions that it offers more than make up for this one limitation.
---
For patients primarily concerned with keeping their heads raised in bed, we recommend the LUCID L300 Adjustable Bed Base. This hospital bed offers an impressive head incline, along with other great features.
Pros
4 USB ports.

60-degree head incline.

Foldable for storage and shipping.

One memory position.

Six legs that can be folded flat.
Cons
No zero-gravity position.
Our Review
The Lucid L300 is a great pick for people who want a basic, functional hospital bed minus the fancy functions.
Starting with what we chose this bed for, the Lucid L300 wins at adjustability. The head section can be tilted all the way up to a stellar 60 degrees, while the foot articulation is 45 degrees.
You can also simultaneously adjust both the bed's head and foot, making operations quick and smooth. This steep head incline is ideal for patients recommended to maintain a Fowler's position, i.e., a head elevation of 45-60 degrees.
Like any good modern hospital bed, this too comes with a 6-leg structure with foldable legs. This means you can use this as a standalone bed on its own and also lay it flat if required. The Lucid L300 comes with a 10-year warranty, so you can use it without any worries.
---
Look no further than the Blissful Nights Adjustable Bed Frame if storage is a key consideration for you. This fully electronic bed allows you to customize your comfort and is one of the higher-end products on our list.
Pros
Adjustable height.

Dual massagers.

Night light.

Emergency backup battery.

USB ports on both sides.
Cons
Side railings not included.
Our Review
The Blissful Nights Adjustable Bed Frame is easy to just fold up and stash away for quick, and easy storage. This heavy-duty steel bed has a queen-sized frame, supports a standard 12-inch mattress, and has an adjustable height through 6, 9, and 12-inches.
This hospital bed comes with some very helpful features. The wireless remote is backlit for easy navigation during the night. Like the high-end product it is, the bed also features a dual massager with three levels of intensity.
Its one-touch flat, zero gravity position, custom memory presets, anti-snore, and under-the-bed night light further turn the odds in favor of this Blissful Nights Adjustable Bed Frame.
A 10-year warranty also supports this bed, and it has an emergency backup battery box in case of power failures.
---
With the quietest of motors, the Drive Medical Delta Ultra Hospital Bed truly fits the bill for people who want quiet, seamless adjustments from their hospital bed. You can pair this universal bed with most other bed-ends.
Pros
9-volt battery in case of a power outage

Manual crank

450-pound capacity

Full and half rails included
Cons
You need to purchase the mattress separately

Remote is not wireless
Our Review
The Drive Medical Delta Ultra Hospital Bed is a very user-friendly bed with a very straightforward design. The wired remote is easy to navigate, and the manual hand crank and 9-volt backup battery both serve to cover any power failures.
If storage is a concern, you will love this even more; With an interchangeable headboard and footboard, this entire bed folds into a compact board for storage.
The bed will work perfectly for most solo sleepers since it has an impressive weight capacity of 450 pounds. Patients are sure to sleep soundly in this bed, thanks to its entirely self-contained motor. The adjustments are so quiet, you probably will not even notice them running.
Drive Medical Delta also offers a lifetime warranty on the bed and a 5-year warranty on the remote alone. All in all, this is an affordable yet reliable choice perfectly suited to those in search of a lightweight, and noiseless bed.   
---
If you want quick, easy-to-navigate control from your hospital bed at home, Drive Medical Delta Ultra-Light Electric bed is sure to check your boxes. Being a safe and simple choice; it is hard to go wrong with this one.
Pros
9-volt backup battery

Half and full rails included

450-pound weight capacity

Therapeutic support mattress

Manual crank and semi-electric
Cons
No USB ports for charging devices
Our Review
The Drive Medical Delta Ultra-Light is surprisingly strong for its weight, owing to its high-impact composite panels. The channel frame construction, coupled with the zinc-coated deck, reduces its weight while giving it superior strength. The product is more user-friendly with the help of the hand pendant with large, well-spaced buttons.
Moreover, you can use the built-in remote to kickstart the bed's whisper-quiet motors and adjust the position as required. With an innerspring therapeutic support mattress and a 450-pound weight capacity, this is sure to give you sound sleep.
During the day, you can turn your flat bed into a recliner and enjoy watching TV, work on your laptop, or read a book in bed. This allows patients to eat in bed comfortably.
For further ease of use, users can pair the bed with half or full side rails. Drive Medical Delta also offers a lifetime warranty on the bed, meaning they certainly are confident about their product.
---
Premium foam, finest upholstery, fully electric innovative adjustable design, and upscale massage functions – all without breaking the bank. We suggest you go buy the Classic Brands Upholstered Adjustable Bed without a second thought if value for money sounds like your thing.
Pros
Ergonomic features

Two USB ports

Dual Massagers

Available in 5 different sizes
Cons
Our Review
The Classic Brands Upholstered Adjustable bed has so many great features to ensure you get the best sleep in the most comfortable bed. In fact, people often purchase it outside of medical reasons just for comfort.
This is not just a bed to lay in – at a mere touch of a button, it transforms into a recliner, a reading chair, or a massage station.
With the height-adjustable through 5, 7, and 12-inches, the bed has a head elevation all the way up to 65 degrees and a foot elevation of 50 degrees.
If you haven't already noticed, this is one of the highest foot elevations offered by a hospital bed, making the Classic Brands Adjustable Bed perfect for those advised to hold a zero-gravity position.
The bed has 2 USB ports where you can charge your electronics. It also has a dual massager with three massage settings. To make your life even easier, the bed comes in pre-set as well as programmable positions that you can even save as memory for later use.   
---
Buying Guide: What to Look for in a Hospital Bed
Making an investment as expensive as a hospital bed can be overwhelming. Keep these buying tips in mind to make your decision easier and safer:
Start off with the basic features like height adjustment. If the user is prone to falling off the bed, you will need a low bed. Alternatively, if the patient will be bathed and tended to in the bed for long durations, a height-adjustable bed that can be raised higher will greatly help the caregiver.

If the patient is at risk of falling out of the bed, or needs to be restrained in bed for any other reason, consider getting a bed with side rails.

Go for a wireless remote-controlled bed for convenience.

Buy an electric or semi-electric bed because manual beds can be tiresome to adjust.

Trendelenburg positions can come in handy for a lot of conditions; If you have the budget, definitely look into a bed supporting these.

Since you will likely be using your bed for a long time, do not compromise on quality. Get a bed with at least three years of warranty and a solid, sturdy build.

If you will also be buying a mattress to go with the bed, we recommend buying both products from the same supplier. 
---
Types of Hospital Beds for Home Use
Based on Adjustments
Electric/Automatic
Electric hospital beds are entirely powered electronically and come with a hand pendant or wireless remote. The height, head, and foot of the bed can be adjusted using the remote.
In case the remote is not to be used, the bed also has buttons along its side that perform the same functions as the remote. Fully electric beds are the most effortless hospital beds, and naturally; the most expensive as well.
Semi-electric/automatic
Alongside the electric or remote-controlled features, many people also like to have manual cranks. For such people, semi-electric hospital beds fit the bill.
The working is similar to fully electric beds, except that these also have a hand crank on top of the electronic adjustability. This comes in handy in case of a power failure.
Manual
These beds do not have electronic functions. They have manual cranks to adjust the head and foot of the bed. Naturally, these are the cheapest kind of hospital bed.
However, manual hospital beds are not recommended for those lacking the strength and mobility required for manual adjustments.
Low Hospital Bed
As the name goes, these are low-height beds made for patients who have a risk of falling off the bed or cannot easily get in and out of standard beds. They are just as adjustable as any other hospital bed, only lower – often within a foot of the floor. Low hospital beds are typically fully electric.
Bariatric Hospital Bed
Bariatric beds are designed for heavyweight patients. Build to offer extra support, these are fully electric and demand no manual effort. These beds have a wider mattress area and also weigh much more than standard hospital beds.
Given their significantly higher price, bariatric beds are only opted for when the patient really cannot be supported by a standard hospital bed.
Trendelenburg Hospital Bed
Trendelenburg beds are getting increasingly popular because they offer the highest number of adjustment possibilities of all kinds of hospital beds.
Apart from adjusting only the bed's head and foot, you can individually adjust other parts of the bed for maximum tailored comfort. From a recliner chair to a zero-gravity position, the Trendelenburg bed can do it all.
Based on Usage
Curative Care
You will find curative care beds in general hospitals. These are used for patients without mental illnesses or physical injuries, for example, a feverish patient.
Psychiatric Care
As the name makes obvious, these beds are designed for patients with mental illnesses and substance addictions. These are used in psychiatric wards.
Long-term Care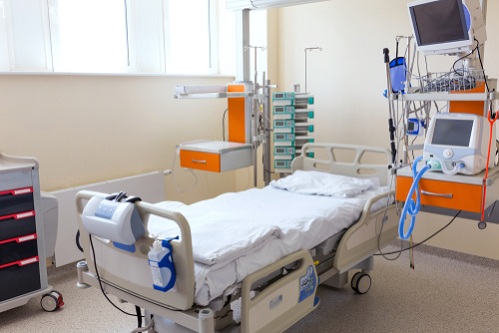 Long-term care beds are used for patients with terminal or chronic illnesses. For example, a coma patient will be placed in a long-term care hospital bed.
Note that these beds are also used for the elderly or permanently disabled since their condition is not expected to change either, and they will also spend the majority of their time in bed.
---
Features to Consider When Buying a Hospital Bed
Since patients who need hospital beds are often those who will also spend the greater part of their day in bed, it is crucial that the bed is functional, comfortable, and tailored to the patient's needs. Read on ahead to find out what features to look for when buying your hospital bed.
Wheels
Wheels facilitate movement and transportation of the bed within the house or even the room. The wheels can also be locked for traction and safety while the patient is in bed or being shifted into the bed.
If you will be moving the bed around in your house, consider getting one with wheels on it since hospital beds weigh quite a bit to be just carried or dragged around.
Mattress
The majority of hospital beds come with an innerspring mattress, similar to standard mattresses. These innerspring mattresses help prevent bedsores and muscular strains.
They are comfortable, safe, and feel "normal" This makes them ideal for patients who will be spending extended periods of time in their hospital bed at home.
Elevation
Hospital beds are essentially adjustable beds. They can be raised or lowered as needed along their entire height, as well as at the head and foot of the bed. This adjustment is made either using a remote control that comes with the bed or via the manual hand crank located on the side of the bed.
You need to consider your patient's particular condition and then choose a bed with the right elevation. For instance, those with sciatica trouble should be in a bed that allows for a zero-gravity position.
Similarly, if the patient is to be bathed while in the bed, it is best to go for a bed that can come up higher than usual because administering baths is easiest done when the bed is raised.
Side Rails
Side rails are fitted on the sides of the bed to keep the patient from slipping off the bed. They also offer support as the patient can use the rails to pull themselves up into a sitting stance.
On high-end versions of hospital beds, side rails also act as a control panel; they have buttons fitted to call the caregiver or to move the bed.
Consider getting a bed with side rails if your patient is at risk of falling off the bed or needs to be restrained in bed. For example, in the case of a mentally-challenged individual or hyperactive child.
Tilting
Some hospital beds have columns along their lengths that allow the bed to be tilted both downwards and upwards through 15-30 degrees on both sides. A bed that users can tilt is ideal when caregivers have to stand at the bed for long periods of time.
The tilting will help lower the strain on the caregiver's back. Tilting beds are also good for safeguarding the patient against bedsores that can develop if the patient is on their back for too long.
Alarm
Some beds have pressure pads in the mattress. When the weight on the mattress, i.e., the weight of the patient is removed from the mattress, the pressure pads detect this and turn on the bed exit alarm. This signals to the caregiver that the patient has left or is trying to leave the bed.
Alarms in hospitals are extremely useful if the patients are memory-impaired, vision-impaired, mentally challenged, or young children.
Besides being used to restrain patients to the bed, these alarms can also be used to signal when a comatose patient begins to move.
---
How to Maintain a Hospital Bed at Home
Hospital beds do not require much upkeep; However, you must ensure proper care and safety.
Follow the manufacturer's instructions for washing, cleaning, and storage.

Make sure all mechanisms are in working condition and repaired by a manufacturer-approved worker if required.

Ensure a stable electricity supply to the bed if it is an electronic variant.

Keep the side rails up when not getting out of or into the bed.

Keep the wheels locked when the bed is not being moved. 
---
FAQs:
Does Medicare cover hospital beds?
Hospital beds are very expensive, and most people count on their insurance for one. Medicare is the most popular type of medical insurance provider, and yes, it does cover the purchase of hospital beds.
Medicare will consider you qualified for a hospital bed if you:
Cannot sleep like a healthy, normal person on a regular bed

Struggle with changing positions on a regular bed

Require the use of traction attached to a bed

Cannot sleep with the head of the bed lower than 30 degrees, owing to certain medical conditions like breathing trouble, congestive heart failure, etc.

Have a completed, dated, and signed Certificate of Medical Necessity from your doctor.
In addition, you must also be covered by Medicare Part B. You will also require a recent assessment made by your doctor with written documentation of your medical history and a prescription for the bed. Finally, the supplier of the bed has to receive the order from your end before Medicare is billed for the purchase.
Does medical insurance cover hospital beds?
Yes, they definitely do. You need to present your doctor's "prescription" for the hospital bed. In this case, it is a Certificate of Medical Necessity. You also have to have one or more of the medical conditions that warrant the use of a hospital bed and need to provide medical evidence for it.
How can I choose the best mattress for a hospital bed?
Make sure the mattress is the same size as the bed base and is the right height for the bed.

The mattress should be waterproof and easy to clean.

Consider a foam mattress for even weight distribution.

If you have the budget, look into cooling, low air loss, or alternating pressure mattresses for maximized comfort.
Can I place a standard twin mattress on a hospital bed?
No, hospital bed frames are not the same size as your regular twin bed. Even if they were, you would not be able to use your standard mattress with them because a normal mattress cannot bend when the form of the hospital bed base is adjusted.
How does a hospital bed differ from an adjustable bed?
Adjustable beds are decorative and designed for home settings. They often come with latex, foam, and coil mattresses. On the other hand, hospital beds are no-frills: Utilitarian, easy to clean, and portable.
Should I invest in a hospital bed or simply borrow or rent one?
Long-term care is often required where a hospital bed is needed. Therefore, if you are going to be using the bed for more than a few months, the financially sound choice is to buy one instead of renting or borrowing it.
Can I purchase a hospital bed online?
You definitely can. However, if your medical insurance is covering for it, just make sure to follow their online purchase procedures.
How can I dispose of a hospital bed after using it?
Once you no longer need your hospital bed, consider giving it someone who does. It could be a local organization; a family member, or even Red Cross. Chances are they will welcome it but even if they cannot, they will link you up with someone else who could use it.
---
Final Verdict: The Best Hospital Bed for Home
The best hospital bed for home is the Classic Brands Upholstered Adjustable Bed. It has the most advanced and comfort-oriented features with an impeccable, aesthetically-pleasing design. Let's just say it leaves little to be desired, and that too at an unbeatable price.
---
Affiliate Disclosure
Affiliate Disclosure: I may earn a small commission (at no cost to you) if you purchase a mattress after clicking a referral link or using a coupon code on this site. That said, all content and opinions on this site are my own and are NOT affected by these payments.
This site participates in the Amazon Services LLC Associates Program, an affiliate advertising program designed to provide a means for sites to earn advertising fees by advertising and linking to Amazon.com.
*Amazon and the Amazon logo are trademarks of Amazon.com, Inc, or its affiliates.
---