Helix Mattress Review
Summary
A high-quality foam + coil mattress that is custom-fit to your unique sleeping habits, body and preferences – and your partner's, even if different.
Great Choice for: anyone who wants a custom-fit sleeping experience. Couples who need different comfort levels (split mattress).
Avoid if: you want a simpler, cheaper solution.
Price: $749 to $1,399 (before discounts)
NOTE: We earn from qualifying purchases made via Amazon Associates and other affiliate programs. Learn more.
---
If you want a custom-fit mattress without breaking the bank, then Helix is an excellent choice.
Helix is all about building a customized luxurious sleeping experience for you and your spouse… based on science, at the lowest price possible.
Their made-to-order hybrid (foam + coil) mattress is an exciting and unique product in the fast-growing online mattress industry.
Every Helix mattress is made using proven processes developed by a manufacturer with more than 30 years of experience in making mattresses.
So how does it sleep?
Let's find out!
(Note: this review covers the standard Helix custom-made mattress, not their latest LUXE upgraded models).
---
What's In This Mattress Review
This is a 10-minute in-depth review of the Helix hybrid mattress.
Use this table of contents to skip to the features you care most about.
To return to this outline, touch  ↑ Table of Contents .
---
About Helix
Helix mattress is headquartered in New York City. Manufacturing is handled in their Chicago factory.
The founders of Helix, Kristian von Rickenbach, Jerry Lin and Adam Tishman, were united in grad school by the same experience – sleeping on lousy mattresses.
The understood that different people have different sleeping styles and demand different solutions for a good night's sleep; and, they noticed that the emerging online mattress industry seemed to be totally focused on one-size-fits all products.
So, they set out to design the first 100% customizable mattress sold exclusively online.
Since the company was founded a few years ago, Helix has been totally focused on providing the highest-quality customizable mattress sold online, backed by excellent customer service.
The Helix mattress was designed using rigorous data analyses and a deep understanding of the biomechanics and the ergonomics of sleep.
Every Helix mattress is custom-made using proven processes developed by a manufacturer with more than 30 years of experience in making mattresses.
In 2018, Helix added 9 preconfigured mattresses to its custom-made lineup.  This review is about their custom-designed product only.
---
Social Impact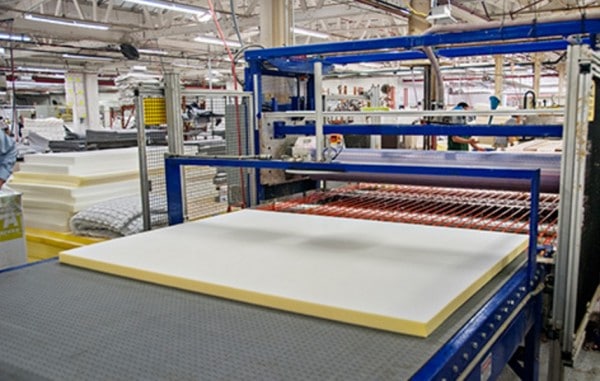 Helix competes with other online mattress providers like Casper and Leesa, not just by offering a comparable price and much more personalization, but also by making a difference to society.
The company does their best to donate returned mattresses to housing facilities and charities all across the country.
If the returned mattress is not donate-able, they have a partnership with a recycling company that disposes of the mattresses while maintaining the highest environmental standards.
In addition, Helix uses green technology to create a high-quality product that does not negatively impact the atmosphere or the air we breathe.
All of the materials used in the Helix mattress are environmentally safe.
---
Purchase Process
The only place to buy a Helix mattress is on their main website. You can't find Helix mattresses in retail stores.
Helix sells 9 different mattresses and offers a custom-designed option, so ordering a Helix mattress is more involving and more human-centered than others.
This is a good thing, if you care about customization.
Before placing an order, you'll need to decide whether you want to select your mattress from their 9 standard products or use their Sleep Quiz to have them pick the right one for you based on your needs.
We used their Sleep Quiz (which we highly recommend).
This is where the fun begins.
OPTION 1:  Use the Sleep Quiz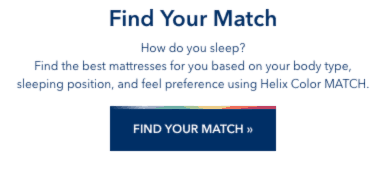 You will then complete a quiz so the company can configure the right mattress for you and your partner.
The guys from Helix teamed up with a PhD-level researchers in biomechanics to design the ideal mattress for the particular specifications of each customer.
At the beginning of the qui, you are asked to choose the number of people who will sleep on it.
You then enter your name, age, height and weight.
Next, you select your physique. You can choose from:
Wide waist, with narrow hips and shoulders
Wide shoulders, with narrow hips and medium waist
Roughly uniform body
Wide shoulders and hips, narrow waist
Narrow shoulders, with a medium waist and wider hips
You will then be asked for your sleeping preferences:
select your desired firmness
describe your current mattress
rate the quality of your sleep and
add any medical conditions.
You then enter the same info for your partner.
Once all of the above is entered, Helix will configure a personalized mattress and immediately present you with your mattress' specification for each side, if you split the mattress like we did:
Every Helix mattress is optimized along four dimensions:
Optimized Body Support: an optimal support level aligns your spine with your body's shape, making sure you get a good night's sleep and your body rests properly, even when you switch positions.
Point Elasticity: the mattress needs to conform to the natural curves of your body. The point of elasticity is a measure to determine how your weight affects the surrounding areas of the mattress.
Feel: ranges from soft to hard.
Temperature Regulation: the amount of airflow through your Helix mattress will determine how fast heat can dissipate; ranges from mild to cool.
Once your ideal Helix mattress is configured or selected for you, you have two options for placing your order:
ask Helix customer support to contact you to answer any other questions you may have, or
check out & place your order.
Your mattress will be manufactured to order using state-0f-the-art machinery in their Chicago factory.
Then it is compressed and roll-packed for convenient shipping.
OPTION 2:  Select a Preconfigured Bed
If you don't want to use their Sleep Quiz, you can select from one of their 9 preconfigured mattresses:
---
Prices
Given the amount of customization, it's pleasantly surprising that Helix isn't much more expensive than Casper, Leesa and similar budget foam mattresses.
Listed below are their list prices:
*NOTE:  the LUXE upgrade adds:
2″ more thickness
a zoned lumbar support coil layer
a premium quilted pillow top
an ultra-breathable cover.
Coupons
* Enter code BF200 when ordering
Financing
Helix offers financing through Klarna (subject to credit approval) and ZIBBY (no credit required).
---
Shipping
After you order your Helix mattress, it will be assembled, packed and delivered to you within 3-7 business days. For split-comfort beds, add 3 business days to the standard ship time.
The Helix mattress is a memory foam product, so it is compressed, rolled and shipped to you in a 15.5" long x 15.5" wide x 45" tall box.
Helix uses UPS for all ground shipments.
Shipping and returns are free of charge. You'll have 100 risk-free nights to try it out before deciding to keep it.
When the mattress has been assembled for shipping, you'll receive a tracking number in your email once. To track your order, goto www.ups.com.
Please note:
If you are from New York or Illinois, the company will add sales tax. Additionally, some zip codes carry additional sales tax.
If you live in Hawaii or Alaska, then contact the company before ordering to ask about additional charges.
---
Delivery & Unboxing
Depending on the size, your Helix mattress will be delivered by UPS in a box weighing between 55 and 95 pounds.
The great news is that you don't have to be home when the shipment arrives. The package arrives like any other UPS package, so it doesn't require a signature.
After I took the mattress out of its rectangular box and wrapping sleeve, I just laid it on my platform bed and waited an hour or so to let it decompress. Then I covered it with sheets, and that was it.
The Helix mattress can be placed on any type of foundation including a boxspring, a platform bed, wooden slats, or on the floor.
---
Aesthetics/Styling
I don't want to spend much time talking about the look of something that will spend most of its time covered up.
Short story: the Helix isn't a beauty queen, but it has a nice clean modern aesthetic that most people will appreciate.
The Helix mattress top has a white quilted pattern that definitely stands out from the crowd.
---
Technology
All Helix mattresses are made from high-quality and durable foams and micro coils (hundreds of miniature innersprings put together in the layer of fabric).
By adjusting the thickness and composition of these materials, the team at Helix has managed to do the impossible – use the same materials and technology to build a mattress that performs as well for a 120 pound gymnast as a 250 pound bodybuilder.
The PhD researchers employed by Helix developed a groundbreaking body-matching algorithm that focuses on achieving proper spinal alignment.
According to Helix, spinal alignment comes with a wide range of benefits including greater levels of comfort and reduced back aches.
Essentially, they custom-design a mattress that will keep your back straight, while you sleep.
To do this, the company uses your answers on the order survey to statistically match your profile to a database of hundreds of 3D body scans, in order to select the right mattress configuration for you.
What's really amazing is that using the same process, a single mattress can be crafted for two very different people, with one side designed for the needs of one partner and the other tailored for the needs of the other.
Helix's polyurethane foams are Certi-PUR-US® certified, guaranteeing that they are made without any of the following:
ozone depleters
PBDE
heavy metals like mercury & lead
formaldehyde.
---
Cover
The cover of the Helix mattress is made of 100% polyester.
The white quilted top is extremely soft to the touch, and the bottom blue side has a sturdier feel.
It is quite thin and has no padding. This means that air can flow more easily through the mattress, enhancing the cooling feature of the top comfort layer.
---
Mattress Construction
Every Helix mattress is made of 10.5 inches of a premium blend of high-grade foams and micro coils, layered as follows:
2″ Helix Dynamic Foam
2.5″ Pocketed Microcoils
2″ High-Grade Polyfoam (comfort layer)
4″ High-Grade Polyfoam (base layer)
Helix uses a range of thicknesses and densities of foam to deliver the right level of temperature regulation, point elasticity, feel and support for your specific sleeping style and body type.
Cooling and Comfort Layer (top)
The topmost layer is made of 2" of Helix Dynamic Foam, a proprietary cooling foam that is neither latex (no allergy issues) nor memory foam.  It is safe for people of any age.
This layer comes in various firmness levels, depending on your weight and body type and ranges from 15 to 32 IFD (Indentation Force Deflection).
Pressure Relief Layer (2nd layer)
Pressure relief is accomplished using a 2.5" layer of pocketed micro coils with an IFD of 18.
These miniature coils are designed to provide an increased level of pressure relief, softness and a good bounce.
The second layer gives the Helix mattress that unique "bouncy feel" that many people love about spring mattresses.
Support Layer (3rd layer).
The Support layer is 2" of a unique poly foam that provides deep compression support.
This layer has an IDF level of between 20 and 26.
Foundation Layer (bottom layer)
The Foundation is 4.0" thick and is split into two separate foam layers with IDF levels ranging from 26 to 33.
All of the foams used in the Helix mattress are of the highest quality, made from in-house materials manufactured in the USA.
---
Smell/ Off-Gassing
For the first few nights, I noticed a very weak smell. After one week, it was completely gone. Not a problem, for sure.
I should add that I'm kinda sensitive to smell.
Others may not notice it at all. The company tells me that they've receive ZERO complaints about off-gassing smell. So maybe I'm a freak. Or a dog.
If you are allergic to latex foam, then you'll be happy to know that Helix has removed all latex products from its mattress.
---
Sleeping Experience
My husband sleeps mainly on his back, and he found his side of the Helix to be just about perfect. He had it configured for medium-firm. I usually dictate the bed choices around here, so this was a treat for him.
I appreciated having a side that was softer, since I'm mainly a stomach-sleeper.
The mattress sleeps very cool. Never experienced any issues on my side. My husband, who is larger and heavier than me, has more trouble with hot spots. He said it was one of the cooler mattresses for him, as well.
Our prior mattress (Casper original) got some body impressions and even sagged in certain spots, but this didn't happen during our 75-day test of the Helix.
---
Firmness
On a scale from 1 to 10, with 10 being the firmest, my side of the Helix mattress was about a 6. My husband's side was a 4.
But – keep in mind that given the nature of customization, every Helix mattress can have a different level of firmness.
---
Motion Transfer
Helix says its Dynamic foam is known for its ability to prevent the transfer of motion from one side of the bed to the other.
It seems to work.
I found the Helix exceptionally good at insulating me from my husband's constant moving around at night.
---
Sinkage
Obviously, given the custom-designed nature of the Helix, sinkage will also differ based upon your configuration.
That said, I went ahead and tested my side of the mattress for sinkage – I weighed 140 pounds at the time of the test:
Lying in the middle: in a normal lying position on my back, the mattress sank for about 1.25".
Sitting on the edge: while sitting on the edge, with my full back on the mattress, I noticed an average of 2.5" of sinkage.
Sitting straight up on the edge: I noticed a 4.5" of sinkage.
Standing in the middle: while I was standing in the exact center of my side, I saw a 4.00" of sinkage.
Again, these tests were done on my side of the mattress only.
---
Hot/Cold Issues
The Helix mattress did not generate hot/cold spots for either of us.
The cooling foam layer appears to prevent the mattress from overheating during the hot summer months, here in New Orleans.
---
Warranty
Helix offers an extended warranty that covers any defects for a period of ten (10) years.
Helix will replace your mattress free of charge if it sinks more than 1″ over time, assuming it is properly supported.
If you request a return or replacement under warranty, then you will pay all shipping and transportation charges up-front; if Helix determines there was a defect, you will be reimbursed for up to $100 of shipping charges.
The warranty is not transferrable to future owners.
---
100-Night No Risk Trial
Helix offers a no-risk trial period of 100 days. But you need to try it for at least 30 days before trying to return it.
If you don't love your Helix mattress in those 100 days, you can call Helix or send them an email and the company will send someone to retrieve the mattress from your home. No need to worry about packaging or shipping, they will take care of all the details.
All returned mattresses are donated to housing facilities and charities. However, sometimes they do need to dispose of certain used mattresses.
The company also allows exchanges. Contact them and they will try to come up with a solution that works best for you.
---
Pros and Cons
Pros
No limits to customization: if you know what you like, this is the bed for you.
High-quality foam + coil construction
Exceptionally cool
Excellent customer service
Cons
Helix is a relatively young company
---
This Mattress is Perfect for you if…
You and your sleeping partner need two different firmness levels in a single mattress; another option would be to purchase two twin mattresses of different firmnesses.
You want to buy a premium memory foam + coil mattress
You are a mattress connoisseur: you know that personalization will improve your sleep experience.
---
Conclusion
The Helix mattress stands head-and-shoulders above other foam mattresses in the same price range, because it can be personalized to your and your partner's individual sleeping needs.
Every personalized sleeping experience sold by Helix is backed by proven technology and studies, too.
By integrating the old with the new and offering really good customer service, Helix has created the ideal mattress for couples with different sleeping styles and needs.
My husband and I both found that the Helix mattress did a great job meeting our different firmness requirements, and it was above-average for temperature regulation and motion transfer.
---
Where to Get The Best Deal
The best deal right now is found on the HelixSleep.com main website.
* Enter code SLEEPDELIVERED50 when ordering
How the Helix Mattress Compares
See how the Helix mattress compares to other top online mattresses in the following in-depth matchups.
---
Affiliate Disclosure
Affiliate Disclosure: I may earn a small commission (at no cost to you) if you purchase a mattress after clicking a referral link or using a coupon code on this site. That said, all content and opinions on this site are my own and are NOT affected by these payments.
This site participates in the Amazon Services LLC Associates Program, an affiliate advertising program designed to provide a means for sites to earn advertising fees by advertising and linking to Amazon.com.
*Amazon and the Amazon logo are trademarks of Amazon.com, Inc, or its affiliates.
---