NOTE: We earn from qualifying purchases made via Amazon Associates and other affiliate programs. Learn more.
Shopping for a nasal dilator, nose vent, or external nose strips?
You've come to the right place.
Sleeping well through the night is an essential aspect of our physical and mental well-being. However, breathing troubles caused by nasal congestion can make it quite difficult.
My husband snores and it can make him really grumpy in the morning. Snoring also causes nasal congestion, negatively impacting your sleep and can leave you tired throughout the day.
Deviated septums are another breathing issue that nasal dilators can help with.
In this guide, we cover the best nasal dilators and nose strips sold today and answer all of your questions.
---
What's in this Buying Guide
In this guide, we review and recommend the best nasal dilators on the market for a range of specific needs.
We then discuss the types of dilators sold and their pros/cons.
Finally, we discuss what to look for when buying a dilator, and answer a few frequently asked questions.
NOTE: If you're looking to improve your sleep quality and monitor your sleeping habits, check out our definitive guide to sleep tracker devices.  And if you're experiencing a lack of sleep due to neck pain, check our guide to the best pillows for relieving neck pain. Pair that up with a bed cooling system, and you'll have a good night's sleep!
---
Best Nasal Dilators
Disclaimer: All links below go to Amazon.com
---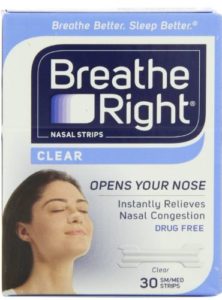 Simple, effective, and efficient would be the best way to describe these Breathe Right nasal strips. These strips have a clear band and are gentler on the skin as compared to other available options.
Pros
Provide quick relief from nasal congestion
Gentle on the skin
Come in a pack of six (60 strips in total)
Available in small/medium or large size
Cons
Come loose after a few hours
Tend to leave a sticky residue once you take them off
Our Review
The Breathe Right clear nasal strips provide quick relief from nasal congestion and are clinically proven to reduce snoring.
They are the drug-free solution to snoring and help you breathe better for a peaceful and uninterrupted sleep throughout the night.
These strips have a clear band which makes them less noticeable than other available options. They are specially designed to work for people with sensitive skin as they are easy to take off and don't cause irritation.
You can get them in a pack of six with 60 strips at a pretty affordable price.
---
The Best Breathe Anatomical Nasal Dilator is designed to fit securely and comfortably in your nasal cavity to improve airflow. It has high-quality construction, and it is available in different sizes.
Pros
Available in 5 different sizes from XS to XXL
Constructed of soft, high-quality silicone-like medical material
Easy to clean
Internal winding and anatomical design improve airflow through the nose
Cons
Anti-slip little blocks on the design can slightly irritate the nose
Difficult to find the right size
Our Review
In our opinion, the Best Breathe Anatomical Nasal Dilator is the best-designed internal nasal dilator.
Its anatomical shape allows it to better fit your nasal cavity and will not fall out even during sports. It is an effective remedy to improve breathing and airflow, reduce snoring, and ensure peaceful sleep and enhanced physical performance.
The Best Breathe nasal dilator is made of high-quality silicone-like medical material that is soft and comfortable to wear.
It is easy to clean the dilator with water and soap and reuse it. It comes with a storage box so you can carry it around and a multilingual leaflet that explains how to use it correctly.
---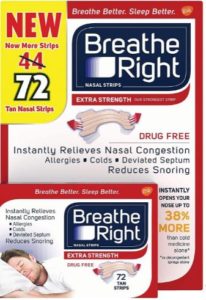 Breathe Right Extra nasal strips are designed with a strong band, so they don't come off during the night. They effectively and instantly remove nasal congestion for a comfortable breathing experience.
Pros
Designed with flexible and extra-strong spring-like band
Reduces nasal congestion and snoring
Comes in a value pack with 72 strips
Doesn't leave behind a sticky residue
Cons
Removing the strips abruptly may irritate sensitive skin as it has strong adhesive
Pricey
Our Review
Breathe Right Extra nasal strips can effectively and efficiently relieve nasal congestion due to cold, allergies, etc. They provide a drug-free solution to reduce snoring and ensure better sleep.
These nasal strips are built with an extra spring-like band that opens your nostrils and helps you breathe better.
These strips are designed to be 50% stronger than regular nasal strips and have better adhesion for a secure fit that stays on throughout the night.
The Breathe Right Extra nasal strips are perfect for those tired of their strips coming off during sleep. They are available in a pack of 72 strips.
---
The Mobi Lock Nose Relief Dilator has a soft and comfortable medical-grade silicone design. It maximizes airflow to the nostrils to reduce breathing struggles and ensure an excellent sleeping experience. And the price is hard to beat.
Pros
Offers a lifetime money-back guarantee
Smartly designed to have a secure fit
Made from soft medical-grade silicone
Comes with a reusable storage box
Cons
Takes time to get used to
Finding the right size takes trial and error
Our Review
This Mobi Lock nasal dilator has a medical-grade silicone construction and is quite soft. It gently widens the nostrils to remove any airway resistance and improve breathing. It enables a better sleeping experience and reduces snoring.
The soft and convenient construction ensures a comfortable wear experience and makes sure you don't experience any irritation or itching.
The Mobi Lock nasal dilator comes with a reusable storage case that keeps your dilator clean, hygienic, germ-free, and dust-free.
---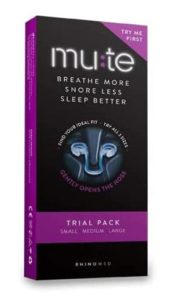 Rhinomed Mute internal nasal dilators are smartly designed to improve breathing & reduce snoring. It has a flexible and lightweight design that you can reuse several times.
Pros
Easy to use
Proven to increase airflow by an average of 38% as compared to nasal strips
Reusable up to ten times
Flexible and lightweight design
Cons
Tends to come off easily during the night
Our Review
The Rhinomed Mute is designed with medical-grade polymer and is quite comfortable to wear. It is completely latex and drug-free. Its construction is lightweight and features adjustable nostril stents.
Compared to nasal strips, studies suggest that the Rhinomed Mute increases airflow through the nose by an average of 38%.
The Rhinomed Mute anti-snoring device comes in three different sizes. The trial pack consists of all three sizes, so it's best to start with that so that you can find the ideal size.
75% of verified users reported reduced snoring, whereas 78% reported improved breathing throughout the night.
---
The Bastion nose vents provide instant relief from snoring and are one of the best options for sleep apnea patients. They are available in a variety of sizes to choose from and have premium-quality silicone construction.
Pros
Designed from medical-grade silicone
Available in 4 sizes
Comes with a useful user manual
Easy to carry around
Cons
Our Review
The Snore Bastion nose vents are made from medical-grade, odor-free silicone. They come in a pack of 12 and are available in four shapes.
They are clinically proven to improve nasal breathing and oxygen saturation, and they reduce snoring to improve your sleep quality.
The Bastion nose vents come with a storage box so that you do not misplace them. It comes with an informative user manual on how to use the nasal opener properly.
---
7. Best Nasal Dilator for a Deviated Septum: Airmax Nasal Dilator
The Airmax nasal dilator is designed by ENT (ear, nose, throat) specialists and aerospace engineers to optimize airflow and increase your oxygen levels. It counteracts nasal congestion and improves breathing.
Pros
Helps reduce snoring and improve sleep quality
Lasts up to 3 months
Helps people with nasal congestion, a deviated septum or narrow airways
Available in a trial package with 2 sizes
Cons
Difficult to put in
Only available in two sizes
Our Review
This Airmax nasal dilator dilates the narrowest part of the nose and improves airflow during inhalation and exhalation. It has been carefully developed and tested by ENT specialists and aerospace engineers. It is also recommended by specialists and is ISO 13485, FDA and CE certified.
It comes in a trial pack with two sizes, so you can test out both and determine which one works best for you. The Airmax Nasal Dilator lasts for up to 3 months.
---
The Vamotto anti-snoring nose vents are designed according to the natural shape of your nostrils. This makes these nose vents quite comfortable to wear. They are available in several sizes and are safe and convenient to wear.
Pros
Comfortable PE food-grade plastic and silicone construction
Available in multiple sizes
It comes with a storage box
Simple and durable design
Cons
Pricey considering you end up paying for several sizes, but you only use one
Our Review
Comfortable and effective internal nasal dilators are hard to find. The Vamotto nose vents are designed according to your nostril shape, which ensures a good fit.
They are highly comfortable to wear as they are designed with soft plastic and silicone.
The Vamotto nose vents come in two styles and four sizes, so they are suitable for everyone, be it men and women, young and old.
Plus, the nose vents come with a storage box so that you don't lose them.
---
Nasal Dilator Buying Guide
What is a Nasal Dilator – and How Does it Work?
Nasal dilators are contraptions that mechanically open up the nasal passageway to improve airflow. They reduce the resistance experienced by the airflow to ensure a better breathing experience.
They effectively reduce snoring caused by blocked nasal passageways.
Nasal dilators are primarily of two types; internal and external.
An external nasal dilator is essentially a strip bent across the surface of your nose, and as the strip tries to straighten itself out using a springboard action, it will dilate your nostrils and improve airflow.
An internal nasal dilator is placed inside your nose. It is designed to reach the narrow part of your nose and gently pushes and dilates the passageways to optimize airflow.
However, they aren't just used to prevent snoring.
People also use them while playing sports or during their workouts to optimize breathing and improve their physical performance.
Types of Nasal Dilators
Nasal dilators are of two kinds:
Internal
As the name suggests, internal nasal dilators are inserted inside the nose to gently push open the nostrils.
They are available in a wide variety of shapes and sizes, including nasal cones, vents, clips, prongs, and stents.
Internal dilators are better than external dilators when it comes to breathing efficiency.
External
External nasal dilators, also called nasal strips, help improve breathing efficiency and reduce snoring.
Nasal dilators stick to the surface of the nose. Professional athletes often use nasal strips as they allow them to breathe better and improve their performance.
Why Buy a Nasal Dilator over Other Anti-Snoring Remedies?
Nasal dilators are proven to effectively and quite significantly reduce snoring, but the same can't be said about other anti-snoring remedies.
Other remedies like nasal sprays are medicated, become less effective over time, and cause side effects like nosebleeds, withdrawal, etc.
However, this isn't the case with nasal dilators, as they have no side effects.
Nasal dilators also provide a drug-free and quick way to minimize snoring and breathe better. Plus, you can use them along with other medicines.
What to Look for in a Nasal Dilator
To make sure you get the best nasal dilators for snoring, make sure you look out for:
Size
Nasal strips and internal dilators come in different sizes.
If you get the wrong size, you will find it quite inconvenient to use the dilator. So, make sure that you choose a size that fits securely and stays in place throughout the night.
Design
It is best to choose an internal dilator that has a comfortable design and fits well. It should be lightweight so that you don't feel any unease and flexible enough so that you can customize it according to the shape of your nose.
Shape
Internal nasal dilators come in a variety of shapes.
Some are smooth, while others have vents, or they are ribbed or winged.
Some products are available in trial packs where you can try different shapes and choose one that works best for you. These can be a great investment if this is your first time using a nasal dilator for snoring and you don't know what exactly to look for in one.
Material
The construction and material of the nasal dilator should be comfortable. Medical-grade silicone is the best choice in this case as it is soft and high-quality.
Lifespan
External dilators like strips, are single-use whereas you can reuse internal dilators if you maintain them properly.
Make sure the nasal valves for snoring you invest in last you a good amount of time.
How to Use a Nasal Dilator
External nasal dilators like nasal strips stick to the surface of your nose to dilate the nasal passageways due to springboard action.
You need to place the strip across the surface of your nose. As the strip attempts to straighten itself out, it will dilate your nostrils and improve airflow.
On the contrary, you should insert internal nasal dilators inside your nose. Slide the legs of the dilator gently inside your nostrils till the bridge connecting the two legs touches your nasal septum.
Pros and Cons
Still on the fence about nasal dilators? Let's take a look at their pros and cons so that you can make a better decision:
Pros
Affordable
Reusable
Provide a drug-free solution to obstructed nasal airflow
Easy to use
Help improve quality of sleep
Cons
Internal nasal dilators are a bit invasive
Takes time to get used to and trial and error to find the right size
Care and Maintenance
You cannot reuse external nasal dilators like nasal strips. You should not wear them for more than 12 hours and discard them after use.
However, you can reuse most internal dilators. Just make sure you clean them properly and thoroughly before and after each use.
You can simply wash the nasal dilators with a mixture of water and liquid antibacterial soap. Rub to clean them thoroughly.
Make sure you remove all the soap residue and dry the nasal dilator with a soft towel. Do not store it wet.
Plus, make sure to store the nasal dilator in a clean and dry case to prevent germ and dust contamination.
---
Frequently Asked Questions
How long do nasal dilators last?
Depending on the product and its construction, the lifespan of nasal dilators differs.
Internal nasal dilators like the Airmax nasal dilator last a good amount of time if you clean them and store them properly. However, you should replace them after 60–90 days of usage for hygienic reasons.
Also, make sure you don't use a nasal strip for more than 12 hours.
Are nasal dilators safe to use?
Yes, both internal and external nasal dilators are designed to be safe to use.
Can the nasal dilator help with sleep apnea symptoms?
Yes, nasal dilators can effectively help symptoms of sleep apnea.
Using a nasal dilator can significantly decrease the frequency and severity of obstructed breathing.
Research shows nasal dilators showed a 47% mean decrease of apnea index.
Are nasal dilators better than nasal strips?
As far as performance and airflow optimization is concerned, we found in our reviews that internal nasal dilators perform slightly better than nasal strips.
However, you may prefer one over the other depending on comfort, ease of use, etc.
---
Final Verdict: What is the Best Nasal Dilator Sold Today?
We believe that the best internal nasal dilator for most people is the Best Breathe Anatomical Nasal Dilator.
If you prefer external nasal strips, then the Breathe Right Clear Nasal strips are the best product around. Super-high reviews and a proven product.
Regardless of type, all of the nasal dilators reviewed above will help you reduce snoring, counter nasal congestion, and offer great value for money. They are also non-invasive and comfortable to wear throughout the night.
---
Affiliate Disclosure
Affiliate Disclosure: I may earn a small commission (at no cost to you) if you purchase a mattress after clicking a referral link or using a coupon code on this site. That said, all content and opinions on this site are my own and are NOT affected by these payments.
This site participates in the Amazon Services LLC Associates Program, an affiliate advertising program designed to provide a means for sites to earn advertising fees by advertising and linking to Amazon.com.
*Amazon and the Amazon logo are trademarks of Amazon.com, Inc, or its affiliates.
---