NOTE: We earn from qualifying purchases made via Amazon Associates and other affiliate programs. Learn more.
Shopping for the best travel pillow?
You've come to the right place.
If you've ever traveled on a long-distance flight, you know how uncomfortable that can get, making it difficult for you to nod off for a nap.
And waking with a cramp due to bad posture is not how you want to greet the new day.
Travel pillows are one of the most inexpensive and effective ways to make your travel journey more comfortable.
In this guide, we review and recommend the best travel pillows for several common needs and situations.
---
What's In This Buying Guide
In this buying guide, we recommend the best travel pillows for several common needs.
All travel pillows should be compact and small enough to carry easily and should support your head, chin, and neck so that you can doze off peacefully.
After our top picks, we discuss the different types of travel pillows available today and discuss the features to look for to find one that suits your needs.
---
Best Travel Pillows
Disclaimer: All links below go to Amazon.com
| Product | Award | Type | Material | Weight | Dimensions | Machine-washable |
| --- | --- | --- | --- | --- | --- | --- |
| trtl Pillow | Most Portable | Neck Brace | Polyester, Fleece | 4.9 oz. | 7.48 x 7.48 x 3.74 inches | Yes |
| Huzi Infinity Pillow | Most Versatile | Hourglass | Bamboo fabric, polyester | 1.04 lbs. | 10 x 6.5 x 6.5 inches | Yes |
| MLVOC Travel Pillow | Best memory foam | Memory foam | Memory foam | 0.6 lbs. | 11 x 9.2 x 5.9 inches | No |
| Jensens Inventions J-Pillow | Best for side sleepers | J-Shape | Polyester, Polyester Blend | 0.51 lbs. | 11.8 x 7.9 x 13 inches | Yes |
---
If you need the comfort provided by a travel pillow without its bulky weight, you should opt for the trtl Pillow. This unit resembles a scarf, offers excellent support, and wraps around the neck to ensure proper spine alignment while sleeping.
Pros
Lightweight and compact design
Machine-washable
Super-soft fleece material with a unique internal support
Extra cushioning allows you to comfortably rest your neck and head
Easily attaches to the handle of your suitcase or the strap of your bag
Compatible with both earphones and headphones
Cons
Height cannot be adjusted
Requires quite a bit of stretching to secure it tightly around the neck
Our Review
The trtl pillow is scientifically proven to hold your head in a better and more comfortable position when you're sleeping upright. It's more of a neck brace than a pillow and provides support with the flexible plastic frame present inside the fleece wrap.
The trtl is one of the lightest and smallest pillows available today. It conforms to the shape of your neck and features a strong Velcro tab that firmly secures the pillow in place.
However, you might need to maneuver a bit and experiment with different positions in order to find the most comfortable one to sleep in.
The trtl pillow is an excellent option for low-profile travelers who want something they can quickly throw into their bag.
Since it's just a small fleece scarf, it takes up much less space than a U-shaped travel pillow, and you can easily attach it to the handle of your suitcase as well.
However, it still needs a surface to lean on, which can be a bit difficult if you're sitting in an aisle or middle seat.
This model is available in several colors, including coral, black, red, and grey.
To wash it, just put it in a washing machine. It's also easy to pack, as you just need to fold it flat around the frame and place it in your bag.
Weighing around five ounces, the trtl is incredibly lightweight and extremely easy to carry around as well.
It's important to remember that the trtl pillow only provides one-sided support, so it might not be suitable for those who move around a lot in their sleep.
The internal support frame is also a bit short for taller individuals, which means they might not have the proper support needed to prop the pillow upon their shoulders.
---
The Huzi Infinity's unique design firmly secures the pillow in place while you sleep. You can wrap it in at least 5 different ways to sleep against a window or in an upright position or use it for additional lumbar support as well.
Pros
Designed with incredibly soft bamboo fabric
Ideal for all sleeping positions
Offers excellent breathability and 360o support
Perfectly balances support and softness
Machine washable
Supports the weight of your neck, head, and chin
Cons
The design is a bit bulky
Frustrating and difficult to roll up
Our Review
The Huzi Infinity pillow cannot be technically defined as a pillow, as it's more of a soft, fluffy scarf filled with plush padding. You can change its shape in a million different ways and make it as soft or as firm as you prefer by looping and twisting it.
It essentially conforms to whatever way you want to use it, and you can even maneuver it according to your favorite sleeping position.
You can wrap it twice around your neck and insert your arm in the second loop so it firmly stays in position.
You can also simply ball it up and place it behind your neck, make a supportive cradle by covering the back of your neck and sticking your arms inside the loops in the front, or lean against it when you're in the window seat.
You can even use the Huzi Infinity pillow to make an eye mask to block out all the light or wrap it around your ears to muffle sounds.
With virtually endless options, this model is undoubtedly the best multi-purpose travel pillow on our list.
However, the Huzi Infinity is a bit difficult to pack and store away. The manufacturer states that you can roll the pillow like a yoga mat and secure it with the Velcro binding, but this entire process is a bit tedious and frustrating.
Although this travel accessory comes with a strap, it doesn't have a clip for your backpack or suitcase, so you'll have to buy a travel bag separately.
The pillow might also be too big for shorter people, as it does not come with individual 'Small' and 'Large' sizes.
---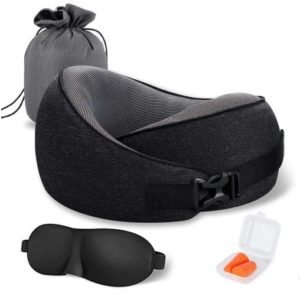 MLVOC moves one step forward from the traditional U-shape pillow and offers a travel pillow that completely wraps around your neck for full 360-degree support.
Its ergonomic asymmetrical design has one side shorter than the other, making it suitable for different sleeping angles and neck sizes.
Pros
Adjustable buckle for different neck sizes
Lint-free fabric does not fade or damage your skin
Memory foam design speeds up air circulation
Comes with an eye mask and earplugs
Washable pillowcase with an invisible zipper
Includes a portable storage bag for easy carrying
Soft and breathable magnetic therapy cloth cover
Very quick to deflate and inflate
Cons
Not suitable for people with tall necks
The attached strings are a bit flimsy
Our Review
The MLVOC travel pillow provides excellent, all-around comfort by supporting your back, neck, and sides of your head.
It's filled with memory foam, while its cover is designed with an incredibly soft, sweat-proof, and breathable fabric. The pillow also comes with a rope tie that allows you to completely adjust its size and angle.
While the pillow itself is not machine-washable, you can remove its magnetic therapy fabric cover and throw it into your washing machine. This ensures that the pillow remains cool, even with a memory foam interior.
This MLVOC memory foam model relieves pressure points by conforming to the shape of your neck and head. Its adjustable drawstring further ensures a tighter fit and complete, 360-degree support.
The pillow also supports the weight of your chin, preventing your head from dropping forward or tilting at an awkward angle.
It quickly compresses to half its size and easily fits into the included travel bag, making it easier for you to tie the pillow to your luggage and carry it around when you're traveling. It comes with a contoured sleep mask and earplugs as well, making the package perfect for red-eye flights.
However, the MLVOC travel pillow is not suitable for individuals with tall necks. This is because it offers virtually no support, so you might have to hold your head up yourself.
The eye mask is also of mediocre quality, as it lets light in from the bottom. But don't worry – the design is still comfortable enough to wear, allowing you to get a few hours of quality sleep.
---
The Jensens Inventions J-Pillow is an excellent travel pillow that won the Prestigious British Invention of the Year award for 2012/2013.
Its ingenious design offers chin and head support and prevents your head from tilting forward while you sleep, ensuring you sleep more comfortably on long journeys.
Pros
Strong chin support prevents your head from tilting forward
Comes with a 6-month return policy
Snap-loop fastener allows for quick luggage attachment
Supports the weight of your neck by filling the gap between your shoulders and head
Durable and machine-washable design
Perfect for use on trains, cruises, cars, and planes
More flexible than most memory foam travel pillows
Cons
Not very compact
A bit difficult to use
Our Review
If you're a side sleeper, then you know how difficult it is to find a travel pillow that provides sufficient neck and chin support, especially as most U-shaped pillows only work best for people who sleep with their heads tilted back.
Created by a former air hostess, the J-Pillow does not have this problem because of its unique J-shaped design.
The Jensens Inventions J-Pillow supports your chin and prevents your head from tilting forward, while its curved end provides a soft cushioning effect that enhances your comfort.
Made with soft polyester, it is incredibly snuggle-friendly. It's also very versatile, as you can adjust its shape and even wear it as a U-shaped pillow.
However, this J-Pillow comes with a few drawbacks. With a big trunk-shaped front, its design isn't exactly intuitive, and you might need to look at a picture for reference before wearing it. Plus, it doesn't deflate, so it can be a bit difficult to fit the pillow into the included travel bag.
However, once you pack it into its carrying bag, its snap-loop fastener makes attaching it to backpacks or luggage easier. All in all, the Jensens Inventions J-Pillow is an excellent option for all side sleepers.
---
Travel Pillow Buying Guide
What is a Travel Pillow?
Travel pillows are available in a wide variety of shapes, styles, and sizes, but they all serve one common purpose: to make your travels as comfortable as possible.
It's very difficult to find a comfortable upright position, and your head is most likely to slump over or tilt at an awkward angle, potentially straining your neck.
For this reason, most travel pillows fit around or behind the neck to offer additional support. Supportive travel pillows also help keep your spine well-aligned, further reducing any unnecessary strain or pressure on your neck.
Although travel pillows are primarily designed for travel, they're much more versatile than their name suggests.
You can easily use your travel pillow at home for neck support while working on your computer or watching TV. Some models are also ideal for tucking between or under your knees while lying in bed.
Types of Travel Pillows
Although all travel pillows are designed to make your trips as comfortable as possible, there are still a lot of differences between each type.
Understanding the difference between each model can help you choose a travel pillow that best suits your preferences, needs, and uses.
Some of the most common types include:
Microbead
Microbead pillows are filled with tiny plastic particles that conform to your movements and position. This type is perfect for people who move and shift a lot in their sleep, as it contours to the neck and provides strong, consistent support.
These pillows are more flexible and softer than memory foam ones. So, if you prefer firmer support, you'll find these to be more comfortable.
Microbeads don't retain moisture or heat, further ensuring breathability and comfort. They're hypoallergenic, while some models are machine-washable as well.
However, they're a bit bulky and don't decompress for storage, so they're not the most portable pillows available today.
Neck Brace
Neck braces are completely different from traditional U-shape pillows. They wrap around your neck to prevent your head from tilting forward or your neck from bending at an awkward angle.
This type of pillow basically works like a comfortable neck collar. It adequately supports your head and keeps your chin up so you don't doze off in an uncomfortable position.
U-Shape
U-shape travel pillows are the most common type available in the market today. They go around your neck, providing support to the back and sides of your neck for better spinal alignment.
Their combination of support and cushioning make them incredibly popular, but their shape usually makes packing and storage difficult.
Wrap
Wrap-style pillows are similar to a scarf, as they wrap comfortably around your neck. They're designed with built-in support that prevents your head from bending excessively. This type is also compact, lightweight, and less bulky than most traditional U-shaped pillows.
J-Shape
J-shaped travel pillows are relatively new. They usually go across the front of your body and loop over one shoulder, enabling you to prop your head against it to sleep.
However, the unique shape makes them a bit bulkier and difficult to pack.
Hourglass
Almost all travel pillows are designed for proper neck support, but hourglass pillows are much more versatile. You can prop your neck against this pillow on a plane, or you can place it under your knees or back when you're lounging at home.
One major drawback of the hourglass is that it doesn't offer multi-directional neck support like other types, so you might still end up tilting your head.
Rectangular
Rectangular travel pillows look like your traditional bed pillows but have some key differences. Since they're designed for travel, they're usually lightweight and compact. While they're a good option for RVers, backpackers, and campers, they're not suitable for car and plane travel, as your head might still tilt at an awkward angle.
Inflatable
Inflatable travel pillows are usually made of latex or plastic. In order to inflate one, you need to hold the air valve between two fingers and then blow air into it.
These units usually take a few minutes to deflate and inflate, so some models include a built-in pump to help save your energy and time.
The greatest advantage of inflatable pillows is their space-saving design. They deflate easily and take up very little space in your bag.
Also, you can easily adjust the firmness of this type of pillow by controlling the amount of air you pump into it. You can make it taut and firm, soft and squishy, or whatever makes you more comfortable.
However, latex and plastic don't breathe well, so you might sweat while using them. If you sleep hot, then it's better to choose one with a removable cover, as it helps mitigate the issue.
Memory Foam
Memory foam pillows feel firm when you first touch them, but your body heat molds them to the contours of your neck and head.
The material provides optimal pressure management and weight distribution, making them perfect for individuals who frequently experience neck pain.
However, if you move a lot in your sleep, remember that memory foam pillows are slower to conform to the shape of your head than microbead ones.
Memory foam is hypoallergenic as well. Unlike microbeads, it retains moisture and heat, making it unsuitable for sweaty sleepers and warm environments.
On the plus side, you can compress memory foam pillows, so they take up less space in your bag.
Polyfoam
Like memory foam pillows, polyfoam pillows also conform to the shape of your neck and head. Their open-cell structure makes them cooler and more breathable than memory foam units.
However, keep in mind that lower-density polyfoam pillows are usually less durable.
What to look for in a Travel Pillow?
All travel pillows are different and offer varying degrees of comfort. And selecting the wrong one can turn an unforgettable vacation into one you barely remember because you were too tired to even leave the hotel room.
To help you make the right decision, we've listed some of the most important features you should consider before making a purchase.
Size
For obvious reasons, it's better to choose a travel pillow that's lightweight and portable.
If you can't find a compressible or reasonably-sized pillow, you should at least choose one that you can easily strap to the side of your bag.
Make sure it doesn't weigh down your suitcase so much that it hurts your shoulders or makes your luggage exceed its weight limits.
On the other hand, a pillow that's too thin and small might not protect your head or provide adequate neck support during long flights and bumpy road trips. Make sure you consider where you're going to use your travel pillow before making a decision.
Travel Distance
Most people regularly travel long distances, while others plan short trips only once or twice a year.
For longer flights, it's important to choose a travel pillow that provides sufficient head support and keeps your neck relaxed, so you can sleep for the majority of the flight and wake up feeling refreshed once you land.
Shape
Most people picture the traditional U-shaped pillow when they think about travel pillows, but this sleeping aid comes in various shapes.
The shape of a travel pillow affects its versatility, performance, ease of packing, and portability. Make sure you read the different types of travel pillows to find the shape that best suits your needs.
Filling and Material
The material of a pillow has a significant effect on its durability, performance, and price.
Pillows made from high-quality materials usually offer more support and have a longer life but are more expensive.
On the other hand, lower-quality models are typically more affordable, but they might lose their firmness or shape quickly under the harsh nature of travel.
Ultimately, the right choice depends on your goals and needs.
Some pillows are warm and fuzzy, while some are airy and smooth. The right filling is simply a matter of preference, but if you sleep hot, then breathable materials like microbeads are the better option.
If you like warm and plush pillows, a memory foam one with a velvet cover might be more suitable.
Just make sure you avoid pillows that are too slippery, as you might not be able to rest them securely against backrests or windows.
Functionality
As mentioned above, there are several types of travel pillows, and each has a different function.
If you're a frequent flier, you should opt for a pillow that offers exceptional neck support, so your neck remains straight even if you fall asleep.
A rectangular or hourglass neck pillow is more suitable for backpackers and campers, as they need a pillow with sufficient cushioning for comfortably cradling their neck and head.
Hourglass and rectangular pillows are also an excellent option for kids' sleepovers. They are easier to clean and are usually less bulky than your traditional bed pillows.
Comfort Levels and Firmness
The most comfortable travel pillows are the ones that provide proper spinal alignment and elevation. The right unit should support your neck, head, and chin as you sleep and help maintain your spine's natural curvature.
Make sure you choose a pillow that's not too firm or too soft. It should accommodate different head angles and allow for natural, unrestricted movement. It's also advisable to choose a model that accommodates your preferred body position.
The firmness of a pillow also affects its supportiveness and comfort. Unfortunately, most manufacturers don't mention the firmness of their products, so you'll have to guess.
The pillow's design can give you some insight into its firmness. Inflatable travel pillows are usually firm when inflated, but you can reduce the amount of air if you want a softer feel.
Polyfoam and memory foam pillows typically balance support and softness, while microbead and fiber-filled units have a cushier, softer feel.
Durability
It's essential to choose a durable pillow, especially if you travel frequently. This prevents you from spending money on a new pillow every time you travel. It's also a good idea to spend a bit more and purchase a quality model that you won't have to replace constantly.
Washability
You probably don't wash your travel pillow as frequently as you should.
Buses, trains, and planes are sometimes filthy, so it's advisable to regularly give your pillow a wash. It's better to look for a unit that's machine-washable or has a removable cover.
If it doesn't come with a cover, make sure you hand-wash it as often as you see fit.
---
Frequently Asked Questions
Is a travel pillow worth the money?
While not all travel pillows are designed equally, most of them are an excellent purchase that really enhances your comfort when you're on the road. They provide neck support and ensure you get a better quality of sleep.
Do travel pillows actually work?
Not all travel pillows work wonders, but those that provide adequate support to your neck, head, and chin prevent neck pain and help you sleep in a more comfortable position.
Is it normal for pillows to turn yellow?
Pillows take on a yellowish hue mainly because of sweat. Other reasons why a pillow turns yellow include moisture, sleeping with wet hair, and oils and lotions on the skin.
When should I wash my travel pillow?
You should wash your pillow after every 3-6 months. While washing a travel pillow twice per year will suffice for most people, frequent travelers should wash it more often.
---
Final Verdict: What is the Best Travel Pillow?
Every person's definition of comfort is different, and with so many different options available today, choosing the best travel pillow can be very tricky.
If you're looking for something small and portable, you should opt for the trtl Pillow, but if you want a pillow you can use at home as well, then the versatile Huzi Infinity Pillow is definitely the way to go.
Meanwhile, the Jensens Inventions J-Pillow is more suitable for side sleepers, while the MLVOC travel pillow is best for those who prefer memory foam. So, there are some great travel pillow options to choose from for everyone.
---
Affiliate Disclosure
Affiliate Disclosure: I may earn a small commission (at no cost to you) if you purchase a mattress after clicking a referral link or using a coupon code on this site. That said, all content and opinions on this site are my own and are NOT affected by these payments.
This site participates in the Amazon Services LLC Associates Program, an affiliate advertising program designed to provide a means for sites to earn advertising fees by advertising and linking to Amazon.com.
*Amazon and the Amazon logo are trademarks of Amazon.com, Inc, or its affiliates.
---