NOTE: We earn from qualifying purchases made via Amazon Associates and other affiliate programs. Learn more.
Do you suffer from chronic back pain?
Is the quality of your sleep being impacted by your back pain – or is sleep causing more pain?
You're at the right place.
---
What's In This Guide?
If back pain keeps you awake, you'll suffer in two ways: your body won't heal, and you'll lose quality of life.
As we all know, a bad mattress, pillow, or sleeping position can worsen back pain.
Many solutions and products can help relieve back ache at bedtime – and prevent back ache from occurring when you're asleep.
In this guide, I explain the most common problems back pain sufferers face at night and reveal some of the best remedies I've discovered through research.
Some are products I've tested myself, and others are proven suggestions from people who know better than me.
After reviewing the most common problems, root causes, and solutions, I introduce some of the best products and sleep aides for reducing back ache and improving sleep quality.
---
Sleep-Related Issues (and Solutions) for Back Pain Sufferers
It's Hard to Fall Asleep…and Stay Asleep
Pain will make it hard for you to get any rest at all.
You'll struggle to get to bed, and when you do, you're likely to be woken up several times during the night because of the discomfort.
Insomnia is a major problem that impacts every aspect of your life, from your emotional well-being to your physical and mental state.
If you're having trouble sleeping because of chronic back pain, you may make things worse by staying up late at night trying to sleep.
To treat sleep disorders caused by back pains, first, address the source of the problem. Discuss treatment options with your physician if you have an underlining health condition like arthritic conditions, cancer, or spinal issues.
If the pain is due to an uncomfortable mattress, consider buying a more supportive one like the Casper Wave mattress.
Try using a heated massaging device like the Zylion Shiatsu Back and neck massager before going to sleep. It may help you get better rest at night.
If you stretch your back by doing some stretches or using back support, you may be able to prevent back ache if you lie down at night.
Your Mattress Can Worsen Back Pain
Sometimes, I get up in the morning with lower back pain that eases throughout the day.
If you're experiencing the same thing, it could mean that your mattress isn't quite right.
An uncomfortable mattress is bad for anyone.
But it's particularly bad for back pain sufferers. It intensifies and worsens your back pain.
You may not be aware of it, but your mattress might be causing your backache. If you don't take action now, it could lead to chronic backache, where you experience persistent backache for months or years.
You can choose a new mattress with better support and comfort or change your current mattress for one with better support and comfort.
We like the Casper Wave mattress for people who suffer from back pain.
Another option is to place a medium-firm latex topper on top of your mattress to improve your back support. We recommend the PlushBeds natural latex medium firm topper.
Your Pillow Can Also Be An Issue
Your bed isn't the only thing that can contribute to or exacerbate back pain. Your pillow can, too.
If your pillow is too high or too low, it may put pressure on your back, resulting in back pain or worsening your existing back pain.
When choosing a pillow, consider your sleeping positions and body sizes. We suggest the Coop Home Goods original loft pillow for people with back problems. You can easily adjust its height so that it fits your needs perfectly.
Some sleeping positions worsen the pain
I usually sleep on my left (or right) shoulder because it causes the least amount of back ache.
If you have back pains, you must be extra careful when sleeping.
Sleeping in certain positions may exacerbate the problem.
For example, stomach sleeping puts the most stress on your lower back, particularly if you don't sleep well on the right pillows and mattresses.
People who sleep on their sides often put extra strain on their backs when their legs sink too far into the bed. To prevent this, use a knee pillow like the Contour Legacy Knee Foam Support can keep your knees properly separated and elevated.
For back sleepers, the DMI Wedge pillow can improve sleeping position and take pressure off the lower back by raising the legs.
Pregnancy Can Worsen Back Pain
Back pain was one of my most common complaints during pregnancy.
Pregnancy can cause back pain to become worse, so if you're already experiencing back pain, pregnancy may be harder to deal with than you thought.
Besides buying a better mattress and doing some stretches and exercises, we strongly recommend buying a good maternity pillow.
Look for one full-length C or U-shape pillow like the INSEN62 in Pregnancy Pillow. It supports all parts of your pregnant belly and relieves back, hip, neck, and shoulders pain.
Pain When Getting In and Out Of Bed
If you suffer back pain, even simple things like getting into and out of bed become painful and slow.
When you get up quickly from the bed, you may aggravate your back pain by putting sudden pressure and stress on your spine. So take your time when you get up from bed.
When you get into bed at night, wearing lumbar support like the Mueller 255, Lumber Support Braces can help keep your spine stable and reduce pain when getting up from bed. They can also make it easier for you to change sleeping positions and avoid waking up sore.
Make sure your bed is comfortable by checking whether it's too high or too low. If it is, consider buying a new bed frame that's easier to enter and exit.
If the problem is your bed is too high for you to get into, you can also just buy a step stool.
Sleeping Cold Can Worsen Back Pain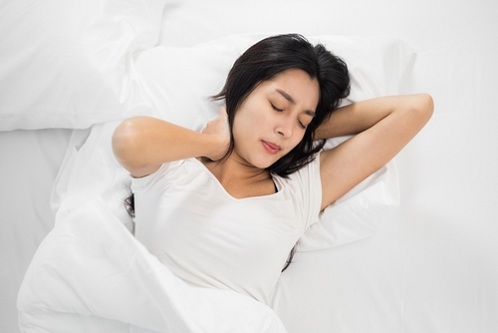 Some people get muscle or joint pain when they're cold. Cold weather isn't good for everyone.
Cold weather causes muscles and ligaments to tighten. It can also increase swelling and reduce blood flow. All these can exacerbate back pain.
If you find that the pain in your lower back gets worse when it's cold, then the best and most efficient way to deal with it is by warming up the bed rather than the whole room.
To keep your air conditioner running at its lowest setting, use a heated mattress pad that warms you throughout the day. We recommend the Sunbeam Heated Mattress Pad.
---
Other Sleep Solutions & Tips for Back Pain
Change your sleeping posture. Sleeping on your stomach can put a lot of strain on your spine. Try sleeping on your left or right instead. Also, try having a firm pillow rather than one with extra softness.
Use cold and hot packs to reduce pain and stiffness after exercise. Cold packs should be applied directly to the painful area. Hot packs should be used only if your doctor recommends them. Apply the packs for 20 to 30 seconds, three times per day. Do not apply these packs to areas where the skin is broken or irritated.
If you suffer from chronic back pains, you may be able to get some temporary relief by using an electrical nerve stimulator (TENS) device like the Health Mate Forever YK 15 AB TENS unit.
Gently stretching your back can relieve pain. It's also a great way to strengthen your back muscles, which helps with long-term pain relief. There are lots of easy stretching exercises for back pain. You can also try yoga.
If you're experiencing back pain, talk to your doctor about medications or treatments that may help you sleep better. They might be able to help you feel better.
If you're an active person who does strenuous physical activity, protect your back and ensure you sleep enough.
If you're not active, try to add some physical activity to your day. You could start with aerobic/cardio exercises and then move on to strengthening activities.
---
Top 10 Sleep Products For Back Pain Sufferers
---
The Casper Wave Hybrid Mattress features a special design that helps relieve pressure points and provide support where needed most. It includes specially molded foam zones with pressure-relieving foaming gel and supportive coils.
PROS
Excellent lumbar support
Relieves pressure points
The zoned design maintains spinal alignment
Comfortable in all sleeping positions
Sleeps cool
CONS
Pricey
Not suitable for heavy sleepers
Our Review
The Casper Wave hybrid mattress features a unique design that ensures your back is well-supported and your spine remains aligned when you sleep.
People who've tried the Casper Wave Hybrid report that it helps them sleep better by hugging their backs and bodies while providing support.
The Wave Hybrid has five layers.
The first three mattress layers are made from perforated foam – Casper calls it Airscape foam. These foams offer support, pressure relief, comfort, and cooling.
The first poly foam layer keeps you from overheating by incorporating a cooling gel.
The underlying layer is natural latex so that you won't sink into the bed.
The third layer consists mainly of memory foam. This is soft around the shoulders and firm in the middle section, which provides lumbar support and helps align your back.
The fourth layer is memory foam, providing comfort and pressure relief for your body. However, it has gel pod pockets underneath the mattress to provide additional comfort and prevent sagging.
This layer is also designed to keep your spine aligned.
The last layer is a firm foam base that provides overall support for the mattress. It also boosts airflow to keep you cool.
The Casper Wave has more foam in it than most hybrid matt­resses. This makes it softer. It ranks as a mid-firmness mattress (about 4 out of 10 on a firmer­ness chart).
Despite being soft, the Wave Hybrid doesn't sink too deeply into the bedding. Thanks to its zoned layers, gel pod system, latex layer, and spring base, the hybrid still holds up your weight.
Casper ships the hybrid wave mattress to the contiguous United States for free and offers a one-year sleep guarantee.
Issues & Limitations
Compared with most hybrid mattresses, the Casper Wave is a bit expensive. However, we believe it's worth it if your main concern is sleeping without pain.
One problem is the medium firmness of the mattress. It works well for most light and average weight sleep­ers, but it isn't supportive enough for heavier sleep­ers who weigh over 230 lbs.
Sleeping on the Wave Hybrid may not be ideal for heavier people with chronic back pain. We suggest the Saatva Classic Mattress instead (the Luxurious Firm or Firm Version) because it provides firmer support for heavier back and stomach sleep­ers.
---
If you're unsure which type of pillow you need to relieve back pain, go for one like the Coop Home Good Original Loft Pillows. You can adjust the loft to put your head exactly where you want it, so that it's more comfortable for your sleeping posture.
PROS
Adjustable height
Pressure-relieving shredded memory foam filling
Includes an extra bag of filling
Machine washable
CONS
Not ideal for hot sleepers
Our Review
Instead of solid foam pillows, the Coop Loft Pillows are stuffed with shredded memory foam mixed with microfibers for added comfort.
This allows you to change the amount of filling in the pillow by removing some of the fillings from inside the cover.
If you think it's too low, there's some extra stuffing inside the bag.
This adjustability makes the Coop Loft pillows perfect for all sleepers and body types.
The Loft pillow has a breathable cover made of a blend of viscose rayon and polyester.
The entire pillow, including its cover, is washable.
Issues & Limitations
Shredded memory foam pillow sleepers are better at keeping you cool than solid foam pillows, but they still retain some heat.  So hot sleepers may still complain the Coop Loft pillow is too warm.
If you're sensitive to heat or naturally get warm during sleeping, consider using a pillow with natural fillings like cotton, wool, or silk. Those materials keep you cool when you sleep. For you, we recommend the SleepArtisan Shredder Latex Pillow. It's similar to the Coop pillow and is adjustable.
---
If your mattress is too soft and hurts your back, consider buying the Pure Green Natural Latex mattress topper.
It has a firm but not too hard texture, making it ideal for firming up mattresses without causing pain.
PROS
Made with natural latex
Certified organic
Provides good lumbar support
Cools a hot mattress
CONS
Pricey compared to a foam mattress topper
Our Review
A good quality mattress doesn't need an additional layer of support because it already provides enough comfort.
If your mattress is too hard, a good way to add comfort is using a soft topper. A good choice would be a quality, high-density polyurethane (foamed) mattress pad.
However, a natural latex topper like the Pure Green medium firm topper is the way to go if you want to get the most out of your mattress.
Latex mattresses can help relieve pressure points and comfort you at night.
The Pure Green medium topper provides firmness without being too uncomfortable. It improves lumbar support and spinal alignment.
The Pure Green latex pillow top is also great for cooling down a hot bedding system. It naturally stays cooler than any other material.
The Pure Green Topper is available in 1-, 2- and 3-inch sizes.
The 2- and 3-inch products are great for sleep apnea sufferers.
We especially recommend the three-inch size for heavier sleep apnea patients who need more comfort.
Issues & Limitations
One drawback of using natural latex mattress toppers is their cost. Pure Green natural latex mattress toppers are more expensive than most memory foam mattresses.
On the upside, the latex topper is more supportive, it's natural and organic, sleeps cooler, and lasts longer.
---
A knee pillow can help prevent back pain by supporting your lower body if you sleep on your side. The Contour Legacy Knee Pillow is designed to support your legs.
PROS
Knee & leg support
Reduces back pain for side sleepers
A comfortable contoured design and memory foam filling
It can also help with joint pain, including hips and knees.
CONS
It can make your legs a bit hot
Our Review
Most people who sleep on their sides don't fall into the category of "full" or "half" sleepers. Instead, they tend to sleep half on one shoulder and half on the other.
This position causes your hips to twist and put pressure on your lower back which leads to hip and back pain.
The Contour Legacy knee pillow improves your sleep posture by placing them between your legs so your upper body is resting on your lower body.
By slightly raising your upper leg, the Contour Leg Pillow also improves your spinal alignment and reduces the pressure on your lower back.
The Contour Legacy Pillow is designed with groves that fit perfectly against your legs. This contoured design helps keep them in place even when you're turning.
One of the things we appreciate about the Contour Legacy Pillow is that it's longer and wider than most knee pillows, so it supports your legs and thighs better.
It's made with memory foam, so it's soft and comfortable. This means it's perfect for relieving knee pains after injuries or operations.
The Contour Legacy Pillow has a soft and breathable fabric that's removable and wash­able.
Issues & Limitations
Despite the breathable fabric, the Contour Legacy Pillow still traps warmth. That's a limitation of any memory foam product.
---
Pregnancy pillows are the best solution for pregnant women who suffer from back pains. We recommend the INSENSIS 62″ Pregnancy Pillow. It covers your entire body to provide support for every part.
PROS
Full body support
Soft and plush
Great for sleeping and lounging in bed
Washable cover
CONS
It could use more stuffing
Our Review
The INSEN pregnancy cushion is an all-in-one pillow that supports your head, back, legs, and tummy. It eliminates the multiple pillows needed for proper sleep.
The INSEN pillow has a C-shape and goes around your body. It helps support every part. To maximize comfort, place it between your legs when lying down.
The INSEN maternity pillows are filled with cotton. They feel soft and cuddly. Some people may get too warm sleeping on them, but they're better than a regular mattress for most moms.
It has an organic cotton cover which helps keep you cool and comfortable by absorbing sweat and moisture. You can easily remove and clean the cover, but the pillow isn't removable.
Issues & Limitations
In my opinion, the pillows aren't as full as they appear in the photos. Plenty comfortable, but some heavier women may need more filling.
---
6. Best Wedge Pillow for Leg Elevation: DMI Wedge Pillow
If you're a back sleeper, one of the best ways to relieve some of the pressure on your lower spine is by elevating your legs using a wedged pillow.
It helps raise your hips and lower your shoulders, which reduces pressure on your back. We recommend the DMI wedge pillows.
PROS
Reduces pressure on the back
Helps with recovery
Removable and washable cover
Extra wide space for legs
Available in three sizes
CONS
Our Review
The DMI wedge cushion is designed specifically for leg elevation.
It differs from the usual wedge cushions used for head elevations.
It has an angled edge for your thighs and a smooth surface that supports your knee and leg joints.
The DMI wedge pillows raise your lower torso, relieving some of the pressure from your back.
Many people use it because it relieves back pain caused by conditions like osteoarthritic disease, degenerative disks, and slipped disks.
It can also help you recover with less pain after an injury or operation on your back, knees, or legs.
DMI wedge pillows come in sizes 6, 7, and 10-in. The best choice depends upon your height. Most people find the 7-in. size to be ideal.
Each is 20″ wide, so there's plenty of room for your legs.
It has a soft polyfoam filling and comes with a removable cover.
Issues & Limitations
The main complaint from consumers is the poor quality of the DMI pillow. Both the material and the cover feel cheap and flimsy.
We're not sure if the pillow will last a long time, but it's very affordable, so you can easily replace it when it wears out.
For better quality and longer-lasting wedge pillows, we suggest the AllSet leg elevation foam mattress pad.
---
The Mueller 255 Lumbar Brace provides extra support and stabilization for your spine. It helps relieve lower-spine pain and prevents further damage if you've had surgery or sustained an accident.
PROS
Effective at reducing lower back pain
Can be used in bed or during the day
Available in three sizes
Adjustable compression
CONS
Can be uncomfortable if you wear it for long periods
Our Review
A back brace can be used to treat back injuries or to help recover from an operation on the spine.
However, they're also recommended for people with chronic back pain.
The Mueller 255 lumbar brace uses a wider elastic belt that goes around your lower back and abdomen using Velcro fasteners. It helps provide compression to help stabilize your spinal column.
Compression from the brace helps maintain good spinal alignments, prevents back movement that aggravates the pain, and stabilizes your back.
Many users have found the back braces helpful for daily activities like household chores, walks, workouts, and more.
You can also wear them at night to help relieve pain while you're sleeping. They'll give extra support and prevent any unnecessary stress on your back.
The Mueller 255 Lumbar Brace is adjustable. We recommend tightening it up a bit before sleeping to avoid discomfort.
Make sure you choose the correct fit for your needs by choosing one of the following sizes: plus, regular, or small.
Issues & Limitations
The Mueller 255 Lumbar Brace can be uncomfortable if worn for long durations. However, you can avoid this by selecting the correct brace sizing and loosening it when it feels too constricting.
---

Since you probably can't go to the spa every evening before sleeping, the Zyllion Shiatsu back and neck massager is the next best way to massage your back pain.
It includes heat, so you can also enjoy some heat therapy.
PROS
Deep shiatsu massage that relieves back pain
Includes heating function
Portable
Overheating protection and auto shut off
CONS
On/off button is placed where you could accidentally switch it on.
Not customizable
Our Review
The Zyllion Shiatsu massager will likely not feel as good and thorough as a professional masseuse, but it's great for everyday use at home.
The Zyllion massager provides deep shiatsu massage using 3D rotating nodes. The nodes are designed to mimic the natural feel of a human massage.
They rotate in a circle and up and down. After 1 minute, the nodes automatically change direction to ensure full coverage (though not everyone is a fan of this).
The massage can feel a bit rough at first, but give it a few minutes, and you'll get used to it. You can also use the included sleeve to soften the massage.
The Zyllion massager includes a heat function. Infrared lamps heat your back to increase blood flow, relax muscles, and relieve back pain. You can use the massage function with the heat turned on or off.
The Zyllion massager is hands free. To use it against your back, place it or strap it against the back of a chair and lean back on it.
You can also use it on your neck, thighs, and calves.
The Zyllion shiatsu massager is compact, making it easy to carry it wherever you go. You can use it in the office or at a hotel room.
You can even use it in the car or when camping, thanks to the 12V car adapter.
We recommend using it for a few minutes before bedtime to relieve back pain during sleep. The massager will automatically shut off after 20 minutes.
Issues & Limitations
The on/off button on the Zyllion massager is located on the top surface you lean against. This problem is because you can easily press it when massaging your back.
The other issue is it doesn't offer many customizable options like speed adjustment and heat level.
On the upside, it's one of the most affordable back massagers.
---
For some people who suffer from chronic back pain, keeping their back warm for a prolonged time may help ease the pain.
The best way to heat up your bed is by using a heated bedding system.
We recommend the Sunbeam heated bedding system.
PROS
It offers soothing warmth through the night
10 heat settings with auto shut-off
Machine washable
Great for cold sleepers
CONS
It's not padded so that you can feel the wires
No timer
Our Review
The Sunbeam Heating Pad keeps your back warm for hours at a time, relieving constant back pain.
It's also helpful if you're suffering from chronic back pains because it helps keep you warm during winter. With the Sunbeam Mattress Pad, you'll be able to stay warm throughout the entire year.
The mattress pad is queen-sized and has a fitted sheet covering up to 16″ thick mattresses. It keeps the bedding in place.
With the wireless remote control, you can adjust the temperature from 1 to 10 heat levels.
The Sunbeam mattress protector is easy to clean and safe to put in your washer and dryer. Just be sure to unplug the controller before washing it.
Issues & Limitations
One of the most frequent complaints from consumers is that the Sunbeam bedding doesn't provide enough cushioning. You may feel the wire mesh under your body when you lie down.
If you want to make it more comfortable, put the heated mattress pad underneath a padded cover, a bed mat, or a bed topper.
If you're not comfortable sleeping on an electric blanket, consider using a ChiliSleep bed heating system. It uses water to heat your body directly, rather than electricity.
---
Stretching is one of several ways you can relieve backache at home. Some stretches before bed can help ease your aches and pains so you can get restful shut-eye.
We recommend adding the magic back support to your bedtime routine. It helps you properly align your spine so you don't get lower back pain.
PROS
Adjustable height and arch
Includes acupressure points on the surface
Portable – lightweight and doesn't use electricity.
Supports up to 300lbs
CONS
Difficult to set it up and adjust it
Our Review
Stretching and yoga exercises are great for relieving back pain. Adding a stretchy band to your routine will make them even better.
The Magic Back Support Device does what's known as spinal traction.
Spinal traction is an effective treatment for reducing back pain caused by various conditions, including degenerative disc disease, slipped disks, pinching nerves, sciatica, and other issues.
It can also help prevent chronic lower-body injuries from occurring during physical activity, injury, or poor posture.
The Magic Back Support stretches the back muscles, reducing stress and relieving pain. It helps improve healing.
It doesn't completely eliminate back pain, but it makes it easier for people to move around, sit, stand, and do other things much more comfortably.
If you want to relieve back pain during sleep, place the Magic Back Support stretching mat on the floor and lie down on it for a few moments before bed.
It has pressure point therapy pads on its back that massage your back for additional comfort. You may initially feel discomfort when using it, but you'll get accustomed to it. Initially, you can use a towel or a soft fabric to cover the pads to provide extra padding.
You may want to start out by using the lowest position, which gently arches your spine. Once you're comfortable with that, you can move up to the next level, which arches your back more.
The Magic Back Support device is heavy-duty ABS plastic that can support large users. Max capacity is 300lbs.
Note: Talk to your doctor before attempting spinal traction if you have a major health condition like osteoarthritis or cancer. In some cases, it can worsen your pain.
Issues & Limitations
Due to its thickness and strength, setting it up is hard. You need a lot of force to fit it into one of the three slots on the faceplate.
---
FAQs
What is the best mattress for relieving back pain?
Your best bet when choosing a bedding system is to choose one that fits your needs. It may depend on your sleep position, body weight, etc.
For most people, a medium-firmer mattress is best for stomach sleepers, a medium mattress is best for back sleepers, and a softer mattress is best for side sleepers.
The most important part is ensuring that the mattress doesn't affect your sleeping position, which could place extra stress on your spine and aggravate or even cause back pain.
How do you sleep comfortably with back pain?
If you want to avoid insomnia and poor quality sleeping caused by back pains, look for methods to minimize the discomfort.
First, make sure your mattress is comfortable. Then you can use other methods like massage, heat and cool therapy, sleeping with a neck brace, and stretching.
Does a memory-foamed mattress help relieve back pain?
If you're suffering from back pain, then a memory-foamed mattress is good if its firmness is right for the way you sleep and your body weight.
Memory foam cushions your back, protecting it from pain.
Why does my back hurt worse at night?
It might be because your sleeping position puts stress on your back, which worsens the pain. If your bed is old or too soft for your liking, consider replacing it with a newer one or adding a memory foam topper.
If you're having trouble sleeping, you may consider using a leg elevate wedge, a thin pillow under your tummy, or a kneepad to help relieve some of the pain.
How do I tell if my mattress is causing back pains?
If your back pain worsens when you lie down at night or wakes you up in the morning, then your bed may be causing your back pain.
You may be sleeping on a too soft or too hard mattress.
What are the best mattress toppers for back pain?
Find mattress toppers that solve what's wrong with your current mattress.
If your mattress is not firm enough, you may want to look into adding a firmer topping. You could choose a firm foam or a softer, more resilient one.
If your mattress is not soft enough, you may want to add a pillow top or another type of topper. Memory foam is the best choice.
---
Learn More
Best Type of Mattress for Back Pain – Tips For Finding Your Best Fit | Saatva
With back pain, getting out of bed can help – Harvard Health
Can Chronic Pain Cause Insomnia?
Transcutaneous Electrical Nerve Stimulation (TENS)
Spinal Traction | Definition & Patient Education
---
Affiliate Disclosure
Affiliate Disclosure: I may earn a small commission (at no cost to you) if you purchase a mattress after clicking a referral link or using a coupon code on this site. That said, all content and opinions on this site are my own and are NOT affected by these payments.
This site participates in the Amazon Services LLC Associates Program, an affiliate advertising program designed to provide a means for sites to earn advertising fees by advertising and linking to Amazon.com.
*Amazon and the Amazon logo are trademarks of Amazon.com, Inc, or its affiliates.
---