NOTE: We earn from qualifying purchases made via Amazon Associates and other affiliate programs. Learn more.
Even with the advent of online mattresses, there is still one aspect of mattress shopping that confounds shoppers; whether to buy a soft or firm mattress.
Granted, most online mattress companies have made it easier to make a decision. Not because people are sure what kind of mattress they need but because they can make free returns if the mattress turns out to be too firm or too soft for their comfort.
But it would still make the shopping process much easier if you could know the right mattress firmness for you. So we have put together a quick guide explaining when you should buy a soft mattress and when a firmer one is better.
If what you are torn between is memory foam vs. spring mattress, read our online mattress comparison.
The Best Choice For Most People
If you are not sure which mattress firmness is right for you, always buy a medium-firm mattress. It provides the best balance between firm and soft, the sweet comfort point for most people.
In fact, more and more online mattress companies today such as Casper and Leesa offer only a single medium-firm mattress. But if you think a really soft or extra firm mattress is what you need, consider the following factors when shopping.
1. What are Your General Comfort Preferences?
Some people love to feel like they are floating on the mattress. They prefer a firm mattress that doesn't sink in too much.
Other people love the plush feeling of a soft high-sinkage mattress. For them, the deep hug of a soft mattress feels more luxurious and comfortable.
Where do you fall? If you love the floating experience, buy a firm mattress. If you prefer sinking into your mattress, get a soft mattress.
Mattresses like Saatva and Nest Alexander Signature come in different firmness options. So you can choose the one that fits your comfort tastes.
2. Do you Have Back or Shoulder Pain?
Sleeping on the wrong mattress can cause or aggravate back and joint pains. If you already have lower back and shoulder pain, you don't want to get a mattress that will make it worse.
So should you go for a soft or firm mattress? According to medical experts, for most people the answer is none. A medium firm mattress is the best choice. It provides the right balance of support and pressure relief.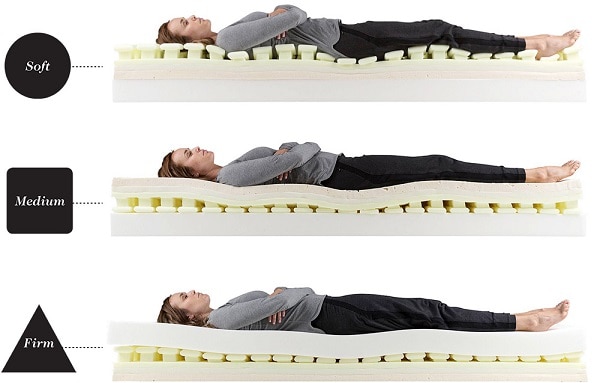 This ensures that your spine is correctly aligned, which reduces back problems, and that extruding areas like your shoulders or hips are not digging painfully into the mattress.
For serious back problems, I recommend you talk to your doctor. They are in a better position to recommend a specialized orthopedic mattress.
3. What's Your Sleeping Position?
Back and stomach sleepers generally fare better with a firmer mattress. This is because the mattress is able to align the spine and body in a natural position. A soft mattress would create uneven support, causing strain in certain areas such as the lower back.
If you are a side sleeper, you will most likely be more comfortable with a softer mattress which provides more pressure relief. It prevents your shoulders and hips from experiencing too much pressure by conforming to your body's contours.
For sleepers who have no particular favorite position, we recommend a medium firm mattress. It will support you properly when you are on your back or stomach and provide pressure relief when you are on your side.
Pros of A Firm Mattress
Supportive. A firm mattress provides more support especially for heavier-bodied sleepers and couples.
Because there is less sinkage and sagging, a firm mattress is likely to last longer than a soft one.
Cons of a Firm Mattress
It can be less comfortable especially if you are switching from a softer mattress. Most people sleeping on a firm mattress experience back and joint pains in the first few nights.
Not ideal for those with existing back problems. The mattress can worsen the pain.
Pros of A Soft Mattress
It feels plusher. A lot of people love the plush feel of hotel mattresses. A good quality soft mattress can provide it.
It's great for side sleepers. A soft mattress takes on your body's curves, ensuring no part is being pressed against the mattress.
Cons of A Soft Mattress
It's likely to sag faster. If you are not careful about buying a good quality soft mattress, you might end up with one that sags within a couple of years. If you buy a soft mattress, make sure it has a thick high-density foundational base to provide longevity.
Not ideal for couples and heavier-bodied sleepers. A soft mattress does not provide the kind of compression support that can support couples or those with heavier bodies.
Conclusion on Choosing The Best Mattress Firmness
As I mentioned, most online mattress sellers have very friendly terms nowadays. Most allow a 100-day trial period. Within that time, you can return the mattress free of charge if you don't like it.
If you already know your comfort needs and preferences, find the mattress that meets them. If you are not sure what you need, don't worry about wasting hundreds of dollars on a mattress you won't like. Buy a medium firm mattress and if you don't like it, simply return it and find another.
---
Affiliate Disclosure
Affiliate Disclosure: I may earn a small commission (at no cost to you) if you purchase a mattress after clicking a referral link or using a coupon code on this site. That said, all content and opinions on this site are my own and are NOT affected by these payments.
This site participates in the Amazon Services LLC Associates Program, an affiliate advertising program designed to provide a means for sites to earn advertising fees by advertising and linking to Amazon.com.
*Amazon and the Amazon logo are trademarks of Amazon.com, Inc, or its affiliates.
---