NOTE: We earn from qualifying purchases made via Amazon Associates and other affiliate programs. Learn more.
Mattress companies love to bedazzle us with fancy terms and labels mostly to improve the quality perception of their mattresses.
If you have ever shopped for a mattress or are currently looking for one, you have probably come across words like gel foam, CertiPUR-US certified and open cell foam. You may also have seen certain numbers on mattress labels and specs lists.
Today we will tell you what all those words and numbers mean. Most importantly, we'll tell you which ones matter most in determining the quality of a mattress.
CertiPUR-US Certified
This is one of the most common labels you will find on mattresses. Almost every mattress from memory foam brands to hybrid ones like the Nest Sparrow Hybrid will tout their CertiPUR-US certification.
CertiPUR-US is a foam certification from the Alliance for Flexible Polyurethane Foam, a not-for-profit organization.
Only foam products that meet the rigorous standards set by the organization get the certification. The foam has to be tested in an independent laboratory. Technicians test for emissions, content and durability.
When you see a mattress with the certification, it means that the foam inside is free of ozone-depleting chemicals, harmful fire retardants such as PBDEs, formaldehyde, phthalates and high levels of VOCs.
This is an important certification that you should look for in any mattress you are considering buying.
Look for the label 'CertiPUR-US Certified' or the large green and white logo shown above. Learn more about CertiPUR on their website.
Foam Density
If you look closely at the label or specs of a mattress, you may see a number like 1.8 lbs density or 4 lbs density. What does this mean?
It's basically a measure of the density of the foam in the mattress. The full measurements above are 1.5lbs per cubic foot and 4lbs per cubic foot.
Higher density foam means that more foam material has been packed within same cubic feet compared to lower density foam. It may feel firmer and more solid. It will also usually be heavier.
Most mattresses don't display the actual measurement choosing instead to use more general terms like 'high density', 'medium density' or 'low density'.
When the density measurement is shown, it typically refers to the density of one foam layer, not the entire mattress. Top layers are usually less dense than the foundation layer.
Foam densities range between 1.5 and 6lbs per cubic feet. Most mattresses will combine foam layers with different densities to achieve the right feel and comfort.
ILD Rating
Density is not a very accurate measure of a mattress' firmness. Engineers can make a high-density mattress feel soft while a low-density mattress can use a type of foam that feels firm.
The ILD rating is a more accurate indication of how firm or soft a mattress is. ILD stands for Indentation Load Deflection. A technical definition is "the amount of pressure you need to sink a 4-inch thick mattress by 1 inch (25%) using a 50 square inch disk." That's why sometimes you'll hear it called the 25% ILD rating.
The higher the ILD rating the firmer a mattress is. ILD ratings are usually given in ranges. E.g. 8-10lbs, 12-15lbs and so on.
So if you want to get a more accurate idea of how firm or soft the mattress you are about to buy is, look for the ILD rating.
It's not commonly displayed by manufacturers and sellers so you may have to ask them directly. Most will be willing to share the ILD rating with you.
Visco-Elastic Foam
Visco-elastic foam is just another name for memory foam. Simple as that.
Other names for memory foam you may come across include viscoelastic polyurethane foam and low-resilience polyurethane foam or LRPu foam.
Gel Foam
Gel foam is mattress foam with gel infused into it. Many modern mattresses use this technique to keep the mattress cool.
The gel improves the foam's ability to conduct the body's heat away from the mattress. You'll find this technique especially common in memory foam mattresses which tend to struggle more with cooling than other types of mattresses.
Split Mattress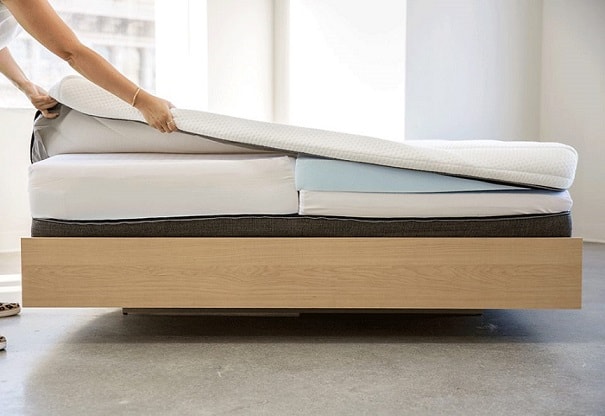 A split mattress is one with different comfort settings on each half of the mattress. One half can be softer than the other. Split mattresses are ideal for couples who have varying comfort preferences.
Most split mattresses cannot be physically separated in half. It's still a single mattress but with noticeable comfort changes from one half to the other.
But some Queen and King size mattresses can be fully split, each half complete with its own cover and box spring. Such mattresses are ideal when your doorway cannot accommodate the full mattress width.
Some mattress brands that sell split mattresses include Helix, Leesa and Amerisleep.
Open Cell Foam
Open cell design is another technique that improves a mattress' cooling ability. Engineers design foam that is open celled inside, making it easier for air to flow through it. This allows heat and moisture to quickly dissipate away from the mattress.
Hybrid Mattress
We all know memory foam mattresses, latex mattresses and innerspring mattresses. But what are hybrid mattresses?
A hybrid mattress is exactly that, a mattress with a hybrid of different foam materials. It will usually combine different types of foam, e.g. latex and memory foam, or foam and inner coils.
Hybrid mattresses provide the best qualities of different materials. For instance, spring and foam hybrid mattress has the support and bounce of coils and the plush comfort of foam.
One of the best hybrid mattresses is the Nest Sparrow Hybrid.
Conclusion
Regardless of which term a mattress uses, what matters most is the sleeping experience. That's why we recommend buying from online mattress brands. Most of them offer at least 100 days of testing so that you can decide whether the mattress is right for you.
---
Affiliate Disclosure
Affiliate Disclosure: I may earn a small commission (at no cost to you) if you purchase a mattress after clicking a referral link or using a coupon code on this site. That said, all content and opinions on this site are my own and are NOT affected by these payments.
This site participates in the Amazon Services LLC Associates Program, an affiliate advertising program designed to provide a means for sites to earn advertising fees by advertising and linking to Amazon.com.
*Amazon and the Amazon logo are trademarks of Amazon.com, Inc, or its affiliates.
---