NOTE: We earn from qualifying purchases made via Amazon Associates and other affiliate programs. Learn more.
Many people hate the warm and sweaty feeling of the pillow underneath their faces. They spend the whole night flipping the pillow over, trying to find a comfortable position.
The ghost pillow has multiple features like Ghost Ice Fiber fabric, phase-changing material, and an inner aerated mesh cover that allows for better airflow and a much cooler surface.
The design also ensures you do not experience any discomfort and keeps the spine perfectly aligned and the head adequately supported without overextending the neck.
It has a medium firmness level, so most people find it to their liking. It doesn't give away under the head's weight; instead, it supports it quite well. It also doesn't feel hard against the head. Its 6-inch loft is also very convenient for most sleepers.
The manufacturer has added little details like a lavender scent to give customers a pleasant experience. Plus, it comes with a 5-year warranty.
Pros and Cons
Pros
Enjoy a cool burst of air all through the night
Memory foam provides the ultimate support
Features a washable cover that wicks away moisture
Refreshing lavender scent at unpacking the pillow
5-year warranty
Cons
Not the best for heavy stomach sleepers
People who like moldable pillows might not love it
---
About Ghost Pillow, the Company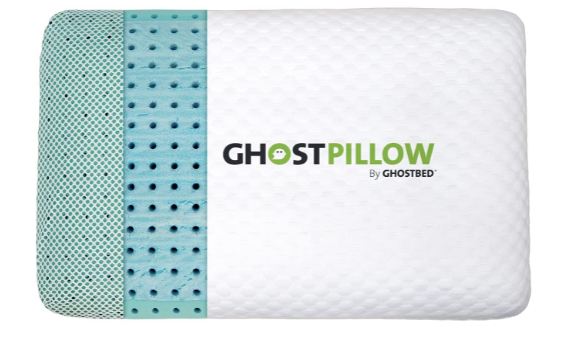 Ghost Pillow has been around in the industry for a long time and has a very cool and exciting story.
CEO Marc Werner belonged to the Werner family of Werner Ladders that has experience spanning over a century in the same business.
Marc Werner's decision to change course and shift to sleep products stems from personal experience.
He, unfortunately, went through three neck surgeries, so the struggle of finding the perfect pillow and foam to sleep comfortably was very real for him. Taking matters into his own hands, he started Nature's Sleep to provide his customers with the ultimate sleeping experience.
Learning from his own experience from mattress shopping, he soon realized how frustrated and intimidated a customer gets with the whole showroom experience and 10-second supervised trial.
In 2015, he then launched GhostBed Mattress in a box that eliminates the showroom experience, incorporates a memory foam, allows the comfort of your house, and comes with a 101-Night Sleep Trial.
Soon after, in 2016, he launched GhostPillow – the perfect real-time cooling pillow. It is the ultimate solution for anyone who has tried countless pillows but still keeps on waking up with neck cramps.
Its aerated gel memory foam and patented phase-change cooling material give your head good support all night long along with a burst of cool air.
---
What Makes Ghost Pillow Unique
There is no shortage of sleeping products in the industry. In fact, you can find pillows in every shape and size.
So, it is only natural for you to wonder why we recommend this pillow.
Allow us to explain.
Material
The ghost pillow has three layers and is built with three different materials.
The first layer is the aerated gel memory foam. This acts as a support core and doesn't let the pillow fall in itself. This material is breathable and facilitates airflow, which makes it considerably cooler than conventional foam.
The second layer is the gel layer with a proprietary phase-changing material that can detect a difference in your body temperature. It absorbs heat, and when your body moves towards its neutral state, it releases it.
The last layer is the inner aerated mesh cover. This, once again, helps with airflow and controls temperature. You can actually see this material a little if you turn the GhostPillow over.
Cover
Those who keep tossing and turning through the night and flipping their pillows over for the cool side will particularly love the cover.
The cover is made with its 'Ghost Ice Fabric' that absorbs moisture. It is also cool-to-the-touch and ensures an immediate cooling sensation after touching it.
Plus, you can just throw the cover in the machine to wash it.
Loft
The loft of a pillow refers to its thickness and impacts various kinds of sleepers.
The ghost pillow is 23 inches long, 16 inches wide, and has a 6-inch loft when it is not compressed and a 4-inch loft when it is compressed. This is an average height and can suit a lot of people.
Fragrance
One of the things we love the most about this pillow is the pleasant surprise you get when you unpack the package. It introduces itself with an unexpected burst of refreshing lavender scent.
The smell and stays for a few weeks, giving a refreshing sensation every time before it dies out completely. Lavender has a soothing, relaxing, and slightly sedative effect, so you're to love this fragrant.
Environment-Friendly
If mercury levels, lead, phthalates, formaldehyde, or other toxic heavy metals concern you, you're in luck. The ghost pillow doesn't feature any harmful products. In fact, it is CertiPUR-US certified.
Pain Relieving
One of the main reasons for Marc Werner to start this company was to manufacture products that help people sleep better at night.
The ghost pillow can be really beneficial in alleviating aches and pains. It features an ergonomic design that ensures your spine stays aligned and supports your head without overextending your neck.
This prevents the formation of any uncomfortable or painful pressure points in your neck or back.
Ghost Pillow Fill Levels
Fill levels refer to the amount of stuffing in a pillow and impact its firmness and loft.
The GhostPillow is medium-firm, making it an exceptionally good choice for back sleepers. It doesn't crumble away at your weight, supports your head, and compresses pretty easily.
The firmness also indicates how much the pillow flattens and feels against your head when you lie down on it. If a pillow is too firm, back sleepers can develop specific pressure points in their necks that can become really painful or uncomfortable at the very least.
But that is not the case with the GhostPillow. It is very light, but it has a solid memory feel. It feels soft when you squeeze it in your fists, but you can definitely hold your ground with this in a pillow fight too.
---
Quick Details
Product Dimensions: 23.62 x 15.75 x 5.51 inches
Weight: 2.87 pounds
3 layers: memory foam, gel-infused phase change material, and inner aerated mesh cover
5-year warranty
Alleviates aches and pains
Moisture absorbent and washable cover
Eco-friendly
---
Bottom Line
The ghost pillow is one of the most comfortable and plush pillows currently on the market, and it definitely stays true to the claims it makes. Its 3 layers provide the ultimate support and comfort, while the 5-year warranty and medium firmness serve as the cherry on top. Pair this up with a good mattress, and you can enjoy a good night's sleep that will leave you well-rested!
---
Where to Buy the Ghost Pillow
Head on over to Amazon or GhostBed to buy the Ghost Pillow memory foam.
---
Affiliate Disclosure
Affiliate Disclosure: I may earn a small commission (at no cost to you) if you purchase a mattress after clicking a referral link or using a coupon code on this site. That said, all content and opinions on this site are my own and are NOT affected by these payments.
This site participates in the Amazon Services LLC Associates Program, an affiliate advertising program designed to provide a means for sites to earn advertising fees by advertising and linking to Amazon.com.
*Amazon and the Amazon logo are trademarks of Amazon.com, Inc, or its affiliates.
---