Keetsa Pillow Plus Review
Summary
Absolute top-quality organic luxury for a discount price. You'll have a hard time finding a better organic mattress at this price anywhere.
Great Choice for: organic mattress lovers who want a great deal.
Avoid if: you aren't really sure, because Keetsa's return policy isn't the best.
Price: $690 to $1,290
NOTE: We earn from qualifying purchases made via Amazon Associates and other affiliate programs. Learn more.
---
Are you looking for a soft & comfy organic mattress at a great price?
Then you should definitely take a look at the Keetsa Pillow Plus.
While Keetsa's memory foam is not 100% organic, Keetsa does just about everything else possible to make their mattresses as eco-friendly as possible.
You won't find a 100% organic mattress at anything close to this price.
Most go for thousands of dollars, whereas the Queen Keetsa Pillow Plus costs less than $800.
---
What's In This Mattress Review
This review is about a ten-minute read.
Use this table of contents to jump to the features you care about most.
To return to this point, click  ↑ Table of Contents
---
About Keetsa
Unlike many other mattress-in-a-box companies, Keetsa sells a variety of mattresses of different firmness levels and construction.
In addition to the Pillow Plus, Keetsa also offers the Tea Leaf Dream, the Cloud, the Keetsa Plus and the Tea Leaf Classic.
In this review, we're focusing on the Keetsa Pillow Plus.
Being an eco-friendly company, Keetsa takes many extra steps in their choice of materials and manufacturing processes to ensure that their mattresses are safe for sleepers and the environment.
The company is a certified green member of San Francisco Green Business, Bay Area Green Business and Los Angeles Green Business.
This means that although their mattresses are not technically 100% organic, they do follow the stringent local measures of some of the greenest cities on Earth to ensure that they are as close as possible. 
---
Social Impact
Keetsa is not just about selling organic mattresses to protect the environment, the company has also dedicated itself to charitable causes that makes a positive impact on people worldwide.
Since 2012, Keetsa has donated $30,000 annually to Operation Smile, an international children's charity that provides reconstructive surgery to children born with facial deformities.
In addition, through the sale of Keetsa Giving Kandles, the company has contributed immensely to providing clean and safe drinking water in developing countries. Half of the proceeds from the sale of these relaxing and eco-friendly soy candles go to Charity: Water.
---
Purchase Process
Like other direct to consumer companies, Keetsa has vastly simplified the mattress purchase process offering its mattresses for sale online, directly to the consumer.
Instead of wasting time visiting stores to sit on a dozen mattress brands, Keetsa makes it easy for you to select and order the perfect mattress at little to no risk.
The primary purchase point is their website, www.keetsa.com.
You can also visit their showrooms located in San Francisco, Berkeley, Los Angeles and New York.
The company is working hard to increase the number of authorized retailer locations to provide more physical access to customers.
There are 5 mattress sizes to choose from, including Twin, Full, Queen, King and California King.
---
Price
This is a really good price, considering there are very few eco-friendly mattresses you can get for below $1,000.
This makes this Keetsa an ideal choice for those on a small budget but still want something green and high quality.
The Pillow Plus is also a great choice for a guest bedroom or a college dorm.
Here is the price list for all available Pillow Plus mattress sizes:
---
12-Year Non Prorated Warranty
Keetsa provides a generous 12 year warranty for its Pillow Plus mattress.
This is a bit more than the industry standard of 10 years and speaks to the trust the company has in the quality and durability of their products.
The warranty covers defects in workmanship or material that might affect sleep quality. This includes unraveling seams, coil failure and permanent mattress depression of more than 1.5 inches.
Keetsa's warranty is only applicable to the original purchaser and is voided if ownership is transferred.
Another important condition of the warranty is that the mattress has to be properly used. This means it has to be placed on a firm and smooth surface that provides even support to the mattress and good ventilation.
A slated bed platform, a Keetsa foundation or a box spring are ideal for placing the mattress on.
The warranty does not extend to defects caused by natural deterioration that does not affect sleep quality or damage caused by soiling, staining or abuse of any kind.
---
90-Night Trial
One area where Keetsa falls short is in their return policy.
Even though Keetsa allows for a generous trial period of 90 days, returning a mattress will cost you 10 percent of the purchase price. For a King sized mattress, returning it will cost $100.
Additionally, you have to go through a bit of a lengthy process before a return is approved.
If the risk of returning the mattress is a big deal for you, then you may want to consider other green/eco-friendly mattress companies that offer hassle-free return policies, like Nest. But then again, you will pay more.
---
Shipping
After you place your order, it will be delivered free of charge to any location within the 48 contiguous states. The company also ships to most areas in Canada.
Shipping is done through Fedex Ground.
On average, it takes five to seven business days to receive your Keetsa Pillow Plus. In Canada, the delivery takes a bit longer, around 7 to 10 business days.
You can track your order using a tracking number sent to you about 1 to 2 days after shipping.
You can also call the company to request faster shipping, at an extra cost.
For shipping cancellations, Keetsa charges a return fee, and it can take up to two weeks to receive a refund.
Before shipping, Keetsa compresses the mattress to fit it into a box. Not only does this reduce shipping costs (and thus the overall mattress costs) it also reduces the carbon footprint.
---
Delivery & Setup
Delivery is by Fedex Ground. It arrives rolled up and compressed, inside a box with wheels built into the corner edge, to make it easier to move around.
Once the mattress is unpacked from the box, it quickly expands to the original size and shape.
If you live in New York, Los Angeles or the Bay Area, you can receive special shipping services by contacting the closest Keetsa store. Please note that there is a fee charged for special deliveries.
The company does not provide in-home setup services, since they are not the ones who do the shipping. You might want to have a friend or family member around to help with unpacking and setup.
---
Aesthetics/Styling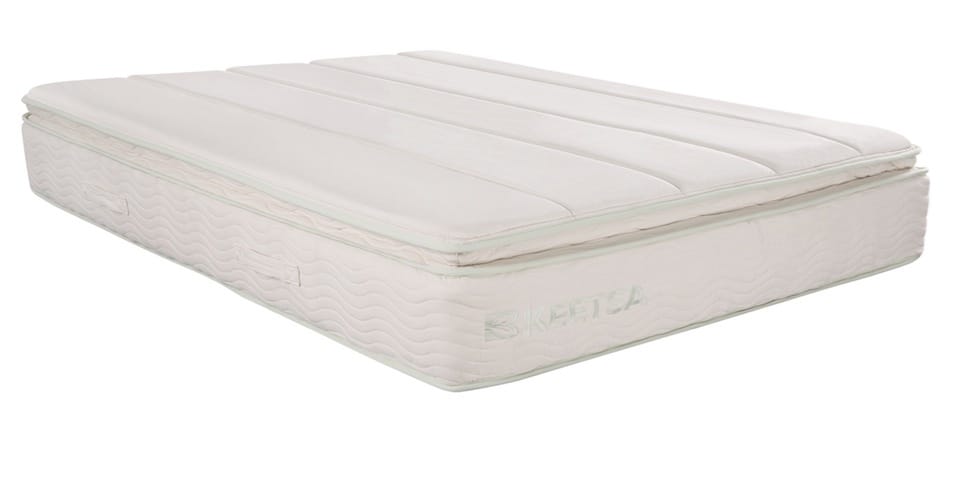 The Keetsa Pillow Plus comes in a simple style that ensures it blends in well in almost any type of décor. It uses one solid color for both the top and the rest of the mattress.
The fully organic pillow top cover is beautiful, with simple patterns adorning it. The stitching is tight and high quality.
---
Advanced Technology
The Keetsa Pillow Plus makes use of several technologies to create a product that is comfortable and ideal for different kinds of sleepers.
The most notable advanced technology used in the Keetsa Pillow Plus is the use of individual coil innerspring system to provide a comfortable springy feel as well as provide adequate support.
The coils are are independent, meaning that each moves independent of the other. This helps to eliminate motion transfer and ensures even weight distribution.
Keetsa's iCoil technology makes it possible for the Pillow Plus to skip the need for a box spring.
As long as the Pillow Plus is placed on a flat and firm foundation, it will function perfectly.
---
Mattress Construction
The construction of any mattress is extremely crucial to how well it functions including support and comfort. It also plays a big role in the longevity of the mattress.
Despite its low price tag, the Keetsa Pillow Plus uses a very advanced foam + innerspring mattress construction that ensures sleepers get the best support and comfort.
Care is also taken to ensure proper airflow (to help in temperature control) as well as to reduce motion transfer.
Organic Pillow Top cover
Keetsa has taken care to protect every Pillow Plus owner from exposure to unnecessary exposure to dangerous chemicals.  
The 100% organic cotton cover is treated with fire retardants that are free of PBDEs & meet the stringent SGS International Laboratory standard. The fabric is also unbleached and not dyed.
The top cotton fabric is blended with natural fiber to improve breathability. This ensures that the mattress and you stay fresh with no overheating.
The result is a cover that is certified STANDARD 100 by OEKO-TEX for safe contact with your skin.
Just below the cover is a very cushy and comfortable pillow top layer made of high quality memory foam that instantly conforms to your body, creating a great sleeping experience. It is designed so you can feel a gentle hug but not too soft that you feel like you are sinking into mud.
The body-hugging pillow top is especially beneficial for people with joint problems, because combined with the coil layer it works to support your body and eliminate pressure points on your body that might aggravate pain.
Side and stomach sleepers will really appreciate the soft conforming feel of this pillow top.
iCoil Innerspring Layer
The core of the mattress has a primary purpose of maintaining adequate support to the mattress and the sleeper.
For the Keetsa Pillow Plus, one of the most important aspects is the 7-inch independent iCoil layer.
Each coil in the iCoil system moves independently to provide support and absorb motions generated by the sleeper, thus reducing motion transfer.
Edge & Corner Stabilization
For added support, the Pillow Plus has foam rails on the sides and the four corners stabilized with extra firm foam. A natural wool layer and fiber padding at the top helps to keep air flowing and temperatures cool.
BioFoam
Keetsa uses a special kind of memory foam in their mattresses, which they call BioFoam. Unlike traditional memory foam that fully consists of petroleum oil, BioFoam replaces 12 percent of the petroleum oil with plant oils.
The company is investing in further research to increase the content of plant oils without compromising mattress quality.
---
Smell/Off Gassing
Because it comes compressed in a box, the Keetsa Pillow Plus will give off a bit of off-gassing.
It is minimal and harmless, just a little bit unsettling for those with a keen sense of smell.
The off gassing takes about one day to completely fade.
People are different when it comes to their sense of smell, so if you experience an especially strong odor, the company recommends airing it out for a day or two in a well ventilated room.
But you won't have to worry about any other types of emissions.
Keetsa only uses high quality materials, including BioFoam, organic cotton in the cover and PBDE free fire retardants to ensure that no harmful components are released by the mattress during its life.
---
Sleeping Experience
All the features and technology in the Pillow Plus go into creating a great sleeping experience.
Check out this video description – these ladies tell the story better than I can!

---
Firmness
Despite its name, the Keetsa Pillow Plus mattress actually has a medium firmness, which meets the needs of 80% of the public. It is soft enough to hug your body but not too soft to create excess sinkage.
This is a perfect firmness level for most sleepers.
However, if you prefer an extra firm feel to your mattress, you might want to take a look at the Keetsa Plus, the Keetsa Cloud and the Tea Leaf Classic.
---
Sinkage
Sinkage refers to how much the mattress sinks under various conditions. The sinkage of a mattress is an important part of the overall sleeping experience. If it sinks too much, you feel as if you are stuck in mud.
The amount of sinkage on the Pillow Plus is as would be expected with a medium firm mattress, around one inch when lying prone on your back.
This is just enough to ensure that the mattress conforms around your body without resulting in a trapped-in-a-swamp feeling.
The sinkage does not change noticeably with two people lying on the mattress.
Most foam mattresses really suffer from weak edges, but Keetsa has added foam rail reinforcement at the edges and corners of the mattress, so sinkage on the edges is minimal.
---
Motion Transfer
Motion transfer refers to the transfer of perceptible movement from one point of the mattress to another.
A mattress with high transfer makes for a bad sleeping experience since movement from one partner is easily felt by the other. By minimizing or eliminating motion transfer, couples can sleep together without disturbing each other.
The Keetsa Pillow Plus performs very well when it comes to reducing motion transfer. Due to the iCoil technology and the high quality foam used, very little motion gets passed from one point to another.
This makes the Pillow Plus especially ideal for couples.
---
Hot/Cold Issues
There is nothing worse than a mattress that gets unbearably hot at night. Proper sleep requires cool temperatures.
Keetsa solves temperature issues by using an exceptionally breathable cover fabric made of fully organic cotton with fiber filling.
With the Pillow Plus, you will not need to buy an additional mattress pad to deal with heating issues.
---
Pros/Cons
Pros
Great deal for an organic mattress! For the quality you get and the fact that it uses plenty of natural materials, the Keetsa Pillow Plus is a really good deal.
Excellent temperature control. The Pillow Plus is designed to keep air flowing within the layers of the mattress and carry body heat away from the surface. This keeps the mattress surface cool and ideal for a good night's rest.
More than enough support. The combination of the iCoil technology, the side foam rails and high quality foam within the mattress provides more than enough support.
Little to no motion transfer. Unless one of you (for couples) keeps on tossing and turning at night, the Pillow Plus has very little motion transfer. Getting out of bed will not disturb your sleeping partner.
Generous 12-year warranty (on all Keetsa mattresses).
Cons
Unfriendly return policy. There is a 10% charge on returns, which is high in an industry where there is no shortage of other sellers offering free, no questions asked returns. In addition, the overall process of making a return is too tedious to be worth it.
Noticeable off-gassing. This is caused by the method of packaging the company uses. However, the smell lasts for only 24 hours.
---
Keetsa Pillow Plus is Perfect For You If…
You want an eco-friendly mattress for a lot less $$ than a pure organic one. Even though it is not 100% organic, the Pillow Plus takes great care to use mostly natural materials that make it much more eco-friendly than other online mattresses.
You like a medium firm mattress.
You are concerned about motion transfer. This mattress has very little. Couples will love it.
You suffer from pressure or joint problems. The soft pillow top makes a big difference.
---
Conclusion
If you are on the hunt for a high quality, medium-firm organic foam mattress for less than $1,000, the Keetsa Pillow Plus is one you should seriously consider.
Many of this mattress' features, from the organic cotton top to the iCoil technology, are normally only found on non-organic brands that are far more expensive.
While Keetsa's return policy admittedly needs tweaking, their longer 12-year warranty makes up for this flaw, over the long term.
---
Affiliate Disclosure
Affiliate Disclosure: I may earn a small commission (at no cost to you) if you purchase a mattress after clicking a referral link or using a coupon code on this site. That said, all content and opinions on this site are my own and are NOT affected by these payments.
This site participates in the Amazon Services LLC Associates Program, an affiliate advertising program designed to provide a means for sites to earn advertising fees by advertising and linking to Amazon.com.
*Amazon and the Amazon logo are trademarks of Amazon.com, Inc, or its affiliates.
---