NOTE: We earn from qualifying purchases made via Amazon Associates and other affiliate programs. Learn more.
---
Since they aired their first infomercial in 2011, My Pillow has sold over 30 million pillows.
You've probably seen the ads over the years that have pumped up the hype over their pillow.
But is MyPillow worth the high price tag – for what is, in essence, a polyurethane foam pillow?
The answer may surprise you!
Note: today, My Pillow sells several pillows, including the original MyPillow Classic and a travel pillow.
This MyPillow review includes the review of the MyPillow Premium, their current flagship pillow, and the most popular MyPillow sold today.
---
About MyPillow, the Company
My Pillow launched in 2004 but became known in 2011 when they aired their first infomercial.
The company relies heavily on aggressive marketing to sell their products. In the past, they've gone too far with claims of what MyPillow can do so much so they were fined $1M for deceptive marketing practices in California.
That said, there are a LOT of verified owner reviews online and plenty of review sites that have covered the reviews of this popular brand. And the reality is, the product is pretty good for most people. And factoring-in discounts, the price isn't that bad.
(you haters can launch your arrows, now)
When you go into a detailed MyPillow review, you will get to know that MyPillow is a very successful business that has grown to more than 1,500 employees. Besides this, it has expanded its product catalog to include other bedding like mattresses, toppers, sheets, and pet beds.
---
What Makes MyPillow Premium Unique
Patented Interlocking Fill + Cotton Cover
The pillow consists of pieces of polyurethane foam of different sizes. They interlock to form a supportive and contouring fill.
The interlocking design ensures the pillow does not go flat at night or even after a few years of use. However, you'll need to plump it now and then in the dryer to keep it fluffy.
Another advantage of using shredded rather than solid foam is ventilation. Air moves more easily in between the foam pieces, making it a more cooling pillow.
The 100% cotton cover also helps with cooling and moisture-wicking. It feels incredibly soft, and it holds up well to years of use.
If you want something a bit more luxurious, get the MyPillow Giza Elegance pillow. It has the same filling as MyPillow premium, but the cover is not ordinary cotton.
The cover is made from long staple Giza cotton.
It's softer and more breathable.
Of course, the Giza Elegance pillow costs more.
Gusseted Sidewalls
One of the main differences between MyPillow Premium vs. Classic is the gusseted sidewalls in the premium.
This keeps the fill from shifting around and dividing, a common complaint with the non-gusseted MyPillow Classic.
The gusseting also provides better neck and head support, especially for back and side sleepers. The pillow conforms to your head without collapsing flat and straining your neck.
Machine Washable and Dryable
MyPillow Premium is easy to maintain.
The entire pillow is machine washable and dryable.
Sleeping Experience
Because of the shredded polyfoam, MyPillow Premium can feel a bit lump at first. But it quickly evens out, conforming to your head and neck.
The gusseted sidewalls prevent the pillow from flattening, ensuring your head stays at the right height.
To get the best sleeping experience, put the pillow in the dryer for 15 minutes to fluff it up. Otherwise, it will feel flat and lumpy.
Repeat the fluffing every few months to keep the pillow comfortable.
Sleeping Positions
MyPillow Premium is designed to suit all sleeping positions. You need to make sure you select the right fill level.
For stomach sleepers, Yellow or White are the best levels.
Back sleepers will find the two medium levels – green and white – to be the most comfortable (see our reviews of the best pillows for back sleepers).
Most side sleepers will find the Green and Blue levels to be the best.
If you don't like the pillow you've chosen, you can return it within 60 days or request an exchange.
MyPillow Firmness
Generally, all MyPillow Premium levels have a signature firm cushion-like feel. They don't have the plush hug of memory foam or fiber pillow.
The more the filling, the firmer the pillow gets.
If you like a pillow you can sink into, MyPillow is not right for you.
Adjusting the Filling
While you cannot adjust the pillow's height, as it is the case with most shredded foam pillows, you can scrunch up the pillow to the shape you want.
If it feels lumpy, you can smooth it out with your hand.
Mypillow Cooling
When it comes to temperature control, MyPillow Premium has better than average cooling. This is thanks to the shredded fill that improves airflow and heat dissipation.
But if you are particularly sensitive to heating or have hot flashes, you may still find the pillow to be a bit warm. Consider buying a cooling pillowcase made from materials like linen and bamboo.
MyPillow Fill Levels
How high or low do you like your pillow?
You can choose from four fill/firmness levels that are color-coded.
Yellow is the least firm (lowest fill), White is medium fill, Green has a bit more fill, and Blue is the firmest (highest fill).
Select the one that suits your sleeping position and body size.
If you are not sure which fill level is right for you, My Pillow offers a quick questionnaire where you fill in your gender, sleeping position, T-shirt size and the kind of pillow you are currently sleeping on.
You'll then get a recommendation based on your answers.
---
Pros and Cons
Pros
Multiple firmness/fill options to suit different comfort needs.
Sleeps fairly cool.
Breathable and soft cotton cover.
Machine washable and dry-able.
Cons
Pricey considering it is a poly foam pillow.
Not ideal for those looking for a soft plush pillow.
A slight smell when new.
---
Quick Details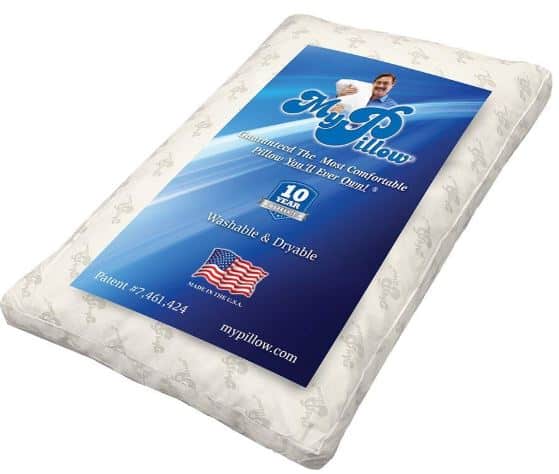 Price: Below are the current prices of MyPillow Premium. Visit their official website to see the latest prices and offers.
Sizes: Queen (16.5 " x 26″) and King (16.5″ x 32″). Height depends on fill level.
Filling: Interlocking shredded polyurethane foam
Cover: 100% cotton
Returns: 60-day money-back guarantee. Refund will be less the original shipping costs, and you'll be responsible for return shipping.
Warranty: 10 years
---
Bottom Line
While we think the price could be lower, MyPillow Premium is a great pillow though it's not for everyone.
If you are looking for a soft pillow that your head will sink into, this is not it.
If you are looking for a firmer pillow with a good neck and head support, you'll love MyPillow Premium.
---
Where to Buy MyPillow Premium
Visit the MyPillow official website to order a pillow.
---
Affiliate Disclosure
Affiliate Disclosure: I may earn a small commission (at no cost to you) if you purchase a mattress after clicking a referral link or using a coupon code on this site. That said, all content and opinions on this site are my own and are NOT affected by these payments.
This site participates in the Amazon Services LLC Associates Program, an affiliate advertising program designed to provide a means for sites to earn advertising fees by advertising and linking to Amazon.com.
*Amazon and the Amazon logo are trademarks of Amazon.com, Inc, or its affiliates.
---