Last Updated on
Casper Mattress Review
Summary
The original one-size-fits-all memory foam mattress – recently updated with a variable zone support layer to provide better spine alignment.
Great Choice for: memory foam buyers looking for a simple, inexpensive medium-firm mattress.
Avoid if: you don't like all-synthetic foam or want a choice in comfort level.
Price: $495-$1095  (w/ SleepDelivered $100 discount)
SleepDelivered.com is supported by our readers. When you buy through links on this page we may earn a commission. Learn more.
---
Casper's Original mattress is as good as most premium store-bought foam mattresses, but costs far less.
The Casper mattress excels at comfort, support and temperature control and will satisfy the vast majority of people. And everyone who buys one will save hundreds vs. a comparable quality mattress bought from a store.
It performs slightly lower in some areas that may matter to you, however, including motion transfer and edge support.
Casper attracted a lot of attention and sales a few years years ago when they entered the ancient mattress market with an aggressively low priced, really simple product sold direct to the consumer with a no-risk pitch.
Sales took off.
We bit, too. Casper was the first online mattress my husband and I bought, back when they were the only pure online manufacturer we knew.
Times have changed since then, of course. And so has Casper's original product. Today, Casper offers two different versions – the original foam mattress that we review here plus a hybrid upgrade.
So how does Casper's Original "best-fit" all-foam mattress compare today against newer competitors like Leesa, Tuft and Needle and Loom and Leaf?
Let's find out!
What's In This Mattress Review
In this mattress review, we'll take a deep look at the newly-updated Casper Original foam mattress and see how it stacks up against it main competitors such as Leesa, Tuft and Needle, Bear, and Helix.
This is a 10-minute "deep dive" review, so we added a table of contents (expandable "Contents" box) to make navigating the sections easier.
To return to the table of contents, click ↑ Table of Contents .
---
Summary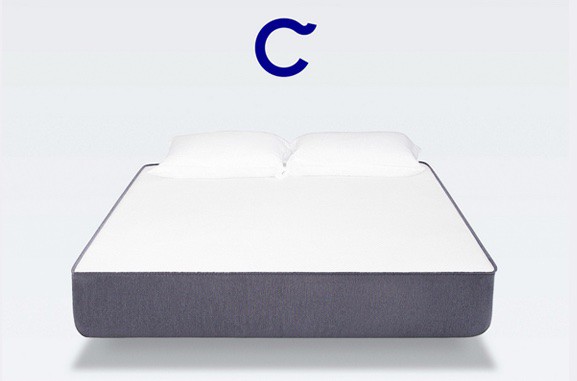 The original Casper mattress has always excelled at comfort, support and temperature control and will satisfy the vast majority of people. And everyone who buys one will save hundreds vs. a comparable quality mattress bought from a store.
Recently, Casper added better support for your spine to the Original mattress in the form of a fourth foam layer with differing densities. This has definitely improved support for side sleepers like me, one of the knocks I gave the Casper when we first reviewed it over a year ago.
That said, the Casper Original still performs slightly lower than others in areas that may matter you, including motion transfer and edge support.
Choice of firmness is another area of compromise when buying a Casper – they only sell medium-firm.
But simplicity has its charms. Because there is only one firmness, you don't have to worry about configuring your order. You just choose the size, place the order, and set it up when it arrives.
The one-size-fits-all design is a downside if you don't end up liking the sleeping experience, but Casper eliminates your financial risk with their 100-day, no questions return policy.
---
About Casper
Even though it's a household name and nearing an IPO, Casper is still a relatively young company. They've only been in business since 2014.
While this is not long enough to judge the durability of their product, Casper's popularity and long list of very happy customers (see reviews) are good indicators.
Today, Casper competes on price and comfort mostly with Leesa, Tuft and Needle and Saatva.
One common thing about all of these companies is that they have reduced mattress costs and prices dramatically by cutting out the middleman.
If you think about all the costs a retailer incurs by moving the product from the manufacturer to the store (transport, storage, logistics, handling etc), and the typical 30-100% markup local furniture stores add to the price, you can see why buying direct from Casper would save you $1,000 or more – without sacrificing quality.
---
Social Impact
Casper takes great steps to ensure that its mattresses are safe for the environment and protect the health of their customers.
The latex foam used in this mattress is OEKO TEX Class 1 certified. This is the highest certification, meaning that it is safe for babies and children.
Unfortunately, it is also 100% synthetic latex.
The polyurethane foam used in the Casper original is Certi-Pur certified, however, meaning that it lacks any components harmful to health and the environment. This means no ozone depleters, no PBDE flame retardants, no heavy metals and no phthalates.
Casper also adheres to Consumer Product Safety Commission rules, guaranteeing that it has very low emissions of volatile organic compounds (VOCs).
Finally, Casper helps less-fortunate individuals by donating all returned and damaged mattresses to charitable organizations.
---
Price
Among comparable mattresses, the Casper Original all-foam mattress remains one of the lowest-priced high-quality foam mattresses on the market.
Here is the full price list for Casper mattresses after applying our $100-off coupon code, SLEEPDELIVERED:
In collaboration with Affirm, Casper offers customers a 0% financing option for those who prefer to pay over time (pending credit approval). With this program, you'll make monthly payments for six months at 0% interest.
---
Ordering Online
The best way to buy a Casper mattress is on their website, https://casper.com/.
Selling exclusively online helps Casper provide and maintain a great customer experience that is characterized by convenience, efficient shopping and low costs.
Like many other mattress-in-a-box brands, Casper only offers one level of firmness, so there's no choice to worry about there.
Through extensive research and testing, they have established one type of mattress that suits most people.
The first choice you have to make is the size of the mattress:

List prices (before discounts) range from $595 to $1,195, which makes the Casper Original one of the most budget-friendly mattresses you can buy online at this level of quality.
You can also opt to upgrade to Hybrid construction, which adds $200 to the price.  For the price, you get a layer of wrapped innerspring coils plus a reinforced edge.  That said, in our opinion there are many excellent hybrid mattresses to choose from in that price range (click here to see our top hybrid mattress choices).
Casper also offers an excellent 0% financing plan if you'd prefer to spread your payments out.
---
Shipping
Shipping is free. Casper ships via UPS in the United States and Canada.
For those in the US, UPS Ground will deliver your mattress in 2-5 business days.
In certain areas of New York, you can get your mattress delivered within a one-hour window of your choosing.
For those in Canada, your mattress will be delivered via UPS Air in 2 business days plus an extra day for customs.
You can opt to have the mattress left outside your door or be notified when a delivery is being made.
Additionally, you can choose a specific delivery date during the checkout process.
---
Delivery & Unboxing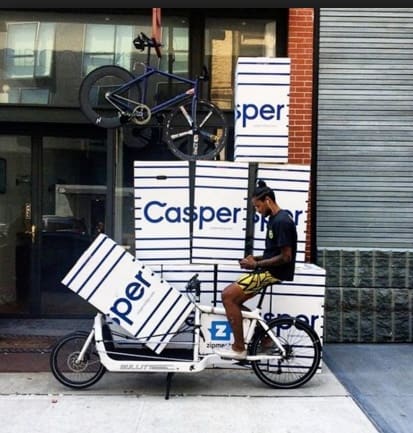 After you place your order, the mattress should be delivered on your doorstep within 2 to 5 days – or for some New York residents, within an hour.
Casper makes deliveries free of charge to United States and Canada.
The mattress is delivered compressed in a box. You have to do the unboxing and setup yourself.
Please note that there are no charges involved for deliveries or returns.
Additionally, Casper does not make deliveries during the weekend. So make sure to make the necessary arrangements during weekdays.
Once you get the Casper mattress out of the box and its wrapper, it takes less than three minutes to expand to its normal size.
White glove delivery is also available through third party partners – check the Casper website for more details and pricing.
---
Styling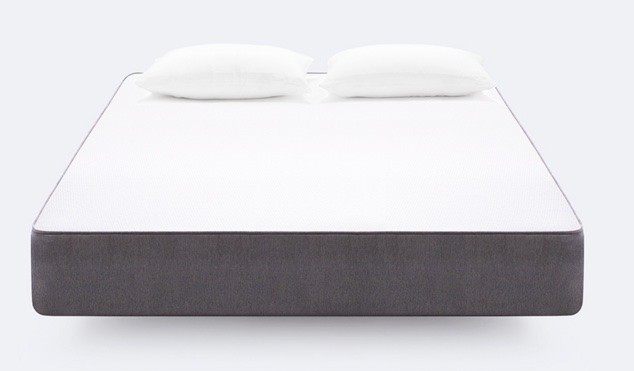 Nothing too fancy here.
Once you get past the stylish bag containing a welcome message and opening tool, the first thing you will notice is the removable, breathable cover.
The cover is a minimalistic design, with white on top and grey on the sides and bottom. This creates a simple décor style that fits well in almost any bedroom.
The grooves and patterns on the cover look nice, too.
---
Technology
Nine months of extensive research and repeated testing were required to develop the Casper mattress.
According to the company, they tested over 200 formulations of foam, had 108 prototypes developed and tested and spent a total of 3,240 hours testing and retesting materials, designs and prototypes.
The resulting product is both innovative and excellent in its performance.
Most notably, the company has managed to combine the best properties of latex foam with those of memory foam in a way that results in ultimate comfort, pleasure and support. Not many mattresses have successfully combined two completely different types of foam with such a great result.
The way Casper's foam layers are arranged ensures that you get the best comfort, pressure relief, body contouring, temperature control, support and durability.
Specifically, the top latex foam layer is designed to provide breathability and plush comfort while the mid memory foam layer is for body support and contouring.
As a side note, Casper Lab remains a section in the company dedicated to new and exciting innovations. If you want to be among the first testers of new sleeping technology and ideas, you can sign up on their website.
---
Casper Original Mattress Construction

Casper uses four layers of foam with a special zoned support feature for correct spinal alignment and comfort – to create a mattress that customers have come to fall in love with.
The types of foam used and their placement are the factors that define a mattress' firmness, motion transfer, edge support, temperature control and overall sleep quality.
Top Layer: Breathable Open Cell Foam
The topmost layer is 1.5-inches of breathable open-cell foam that performs four main functions:
keep the mattress cool
provide comfort (that plush yet firm feeling)
provide full-body support and
create a pleasant bounce.
One reason Casper put this foam on top of their memory foam and not the other way around is because many people complain about memory foam conforming to their bodies, making it harder to shift positions during the night – which can interrupt sleep.
Second Layer: High-Density Memory Foam
The second layer is made of high density memory foam, a proprietary formulation designed by the company. The main function of this 1.5-inch layer is support.
Casper's memory foam is firmer than normal and performs well in evenly distributing body weight, helping to avoid painful pressure points. It also contours around your body slightly.
By placing the memory foam below latex foam, Casper ensures that you won't overheat at night.
Third Layer:  Zoned Support Foam
Casper recently introduced a new layer into the Casper Original to better support your spine.
Called ZonedSupport, this layer uses two different density foams to support your hips more firmly than your shoulders, allowing a side-sleeper's spine to remain better aligned (straight).
Foundation Layer: Polyurethane Foam
Beneath the memory foam is a 7-inch layer of foundational polyurethane foam, for added support and durability.
The latex foam is OEKO TEX Class 1 certified, which is the highest certification class.
The memory and foundational foams are Certi-Pur certified, meaning that they do not contain any harmful components.
The mattress also adheres to Consumer Product Safety Commission regulations by keeping volatile organic compounds (VOCs) emissions low.
Though the mattress is not certified organic, the company assures that its materials and components are safe for the user and for the environment.
To know more, check out our in-depth Casper wave review.
---
Cover
The Casper removable mattress cover is the model of simplicity. It is white on top and ash grey on all other parts.
The cover is removable using a zipper. Washing the cover won't be a problem.
The cover is hand-sewn in simple but beautiful patterns that offer a nice, high quality texture when you touch it.
The cover is made from high quality textiles sourced from the United States and Belgium. The porous material is highly breathable, to keep you cool at night. It also makes it flexible and resilient.
One tip: be careful when moving the mattress, as the porous design of the cover makes it easy to get caught on something. You don't want an ugly tear on your beautiful mattress on the first day!
Another important thing to note is that Casper does not provide choice in cover material or designs. So hopefully, you'll like what you get.
Overall, the cover's look and feel creates the impression of a quality product that is made with an obsessive attention to detail. It speaks to the great sleeping experience you will find, once under the cover.
---
Smell/Off-Gassing
The Casper mattress is delivered tightly compressed, in a box.
As with other compressed mattresses, you can expect a little bit of off-gassing after you remove it from the box. This is completely harmless. It's kinda like a new car smell.
Unlike cheaper alternatives, Casper uses only water-based solvents and adhesives and avoids solvent-based adhesives that emit VOCs (volatile organic compounds like acetones and ketones) into your home.
The only complaints I've heard are from people who have really sensitive noses, which doesn't include me.
The off-gassing begins when you unbox the mattress; for most people, it lasts a few minutes to maybe day.
---
Sleeping Experience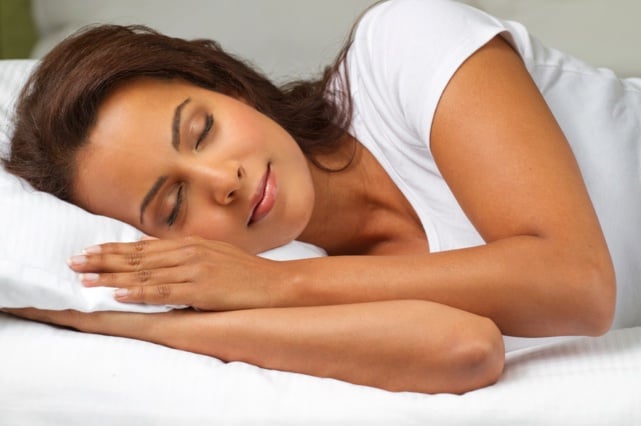 The sleeping experience is 99 percent of a mattress.
If it's not great or at least close to perfect, the whole mattress is a waste of money.
This is why we get so anxious shopping for these things – especially online!
Well don't worry: sleeping on the Casper mattress is close to perfect, in my opinion.
Other Casper mattress reviews generally agree that the Casper sleeping experience is superb, although not the absolute best in the market.
But we like to break things down a bit more scientifically, so in the next three sections, we are going to look at the four main factors that determine how good the mattress is at creating a "great sleeping experience", which include:
firmness
sinkage
motion transfer and
temperature control.
---
Firmness / Comfort Level
As discussed, there is only one firmness level available.
According to the company, this was decided after extensive research and testing showed the majority of customers prefer that level of firmness.
I would characterize the Casper as medium-firm, at 6/10 on our firmness scale with 1 being very soft and 10 very firm.
For many customers, the mattress leans a bit to the firm side but still retains a comfy, plush feeling at the top. It's slightly firmer than the Leesa, in case you're comparing the two.
So if you are a side sleeper that loves to sink in and feel hugged by your mattress, then the Casper may not be the right choice for you. That said, their latest innovation – adding a zoned support foam layer – has likely resolved that issue.
But if you love a springy (bouncy) mattress with firm support all around, then the Casper will make you happy.
---
Sinkage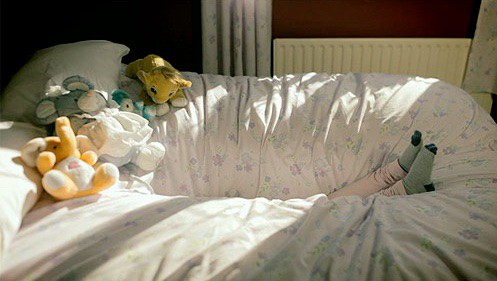 Sinkage refers to how deeply a mattress sinks when a weight is bearing down on it.
If a mattress exhibits too much sinkage, then it produces the feeling of being stuck in a swamp. In addition to making it hard to get out of bed, sleeping like this can be bad for your health because it creates uneven pressure points, causing you to wake up with aches in certain areas of your body.
On the other hand, if there is zero sinkage, then the mattress is too hard to be comfortable and will also create pain points.
When lying on the Casper mattress, the average person will experience a sinkage of 1 to 1.5 inches, similar to many other mattresses. This is just enough to create a comfortable hug around your body contours, but not too much to cause that swampy feeling.
Casper has more pronounced sinkage at the edges, though, at around 2 to 2.5 inches. So if you tend to sleep on the edge, you may find it easier to fall out of bed.
Sinkage also depends on your weight. Casper Original was designed for people weighing up to 450 pounds, with best performance achieved for people less than 250 pounds each.
---
Motion Transfer
Another important aspect is motion transfer. This refers to how easily the mattress transfers a motion on one side of the mattress to the other side.
Motion transfer is important for couples and singles with larger animals or children that sleep with them.
Minimizing motion transfer is preferable to ensure that one moving partner does not disturb the other.
This is one of the weaker areas for the Casper mattress.
The motion transfer we experienced (and most other reviewers) is higher than in comparable mattresses such as Saatva and Nest. This is probably due to their use of firmer latex foam in the top layer.
---
Hot/Cold Issues
The Casper mattress performs well when it comes to staying cool.
The placement of the breathable open cell foam layer on top makes the difference. The temperature is even all over the mattress, eliminating any need for a pad.
You won't experience hot or cold spots at night.
Due to the kind of foam used, the mattress performed equally well in all 4 seasons we owned it.
---
Warranty
Casper offers a 10-year limited warranty.
Like most other mattresses, the warranty covers structural damage and workmanship. Issues to do with comfort or damage from soiling, burns or improper placement of the mattress are not covered and some of them can void the warranty.
It is important to note that this warranty only extends to the original purchaser of a Casper mattress.
---
Return Policy
Casper provides one of the friendliest return policies in the mattress industry.
First off, you can sleep on the mattress up to 100 nights before deciding to keep it. This is enough time for anyone to decide whether they have bought the right mattress.
By offering 100 day risk-free returns, Casper makes it really easy to buy a mattress online, sight unseen.
If you aren't pleased with your mattress during trial period for any reason, you may return the mattress at zero expense to you. The company will send someone to pick it up and donate it to a charity or send it to a recycling facility.
If you choose to get another Casper mattress, please note that the second mattress will not come with a 100-night trial period.
---
Pros and Cons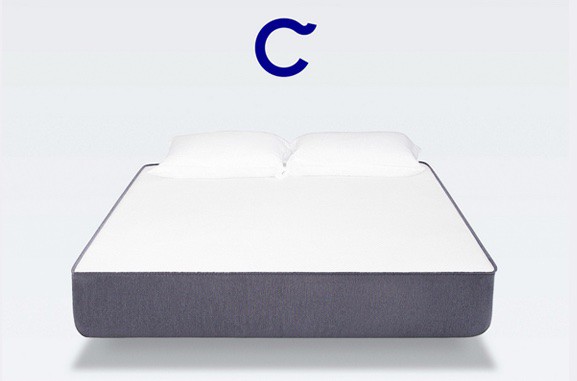 Pros
Very budget friendly.
Performs well in comfort, temperature control and side-sleeper support.
Perfect for those who love medium-firm mattresses.
Hassle-free ordering, shipping and returns.
A long no-risk trial period.
Low VOC emissions.
Cons
A short period of off-gassing (new mattress smell).
Some motion transfer issues.
Lack of firm support at the edges.
Only one firmness level available.
---
This Mattress is Perfect For You If…
You love a medium-firm mattress that balances between support and comfort and has excellent temperature control.
You are a back- or a stomach-sleeper: you'll probably feel that the Casper mattress is perfect.
Side sleepers will also like the way the updated mattress hugs their contours and aligns their spine.
---
Conclusion
The updated Casper Original mattress is a great choice for anyone who doesn't have truly unique needs and wants to save a ton of money.
But to be honest, it is not the highest-end mattress-in-a-box you can buy. There are better and more configurable alternatives like the Alexander from Nest Bedding and Loom and Leaf. But be prepared to pay more.
Casper started the "war on the middleman", and it remains the clear leader for one simple reason:  the Casper is an excellent mattress for the vast majority of people, and it's one of the least expensive memory foam mattresses on the market today.
So if you aren't too particular about firmness and motion transfer, then you can't go wrong saving a few bucks with Casper.
---
Where to Buy
How the Casper Mattress Compares
See how the Casper mattress compares to other top online mattresses in the following in-depth matchups.
---
Save BIG On Your Next Mattress Purchase
Join our mailing list and get my LATEST COUPONS delivered immediately!
Send Me The Coupons
---
Learn More
Compare Mattresses Side-by-Side
---
Affiliate Disclosure
Affiliate Disclosure: I may earn a small commission (at no cost to you) if you purchase a mattress after clicking a referral link or using a coupon code on this site. That said, all content and opinions on this site are my own and are NOT affected by these payments.
This site participates in the Amazon Services LLC Associates Program, an affiliate advertising program designed to provide a means for sites to earn advertising fees by advertising and linking to Amazon.com.
*Amazon and the Amazon logo are trademarks of Amazon.com, Inc, or its affiliates.
---