NOTE: We earn from qualifying purchases made via Amazon Associates and other affiliate programs. Learn more.
Considering how common double-sided mattresses are today, it's hard to believe that a couple of decades ago virtually all mattresses were double-sided.
Legacy companies like Serta and Simmons manufacture flippable mattresses, usually with stickers indicating when to rotate and turn over the mattress.
The situation today has flipped, no pun intended. Single-sided mattresses are the norm with double-sided ones feeling more and more like novelties.
But are traditional flippable mattresses more comfortable? Do they last longer?
In this post, we discuss the pros and cons of double-sided mattresses and compare them to single-sided designs.
---
How Single-sided Mattresses Came to Be
The introduction of single-sided mattresses was mostly because of cost-saving measures by mattress manufacturers.
A single sided mattress saved them more money because they used fewer premium materials, and they only had to use fire retardants on one side.
Over time, these savings were passed on to customers, meaning single-sided mattresses got cheaper. That's why they caught on quickly and have remained very popular.
Today, it's harder to get a double-sided mattress from bedding stores or online bed-in-a-box companies.
But sometimes, the extra effort (and sometimes money)you spend to get a double-sided mattress is worth it.
---
Benefits of Double-Sided Mattresses
Note that these benefits do not apply to all double-sided mattresses. That's because the design and the type of materials used vary widely from mattress to mattress.
1. Comfortable
Because manufacturers have to use high-quality materials on both sides of the mattress, double-sided mattresses tend to be more comfortable than comparable single-sided mattresses.
Double-sided foam mattresses are especially good at contouring. They mold easily to your body, relieving pressure on your shoulders, hips, and back.
2. The Wear Out Slowly
Double-sided mattresses tend to wear out at a slower rate, but only if you properly maintain the mattress.
If you religiously rotate and flip the mattress as recommended, no single side takes all the brunt of your weight.
The foam degrades and deforms more slowly, and it gets a chance to recover when you flip the mattress.
On a single-sided mattress, your weight is constantly on one side of the mattress. Unless the mattress uses high-density foams, you'll notice depressions and cratering after a couple of years or sooner.
The worst part is that you cannot turn it over to the better side. Your only option is to either buy a new mattress or get a temporary mattress pad.
That's why some single mattress manufacturers strongly recommend that you rotate your mattress from head to foot once every 3 months to even out the wearing.
But the reality is that few people bother rotating or flipping their mattress. Most mattresses are heavy and tedious for one person, or even two, to flip.
So even if you get a double-sided mattress, it probably won't last much longer than a single-sided mattress unless you remember to turn it regularly.
And even if you do follow the recommended maintenance schedule, the quality of materials used still matters when it comes to longevity.
A single-sided mattress with high-quality memory foam will likely last longer than a double-sided mattress that uses low-quality poly foam.
3. More Comfort Options
Double-sided mattresses have not gone extinct. There are still some manufacturers making them. Some of them, especially the new direct-to-consumer brands, are doing things a bit differently.
Instead of making a normal flippable mattress, they provide different sleeping experiences one each side of the mattresses.
These adjustable comfort mattresses are great for people who are not sure what level of mattress firmness they want or those who want to be able to modify the mattress' feel in the future if their comfort needs change.
Two brands that sell such mattresses are Luxi and Layla.
One side of the mattress is softer than the other. If you want more support or the soft side begins to sag, you can flip over and the mattress feels as good as new.
---
The Downsides of Two-Sided Mattresses
Before we discuss the main downsides of double-sided mattresses, let's dispel one common myth.
Double-sided mattresses are typically not more expensive than single-sided mattresses. Maybe that was the case when single-sided mattresses first came about.
Manufacturers saved money and in turn, these mattresses cost slightly less.
But today, single and double-sided mattresses that use comparable materials and design cost about the same.
A two-sided memory foam mattress sold online costs around $700-$1,000 for a queen size. So does a single-sided memory foam mattress.
If you think a double-sided mattress is the best one for your needs, don't let any perceived cost difference discourage you.
That said, there are some real downsides to a double-sided mattress that you should know before you settle for one.
1. They Need More Maintenance
Many owners of double-sided mattresses don't enjoy their longevity and slow-wearing benefits because they don't take care of them as required.
As I said, mattresses are heavy and cumbersome. I don't blame people for letting months and even years pass by without ever flipping the mattress.
Many people only flip when one side has sagged and is showing considerable wear. It does help a bit, but the damage is already done.
If you want your double-sided mattress to last long, either put the flipping dates on your calendar or coincide them with memorable events to ensure you don't forget.
If you live alone, you are disabled, or you are a senior, you might find it easier to ditch double-sided mattresses completely since you might be unable to flip it on your own.
2. Some Have Less Support
For overweight or plus size sleepers, we highly recommend a mattress with a steel coil core. It can be a double or single-sided mattress.
If you prefer the soft pressure relief of an all-foam mattress, buy a single-sided one.
Double-sided foam mattresses won't provide adequate support. That's because both sides are designed to be relatively soft for comfort.
In contrast, a single-sided foam mattress will have a thick, extra-firm and dense base that provides excellent support and durability.
Even for innerspring mattresses, we generally prefer single-sided designs. Their multi-layer design combines the support of a spring core with that of a dense foam base.
Some mattresses like Saatva have two coil layers for extra support.
3. Less Variety
If you are nostalgic for the old two-sided mattresses, you are not in luck. Most mattresses today are one-sided.
Shopping for the right double-sided mattress is a challenge. There's less variety to choose from, meaning you probably have to settle for a mattress you don't really like.
The good news is, more and more online mattress companies are making these mattresses. Some great examples include Nest Bedding's Alexander Signature Series, Saatva's Zenhaven, and the Nolah Signature 12 mattress.
Some of these mattresses like Nolah,  Zenhaven, Layla, and Luxiincorporate an innovative adjustable comfort design that lets you change the feel of the mattress simply by flipping it.
Talking of innovative…
4. Fewer Innovative Designs
Some of the most exciting innovations in the mattress industry are in single-sided mattresses.
Take the Purple mattress for instance. It uses a neat grid-like polymer to enhance contouring and pressure relief. It's a single-sided mattress.
Other mattresses like the Eight Sleep and Ameri sleep use proprietary foam(only on one side of the bed)that provides a better sleeping experience than traditional memory and latex foams.
The Big Fig mattress is designed especially for plus size sleepers. It uses a special hybrid design that would only work on a one-sided mattress.
I'm not saying that double-sided mattresses are boring. There are some great designs out there.
But if you want the best in innovate and creative designs, you'll have more luck with single-sided mattresses.
These innovations are not just for show. Most of them improve the support, overall comfort, and durability of the mattress.
---
Double-Sided vs. Single-Sided: Which One is the Best?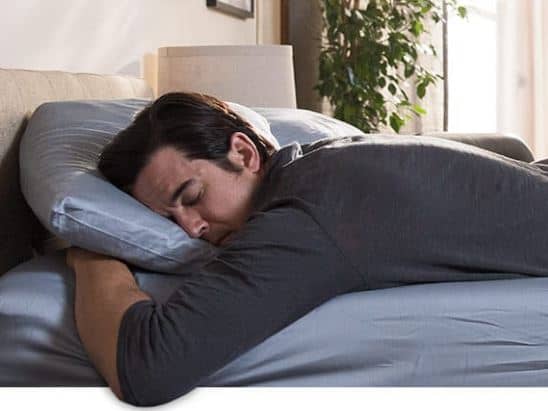 None. It all depends on your comfort needs and personal preferences.
And are highly subjective. Just because a certain mattress feels great for one person doesn't mean it's going to feel comfortable for you.
Even a luxury mattress costing thousands of dollars may be a downer if it doesn't meet your particular needs.
The durability advantage of double-sided mattresses is not that big of a deal.
Most people don't flip their mattresses and most modern single-sided mattresses will last almost as long as a comparable two-sided mattress.
Focus on comfort and overall sleeping experience.
Here's how to select the best mattress for your needs.
Do your Research.
Find out what types of mattresses are in the market and what each type offers.
Get familiar with latex, memory foam, innerspring and hybrid mattresses and the comfort differences among them.
Learn about organic mattresses, pillow-top mattresses, and adjustable comfort mattresses.
Learn about materials and technologies such as perforated foam, gel foam, phase change materials and so on.
If that sounds like a lot of work, it's because it is. There are so many types of mattresses in the market.
Luckily, we have just the thing to help you. Our best mattress buying guide tells you what you need to know about mattresses and recommends the best mattresses for different needs.
Buy Online
Forget about mattress stores and their woefully inadequate 10-minute mattress testing.
Online mattress companies sell better quality mattresses for way less money and with the convenience of home delivery.
In addition, you get 100 days or more to test your mattress with the guarantee of a free return.
Most online mattresses are backed by a 10-year warranty.
Test Your Mattress
Make the best of the in-home trial period to make sure you've got the best mattress.
Here's a quick guide on how to test a mattress in your home.
---
Affiliate Disclosure
Affiliate Disclosure: I may earn a small commission (at no cost to you) if you purchase a mattress after clicking a referral link or using a coupon code on this site. That said, all content and opinions on this site are my own and are NOT affected by these payments.
This site participates in the Amazon Services LLC Associates Program, an affiliate advertising program designed to provide a means for sites to earn advertising fees by advertising and linking to Amazon.com.
*Amazon and the Amazon logo are trademarks of Amazon.com, Inc, or its affiliates.
---