Last Updated on
Amerisleep Mattress
Summary
Great support, a choice of 5 comfort levels, the latest bio-friendly foams and a cool+dry night's sleep. What more could you want from a memory foam mattress?
Great Choice for: the eco-minded buyer who needs a firmer or softer mattress than most.
Avoid if: you're shopping for a medium-firm foam mattress; Leesa is the better/cheaper choice
Price: $1199 to $ 3298
SleepDelivered.com is supported by our readers. When you buy through links on this page we may earn a commission. Learn more.
---
If you're looking for a high-quality eco-friendly mattress and like yours firmer or softer than most, then Amerisleep is a great choice.
Unlike other mattress-in-a-box companies who limit your choice to one comfort level, Amerisleep sells five different mattresses that range from soft to extra firm.
Two models are on the softer side of the comfort range, the Colonial and Independence
Their best-seller is a a medium-firm mattress, the Liberty; and,
The two firmest mattresses are the Americana & the Revere.
With its advanced, eco-friendly memory foams, exceptional 20-year warranty and reasonable prices, you may be considering buying an Amerisleep mattress for yourself.
But which of their five models should you buy?
Is the sleeping experience as good as advertised? Does it sag or sleep too hot?
Let's dive in and answer these questions, right now.
---
What's In This Mattress Review
This review is about a 10-minute read.
Use the table of contents to jump to the sections you care about most.
To return here, click  ↑ Table of Contents
---
About Amerisleep
Amerisleep is one of the oldest mattress-in-a-box companies.
Founded in 2007, the company has set itself apart through high quality mattresses, innovative features and great customer service.
The company has been especially vocal about its efforts to be more environmentally friendly.
They have committed themselves to using eco-friendly materials and low impact manufacturing processes.
Headquartered in Scottsdale, Arizona, Amerisleep ships its mattresses to customers living in the United States and Canada.
---
Social Impact
Amerisleep is a step ahead of many other mattress companies when it comes to social responsibility, especially related to the environment.
Throughout its production chain, the company tries to stick to eco-friendly practices.
They go beyond standard requirements to create a product that is safe, high quality and good for the environment – and their customers.
Additionally, all of Amerisleep's manufacturing is done in the United States, which provides opportunities to local workers. Keeping manufacturing in the US also goes a long way in ensuring that the highest manufacturing and environmental standards are maintained.
The company also works with local charities to provide beds to the less fortunate.
---
Purchase Process
To keep prices low, Amerisleep has adopted an online-only model.
They don't have brick and mortar stores where you can go and test their mattresses, nor do they sell-through retail outlets.
There are two places online you can buy an Amerisleep mattress: on their official website Amerisleep.com and on Amazon.com.
The prices are usually the same on both sites. From time to time, though, you can find slightly-used mattresses on Amazon at a discount.
The most important step in the purchase process is to select your model, which determines the firmness level.
There are five mattresses to choose from: Liberty, Colonial, Independence, Americana and Revere.
They all feature similar foam technology and construction, but differ in terms of firmness and a few advanced features:
If you prefer a soft or medium soft mattress, then go with the Colonial or Independence.
For an firm or extra-firm firm mattress buy an Americana or a Revere.
If you are like 80% of sleepers today who prefer a medium-firm feel, then go with Amerisleep's most popular mattress, the Liberty.
If you aren't sure, then Amerisleep's website will guide you to the best choice, based on your preferred sleeping position.
Once you make your model choice, you will be directed to the product page where you can learn more about the mattress, the trial period, read the warranty and choose your preferred size. Then, just place your order.
Before doing that, however, you may want to visit Amazon to read recent reviews.
Note:
the Independence and Colonial are not sold in Twin and Full sizes
all mattresses offer a Split King option for couples with different firmness preferences
Twin (except Independence and Colonial)
Twin XL
Full (except Independence and Colonial)
Queen
King
Split King
California King
---
Shipping
FedEx shipping is free of charge within the United States.
If you are ordering a mattress from Hawaii or Alaska, shipping fees will apply.  Extra fees also apply for international orders.
You can track your order online, once it is on its way.
No special shipping options – expedited shipping, white glove – are offered.
Once your order is processed, it will take about a week to get your mattress delivered to your home, depending on your location.
---
Delivery
Amerisleep provides free curbside delivery via FedEx anywhere within the United States.
Like other online memory foam mattresses, Amerisleep's mattresses are delivered to your home compressed and rolled into a thin plastic tube, packed 3 to a box on the truck.
Unpacking is simple: just cut the plastic wrap lengthwise and let her rip.
It takes about a day for the mattress to expand all the way, and another 1-2 weeks for the mattress to settle in completely.
Note that Amerisleep does not offer special delivery options. They only deliver to your curb.
---
Aesthetics/Styling
After you unpack your mattress, you'll immediately notice that Amerisleep mattresses have a nice, sleek look to them with smooth finishing on the covers.
The Liberty, Colonial and Revere have a wavy two-tone style (above), which is actually quite unique compared to the simple aesthetics of most mattresses.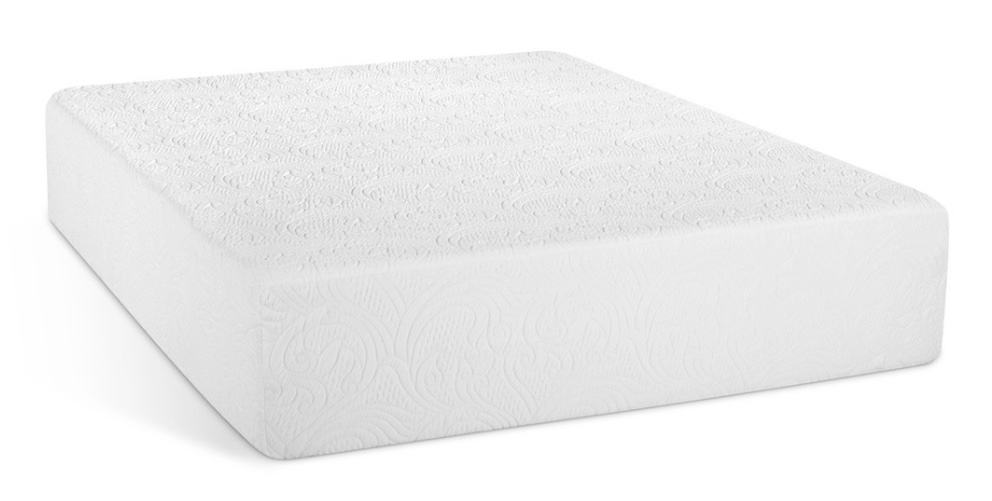 The Americana and Independence have a monotone off-white color with a wavy line at the top and a floral pattern covering the mattress.
---
Advanced Memory Foam Technology
In an effort to offer a great sleeping experience, Amerisleep uses several advanced memory foam technologies to craft their mattresses.
The biggest challenge Amerisleep claims to have overcome is in turning memory foam – notorious for poor support and sleeping too hot – into a far more comfortable, bio-friendly material that fosters better sleep.
1. Variable Pressure Foaming
The memory foams used in Amerisleep mattresses are manufactured using a process called Variable Pressure Foaming or simply VPF.
VPF is a highly eco-friendly manufacturing process.
The mattresses are placed together in a specialized chamber, and any emissions are passed through carbon filters to remove pollutants before they are released.
Additionally, no harsh chemicals are used in the manufacturing process, and there are minimal volatile organic compounds (VOCs) in the foam.
All waste at the end of the process is recycled.
2. Bio-Pur memory foam
Ordinary memory foams, while plush and comfortable, tend to get too hot at night and may not offer the best support.
Amerisleep has formulated their memory foam to eliminate these downsides and to add a few more beneficial features.
The result is a slightly different type of foam called Bio-Pur.
Amerisleep calls their foam, 'Bio', because some of the petroleum components of standard memory foam have been replaced with plant-based materials. This makes for a better, more comfortable and far more eco-friendly mattress.
Bio-Pur foam is also a bit firmer and more resilient than first-generation memory foam, which provides better support.
Finally, Bio-Pur foam is more breathable than ordinary memory foam. It features an open cell structure that allows air to move freely within. This keeps the mattress cool, dry and smelling fresh.
Amerisleep's American, Liberty and Revere mattresses are made with the original Bio-Pur foam, while Colonial and Independence utilize an updated variant called Bio-Pur+.
Bio-Pur+ provides better air circulation and cooling ability. According to the company, it has 70% more breathability than the standard Bio-Pur memory foam.
In addition to its open cell structure, Bio-Pur+ foam undergoes an extra process called reticulation. This removes remaining air-blocking membranes from the foam, which boosts airflow within the mattress.
3. Active Flex foam
This is another special foam formulation created to provide better responsiveness and support to the body.
It is used in the Independence mattress only.
4. Surface Modification Technology (SMT)
Used in Colonial and Independence, SMT is a technology designed to boost mattress support and comfort.
Textured channels are added to the bottom of the foam. One obvious result of this modification is better airflow, which helps wick moisture and heat away from the mattress.
Another benefit is improved, adaptive support.
Essentially, the foam better adapts to your body and sleeping position, helping to distribute your weight evenly and provide pressure relief.
---
Construction
Americana (firm)
Revere (med firm)
Liberty (medium)
Colonial (med soft)
Independence (soft)
Americana
This is the firmest of the Amerisleep mattresses. This 10-inch foam mattress is ideal for back and stomach sleepers and consists of two main layers designed to achieve a firmer than usual feel.
Bio-Pur foam (3″ comfort layer)
The open cell structure of Bio-Pur makes it several times more breathable than standard memory foam and better at adapting to the body for increased support.
Bio-Core foam (7″ support layer)
The high-density Bio-Core foam provides support to the sleeper as well as the mattress. It also plays a crucial role in preventing uncomfortable (and unsightly) sags and ensuring that the mattress lasts a long time.
Revere
The Revere is also on the firmer side of the scale, but has a medium-firm feel.
It is a good choice for back and stomach sleepers who love a firm surface but with a bit of 'hug' to keep them in position.
To create the medium-firm feel, the engineers made Revere slightly thicker than Americana.
At 12 inches thick, the Americana also consists of two main layers.
Bio-Pur foam (3″ comfort layer)
A layer of eco-friendly memory foam provides pressure relief, comfort and cooling.
Bio-Core foam (9″ support layer)
The sturdy, dense foam foundation resists sagging through the years.
Liberty
The Liberty is their most popular model and the one we tested at home.
It measures 12 inches in thickness and contains one more layer than the Revere and Americana.
Bio-Pur foam (3″ comfort layer)
This layer forms the first line of comfort for the sleeper. It provides pressure relief as the plant-based foam adapts to your body contours and weight. Any heat and sweat generated by your body is quickly whisked away thanks to superior airflow.
Affinity Transition Layer (2″)
This additional foam layer offers both firm support and soft comfort.
Bio-Core foam (7″ support layer)
This high-density foam provide a sturdy foundation that prevents sagging by offering compression support. It also gives the mattress added durability.
Colonial
Moving over to the softer end of the spectrum, the Colonial mattress is designed to provide a medium-soft feel.
Buy it if you are a side sleeper who loves a plush, cushion effect on your mattress.
Stay away from this one if you hate sinking into a mattress.
The Colonial measures a healthy 13 inches thick and consists of three foam layers plus additional ventilation.
Bio-Pur+ memory foam (2″ comfort layer)
This layer uses Bio-Pur+, the upgraded version of Bio-Pur foam that is even more breathable and adapts well to your body.
Affinity Transition Layer with SMT technology (4″ transition layer)
The Colonial uses unique, textured channels to provide better transitional support and comfort and to better dissipate heat and moisture away from the surface.
Bio-Core foam (7″ foundation layer)
This plant-based support foam provides overall support to the mattress while remaining breathable.
Mesh paneling
On the sides of the mattress, Amerisleep added enhanced mesh paneling to improve the breathability of the mattress. This allows moisture and hot air to vent from the sides of the mattress more easily.
Independence
This is the softest, thickest and most expensive Amerisleep mattress.
It is a luxury-sized 14 inches thick and relies on three foam layers.
Bio-Pur+ memory foam (2″ comfort layer)
A thin layer of Bio-Pur+ foam provides superior cooling capability without too much support, leaving the mattress surface cool and fresh.
Active Flex Layer with SMT technology (3″ transition layer)
Active Flex foam improves on the ability of the mattress to adapt and respond to your body. It provides both support and comfort while also ensuring enhanced air flow thanks to air channels at the bottom of the layer.
Bio-Core foam (9″ support layer)
This thick, dense foam layer provides support for the sleeper and helps the mattress last years.
---
Cover
The cover is another major area of innovation for Amerisleep.
Amerisleep uses a special type of fabric, Celliant, to craft all of their mattress covers.
Celliant is a special yarn containing 13 thermoreactive minerals that react to heat in a very unique way.
When you sleep on a mattress, your body generates heat. A good mattress cover will absorb this heat (if they have poor airflow) and/or release it (if they have good airflow).
But Celliant does something radically different: it transforms your body heat into infrared radiation, which escapes quietly from your bed.
In addition to dissipating heat, infrared light has been found to have several health benefits. It boosts blood circulation, improves rest, increases energy levels and helps to regulate body temperature.
With a Celliant cover on top, Amerisleep says you'll enjoy a deeper and better sleep and wake up feeling healthier, happier and more energized.
The other online mattress I know of that uses Celliant technology is the Bear mattress, which was designed specifically for athletes.
---
Smell/Off Gassing
There is one problem that most foam mattresses share: They usually emit a slightly unpleasant smell when they are fresh off the factory line.
Unlike years ago, however, when store-bought mattresses emitted harmful VOCs (volatile organic compounds), the smell you may experience when you first open your Amerisleep mattress is not harmful at all.
Remember that Amerisleep mattresses are Certi-PUR certified, which means they are made without harmful components like ozone depleters and heavy metals.
The company also uses plant-based materials to replace some of its petroleum-based components in the mattress, which reduces off-gassing.
Additionally, they use a special GREENGUARD certified fire sock for fire protection all around the mattress.
These technologies do not completely eliminate off-gassing, however.
Some Amerisleep customers have complained of an unpleasant odor from their new mattress. Others say they smell nothing but a 'new car' smell. To each his own, I guess…
I noticed a slight 'plastic-in-my-car' smell, too.
If you feel the smell is particularly strong, the company advices that you air-out the mattress for a few days. This means leaving it uncovered in a well ventilated room such as the garage.
Don't make this your only deciding factor, however: it was barely noticeably after a day, and, the smell dissipates completely within a week or so.
---
Sleeping Experience
Eric and I could not sleep on every one of Amerisleep's 5 mattresses in our home.
We tested the medium-firm mattress, the Liberty.
That said, if you look around the web at other buyers' reviews of the other Amerisleep products, you'll see that their experience has been generally positive.
The mattress we tested was very comfortable. It slept cool and offered a surprising amount of support for a memory foam mattress.
Because Amerisleep's products vary so much, it is important to look at the sleeping experience of each one of them separately rather than giving a blanket description.
Click on a tab below to learn more about each mattress' sleeping experience.
Americana (firm)
Revere (med firm)
Liberty (medium)
Colonial (med soft)
Independence (soft)
Americana
With the Americana mattress – the firmest of the bunch – there are two kinds of sleeping experiences buyers are reporting.
For people looking for just a firm mattress, the Americana was often too firm for their liking.
But for those with back problems, Americana seems to be a great choice.
Even if you are just looking for a firmer mattress, this one could prove firmer than you want.
Revere
This is the most popular firm Amerisleep mattress. It is on the firmer end of the scale, but not as extreme as Americana.
The Revere sleeping experience seems to be great for back and stomach sleepers, according to other reviewers.
As you would expect, reported sinkage is minimal.
The soft cover and the top Bio-Pur foam layer help create a soft cushion to balance out the extra firmness of the mattress.
Liberty

This is the most popular Amerisleep mattress sold today.
The Liberty falls right in the sweet spot of firmness: not too hard, and not too soft.
This makes it ideal for a wide variety of sleepers and is especially great for those who cannot sleep in a single position.
The sinkage is minimal: it's deep enough to create a slight cozy 'hug' around my body contours but not so much that I can't move around at will (which I do a lot of).
The main complaint that I and other reviewers have about the Liberty is its relatively poor edge support. The Liberty does not hold up that well when you sleep or sit near the edge.
This is the same problem the Purple Mattress suffers from, if you're comparing the two.  The Liberty isn't as bad as Purple, but poor edge support can be a problem for couples and people who roll onto the edges of their bed at night (really active sleepers).
Colonial
With the Colonial, we start moving into the soft extreme of the firmness scale.
The Colonial mattress falls somewhere just behind Liberty on an increasing scale of firmness.
The combination of Bio-Pur+ memory foam and an Affinity Transition layer definitely gives this mattress more sinkage than usual.
This mattress is perfect for slim sleepers with sharp body contours and side sleepers who need more cushioning for their shoulders and hips.
You might think this mattress is too soft for most people, but honestly most people who've reviewed this mattress are pleasantly surprised by the firm support, despite the greater sinkage.
My only concern is whether this mattress is durable enough to last years without any damage.  Soft foam mattresses are notorious for short lives.
To be fair, this is a concern with all new online mattress brands. Because they have been around for just a short amount of time, we have no option but to wait and see whether their decades-long durability promises hold up.
Independence
The Independence is the softest mattress Amerisleep has to offer.
Despite what you may think, the Independence does not feel like you're stuck in mud at night. According to most reviewers, it still has a nice bounce to it. However, the sinkage on this mattress is more pronounced than the others.
The Independence is ideal for side sleepers and those who love a plush sleeping experience. Some say it is similar to those luxurious hotel mattresses that you sink into after a long trip.
Surprisingly, many reviewers claim the Independence has better edge support than the slightly firmer Colonial mattress, although not as good as most innerspring & latex mattresses.
Given its level of softness, not many people buy it.
Like the Colonial, the Independence is also a new product, which always raises the question of durability, especially for a very soft mattress. Will it sag too quickly? Will support deteriorate?
At this point, you'll just have to trust their warranty (which, at 20 years, is outstanding).
---
Firmness
I've kind of covered the different firmness levels in the section above (Sleeping Experience), but let's put some numbers on this, shall we?
If 1 represents very soft and 10 represents very firm, then…
The Americana, the firmest option, rates a 7.5 out of 10
Revere, the medium firm option, has a firmness rating of 6.5
The most popular option, the Liberty, rates a slightly softer 5.5
The Colonial is about a 4.0
The softest Amerisleep option, the Independence, rates a 3.5 out of 10
---
Sinkage
We tested the Liberty. The sinkage is minimal – noticeably less than most other memory foam mattresses I've tried. I found it easier to shift around at night.
Americana and Revere show the least sinkage when you lie on them.
Colonial and Independence have the greatest sinkage due to their softness.
Edge Support
Edge support, or how well a mattress retains its support and structure near the edges of the bed. Strong edge support keeps you from rolling out of bed, at night.
I found edge support lacking on the Liberty mattress we tested.
---
Motion Transfer
By creating a foam with better cooling and support capabilities than standard memory foam, Amerisleep has also created a sleeping surface that is excellent at inhibiting motion at the surface.
Motion transfer is essentially nonexistent on our Amerisleep mattress. Other reviewers say the same.
This is great news for couples. You can turn over all you want at night or wake up in the middle of the night without worrying that you will wake up your partner.
If you look at reviews of their other models, you'll see this is a common feature of all Amerisleep mattresses.
---
Hot/Cold Issues
This is another area where our Amerisleep Liberty earns a high rating.
The choice of plant-based foam, textured channels and using an open-cell foam has created a mattress with virtually no hot/cold issues.
With its superior airflow, our Liberty mattress stayed cool, dry and cozy. Don't worry about having to invest in additional toppers and pads to keep the heat out.
That said, a small handful of reviewers claim this mattress sleeps hot. But I didn't experience that, at all.
---
Price
Generally, Amerisleep's eco-friendly mattresses are pricier than traditional online memory foam mattresses.
But compared with store-bought eco-friendly foam mattresses, they are a steal.
Shipping and delivery are free within the 48 US states.
For shipping to AK or HI, call for a quote.
Listed below are the retail prices for their five mattresses.
NOTE: due to discounts, Amerisleep mattress prices are often $100-500 cheaper on Amazon and on their main site.
Note that their softer mattresses are far more expensive.
Americana (soft)
Revere (med soft)
Liberty (medium)
Colonial (med firm)
Independence (firm)
---
20-Year Warranty
Amerisleep provides an exceptionally generous 20-year warranty on all of their mattresses.
During the first 10 years, the company promises to replace or repair the mattress at no cost to you. this is non-transferrable and the mattress has to be properly supported and used. Material and workmanship defects are covered.
During the final 10 years of the warranty period, the mattress is covered based on a pro-rated schedule. If the mattress needs to be replaced or repaired, you will be assessed a charge against your refund with the amount depending on the number of years you have owned the mattress and its original purchase price.
As always, make sure you read their warranty before buying.
---
100-Night Trial
Amerisleep's return policy states that you have 100 nights to test the mattress and decide whether they need to return it.
The company recommends you try the mattress for a minimum of 30 nights to allow your body to adjust to it.
If you still do not like it – maybe it is too firm or too soft – then contact the company to kick start the return process.
The mattress will be picked up from your home free of charge and either recycled or given to charity.
A full refund will be provided.
If you prefer exchanging the returned mattress with a softer or firmer one, then contact the company to arrange it.
---
Pros/Cons
Pros
Plenty of options to choose from.
High quality, eco-friendly memory foams
Excellent – surprisingly good – support
Sleeps cool and dry
Cons
Selecting the right mattress can be confusing.
More expensive than other memory foam mattresses sold online
No special shipping or delivery options
A bit of off-gassing, but not bad.
---
This Mattress is Perfect For You If…
You're looking for the latest eco-friendly memory foam technology that sleeps cool and dry, with a little extra support
You need a very specific comfort level
You and your partner prefer different comfort levels (Split King option)
---
Conclusion
Although we only had the opportunity to review the Liberty, I have to say that the sleeping experience was noticeably better than Casper or other traditional memory foam mattresses.
For the money, though, I still prefer the Leesa, Dromma and Purple over Amerisleep.
That said, if you need a softer or firmer mattress than these other guys offer, then you can't go wrong buying an Amerisleep mattress.
---
Shop Online Now
How the Amerisleep Mattress Compares
See how the Amerisleep mattress compares to other top online mattresses in the following in-depth matchups.
---
Save BIG On Your Next Mattress Purchase
Join our mailing list and get my LATEST COUPONS delivered immediately!
Send Me The Coupons
---
Learn More
Compare Mattresses Side-by-Side
---
Affiliate Disclosure
Affiliate Disclosure: I may earn a small commission (at no cost to you) if you purchase a mattress after clicking a referral link or using a coupon code on this site. That said, all content and opinions on this site are my own and are NOT affected by these payments.
This site participates in the Amazon Services LLC Associates Program, an affiliate advertising program designed to provide a means for sites to earn advertising fees by advertising and linking to Amazon.com.
*Amazon and the Amazon logo are trademarks of Amazon.com, Inc, or its affiliates.
---