NOTE: We earn from qualifying purchases made via Amazon Associates and other affiliate programs. Learn more.
After you buy a mattress online, setting it up on the right type of foundation and maintaining it properly will ensure it lasts for years.
Even a budget mattress can last for more than 7 years if you take proper care of it. If you have a premium hybrid or innerspring mattress, it can easily last 15 years or more.
Here are the best tips to take of your new online mattress.
Set it Up On the Right Foundation
A mattress supports your weight but it also requires support of its own. Otherwise, it will begin to sag and will only last a couple of years before it gets too uncomfortable.
Make sure you have the right base for your mattress. Here are a few things to keep in mind when choosing a mattress foundation.
Traditional-style box springs are not commonly recommended nowadays. The springs don't provide adequate support for latex and memory foam mattresses. If you have to use a box spring, make sure it is new. Older box springs have too much 'give'.
Heavy latex foam and hybrid mattresses require a foundation with center support. Some manufacturers specify this requirement in their warranty.
Not all mattresses work well with slatted platforms. Some manufacturers, especially those that make memory foam mattresses, recommend solid foundations such as bunky boards.
Metal platforms are the best for heavy mattresses made with latex foam or innersprings. They provide sturdy support for years.
Wooden foundations work great with most types of mattresses.
Adjustable bases are also ideal for most types of mattresses. But check the mattress specifications first. Some mattresses cannot be used on a power base.
You can set up your mattress on the floor but it's not always a good idea.
Maintaining Your New Mattress
Use a Mattress Protector
Even if the manufacturer doesn't require that you use a mattress protector, go ahead and buy one. You really need it.
Your new mattress will get dirty in no time. And it's not just dust.
There is sweat, dead skin cells, pet hair if you have a pet, allergens like dust mites and pollen, bacterial (including fecal bacteria) and so much other gunk.
A waterproof mattress protector also prevents stains, mould and mildew.
A mattress protector not only protects your health as your sleep, it also ensures your mattress lasts longer without stains, mould and other kinds of damages.
Don't Wash the Cover
Yeah, you heard right. Don't wash the mattress cover…except if the manufacturer says you can.
Most online mattresses nowadays use special fabrics to make the cover more breathable, softer and better at wicking moisture.
The problem is, these fabrics cannot withstand too much heat or aggressive washing.
If you wash the cover in a washing machine, it will most likely shrink and you'll permanently damage it. A drier will do even worse damage.
That's why I highly recommend you get a mattress protector.
But if you prefer not to use a mattress protector, you should only spot clean the mattress cover using cold water and mild detergent.
But if the manufacturer says you can wash the cover, go ahead and do it regularly.
Rotate the Mattress
Many companies including Casper and Leesa recommend that you rotate their mattresses every 3-6 months.
This evens out the wear, ensuring one side doesn't sag more than the other.
Rotating the mattress is especially important for couples where one partner is significantly heavier than the other.
Note that you cannot flip most online mattresses. They are one-sided.
Be Careful with Heating Pads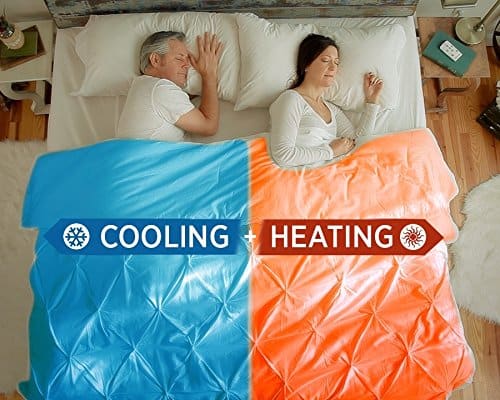 Heating pads are mostly safe for mattresses. But be extra careful if you have a memory foam mattress.
The viscoelastic foam softens when exposed to heat. Over time, it may start to permanently lose its firm supportive feel.
If you are planning to use a heating pad or system on a memory foam mattress, use the lowest setting.
It's also a good idea to pre-heat the mattress for just 30 minutes and then turn off the heat for the rest of the night.
Memory foam is good at retaining heat so you should sleep comfortable even with the heat off.
---
Affiliate Disclosure
Affiliate Disclosure: I may earn a small commission (at no cost to you) if you purchase a mattress after clicking a referral link or using a coupon code on this site. That said, all content and opinions on this site are my own and are NOT affected by these payments.
This site participates in the Amazon Services LLC Associates Program, an affiliate advertising program designed to provide a means for sites to earn advertising fees by advertising and linking to Amazon.com.
*Amazon and the Amazon logo are trademarks of Amazon.com, Inc, or its affiliates.
---