Avocado Vegan Mattress Review
Summary
The Avocado Vegan mattress is a PETA-approved, vegan-friendly, and eco-friendly hybrid mattress. It consists of organic cotton, organic latex, and pocket coils.
Great choice for: Anyone looking for a vegan-friendly and eco-friendly mattress.
Avoid if: Sleepers who prefer the deep conforming feel of memory foam mattresses. Also not ideal for those looking for a budget mattress.
NOTE: We earn from qualifying purchases made via Amazon Associates and other affiliate programs. Learn more.
---
The Avocado Green mattress is one of the best eco-friendly mattresses in the market. Apart from the base coil layer, all the materials used in the mattress are organic.
However, it is not vegan-friendly. Underneath the cover of the Avocado Green mattress is a layer of organic New Zealand wool.
The Avocado Vegan mattress replaces the animal wool with organic cotton. It has zero animal-based products.
Read on for our full review of the Avocado Vegan mattress.
To compare Avocado Vegan with other organic latex, mattresses read our reviews of the best latex mattresses sold online, including some cheaper alternatives to Avocado.
---
What's in this Mattress Review?
In this review, we breakdown the construction and design of the Avocado Vegan luxury mattress.
We also tell you how it feels, how much it costs, where you can buy it, and how it compares to the Avocado Green mattress.
Use this table of contents to skip to the features you care most about.
---
About Avocado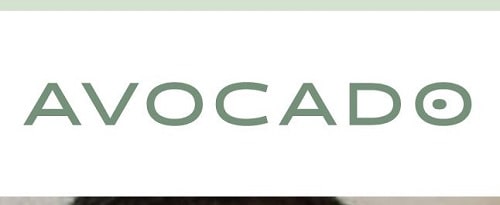 Avocado Mattress LLC was founded by Jeff and Alexandra D'Andrea, a couple that got frustrated when they couldn't find good quality and affordable eco-friendly mattress.
They started Avocado in 2016 with the flagship Avocado Green mattress. Today, they make three'green' mattresses, including the vegan mattress in this review, and an organic crib mattress.
They manufacture the mattresses in California.
---
Social & Ecological Impact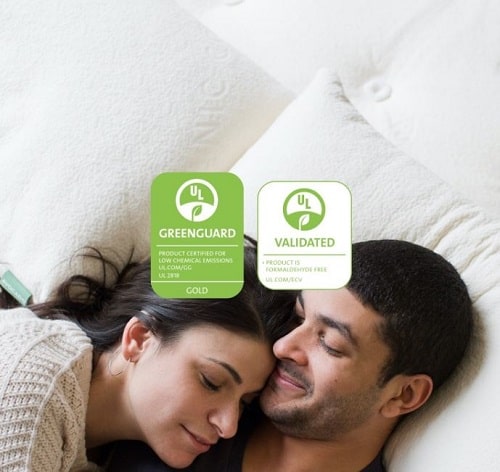 Avocado's focus on making eco-friendly mattresses is not just great for the environment; it also good for the health of their customers.
When you are sleeping on an Avocado mattress, you can be sure you are not breathing in any harmful emissions.
To prove their green credentials, Avocado has certifications from GOTS, OEKO-TEX, MADE SAFE, and GREENGUARD.
The company also partners with Carbonfree® to buy carbon offsets to make up for emissions from their manufacturing and shipping processes.
That's not all. Avocado is a member of 1% for the Planet, a group of companies that pledge to donate 1% of their revenues to environmental non-profits.
To be honest, we haven't seen any other mattress company that is as eco-conscious as Avocado. They truly seem to care about protecting the environment.
They've even published a children's book, Little Blue Planet, to inspire young readers to take care of the environment.
Additionally, Avocado is planning to become a Certified B Corporation shortly. B Corporations are companies that focus on both profits and the social, ecological, and community impact of their business.
And did we mention Avocado mattresses are manufactured in the United States? This provides high-quality jobs locally and ensures high quality and safety standards.
If you are a shopper who prefers buying from environmentally and socially responsible companies, you have a winner in Avocado.
---
Avocado Green vs. Avocado Vegan Mattress: Which One Should You Buy?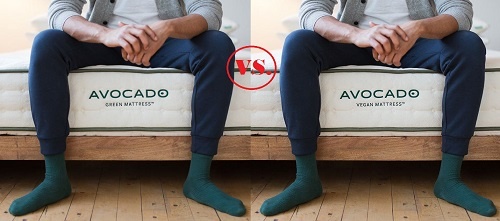 The Avocado Green and Avocado Vegan mattresses are similar in feel, comfort, and even price. The only difference is the construction and materials, and it's a very small difference.
The Avocado Green mattress contains organic wool under the cover, while the Avocado Vegan mattress contains organic cotton.
If you are vegan, the Avocado Vegan mattress is the best choice as it lacks any animal products.
If you love the softness and temperature control performance of wool, go with Avocado Green.
---
Purchase Process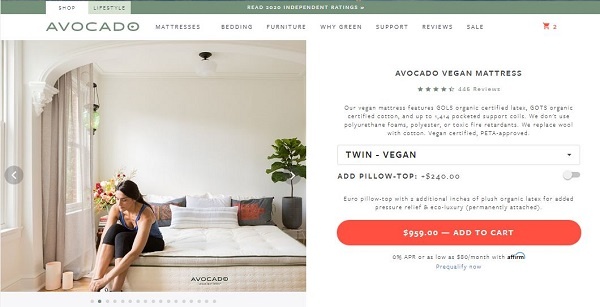 The Avocado Vegan mattress is available on the official Avocado website at avocadogreenmattress.com.
The mattress is available in only one firmness level, so you only need to choose your preferred mattress size.
There's also an option to add a pillow top to your mattress. Adding a pillow top turns the basic version of the Avocado Vegan mattress from firm to medium-firm.
Adding a pillow top costs $400 extra for a queen size.
Once you complete your order, checkout and pay with your credit card or check if you qualify for Affirm financing, the financing option is handy if you prefer breaking the payment into smaller manageable amounts.
---
Price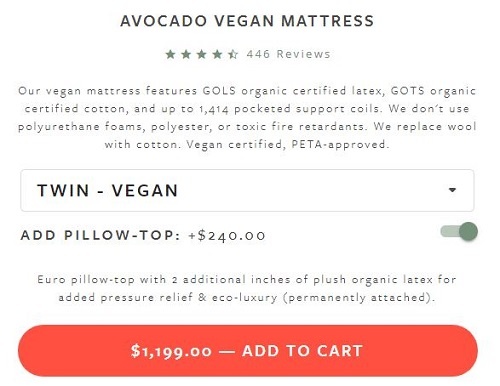 The Avocado Vegan mattress is more expensive than most latex and hybrid mattresses online (like Ecoterra). That's understandable, considering it is organic and vegan.
What makes it especially pricey is the additional cost of the pillow top.
Most people are comfortable on a medium-firm mattress. Since only the pillow top Avocado Vegan offers a medium-firm feel, you'll likely end up paying more for the mattress.
If you are a stomach sleeper, weigh more than 230lbs or prefer firm mattresses, you'll save money on the non-pillow top version.
That said, the Avocado Vegan mattress is a bargain compared to what you'd pay for an organic latex and pocket coil mattress in legacy stores. The vegan tag alone can take the price to well over $3,000.
Here's the current price list of the Avocado Vegan mattress.

| | | |
| --- | --- | --- |
| Bed Size | Standard | Pillow Top |
| Twin | $1,399 | $1,799 |
| Twin XL | $1,499 | $1,899 |
| Full | $1,699 | $2,099 |
| Queen | $1,999 | $2,499 |
| King | $2,599 | $3,199 |
| Cal King | $2,599 | $3,199 |
---
Avocado Vegan Mattress Financing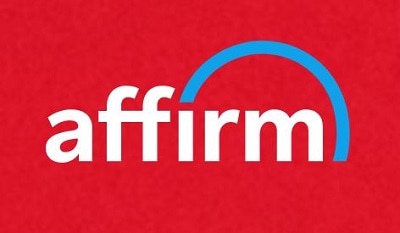 For those who'd like to split their payments, Avocado works with Affirm to offer third party financing. You'll receive the mattress immediately and then make payments over 6, 12, or 24 months.
Visit Avocado's official website to prequalify for Affirm financing.
---
1-Year Sleep Trial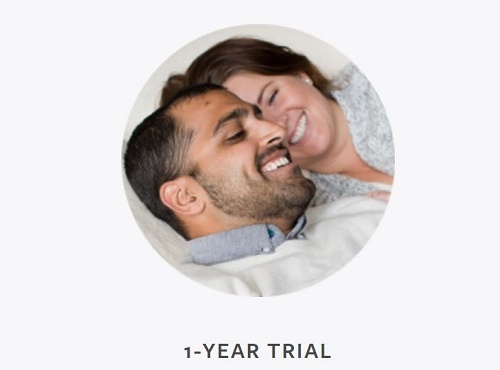 That's right; you get to test your new Avocado Vegan mattress at home for a full year.
At any time during this trial period, you can return your mattress or exchange it for another one.
Avocado does not have a mandatory break-in period, but they ask that you wait 30-60 days before initiating a return, to give your body time to acclimate to the new mattress.
But if you feel the mattress is not for you, you can return it even after just a week. Returns are free.
Read the return policy for all the Ts and Cs.
---
25-Year Warranty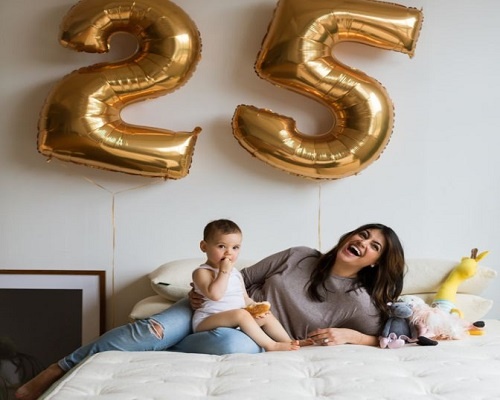 A 25-year warranty covers the Avocado Vegan mattress. The first ten years are non-prorated; the manufacturer covers all costs of repair or replacement.
From year 11 to 25, the Warranty is prorated, meaning you'll pay a percentage of the original cost to get a replacement. Read the full Warranty.
---
Shipping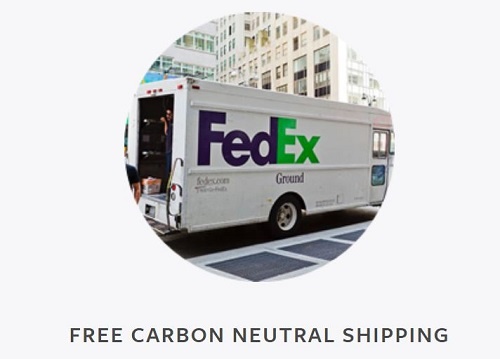 Shipping is free to all 50 states. It takes 2-7 days to ship the mattress to your home, depending on your location.
---
Delivery & Setup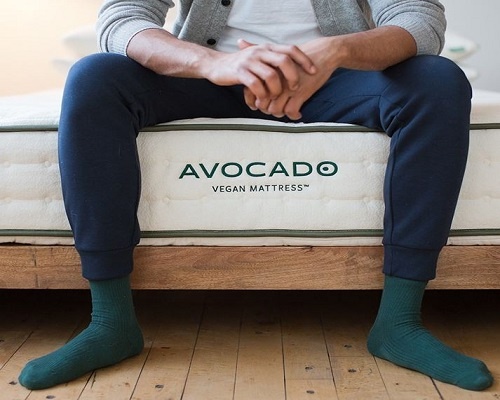 Avocado offers white glove delivery at $199. This includes in-home mattress setup and old mattress removal.
If you'd rather set up the mattress yourself, know that it's heavy. Have someone with you to help you carry it inside and roll it out on the bed. There are carrying handles on the side to help you move and rotate the mattress.
---
Foundation and Frame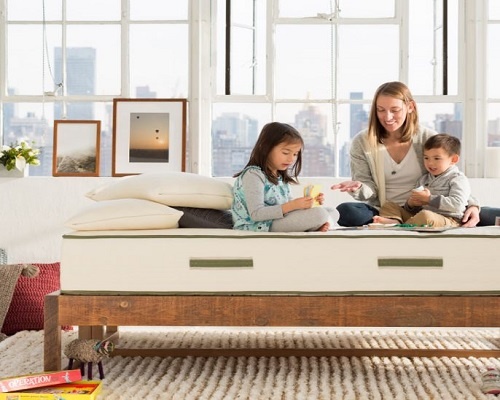 What type of bed frame/support does the Avocado Vegan Mattress require?
Because of the weight of the mattress, use a rigid non-spring foundation. A slatted foundation, metal foundation, or a platform works great.
Does Avocado Vegan work on an adjustable bed?
Yes, it does.
---
Care and Cleaning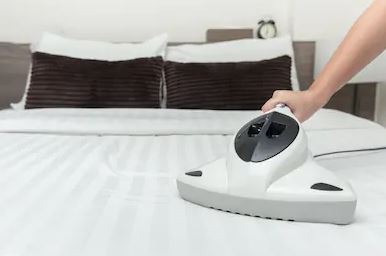 Is a mattress protector needed for Avocado Vegan?
Because you cannot remove the mattress cover for washing, a mattress protector is highly recommended. It'll keep fluids and stains from the mattress.
Do you need to rotate the Avocado Vegan mattress?
Yes, rotate the mattress every 3-6 months to even outwear. But do not flip it.
---
Aesthetics and Styling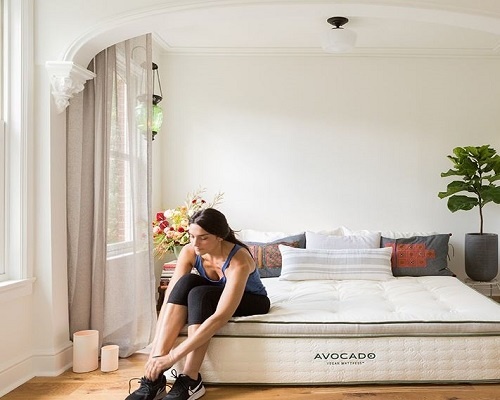 The Avocado Vegan mattress doesn't have any major distinctive features. With its plain cover, it looks like most luxury mattresses.
The pillow top version is higher, giving it a more 5-star hotel look.
One design feature that stands out a bit is the tufted surface. The hand-tufted rosettes look great and reinforce the mattress's luxurious appearance.
---
Construction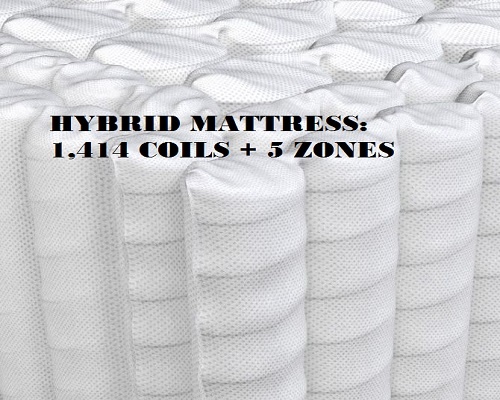 Avocado Vegan is a hybrid mattress. It consists of organic latex comfort layers and a pocket coil base. Here's the construction layout starting with the top layer.
Organic GOTS-certified cotton
2" medium-firm organic Dunlop latex(comfort layer)
1" firm organic Dunlop latex (transition layer)
8" zoned pocket coil base
If you select the pillow-top option, your mattress will come with an extra layer on top: a 2" layer of plush organic Dunlop latex. This is the pillow top.
Note that the pillow top is permanently attached to the mattress.
Both the pillow top and non-pillow top mattresses have an 8" pocket coil base. The base is zoned, meaning the coils at different sections of the base have varying give.
Five distinctive zones correspond to different sections of your body. Where you need more pressure relief, such as your shoulders, the coils have more give to ensure pressure relief.
Where you need support and alignment, such as under your back, the coils are more rigid.
To ensure the mattress lasts long without losing its shape, it is hand-tufted at 32 locations. This keeps the layers from shifting and is a much better and safer alternative to synthetic glues or water-based adhesives.
Other construction features we love include the sturdy carrying handles on the side (helpful when rotating the mattress or moving it to another room) and the durable double-stitched seams.
---
Mattress Cover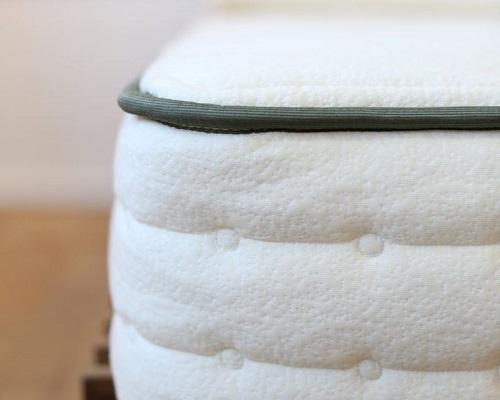 The Avocado Vegan mattress cover is made from GOTS-certified organic cotton.
Underneath the cover, the Avocado Vegan mattress uses natural hydrated silica as a fire barrier. The mattress does not contain any chemical fire retardants.
---
Smell/Off-gassing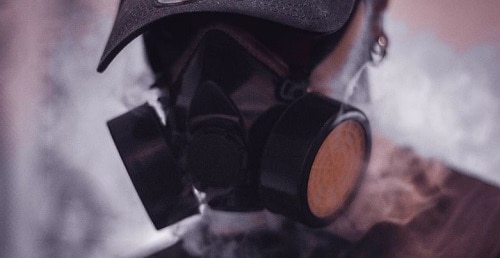 Similar to synthetic foam mattresses, the Avocado Vegan mattress also has a smell when it's new. But it's a different kind of smell.
Foam mattresses have more of a chemical smell because of the freshly manufactured foam. The Avocado Vegan mattress has a natural rubber smell and a very mild one at that.
Most people don't find it to be an issue. If it bothers you, it'll go away in a couple of nights.
---
Sleeping Experience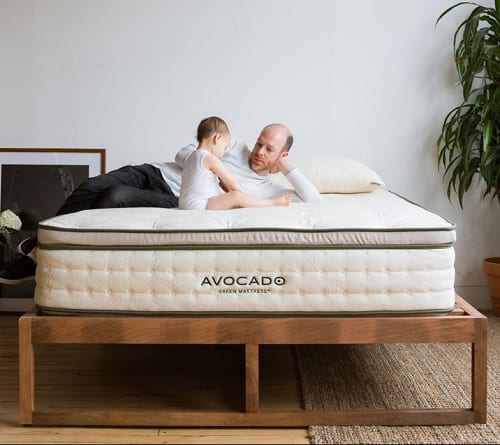 If you are coming from a memory foam mattress, sleeping on the Avocado Vegan mattress will feel quite different.
It doesn't have the deep hug of a memory foam mattress. Instead, it has more of a 'floating on the mattress' feel.
If you choose the pillow top version, it hugs your body a bit but not as much as memory foam.
This is not a bad thing. Once your body gets used to it, it'll feel comfortable. The latex comfort layers provide just the right amount of pressure relief for your shoulder and hips, while the pocket coil base provides deep compression support.
Avocado Vegan is a great choice for heavier sleepers weighing over 230lbs. The combination of latex foam and pocket coils provides better support and lumbar alignment than all-foam mattresses. And with the robust edge support, you'll be comfortable sleeping anywhere on the mattress.
Another advantage of combining latex and coils is increased responsiveness. The Avocado Vegan mattress is bouncy, making it a great choice for sex. The bounciness also makes it easier to move around on the bed, whether you are changing a sleeping position or getting up from the bed.
We do not recommend Avocado Vegan to sleepers with hip or shoulder pain. Even if you get the pillow top mattress, it's still not conforming enough to cushion sensitive and painful joints.
For shoulder and hip pain sufferers, a memory foam mattress is the best.
For back pain sufferers, the Avocado Vegan mattress, specifically the pillow top version, is a good choice. The medium-firm supportive-yet-contouring feel is exactly what doctors recommend.
---
Firmness
The firmness of the Avocado Vegan mattress depends on whether you opt for the pillow top or not.
Without the pillow top, the Avocado Vegan mattress is firm (7/10). With the pillow top, it is medium-firm (6/10).
We should note that this applies only to average weight sleepers between 130lbs and 230lbs. If you are heavier, both mattresses will feel slightly softer, and if you are lighter, they'll feel slightly firmer.
In fact, for side and back sleepers weighing less than 130lbs, we don't think Avocado Vegan is a good choice. You'll not get the right amount of pressure relief, which can lead to back and joint pain.
For back sleepers, heavier side sleepers, combo sleepers, and couples, we recommend the Avocado Vegan mattress with a pillow top.
For stomach sleepers and heavier back sleepers, we recommend the non-pillow top Avocado Vegan mattress.
---
Sinkage
The non-pillow top Avocado Vegan mattress has minimal sinkage thanks to its firmer construction.
The pillow top version has more sinkage. The soft pillow top layer has more give, which provides better body contouring and pressure relief.
For both mattresses, sinkage at the edges is not too different from sinkage at the center of the mattress. That's because the Avocado Vegan mattress has excellent edge support thanks to the thick coil base, and the latex layers (latex holds up better to pressure than memory foam).
If you sleep near the edge of the mattress, you'll not feel like you are about to roll off the bed.
---
Motion Transfer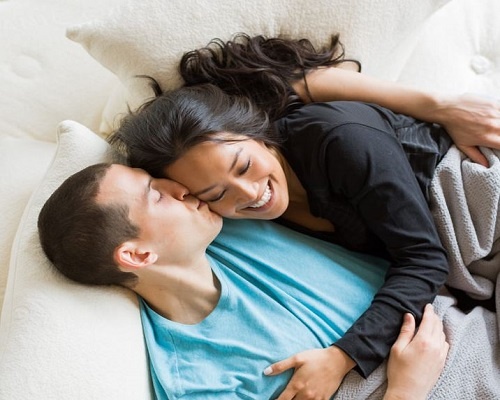 Motion transfer is more noticeable in the Avocado Vegan mattress than in foam mattresses.
The combination of responsive latex and pocket coils allows some movement to travel across the mattress. While the pocket coil design dampens some of the motion, you may still feel it when your partner tosses or gets up from the bed.
---
Hot/Cold Issues
The Avocado Vegan mattress scores highly when it comes to temperature control. It doesn't contain any memory foam or polyfoam to trap heat.
Organic latex is naturally cool, and the pocket coils provide excellent ventilation that carries excess heat out of the mattress. The cotton cover and cotton batting also help with heat absorption and sweat-wicking.
---
Pros and Cons
Pros
Vegan and eco-friendly.
An environmentally and socially responsible manufacturer.
Great support, even for heavier sleepers.
Two firmness options.
A great choice for hot sleepers.
Cons
Pricey compared to other hybrid mattresses.
Not ideal for sleepers with shoulder or hip pain.
Very heavy – it's tedious to rotate or move.
---
This Mattress is Perfect for You If…
You are looking for a high-quality vegan mattress.
You prefer buying organic or eco-friendly products.
You are looking for an extra-firm mattress.
You love bouncy mattresses.
You sleep hot.
---
Conclusion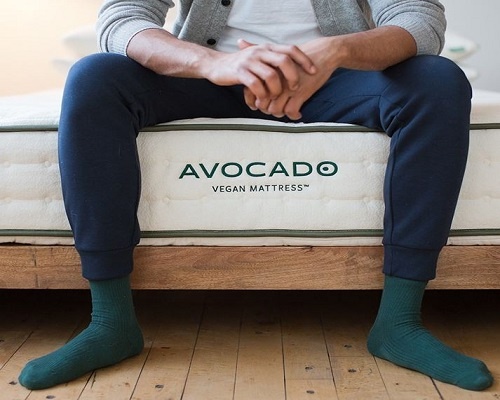 For vegans, finding the right mattress can be difficult. Avocado Vegan delivers not only a vegan-friendly mattress but also an environmentally friendly one…at half the price of mattresses from big brands.
---
Affiliate Disclosure
Affiliate Disclosure: I may earn a small commission (at no cost to you) if you purchase a mattress after clicking a referral link or using a coupon code on this site. That said, all content and opinions on this site are my own and are NOT affected by these payments.
This site participates in the Amazon Services LLC Associates Program, an affiliate advertising program designed to provide a means for sites to earn advertising fees by advertising and linking to Amazon.com.
*Amazon and the Amazon logo are trademarks of Amazon.com, Inc, or its affiliates.
---