Last Updated on
Affiliate Disclosure: I may earn a small commission (at no cost to you) if you purchase a mattress after clicking a referral link or using a coupon code on this site. That said, all content and opinions on this site are my own and are NOT affected by these payments.
Purple is a unique mattress that uses a special material and design to deliver a customized sleeping experience.
Puffy is a budget 3-layer gel-infused memory foam mattress with an industry-leading lifetime warranty.
So how do these two rockstar beds compare? Which one should you buy?
In this comparison, I'll cover how these two mattresses differ in half a dozen ways – so you can make your own decision.
---
What's In This Mattress Comparison
This is an in-depth comparison between the Purple Original mattress and the Puffy original memory foam mattress (not the Puffy Lux).
NOTE: Use the table of contents on the right to jump to a specific section that you want to learn more about.
The Purple original mattress is one of two Purple makes. The other is a hybrid foam + inner coils mattress that is available with a 2", 3" or 4" comfort layer (see my Purple 2-3-4 mattress review to learn more about that one.)
The Puffy original mattress is one of two mattresses made by Puffy. The other, the Lux, is 2" thicker than the original (read my in-depth review of Puffy Lux).
We'll be comparing these in terms of construction, price and sleeping experience.
If neither mattress feels perfect for your needs, then see my top picks of other top-rated foam mattresses.
Purple vs. Puffy: Which One Should You Buy?
Here is a summary of each mattress.
I rated Purple a 4.7/5.
Buy the Purple if:
You or your partner move around at night
You are open to their unique firm+soft feel (that we love)
You don't mind spending a little more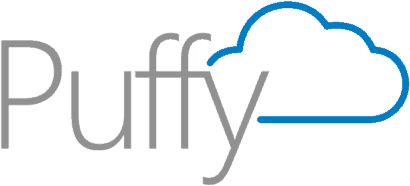 I rated Puffy a 4.8/5.
Buy the Puffy if:
You love the softer feel of memory foam.
You are a side or back sleeper.
You want a mattress that will last a long time.
---
How do Purple and Puffy Compare?
Similarities
While they are constructed differently, the 9.5" Purple and the 10" Puffy are both technically foam mattresses, as they don't use any coils or springs.
Pricing for these two mattresses is similar. They are both excellent choices if you are looking for a great quality, budget-friendly mattress.
If you'd rather not pay the whole amount at once, both Puffy and Purple also offer third-party financing options.
For both mattresses, shipping is free to mainland US but costs extra for delivery to Hawaii and Alaska.
Neither company provides white glove delivery.
Key Differences
The two mattresses differ when it comes to their construction and sleeping experience/feel.
Purple is a 3-layer mattress with a single layer at the top that provides customized support and pressure relief based on your weight and sleeping position. The Purple mattress feels like a cross between a latex foam and memory foam mattress. It conforms easily around your body like a memory foam mattress but has the responsiveness of a latex mattress.  A bit firmer and a bit more supportive than Puffy.
Puffy, uses 3 foam layers, but the top layer is a gel-infused memory foam and the middle layer uses a climate-stabilized support foam that will not change shape as the temperature changes.  This mattress delivers a classic memory foam feel that is softer, has a deeper hug and doesn't feel as bouncy as the Purple.
Both mattresses are technically rated as medium firm, but in the real world the Purple is slightly firmer for most people.
Another big difference between the two mattresses is in their terms of sale.
Purple offers the standard combo of a 100-night trial period and a 10-year warranty.
Puffy also offers a conventional 101-night trial period but really stands out with a lifetime warranty.
Finally, Puffy is the superior value here – you'll save $100+ vs. a Purple.
Price
Financing Options
You can get Affirm financing on your Purple mattress, while Puffy works with Klarna to provide 0% interest 12-month financing.
Coupons
Right now, Puffy is offering a $300 discount on all of their mattresses (click this link to claim).
Specifications
| Mattress | Purple | Puffy |
| --- | --- | --- |
| Rating | 4.7 | 4.8 |
| Price | $649-$1,498 | $545-$1100 |
| Comfort Choices | Soft+Firm Combination | Medium firm |
| Construction | Hyper-Elastic Polymer top + polyester foam base | Gel-infused memory foam + High-density foam |
| Heat Transfer | Excellent | Low |
| Motion Transfer | Low | High |
| Sinkage | Moderate | Moderate |
| Off-Gassing? | Yes | Yes |
| Trial Period | 100 nights | 101 nights |
| Warranty | 10 years | Lifetime |
| Eco-friendliness | CertiPUR-US certified foam | CertiPUR-US foam |
| Delivery | 7-14 days | 4-5 days |
| Customer Service | Excellent | Excellent |
| | | |
---
Mattress Construction
Purple Construction
Purple is one of the most unique online mattresses selling today.
What makes the Purple mattress so unique is the top layer which uses the company's proprietary Smart Comfort Grid to deliver a customized sleep experience.
Here's how it works:
The top layer is made from a special material called Hyper-Elastic Polymer.
It lasts longer than other types of foams. It also sleeps cooler than memory foam and is as responsive as latex foam.
The topmost comfort layer uses flexible-walled polymer grids all over its surface. When you lie on the mattress, you sleep directly on these grids. The grid walls can either collapse or stay upright depending on the amount of pressure on them.
For example, the grids under your hips will collapse because of the increased pressure, while on your flat core and lower body they will remain upright.
In this way, you get extra support and pressure relief exactly where you need it most, regardless of your body weight and sleeping position.
Below the Hyper-Elastic Polymer are two polyurethane foam layers with varying density that provide extra support, cooling, and deep contouring.
The three layers are wrapped in a soft, stretchy and breathable cover made from a blend of polyester, viscose, and lycra.
Puffy Construction
Puffy's construction is much simpler. It only uses two foam layers.
On top is a 2" layer of gel-infused memory foam ("Cooling Cloud") that provides instant relief, weight distribution, and deep contouring. The gel helps dissipate excess body heat away from the mattress.
The support layer is made of 2″ of Puffy's ClimateComfort foam. This unique foam has high pressure-relieving capabilities and does not change in shape or function in hot or cold temperatures – and issue that other types of foam suffer from.
Below that is a 6" base layer made from high-density poly foam ("Firm Core") that provides deep compression support to keep the mattress from sagging.
The Firm Core layer uses high-quality foam that ensures the mattress lasts for years. To guarantee its durability, Puffy offers a lifetime warranty.
The stain-resistant cover is made of 100% polyester that is Oeko-Tex® Standard 100 Certified. It is not as soft or as stretchy as the Purple mattress cover, but it's still comfortable and breathable.
To know more, check out our in-depth Puffy mattress review.
---
Comfort and Firmness
While both are generally medium-firm mattresses, Purple is more adaptable and fits more people.
Depending on your weight and sleeping position, it ranges between medium soft to medium firm.
Purple Comfort Level
Most Purple users of average weight describe the mattress as fairly firm – around 6-7 out of 10 on a scale of increasing firmness.
If you weigh a bit more than average, the mattress will feel softer because of the way the Smart Comfort Grid responds. It will feel even softer if you weigh more and are a side sleeper.
If you are on the lighter end of the scale, the mattress feels firmer especially if you sleep on your back or stomach.
Puffy Comfort Level
Without even checking the mattress specifications you'll know it is a memory foam mattress the moment you sleep on it.
It has that classic plush feel you get from most memory foam mattresses.
I'd rate its firmness at 5 to 6 out of 10.
For average users, it feels softer than Purple and has more pressure relief. I recommend it if you sleep on your side or have a back problem.
---
Sleeping Experience
Purple
Your Purple sleeping experience will depend on your preferred sleeping position and weight.
If you are heavier, the mattress will feel softer and more conforming. If you are light, it will feel firm and more rigid.
At first, the mattress feels too firm for many people. But give it a few days, and it will start to adapt to your comfort needs.
One area where the mattress does really well is cooling. There are three reasons why:
The lack of memory foam. Hyper-Elastic Polymer doesn't retain heat like memory foam, meaning the mattress sleeps cool.
The Smart Comfort Grid. The grids improve ventilation, which makes it easier for excess heat and perspiration to dissipate away from the mattress.
The breathable cover. It boosts airflow and wicks away excess sweat.
In addition to cooling, the Smart Comfort Grid also minimizes motion transfer. If you sleep with a fidgety partner, their movements will not wake you up at night.
Puffy
Puffy quickly conforms to your body when you sleep, ensuring you don't feel pressure anywhere.
The instant pressure relief from the top memory foam layer feels really good, especially after a long day. With the Purple mattress, you have to wait several minutes before the mattress contours around your body.
Another great thing about Purple is the lack of any motion transfer. If your partner can't keep still at night, the Puffy mattress allows you to sleep like a baby.
But a memory foam mattress has its downsides too.
For one, the low responsiveness makes movements such as turning or getting out of bed more difficult.
It also makes sex less pleasant. That's why I recommend the Purple mattress for couples. It feels bouncier.
Another issue with memory foam is heating. Puffy has done well to use cooling gel. But it still doesn't get to the cooling level of the Purple mattress.
If you are heat sensitive or live in a hot area, Purple sleeps cooler. The Purple cover is also better at cooling and moisture wicking.
---
Warranty and Returns
Purple Warranty and Returns
As far as online mattresses go, Purple sticks to conventional terms of sale.
When you receive the mattress, you have 100 nights to test it out at home.
I recommend – and the company does too – that you sleep on it for at least 30 nights before making a final decision on whether to return it.
This gives the mattress time to settle and adapt to your body and preferred sleeping position.
If you decide to keep it, the warranty is a standard ten years.
Puffy Warranty and Returns
Puffy's trial period is also pretty standard – 101 nights from the date of delivery.
If you don't like the mattress, they will arrange for it to be taken to a charity or recycling center.
If you love the mattress and decide to keep it, the warranty goes far beyond the standard ten years – it lasts forever.
For as long as you own the mattress, Puffy guarantees that they will cover any material or manufacturing defects that crop up as long as you've been using the mattress properly.
---
Shipping and Delivery
Purple Shipping & Delivery

Purple ships free of charge but only to the continental US. Alaska and Hawaii customers pay extra.
The mattress is delivered in an easy-to-handle vinyl tube. The company offers no white glove delivery, but it's easy to set up the mattress yourself.
Puffy Shipping and Delivery
Puffy also offers free shipping only to the 48 states in Mainland US. You pay for freight if you are buying from Alaska or Hawaii.
Similar to Purple, Puffy offers no white glove delivery. But it takes no more than half an hour to get the compact box the mattress comes in inside and unroll the mattress.
---
Foundation and Frame
Purple Foundation Requirement

You can use the Purple mattress on any flat and sturdy foundation.
If you opt for a box spring, Purple asks that you place a flat piece of plywood on it to increase mattress support.
Puffy Foundation Requirements
Puffy can be placed on any sturdy foundation including a slatted base, box spring or adjustable base.
You can also put it directly on the floor but make sure there is no danger of water damage.
---
Care and Cleaning
Purple Care & Cleaning
The Purple mattress cover has a zipper which means you can remove it. But please do not wash it, as it will shrink permanently and ruin the cover.
If there is a stain, spot clean it with cold water and a mild detergent.
Purple recommends using a mattress protector to avoid stains and damage to the mattress.
Puffy Care and Cleaning
The Puffy mattress is 100% polyester. So you can safely unzip it and throw it in the washer.
But you should still be careful – wash and dry it at a low temperature.
---
Where to Get The Best Deal
More Purple Mattress Comparisons:
---
Save BIG On Your Next Mattress Purchase
Join our mailing list and get my LATEST COUPONS delivered immediately!
Send Me The Coupons
---
Learn More
Compare Mattresses Side-by-Side
---
Affiliate Disclosure
Affiliate Disclosure: I may earn a small commission (at no cost to you) if you purchase a mattress after clicking a referral link or using a coupon code on this site. That said, all content and opinions on this site are my own and are NOT affected by these payments.
This site participates in the Amazon Services LLC Associates Program, an affiliate advertising program designed to provide a means for sites to earn advertising fees by advertising and linking to Amazon.com.
*Amazon and the Amazon logo are trademarks of Amazon.com, Inc, or its affiliates.
---