NOTE: We earn from qualifying purchases made via Amazon Associates and other affiliate programs. Learn more.
Shopping for Satin Sheets?
You've come to the right place.
The simplest, easiest, and quickest bedroom makeover starts with switching your bedsheets. If you're bored with the traditional options that fill every shop's bedsheet section, it might be time to replace your bedsheets with something unique, something more luxurious.
We personally believe that the lustrous appearance of satin sheets instantly revamps the look of any bedroom, taking it from boring to luxurious and chic in no time.
Sure, they tend to cost a bit more than regular cotton or winter sheets, but if you want to experience a luxury treat, satin sheets are definitely worth the splurge. Besides, satin sheets are also great for people who want to tame their unruly hair and frizz, so we'd say they are certainly worth the price they bear.
What's In This Buying Guide
This buying guide is all about the best satin sheets. You will find many satin sheet options in different fabrics, but nothing beats the softness and luxuriousness of a silk satin sheet.
We list the best satin silk sheets currently available in the market. Then we review each product in detail and list its pros, cons, and features.
We also explain the advantages and disadvantages of satin sheets and explain why you should buy one.
Then we go over all the critical features that make a set of silk sheets the best.
Finally, the FAQ section answers any queries you may have.
---
The Best Satin Sheets
Disclaimer: All links below go to Amazon.com
Award
Material
Includes
Sizes
Colors
Momme Weight/Thread Count
Pocket Depth
Danjor Linens Bed Sheets Set


Best Overall
Double-brushed microfiber
4 pillowcases
1 fitted sheet
1 flat sheet
5
5
1800 thread count
16 inches
Pure Bedding Store


Runner-Up
100% Microfiber
2 pillowcases
1 fitted sheet
1 flat sheet

5
15
1800 thread count
15 inches
Royal Opulence Divatex Home Fashions


Pocket-Friendly
100% Microfiber
2 pillowcases
1 fitted sheet
1 flat sheet

5
9
Not Specified
17 inches
THXSILK Silk


Best Mulberry Silk Satin Sheets
Natural Mulberry Silk
2 pillowcases
1 fitted sheet
1 flat sheet

4
10
19 Momme/400 thread count
16 inches
Honeymoon Luxury


Best Deep Pocketed Satin Sheets
Microfiber
2 pillowcases
1 fitted sheet
1 flat sheet

3
3
Not Specified
16 inches
---
This satin sheet set from Danjor Linens brings the style and opulence of a luxury hotel suite to your bedroom. This 6-piece bed sheet set comes with four pillowcases, one fitted sheet, and one flat sheet.
The Danjor Linens set is made using double-brushed microfiber material, making it incredibly soft and comfortable. You can purchase it in 5 luxurious colors and 5 sizes.
Pros
Deep pockets fit mattresses up to 16 inches high
Suitable for year-round use
Machine-washable
Wrinkle-resistant
Anti-pilling
Cons
Colors in the picture differ from the actual pictures
Our Review
The Danjor Linens Bed Sheets Set is an elegant and luxurious product. The sheets are made using double-brushed microfiber with an 1800 thread count, making them incredibly soft and comfortable. They are also very breathable, making them suitable for year-round usage.
This bed sheet set comes in five neutral shades that look both royal and luxurious. It is a complete 6-piece set with 4 pillowcases, a fitted sheet, and a flat sheet. The fitted sheet has a deep pocket that easily encases mattresses as high as 16 inches.
The material is wrinkle-free, pilling resistant, and stainproof. It is easy to clean and maintain, and you can even wash it in a washing machine without having to worry about it getting damaged. In fact, even tumble drying won't reduce its softness.
---
The Pure Bedding Store Satin Sheets come as a 4-piece set complete with a fitted sheet, top sheet, and two pillowcases. The material is 100% microfiber with an 1800 thread count, making it extremely soft and durable. Plus, it comes in 5 sizes and 15 solid colors to choose from.
Pros
Very soft and comfortable
Available in various colors
Lasting workmanship
No questions asked return policy
Stain- and shrink-resistant
Cons
Pillows keep sliding around
Our Review
This microfiber satin sheet set is one of the silkiest options available on the market. It comes as a complete set in 5 sizes. The fitted sheet has a pocket deep enough to cover a 15-inch-high mattress. Plus, you can browse from the 15 beautiful colors to find one that suits your style.
The Pure Bedding sheets are designed durably enough to withstand machine washing. You can wash it in cold water on a gentle cycle and tumble dry it on low.
The best thing about this Pure Bedding sheet set is that it comes with a Lifetime Promise. So, if you are dissatisfied, you can return the set at any time.
---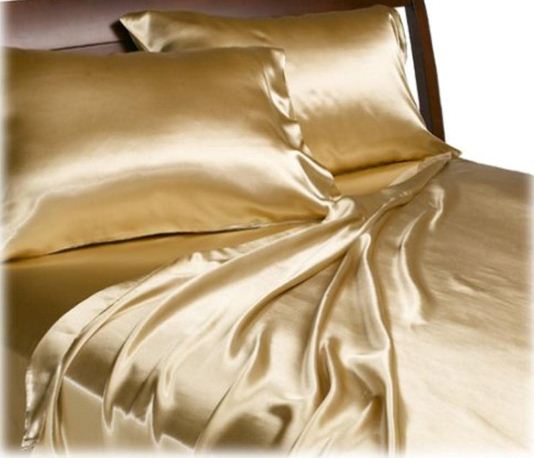 If you want a change from cotton sateen sheets, this microfiber satin sheet set from Royal Opulence Divatex Home Fashions will grab your attention.
This 4-piece set comes with two pillowcases, a flat sheet, and a fitted sheet. You can choose from 5 sizes and 9 colors. And the beauty of this set is that it does not fade or lose its softness even after using it for a while.
Pros
Affordable
100% microfiber
Suitable for mattresses up to 17 inches high
Available in multiple colors
Soft and silky
Cons
Not as breathable as natural silk
Fabric can snag
Our Review
We really like the Royal Opulence Divatex Home Fashions Satin Sheet Set because of its durability and silkiness. It features 100% microfiber construction that makes it extraordinarily silky yet durable.
It comes with an elasticated fitted sheet that easily covers even the highest mattresses. A flat sheet and two pillowcases are also included to complete the set.
You can find this Royal Opulence sheet set in all standard sizes, including twin, full, queen, king, and California King. There is also a vast range of colors to choose from. Whether you want a royal color or a neutral one, this sheet is available in all shades.
---
If you want a genuine silk sheet set, this Mulberry silk option from THXSILK will grab your attention. It features natural Mulberry silk construction with a 19 Momme weight.
The 400 thread count seems a bit low, but trust us when we say that these sheets are incredibly soft and luxurious. Yes, they entail a higher price tag, but the quality and comfort are worth it.
Pros
Natural silk construction
19 Momme weight
Amazing color choices
Extremely moisture wicking
Great for the skin and hair
Cons
Expensive
Some users find them slippery
Our Review
The THXSILK Silk Sheet Set is exceptionally luxurious and comfortable. It features 100% natural Mulberry silk construction, making it extremely soft and breathable. You can tell that it is of high quality, with its 400 thread count and 19 momme weight.
Although the manufacturer recommends hand-washing, it is durable enough to withstand machine wash and tumble dry on low settings.
The fabric is naturally stain-resistant and comes with an OEKO-TEX Standard 100. These THXSILK satin sheets come in 4 standard sizes and pretty hues that can entice anyone.
---
5. Best Deep Pocketed Satin Sheets: Honeymoon Luxury
The Honeymoon Luxury Satin Bed Sheet Set is another affordable option. It features 100% microfiber fabric with high tensile strength and wrinkle-resistant properties. You can find it in 3 standard sizes and 3 color options in festive hues.
The fabric is ultra-soft yet durable enough for machine washing. Plus, the fitted sheet has a deep pocket suitable for mattresses up to 16 inches high.
Pros
Fade-resistant
Machine washable
Breathable and cool to touch
Affordable
Cons
3 sizes only
Not many color options
Our Review
If you think that the Honeymoon Luxury Satin Bed Sheet Set's microfiber construction makes it any less luxurious, you can't be any wrong.
It boasts an extremely silky, soft, and luxurious feel that makes it difficult to get out of bed. The fabric is cool to touch and breathable enough to keep a hot sleeper cool and comfortable.
This Honeymoon satin sheet is quite durable and long-lasting. The ultra-soft fitted sheet has a deep pocket that can fit mattresses up to 16 inches high. You can purchase it in 3 standard sizes. Plus, the color choices of red, black, and white are quite luxurious.
---
What Are the Advantages of Using Satin Bed Sheets?
There are only a few things as luxurious as satin bedding. The material's sumptuous and soft feel enhances its elegant shine and classic beauty.
The best satin sheets not only bring true luxury to your bedroom but also facilitate your rest and comfort.
Here are some advantages of using satin bed sheets:
Affordable
While natural silk is definitely expensive, manufacturers now use satin weave on other materials like nylon and polyester to produce the same effect. Doing so considerably lowers the price of satin, making it nearly as affordable as a cotton sheet set.
Today, you can find many high-quality yet affordable satin bedsheets. While they may not be pure silk, they deliver the same level of comfort and luxuriousness, that too, for a fraction of the cost.
Great For Hair and Skin
While they do feel incredibly soft and comfortable, satin bedsheets are also very beneficial for your hair and skin.
You can cut down on expensive hair products by simply switching your pillowcase with a silken one. It will prevent your hair from becoming matted and also reduce the frizziness and bed head that traditional pillow covers are known for.
These are great for moisture retention and don't absorb the moisture from your hair and skin throughout the night. They reduce the brittleness of hair that happens because of low moisture content.
As for the skin, satin bedsheets actually help fight the signs of aging. A cotton sheet can quickly convert that simple crease on your face into a deep wrinkle on the skin's surface.
Satin sheets not only prevent wrinkles from forming but also don't allow for creases to develop on your skin. You wake up to a smooth face and skin that you desire.
Wick Away Moisture
Another advantage of satin sheets is their ability to wick moisture. This is good for people who sleep hot because while cotton sheets become wet and sticky due to excessive sweat, satin sheets actually help keep sweat at bay by keeping you cool and comfortable.
Silk satin refreshes the skin without sticking to overly warm or damp skin. Instead, these sheets glide over and provide the right amount of coverage without warming you up.
Durable and Soft
Satin weave is very soft yet highly durable. It has more warp yarns on top of the weft yarns, making the material both shiny and durable.
Where pure silk is quite delicate, satin sheets made from fabrics like polyester are very sturdy. They are harder to tear or scratch and remain new-like even after years of use. Unlike cotton sheets, they don't fade or shrink.
And instead of the thread count, satin sheets are measured by the momme weight—the higher the momme weight, the durable the sheet.
As for the comfort, sleeping on a regular cotton bedsheet set feels like an offense to your skin once you sleep on your first satin sheet.
The experience of sleeping on satin bedding takes your comfort to the next level – one that ordinary, run-of-the-mill cotton sheets and even the best bamboo ones can never achieve.
Even those with a high thread count diminish compared to the opulence and luxury of satin sheets.
Look and feel
Dressing your bed in satin sheets is an economical way of maximizing your room's peaceful atmosphere and comfort potential. The lustrous appearance can add a touch of royalty to any regular bedroom, while the soft and silky fabric is pleasing on your skin.
Satin sheets deliver a unique tactile sensation that is both comfortable and appealing. They are the go-to for couples looking to spice things up in bed. Whether new or married for years, any couple can rejuvenate their nights with the best satin sheets.
Comfort levels
Have trouble falling asleep?
Try sleeping on a set of satin bedsheets.
Nothing is more comfortable than a set of the best satin bedsheets. After a long, tiring day, the cool caress of satin sheets is pure delight. They don't merely look pretty, but they also ensure that you get better rest too.
The comfort of satin sheets allows you to drift off to sleep in no time. Satin sheets also help you stay cool with their moisture-wicking ability.
Plus, satin sheets don't irritate the skin like rough cotton sheets. All in all, the comfort levels of satin sheets are completely unbeatable.
---
What Are the Disadvantages of Satin Bed Sheets?
The advantages of satin sheets are indeed undeniable and impossible to ignore; however, that does not mean there are no limitations to their usage.
Some disadvantages of satin bed sheets include:
Poor Sun Tolerance
Satin is a delicate and gentle fabric. That's why you have to be particular about maintaining your silky satin sheets, especially those made of pure Mulberry silk. You cannot use Mulberry satin sheets in a sunny room as hot sun rays strongly affect the fabric's integrity.
Plus, you should never dry silk sheets in direct sunlight after washing as it significantly weakens them, leading to tearing.
Can Cause Allergies
Although natural satin silk is one of the healthiest materials, satin made out of synthetic materials like polyester and nylon is not for everyone.
People with skin conditions and sensitive skin experience irritation after coming in contact with synthetic satin sheets. It may not hold true for natural silk, though it is quite expensive to purchase in the first place.
Slippery Feel
Satin sheets are well known for their silky and slippery feel. However, not every sleeper appreciates slipping and sliding across their bed. Plus, the slippery fabric is somewhat difficult to keep on, especially without sheet straps.
Extra Care and Maintenance
With the use of inexpensive materials like polyester and nylon for manufacturing satin, the price of satin sheets has considerably lowered.
However, being easier to get does not mean they are easier to keep, too. Their cleaning and maintenance are tough and can take their toll if neglected.
You should wash these sheets at a particular temperature. In fact, some require handwashing and the use of special detergents. Drying them is also a bit difficult as you cannot expose some materials to the sun.
---
Who Should Buy a Satin Bedsheet?
Whether natural or synthetic, a satin pillow boasts tons of advantages that many people can benefit from.
You should buy a satin bedsheet if you:
Have trouble falling asleep
Many people suffer from sleeplessness, whether it is due to mental stress or physical conditions like heat or fatigue.
Satin is very soft and soothing. The calming effect and breathability help you combat the reason for your sleeplessness, allowing you to enjoy a deep, restful slumber.
Have respiratory problems
Satin sheets are a must-have for anyone who suffers from asthma, allergies, and other respiratory issues. Because of their smoother texture and moisture relinquishment, these sheets attract fewer allergens like dust mites, fibers, pet dander, and other allergic particles.
Sleeping on satin, and especially resting your head on a satin pillowcase, means breathing in cleaner air because of their hypoallergenic properties.
Sleep hot
If you sweat profusely while sleeping, you should definitely look into getting a set of high-quality satin sheets. With their moisture-wicking tendency and breathable design, these sheets will keep you cool and comfortable without sticking to your body or coming off.
Have eczema
Eczema is a skin condition where the skin becomes dry, itchy, and very red. In severe cases, infections and wounds develop, causing the skin to become bumpy.
Satin sheets are great for eczema sufferers because the smooth surface and hypoallergenic construction help soothe their irritated skin. The moisture-wicking ability also helps calm the itchiness and helps them sleep better.
---
How Are Satin Sheets Different From Regular Sheets?
Your bedsheets directly impact your sleep quality. Where regular sheets like cotton are highly durable and come in various prints, satin sheets have a silky feel that is comfortable and slippery against your skin.
If you are still on the fence about purchasing quality satin sheets, knowing how satin sheets differ from regular sheets can really put things into perspective.
Comfort
There is a huge difference in the comfort level of satin and regular sheets.
Where cotton sheets are heavier and moisture-retaining, satin sheets have a smooth texture and moisture-wicking ability, making them softer and more comfortable.
Satin sheets also don't have a break-in period as they are smooth as soon as you put them on. New cotton sheets are coarser and take a little more effort to break in. However, they tend to get cozier after every wash.
Texture
Like we already mentioned, regular cotton sheets are coarser and heavier, whereas satin sheets have a silky texture that is cool and pleasing to touch.
While cotton sheets absorb moisture, satin sheets help disperse it, allowing you to feel cool and comfortable.
Breathability
Have you ever woken up feeling hot with a twisty mess of bedsheets tangled around your body?
Cotton sheets tend to do that because the moisture retention makes them stick to your body. Satin sheets are more breathable, disperse sweat, and glide over your body without sticking or tangling.
Price
Gone are the times when silky satin sheets were exclusive to royalty or lavish hotel suites. The use of man-made fibers in their production has brought satin bedsheets within everybody's budget.
Yes, natural silk satin sheets are expensive, but you can find relatively affordable satin sheets that promise the same experience at the same price as any standard bedsheet set.
---
How to Select The Best Satin Bed Sheets
These days, you can buy satin sheets in various colors, prints, and sizes. So, finding a set according to your taste and preferences is pretty easy.
However, the wide variety also means you have to carefully narrow down your selection to find the right ones.
Some features to keep in mind when buying the best satin bed sheets include:
Momme weight
If it's your first time buying satin bed sheets, know that their quality is not measured in thread count. Instead, it is measured in momme weight.
The momme weight is the weight measurement of a 100-yard-long and 45-inch-wide satin fabric. The higher the number, the more durable the sheets.
Satin bedsheet with a momme weight of 6 to 9 is not very durable, but a momme weight of 12 to 19 is more desirable.
Fiber Content
Fiber content, also known as thread count, is the measure of the number of threads woven into one square inch of fabric.
Since satin weave has more warp yarns on top of the weft yarns and the fiber itself is very fine, this measurement is rarely used to report sheet quality.
But, for quality assurance, you should still go for a material with at least a 400 thread count.
Size
Satin sheets usually come as a set of fitted sheets, a top sheet, and two pillow covers. If you purchase one that is too big, it'll be loose on your bed and keep sliding or bunching up. Too small, and it won't fit the mattress.
So it's best that you measure the dimensions of your mattress beforehand, so you can easily choose the right size.
Wash Instructions
Satin bed sheets are luxurious, and knowing how to care for them helps keep their softness and sheen. The best way to do so is to stick with the manufacturer's suggested wash instructions.
Now, some satin sheets should be strictly hand-washed. Washing them in a washing machine can damage delicate fabrics. Others are safe to wash in a washing machine; however, you should wash them on a gentle cycle at a cool temperature.
The same holds for drying. Mulberry silk bed sheets are vulnerable to sun exposure. Drying them in harsh sunlight also damages the fabric.
When comparing different satin sheets, be sure to keep an eye on their washing instructions. This way, you'll know how easy (or taxing) their cleaning and maintenance is.
Durability
Besides silk, satin sheets are also manufactured in various fabrics. These include man-made fibers like polyester, nylon, and cotton. Amongst such a versatile range, you have to find a durable and long-lasting set.
Since silk is a natural fiber, it is more delicate and easier to damage. On the other hand, polyester is sturdier and heavier, which is why it lasts long.
Comfort
Satin sheets made using natural silk are the most comfortable. They are very soft, breathable, and luxurious. Others produced using synthetic materials are also comfortable but not as soft as natural ones.
You should check the comfort level of different products and settle for the one that suits you the best.
Wrinkle Resistance
Generally, satin sheets are highly wrinkle-resistant because of the complex weave, but sheets with lighter weaves are more prone to creasing.
Sheets with a high polyester content are more resistant because of thicker fiber. If you want your sheets to remain pretty and wrinkle-free, you should look for a good wrinkle-resistant set.
Sleeping Experience
If you want to enjoy a truly relaxing and recharging sleeping experience, you should look for a satin sheet set that comes with a sleep trial. This way, you can try the sheet to ensure it is truly comfortable.
These days, many manufacturers back their bedsheets with a good sleep trial period. You should carefully look for a set that checks all the boxes and also comes with a sleep trial for your complete satisfaction.
---
Frequently Asked Questions
Is it a good idea to switch to silk or satin bedding?
Moving from traditional cotton bedsheets to silk or satin bedding is a luxurious move that gives your bedroom a touch of class and royalty. These sheets not only keep you cool but are also great for your hair and skin.
Plus, they generally deliver better sleep quality, so it is a good idea to switch your bedding to either silk or satin if you struggle sleeping or want to sleep more comfortably.
Is it true that satin bedding keeps you cool at night?
Yes, satin bedding indeed keeps you cool at night. Satin's smooth surface is not simply comfortable; it is also incredibly breathable and moisture-wicking. It helps your body retain its moisture, preventing you from becoming hot.
Plus, unlike cotton, it allows your sweat to evaporate, keeping you cool and comfortable throughout the night.
Is a higher thread count linked to thicker sheets?
Yes, a higher thread count most likely means thicker and heavier sheets. However, it also depends upon the width of the yarn used.
For example, with finer yards, more fibers can fit into a square inch of the fabric, resulting in an extremely smooth and comfortable texture. Meanwhile, for thick fibers, the number of threads in a square inch of fabric is less often, producing a rough texture.
How often should you wash satin bedsheets?
Satin is a very low-maintenance material. Moreover, it is highly breathable and moisture-wicking, so there are no sweat stains. Plus, the weave is naturally fur-repelling, so you don't have to deal with pet hair or dander too.
Keeping all this in mind, if you sleep on your satin bedding every day, you should wash it every fortnight.
---
Final Verdict: What are the best satin sheets sold today?
Satin sheets significantly improve your sleeping experience. They are incredibly soft, smooth, and breathable and keep you cool on the hottest of nights.
So, if you want to experience the true luxury of satin sheets, go for the THXSILK Silk Sheet Set. It is made using extremely soft and comfortable 19-momme mulberry silk. The colors are pretty, and the variety of standard sizes makes it easy to find a suitable set.
But if you want something more affordable yet high-quality, check out the Danjor Linens Bed Sheets Set. This 6-piece set is made using brushed microfiber. The finish is great, with beautiful colors to choose from.
Lastly, if you are on a budget, the Royal Opulence Divatex Satin Sheet Set is an inexpensive option that delivers a similar experience for a fraction of the price. It comes in multiple color choices and a pocket deep enough to cover mattresses up to 17 inches high.
---
Affiliate Disclosure
Affiliate Disclosure: I may earn a small commission (at no cost to you) if you purchase a mattress after clicking a referral link or using a coupon code on this site. That said, all content and opinions on this site are my own and are NOT affected by these payments.
This site participates in the Amazon Services LLC Associates Program, an affiliate advertising program designed to provide a means for sites to earn advertising fees by advertising and linking to Amazon.com.
*Amazon and the Amazon logo are trademarks of Amazon.com, Inc, or its affiliates.
---