NOTE: We earn from qualifying purchases made via Amazon Associates and other affiliate programs. Learn more.
---
Rustic interior design is an exceptionally diverse aesthetic.
Today, Rustic design often incorporates the unpretentious, elegant look of Farmhouse style and the bright and airy look French country style.
While each style of rustic furniture has its unique features, character and warmth are common.
Creating a cozy and warm space needs furniture with a rustic flair and space-saving design.
While you need space-saving storage, adding a cabinet or two always makes sense.
Cabinets are must-to-have furniture pieces to any home.
But what does a rustic style cabinet look like?
They most often highlight their authentic structure, have a rough-hewn oak veneer or cherry finish, carry simple but warm wood details, use distressed wood to provide the look of a well-worn heirloom.
Here are ten cozy and warm rustic cabinet ideas to help you make the right decision:
1. Warm Wood Details
Rustic doesn't mean cold and dull but warm and interesting!
Check out this bedroom with a bed and a cabinet revealing warm wood details with durable pine construction!
Note the cheerful rug is making this room look more appealing!
2. Whitewashed Chest Of Drawers
A vintage whitewashed chest of drawers revealing two small and three large drawers!
This piece is going to make room storage a breeze.
3. Rustic Vintage Style Dresser
This rustic vintage style bedroom dresser features a modern edge with three large drawers.
You can also add this piece to your modern or contemporary setting.
4. Add Modernism
Give your rustic bedroom a tint of modern touch by placing this Modern cabinet with mirror revealing, clean lines, sleek and sophisticated look.
5. Classic Red & Black
A red and black rustic cabinet gives ample storage space for everyday essentials.
6. A Rustic Oak
Get the perfect space for your essential items with this rustic oak cabinet!
Note how the table lamp, a vase of flowers, and other accessories are enhancing this cabinet!
7. Worn Heirloom
With all the charm of a worn heirloom, this rustic cabinet creates the warmth and coziness you want in your bedroom.
Use the drawers to store away all the clutter.
This piece will meet your specific storage needs.
8. Recycled Pine 5 Drawer Cabinet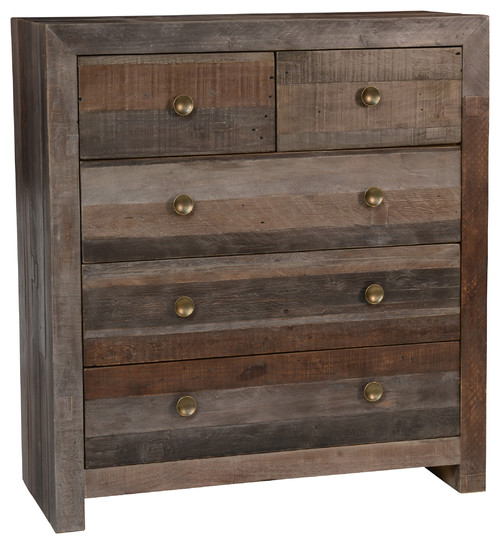 Source: Houzz
This cabinet is revealing true rustic appeal with its characteristic frame made from recycled pine wood.
The varying drawer sizes with contrasting brass-finished design adding functionality and distinctive style.
9. Distressed Wood 
Distressed wood is a classic part of rustic style décor.
Store away your books or crockery items using this distressed wood cabinet.
10. Recall Regency Period
Recall old Hollywood with this vintage antique chest of drawers.
This handsome piece provides ample space to store your essentials with three large and spacious drawers.
For a rustic bedroom or living room, natural finishes in warm colors are inviting, unpretentious & unfussy for the ultimate in easy comfort.
---
Affiliate Disclosure
Affiliate Disclosure: I may earn a small commission (at no cost to you) if you purchase a mattress after clicking a referral link or using a coupon code on this site. That said, all content and opinions on this site are my own and are NOT affected by these payments.
This site participates in the Amazon Services LLC Associates Program, an affiliate advertising program designed to provide a means for sites to earn advertising fees by advertising and linking to Amazon.com.
*Amazon and the Amazon logo are trademarks of Amazon.com, Inc, or its affiliates.
---