NOTE: We earn from qualifying purchases made via Amazon Associates and other affiliate programs. Learn more.
---
If you must have modern objects and art in your home but also like to keep updating your home with the latest style, you are technically a fan of contemporary style. 
People are often confused about the difference between modern and contemporary design.
A modern style bedroom usually captures the essence of a specific period in time – like the 1960s or 70s.
But contemporary style is all about today – the latest trends now plus a bit of trying to predict the future.
That said, the contemporary bedroom style is mostly about creating an up-to-date, comfortable, and inviting sleep space without cluttering it too much with older pieces.
And nothing speaks "comfort" more than pillows!
Today, contemporary-style pillows are often striped or carry bold graphic or printed patterns, use a calming color pallet, and often appear sleek, fresh, and simple.
Check out our latest list of contemporary pillow ideas below to accent your contemporary bedroom today!
1. Colorful Pillows
Colors bring more life to your surroundings!
Try adding different color pillows on your couch with a little vase standing on the front table to make it a perfect contemporary setting.
2. Grey Pillows With Graphic Pattern
Check out this bed with grey headboard and grey shade pillows, giving this room a classic monotone contemporary feel.
3. White Is Evergreen
White is the universal symbol of peace and good in the Western world.
When you design your space in white, it creates a feeling of serenity and purity.
White pillows on a white couch or sofa always look fabulous!
4. Blue & Orange Pillows On Beige Sofa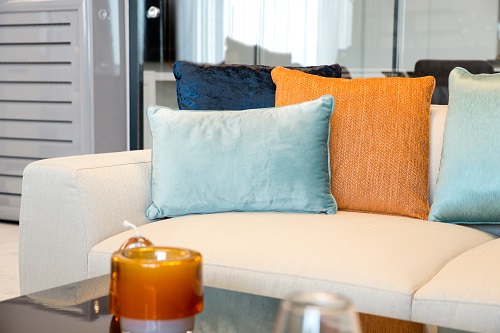 Contemporary living room interior with modern white, beige couch, light blue, dark blue, and orange colored pillows.
Black coffee table and glasses provide contrast for this bright color combo.
5. Modern Bed With Brown and White Pillows
A perfectly designed modern bedroom with a stylish bed and brown and white pillows against a dark wall.
6. Patterned Grey Pillow
Consider adding yellow and grey patterned pillows on a grey sofa for a cool contemporary feel with a little summer pop.
7. Different Patterns
Try mixing up patterns to create interest.
8. White Living Room
A perfect contemporary style white living room with white sofa and cushions, a beautiful palm tree is standing on the floor.
What a serene feel.
9. Soft Pillows
The pillows you add to your bed tells a story about its comfort.
Choose pillows and bedding made of soft and durable fabric.
10. Real Fur Pillows
If you're not shy, think about adding pillows made of real fur for some extra comfort to your bed.
While designing a contemporary style bedroom today, it is best to keep things simple and uncluttered and follow a more minimalistic design.
Another tip that almost always works: select pillows that contrast with the existing décor.
For example, if walls are dark, choose pillows in a lighter shade to make the room pop.
---
Affiliate Disclosure
Affiliate Disclosure: I may earn a small commission (at no cost to you) if you purchase a mattress after clicking a referral link or using a coupon code on this site. That said, all content and opinions on this site are my own and are NOT affected by these payments.
This site participates in the Amazon Services LLC Associates Program, an affiliate advertising program designed to provide a means for sites to earn advertising fees by advertising and linking to Amazon.com.
*Amazon and the Amazon logo are trademarks of Amazon.com, Inc, or its affiliates.
---