NOTE: We earn from qualifying purchases made via Amazon Associates and other affiliate programs. Learn more.
---
Gravity Blankets is the original weighted blanket company. Today, their products include the original Gravity weighted blanket, a Gravity travel blanket, a new designer line of bedding called Modernist-X and their Gravity Cooling Blanket, which we review here.
The Gravity cooling blanket is a great choice for hot sleepers with anxiety issues or restless body issues that are concerned about getting hot and sweaty at night.
Indeed, this excellent blanket completely solved the overheating problem caused by stacking blankets to control my restless body and legs.  I tested it in the Deep South during the summer, and it kept me cool all night. Great job!
The Gravity cooling blanket is available in four sizes and weights, and you can choose from three color options.
Read on for my full review.
If you are looking for a differently weighted blanket, read our reviews of the best weighted blankets for other great recommendations.
---
What's In This Gravity Cooling Blanket Review?
This Gravity cooling blanket is a 5-minute read.
If you'd rather not go through it all, use this table of contents to skip to the features most important for you.
---
Materials and Construction
The Gravity cooling blanket is made with the same cotton material as the original Gravity blanket.  It's soft and breathable.
Weight comes from glass beads inside the blanket. The beads are non-toxic and don't make noise when you move around in bed.
Small stitched grids keep the beads from shifting and ensure the weight of the blanket is distributed evenly.
The main difference between the Gravity Cooling blanket and the original Gravity weighted blanket is the cover. The cooling blanket uses a different fabric that's more breathable, sleeps cooler and wicks away more moisture.
I tested the 20 lb version. And it's true, the Gravity cooling blanket does sleep cooler than other weighted blankets and comforters. I never felt hot or sweaty at any point in the evening.
The duvet cover is secured to the inner blanket, so it doesn't come off at night.
You can remove the cover and machine-wash it. Tumble dry the cover on low.
As for the blanket, Gravity says you should hand-wash and air-dry only.
---
Comfort and Weight
Gravity sells four variations of their cooling blanket:
A Single size 15lbs for sleepers weighing over 100lbs
Single size 20lbs for sleepers weighing over 180lbs
A Single size 25lbs for sleepers weighing over 230lbs
Queen or King size 35lbs for couples
Single sizes are ideal for smaller beds as well as couples where only one partner wants a weighted blanket.
If there's a big weight difference between you and your partner, consider getting two single sizes with varying weights. For example, you could get the 20 lbs blanket if you are slightly heavier, while your partner gets the 15 lb blanket.
Gravity has done a great job distributing weight evenly across this blanket. This weighted blanket hugs you evenly without bunching or shifting.
The breathable fabric cover feels soft against the skin and does a fairly good job keeping you cool. But, as we said, it may not be enough for some hot sleepers.
That said, I do recommend you flip it every other night to make sure the weight is evenly distributed. Also, if you place the weighted blanket on top of your top sheet like most people will, it can slide off the bed if you don't readjust the blanket and sheets every few nights.
---
Health Benefits
The Gravity cooling blanket is ideal for anyone suffering with insomnia, body restlessness and high levels of stress or anxiety.
I suffer from restless legs and anxiety.  Sleeping under the Gravity Cooling blanket significantly reduced by night time anxiety and almost completely controlled my legs, making it easy to fall asleep quickly – and stay asleep.
---
Pros and Cons of Gravity Cooling Blanket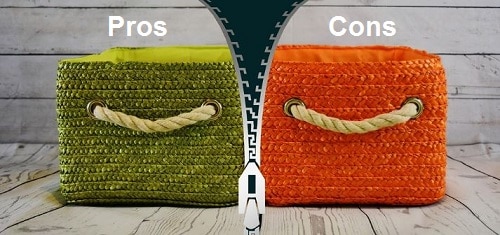 Pros
Improves sleep quality.
Breathable blanket and cover.
The cover is machine washable.
Noiseless and non-toxic glass beads.
High-quality stitching prevents shifting.
Cons
Need to flip it every other day.
Smooth cover can slide off of certain kinds of sheets.
---
The Gravity Cooling Blanket is Perfect for You If…
You are looking for a high-quality weighted blanket that sleeps cool. If regular weighted blankets leave you hot and sweaty, then we highly recommend the Gravity Cooling blanket.
---
Affiliate Disclosure
Affiliate Disclosure: I may earn a small commission (at no cost to you) if you purchase a mattress after clicking a referral link or using a coupon code on this site. That said, all content and opinions on this site are my own and are NOT affected by these payments.
This site participates in the Amazon Services LLC Associates Program, an affiliate advertising program designed to provide a means for sites to earn advertising fees by advertising and linking to Amazon.com.
*Amazon and the Amazon logo are trademarks of Amazon.com, Inc, or its affiliates.
---