NOTE: We earn from qualifying purchases made via Amazon Associates and other affiliate programs. Learn more.
---
Gravity's Modernist X Home Collection is the company's first line of designer bedding.
Their first product in this line is the Modernist X Gravity Cotton Blanket, a weighted blanket in patterns designed by famed designer and artist, Ron Chereskin.
If your taste trends towards a modern minimalist style, then this weighted blanket will look great on your bed. You can choose from several modern-style patterns and neutral colors including dark grey, blue, light grey, and more.
In addition, as a weighted blanket you can't go wrong choosing the Modernist X Gravity blanket. The evenly distributed weight wraps you up and makes you feel like a comfy swaddled baby.
In addition, the Modernist X blanket stays surprisingly cool – not nearly as hot as a traditional comforter
Read on for our full review.
If you are looking for a different or less expensive weighted blanket, then check out our other top recommendations in our best weighted blanket buying guide.
---
What's In This Gravity Modernist X Blanket Review?
This review is a 10-minute read.
If you'd rather not go through it all, use the table of contents above to skip to the features most important to you.
---
Materials and Construction
The Modernist X Gravity blanket is made with cotton. The blanket is weighted using fine-grade glass beads that are non-toxic and noiseless.
Grid-style stitching spreads the beads across the blanket, ensuring the blanket hugs you evenly. The grids also keep the beads from shifting.
The other cover is also made with cotton, specifically a 300-thread count cotton fabric. It's not the softest materials, but the cover is breathable and does a great job absorbing sweat from your skin.  
To keep the cover from coming off, it's attached to the inner blanket using ties and buttons.
For washing, just remove the outer cover and throw it in a washing machine. Tumble dry on low.
As for the inner blanket, you must hand-wash and air-dry it.  But it only needs to be done every few months.
---
Comfort and Weight
The cotton blanket and duvet cover feel soft to the touch, but under pressure it can feel a bit rough.
Thanks to the grid stitching, there is no issue with the blanket bunching up at the corners or weight shifting to one side.
As for cooling, the Modernist X Gravity blanket sleeps cooler than most other weighted blankets and comforters. Some hot sleepers may still find it a tad too warm on some nights, but most sleepers will appreciate it.
The Modernist X Gravity blanket is also great for folks with night sweats. The cotton duvet cover absorbs sweat, keeping your skin cool and dry.
The Modernist X Gravity blanket is available in just two options: a single size 15lb blanket (72″ x 48″) and a queen/king 35lb blanket (90″ x 90″).
We tested the single 15 lb single blanket.  Get this size if you sleep alone or if your partner doesn't want to use a weighted blanket.
The queen/king option is perfect for couples.
Both blankets are ideal for sleepers that weight between 100 and 200 lbs.
---
Health Benefits
If you struggle to fall asleep because of anxiety, insomnia, or high-stress levels, the Modernist X Gravity blanket will help.
I suffer from anxiety and it definitely helped me sleep better.
It lowered my stress levels, helped me relax and controlled my nervous-nelly restless legs.
---
Pros and Cons of Gravity Modernist X Blanket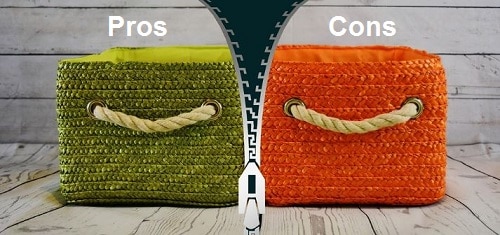 Pros
Beautiful design.
Breathable and moisture-wicking cotton cover.
Washable cover.
Noiseless and non-toxic glass beads.
Good quality stitching.
Cons
Pricey.
Limited size and weight options.
---
The Modernist X Gravity Blanket is Perfect for You If…
You are looking for a well-made and beautifully designed weighted blanket. Thanks to the cotton cover, the Modernist X is also a great choice for hot sleepers and people with night sweats.
---
Affiliate Disclosure
Affiliate Disclosure: I may earn a small commission (at no cost to you) if you purchase a mattress after clicking a referral link or using a coupon code on this site. That said, all content and opinions on this site are my own and are NOT affected by these payments.
This site participates in the Amazon Services LLC Associates Program, an affiliate advertising program designed to provide a means for sites to earn advertising fees by advertising and linking to Amazon.com.
*Amazon and the Amazon logo are trademarks of Amazon.com, Inc, or its affiliates.
---