NOTE: We earn from qualifying purchases made via Amazon Associates and other affiliate programs. Learn more.
---
A mattress topper collects all the sweat, skin cells, and dirt that would have accumulated on your mattress. Keeping it clean is important for your hygiene and sleep quality. It also reduces the number of allergens on the topper, which is especially helpful for sleepers with allergies or asthma.
How you clean a mattress topper depends on the type of topper. With some toppers, you can dunk the whole thing in a washer while with others, you can only clean the cover.
Here is a quick cleaning guide for different types of toppers.
1. Foam Toppers
You cannot machine wash a memory foam topper. The only part you can wash is the cover, but first, check if the cover is removable and washable.
Certain cover fabrics like organic cotton or bamboo rayon can only be spot cleaned to avoid damaging them in the washer or dryer.
If your foam topper doesn't have a cover, clean it as you would a mattress. Use a vacuum cleaner with an upholstery attachment to remove particles from the surface of the mattress.
If the topper has a stale smell, sprinkle it with baking soda and let it sit for a few hours, then vacuum again. If you don't have baking soda, airing the topper outside in the sun will have the same freshening effect.
To keep the topper clean, we highly recommend buying a topper cover. It'll prevent stains from forming on the foam. Alternatively, get a deep-pocketed waterproof mattress protector that will cover both the topper and mattress.
Tip: If there's a stain on the foam, try spot cleaning with water and gentle detergent. For stubborn stains, try hydrogen peroxide or a store-bought stain remover. Make sure the spot is completely dry before you cover up the topper with bedding.
2. Latex Toppers
You also cannot machine-wash a latex topper. Organic and natural latex toppers are especially delicate.
If your latex topper has a removable and washable cover, then wash just the cover according to the cleaning instructions.
If it doesn't have a cover, spot clean with cold water and mild detergent to remove spots and stains, consider getting a topper cover or mattress protector to keep the topper clean and stain-free.
3. Wool Toppers
Some wool toppers are machine-washable while others are not. Check the care instructions from the manufacturer.
If the topper is washable, the manufacturer will usually indicate that you need to wash it in a gentle cycle and tumble dry it on low. If your washing machine has a specific wool cycle, use that.
Some wool toppers are machine washable but are too bulky to fit in a conventional residential washing machine. In that case, you have to get it cleaned in a commercial washer.
Tip: Remember that not all detergents are safe for wool. Use detergent that is labeled as safe for use with wool fabrics.
If your wool topper is not washable, it's safe to spot clean the cover. Use cold water and gentle detergent and gently rub the stain until it disappears.
If your wool topper is smelly, airing it can help get rid of the trapped odors. If you cannot air the topper outside, lay it on the bed and open the windows to let it air.
You can also vacuum the topper using an upholstery attachment. This will draw air through the wool fibers, getting rid of moisture and odors. A vacuum will also pick up particles like dead skin cells and pet dander.
4. Microfiber Toppers
Fiberfill toppers are hardy and can handle being in a washer or dryer without shrinking. And since most are just an inch or two thick, you can stuff the topper in your home washer.
But as with anything, always check the manufacturer's instructions.
If you cannot clean your microfiber topper, spot cleaning is the next best way to remove stains and dirt spots.
If the problem is that your topper smells stale, airing it in the sun will deodorize it. You can also air it inside with the windows open. Sprinkling baking powder on the topper can also help absorb the odors (use a vacuum to remove the baking soda after a few hours).
5. Down and Feather Toppers
Most natural down toppers are machine washable. But make sure you follow the cleaning instructions as they are delicate.
Most manufacturers recommend washing in cold water and tumble drying on low. You can spot clean the topper but use a gentle detergent that will not damage or discolor the cover.
For deodorization, air the topper outside or inside with the windows open.
---
How to Keep Your Mattress Topper Clean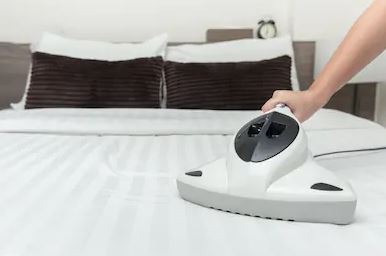 Even if your mattress topper is machine washable, it's not a good idea to throw it in the washer often. It will degrade quickly.
Prevention and regular maintenance is the best way to keep your topper clean. Here are some tips.
Get a topper cover or mattress protector. This will keep dirt and stains out of the topper.
Air the mattress often, especially if you sweat a lot. You can air the mattress inside with windows open or take it outside to air in the sun. Sunshine is a good disinfectant that reduces smells and cleans the topper.
If you sweat a lot, consider buying breathable and absorbent sheets. This will prevent sweat from pooling up in the topper. If the reason you sweat a lot is a hot mattress, find a cool mattress topper or lower temperature in your bedroom.
Vacuum the topper regularly. Most types of toppers are safe to vacuum. Vacuuming regularly prevents a build-up of dirt, dead skin cells, and allergens.
---
Affiliate Disclosure
Affiliate Disclosure: I may earn a small commission (at no cost to you) if you purchase a mattress after clicking a referral link or using a coupon code on this site. That said, all content and opinions on this site are my own and are NOT affected by these payments.
This site participates in the Amazon Services LLC Associates Program, an affiliate advertising program designed to provide a means for sites to earn advertising fees by advertising and linking to Amazon.com.
*Amazon and the Amazon logo are trademarks of Amazon.com, Inc, or its affiliates.
---