NOTE: We earn from qualifying purchases made via Amazon Associates and other affiliate programs. Learn more.
---
About Molecule Mattress Toppers 
Molecule sells two memory foam toppers: the Molecule AirTEC and the Molecule Triple Zone. Both are premium toppers with better cooling and support compared to most memory foam toppers. They also cost more.
Read on for our full review of the Molecule AirTEC and Triple Zone toppers. We explain the key features of these toppers, the differences between the two, and the best choice for your comfort needs.
---
What's In This Mattress Review?
This Molecule mattress topper review is a 10-minute read.
If you'd rather not go through it all, use this table of contents to skip to the features that are most important for you.
---
The 2-layer Molecule Triple Zone mattress topper is designed to offer dynamic support to your body, regardless of sleeping position. The bottom layer has multiple zones of varying firmness that provide targeted support and pressure point relief.
The top open-cell memory foam layer and the phase change cover ensure you sleep cool.
---
AirTEC is the pricier of the two toppers. It consists of three layers of proprietary foams that provide the best support, pressure relief, and cooling.
While the Triple Zone topper focuses on providing targeted support, the AirTEC topper's biggest selling point is its cooling performance. Two open-cell layers and a cooling cover ensure a comfortable night even for the hottest of sleepers.
---
Molecule Mattress Topper Comparison
| Molecule Triple Zone | Molecule AirTEC |
| --- | --- |
| 3" thick with 2 layers | 3" thick with 3 layers |
| Medium-firm | Medium |
| Best for support and pressure relief | Best for cooling |
| 100% polyester phase change cover | Polyester, polyethylene and elastane cooling cover |
| 30-night return | 30-night return |
| 5-year warranty | 5-year warranty |
---
Molecule Mattress Toppers Review
Construction
Both the Triple Zone and AirTEC mattress toppers have an all-foam construction.
The Triple Zone topper starts with a proprietary open-cell memory foam layer the manufacturer calls RESTOREFLO™.
RESTOREFLO has better cooling performance than ordinary memory foam thanks to its open-cell structure as well as the microgel beads embedded in it. The beads absorb body heat, helping you sleep cooler.
The bottom layer is made with another proprietary foam the manufacturer calls RECOVERYFLO™. This layer has a zoned design, with three zones spanning the length of the mattress.
The top zone has small diamond patterns that make it softer. It provides pressure relief for your head and shoulders.
The middle zone has large hexagonal patterns that make for a firmer, more supportive surface. This zone ensures your spine stays in proper alignment with the rest of the body.
The bottom zone under your feet has the same soft feel as the top zone.
The two layers are wrapped in a polyester cover that's embedded with a phase change molecule. The Molecule maintains the surface of the topper at a comfortable temperature, giving it a cool to the touch feel that hot sleepers will appreciate.
The Molecule Triple Zone topper is 3″ thick.
The AirTEC topper has three layers instead of two.
The first layer is a proprietary foam called MOLECULARFLO™. It has better airflow than memory foam and stays cooler than RESTOREFLO™ layer in the Triple Zone topper.
The core of the mattress is also a proprietary foam called AIRTEC™. AIRTEC foam has the bouncy and responsive feel of latex and the pressure relief of memory foam. Its open-cell matrix design allows it to stay cool.
The base of the AirTEC topper is made with high-density polyfoam called RECOVERYFLO™. It provides overall support and keeps your spine in alignment.
For the cover, the AirTEC topper uses a 3-material fabric consisting of polyester, polyethylene, and elastane. The cover has special cooling fibers that create a comfortable microclimate on the sleeping surface.
The Molecule AirTEC topper is 3″ thick.
Firmness
The Triple Zone mattress topper is the firmer of the two, with a firmness rating of about 7/10. Its medium-firm feel makes it a great choice for average weight and heavier sleepers, particularly those who sleep on their back or stomach.
The Triple Zone topper is also a good choice if your current mattress is too soft and you want better support.
The AirTEC mattress topper has a softer feel, with a firmness rating of about 5/10. The plush feel makes AirTEC a good choice for side sleepers of all weight ranges. Lighter back and stomach sleepers will also find the AirTEC topper to be more comfortable.
Choose the AirTEC topper if you want to soften an overly firm mattress that's causing or worsening back, hip, or shoulder pain.
Comfort and Sleeping Experience
Overall sleeping experience: Either topper is a great way to upgrade your mattress. They both offer good support and pressure relief. Despite being memory foam toppers, they don't feel stuffy or mushy.
Cooling: Both toppers have surprisingly good temperature regulation considering their all-foam construction. The Triple Zone topper uses a phase change cover and gel memory foam to keep you cool while the AirTEC topper uses a cooling cover and open-cell foam. Hot sleepers will find either topper comfortable.
Motion control: Being all-foam, the Molecule toppers have almost no motion transfer. If your innerspring or hybrid mattress wakes you up every time, your partner turns, adding one of Molecules toppers on it can help. The foam will absorb most of that disturbance.
Responsiveness (bounciness): If you were looking to make your bed a bit bouncier, Molecule toppers are not the best choice. They have minimal responsiveness. Some people like a less bouncy bed, though. If that's what you want, then either topper will do.
Care and Setup
Both Molecule mattress toppers come with a removable and washable cover. Unzip the cover and wash it in cold water using a delicate cycle. Tumble dry on low.
For stain and dirt spots, spot-clean with warm water and gentle detergent.
Note that neither of the toppers has a skirt or pocket. You simply place the topper on your mattress. To keep it from moving, cover it with a fitted sheet or a regular flat sheet. This will secure it to the mattress.
Depending on how thick your mattress is, you may need to get new bigger sheets that will fit both your topper and mattress.
Note: Molecule toppers are shipped compressed in a box. Once you place the topper on your bed, give it a few hours to expand to its full size.
Trial Period and Warranty
Molecule offers a 30-night trial period for both their toppers. Returns are free. If you don't like the topper, you can return it, and you'll get a full refund.
If you decide to keep the topper, it'll be covered by a 5-year limited warranty. Read the full warranty details on Molecule's official website.
---
Molecule Toppers Pros and Cons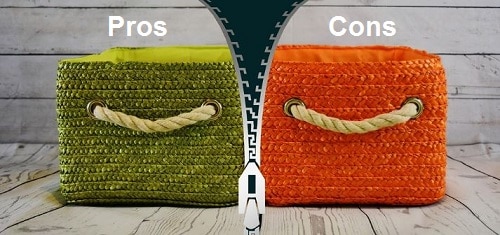 Pros
Good support and pressure relief.
Excellent temperature regulation.
Durable construction – toppers do not flatten after some time.
Both toppers come with a washable, protective cover.
Cons
Molecule toppers cost more than most memory foam toppers.
---
Final Verdict
Though pricier than most memory foam toppers, Molecule toppers are still a much cheaper way to improve your sleeping comfort compared to buying a new mattress.
Choose the Molecule Triple Zone if you want to boost mattress support or if you are a back or stomach sleeper weighing over 130lbs. Choose the Molecule AirTEC topper if you want more pressure-point relief on your mattress, especially if you are a side sleeper.
---
Affiliate Disclosure
Affiliate Disclosure: I may earn a small commission (at no cost to you) if you purchase a mattress after clicking a referral link or using a coupon code on this site. That said, all content and opinions on this site are my own and are NOT affected by these payments.
This site participates in the Amazon Services LLC Associates Program, an affiliate advertising program designed to provide a means for sites to earn advertising fees by advertising and linking to Amazon.com.
*Amazon and the Amazon logo are trademarks of Amazon.com, Inc, or its affiliates.
---