NOTE: We earn from qualifying purchases made via Amazon Associates and other affiliate programs. Learn more.
Not many people think about buying mattresses as gifts. But for a friend or family member who could really use a comfortable mattress, it's one of sweetest surprises you can give them.
So as you think about buying toys and gadgets, consider adding a mattress to your gift list. You can gift it to your parents or a close friend. You can even surprise your partner with a new mattress to replace your old and uncomfortable one.
But buying a mattress is no easy task with so many brands available and price all over the map. It's even harder when you are buying it for someone else whose preferences and comfort needs you are not sure about. But that should not stop you from trying. Here are a few tips that will help.
Get a Gift Card
The easiest way to give a mattress as a gift is to buy a gift card. The best thing about gift cards is that you don't have to guess what the recipient needs. They can go out and shop for the exact kind of mattress that is best for them.
The best place to get a gift card is at major retailers such as Amazon. This ensures the recipient has a wide variety of options to choose from.
Go Shopping Together
Another way to ensure they get the right mattress is to go shopping together. You don't even have to go to a store. Online mattresses are cheaper, usually better in quality and they are delivered right to your door in just a few days.
Sit at a computer together and do an online mattress comparison. You can use our own comparisons and reviews to get started.
Take a Guess
This one is risky but it's ideal when you want to properly surprise someone with a new mattress.
If you are buying it for yourself and your partner, selecting the right mattress will be easy since you know what kind of mattress you both like.
If you are buying it for another family member such as your parents or for your friend, first find out what kind of mattress would be most comfortable.
For instance, if it's your parents and they have back or joint problems, a medium firm memory foam or hybrid mattress is best. If it's for a friend who has a large body physique, get a thicker mattress that is slightly firmer than usual.
You can even ask a few questions without revealing your intent. For example what side they sleep on, what they hate most about their current mattress and so on.
Mattress Gift Recommendations
Here are our five recommendations of top mattresses that are great as gifts. We have selected a variety of mattresses in various price ranges. Click 'Learn More' to read our full review of the mattress.
1. Best Mattress Gift Overall: Saatva

Price for a Queen Size: $999
Saatva is currently our top rated online mattress. It is a hybrid luxury mattress with a very affordable price tag.
Saatva has two different coil layers. There is the support layer with pocketed coils. It improves contouring and pressure relief. Then there is the 7-inch base layer with tempered coils to boost durability.
At the top, Saatva has a Euro pillow top that provides a plush sleeping experience.
There are three comfort levels of the Saatva mattress; soft, luxury firm and firm. The luxury firm, which is medium firm, is the safest choice. If it turns out to be too uncomfortable, you can exchange it for a softer or firmer option.
2. Best Mattress Gift under $600: Nest Quail
Price for a Queen Size: $599
If you are on a budget, the Nest Quail mattress is a great choice. It is cheap compared to other online mattresses but it's comfortable and has great support.
The mattress uses Energex Foam at the top to provide a cool and bouncy sleeping surface. A thin layer of polyfoam provides additional support while a 6-inch base ensures longevity and prevents sagging.
3. Best Custom Fit Mattress Gift: Luxi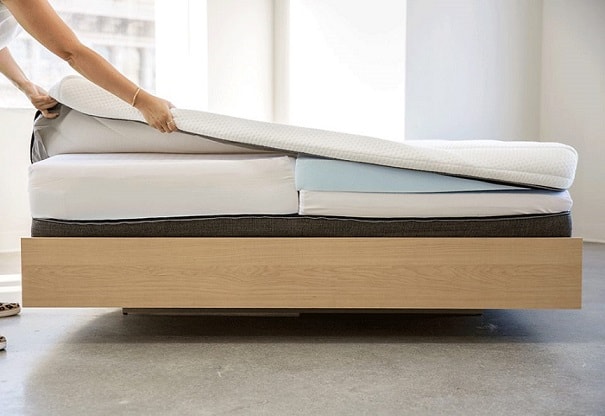 Price for a Queen Size: $1,099
Luxi is one of the safest buys you can make. You don't even have to know much about the recipient's comfort preferences. This is because it's a highly customizable mattress.
You can change the comfort level simply by switching out the various layers of the mattress. So they can choose to make it soft, medium firm or firm whenever they want.
4. Best Plus Size Mattress Gift: Big Fig
Price for a Queen Size: $1,499
Plus size individuals have a hard time finding the right mattress to accommodate their comfort needs. Too often, mattresses offer little support and tend to sag in just a short time.
The Big Fig mattress is made specifically for those with a large figure. It provides adequate support using high-density polyfoam, a layer of pocketed coils and edge support foam. The pocketed coils and the top layer of gel-infused latex foam keeps it cool.
It comes with a 20-year warranty.
5. Best Organic Mattress Gift: Avocado Green
Price for a Queen Size: $1,399
If you are thinking about gifting someone a natural or organic mattress, this is one of the best and most affordable. There is a standard version which is a bit firm and there is a pricier pillow top version that's softer. I recommend the pillow top version.
The mattress itself consists of natural components including natural Dunlop latex, organic cotton and natural Joma New Zealand wool.
---
Affiliate Disclosure
Affiliate Disclosure: I may earn a small commission (at no cost to you) if you purchase a mattress after clicking a referral link or using a coupon code on this site. That said, all content and opinions on this site are my own and are NOT affected by these payments.
This site participates in the Amazon Services LLC Associates Program, an affiliate advertising program designed to provide a means for sites to earn advertising fees by advertising and linking to Amazon.com.
*Amazon and the Amazon logo are trademarks of Amazon.com, Inc, or its affiliates.
---