NOTE: We earn from qualifying purchases made via Amazon Associates and other affiliate programs. Learn more.
It's easy enough to shop for your own mattress. You know what level of firmness you like, which type of mattress feels best and the budget you are most comfortable with.
If you are a couple shopping for a mattress, it's a different story. You probably have vastly different comfort preferences. One of you likes sleeping on a soft mattress while the other likes it a little bit firmer. Maybe you sweat like crazy when you sleep on a memory foam mattress but your partner has back issues and needs to sleep on memory foam.
And you haven't even started discussing the money. It can at times feel like buying a house.
For couples shopping for a new mattress or planning to buy one soon, we have a few mattress shipping tips that will make your experience smoother and more fruitful.
1. Decide on the Budget
Get this sensitive issue out of the way as early as possible. By setting a budget early on, you will make shopping easier. You won't waste any time on mattresses that you can't afford.
How much should you spend on a mattress anyway? $300, $500, $2,000?
It depends on several factors.
First, which price range is within your means? You can go for a budget mattress ($200-$600), a medium-range mattress ($600-$1,200), a premium mattress ($1,200-$2,000) or an ultra-luxury mattress ($2,500+).
Once you pick your ideal price range, you can then compare mattresses within that range. But don't be too rigid. Even if a mattress is a bit pricier than your budget but it's what you are looking for, most companies offer financing options that allow you to pay over several months.
In the end, remember that a mattress is an investment. You are better off spending a bit more money on a mattress that will last for 10 years or more rather than buy a cheap one that will sag in a couple of years.
My general recommendation is not to buy a mattress for less than $500. And if you want one that is comfortable, supportive and will last long, spend at least $800 on a Queen or King size.
A quality mattress ultimately affects every aspect of your life. If you sleep well, you will be healthier, more productive and happier.
2. Discuss any Special Comfort Needs Either of You May Have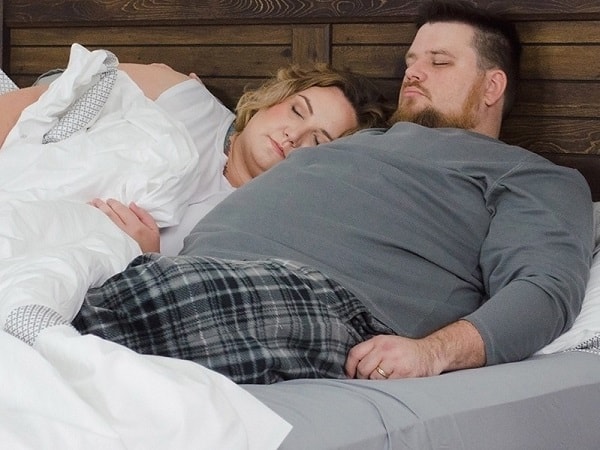 By special comfort needs I mean issues like back problems, arthritis, night sweats and others. If either of you has an issue that requires extra comfort considerations, you'll need to be more careful with your mattress search.
80% of Americans experience low back pain at one point in their lives. So there are good chances that one of you has a back problem. It can be just some mild occasional pain or chronic debilitating pain. You need to take that into account when shopping for a mattress.
Many chiropractors and physiotherapists recommend a medium-firm memory foam mattress for people with back pain (and arthritis too). It provides better pressure relief and contouring for your lower back and joints.
If the issue is excessive sweating at night, you'll need to find a mattress that is exceptionally cool. I recommend a latex mattress, innerspring mattress or a natural foam mattress. Hybrid mattresses such as the Sparrow Signature or Avocado natural Mattress are also excellent at keeping heat away. Don't buy a memory foam mattress.
3. Determine Your Preferred Firmness Level
How firm or soft does each of you like your mattress? Most people are okay with a medium firm mattress. So a medium firm mattress will most likely do for both of you. In fact, most online mattresses are medium firm.
What if you each prefer different firmness levels? Find a seller that offers customizable mattresses.
Some online mattress companies sell split mattresses where each half is customized to each partner's comfort needs. So one side may be medium firm while the other is extra soft or extra firm.
Note that customizable mattresses are often pricier than standard ones but each of you gets to enjoy a perfect night's sleep.
4. Check your Combined Weight
Most standard mattresses such Casper, Leesa and Purple can withstand the combined weight of a couple. But if either or both of you have a big body, you'll be putting extra pressure on the mattress. Hence, you need something that will not give in after just a few months.
I recommend an innerspring mattress. It provides better support and durability. A good example is the Saatva mattress. It has two coil layers – comfort coil layer and a base coil layer – resulting in an exceptionally supportive and long lasting mattress.
Check the weight limit before you buy a mattress. Most mattresses have a 300lbs weight limit, which may not be enough for some couples. If one of you weighs 200lbs or more, find a mattress with a weight limit of at least $400lbs.
You can even get a mattress designed specifically for heavier-bodied sleepers. A good one is the Big Fig mattress.
5. Find a Mattress that's Good for Sex
This goes without saying; buy the best mattress for sex that you can afford. Avoid mattresses that get hot, that have no bounce at all and those that make squeaky noises with every tiny movement.
Find a mattress that is responsive (latex or innerspring mattresses are good), stays cool (again latex or innerspring) and has a sturdy design with a good foundation layer.
One of the best mattress for sex is Leesa. It uses an Avena foam (latex-like foam) layer at the top to provide some bounce and keep the mattress cool and fresh.
Other good ones include Saatva, the Nest Quail mattress and Keetsa Pillow Plus.
---
Affiliate Disclosure
Affiliate Disclosure: I may earn a small commission (at no cost to you) if you purchase a mattress after clicking a referral link or using a coupon code on this site. That said, all content and opinions on this site are my own and are NOT affected by these payments.
This site participates in the Amazon Services LLC Associates Program, an affiliate advertising program designed to provide a means for sites to earn advertising fees by advertising and linking to Amazon.com.
*Amazon and the Amazon logo are trademarks of Amazon.com, Inc, or its affiliates.
---