NOTE: We earn from qualifying purchases made via Amazon Associates and other affiliate programs. Learn more.
The Motiv ring is for anyone who doesn't want a bulky, uncomfortable watch on the wrist all day to monitor activities throughout the day.
The discreet and comfortable design of the Motiv ring will hardly ever bother you, and you won't even notice that it's on your finger the entire day. However, this does not mean it's inaccurate –in fact, it's quite the contrary actually.
The Motiv ring comes in 7 sizes, and once you choose the ideal fit after experimenting with the sizing set, you will find it highly comfortable.
It has a matte, ultralight titanium band that comes in 3 colors: silver, black, and rose gold. It is also waterproof, has an impressive battery life of three days, and fully charges in almost 90 minutes.
The Motiv fitness ring monitors your fitness and sleeping habits. It measures the calories burned, sleeping hours, miles, heart rate, and steps taken. This data is displayed in bar charts on the app available for iOS and Android (6.0 and above) devices.
The accuracy of these metrics is fairly decent. If you want constant supervision for your day-to-day activities and workouts, then the Motiv ring is the perfect choice for you. However, you must note that it is not the best option for professional athletes.
---
How does the Motiv Ring Sleep Tracker Work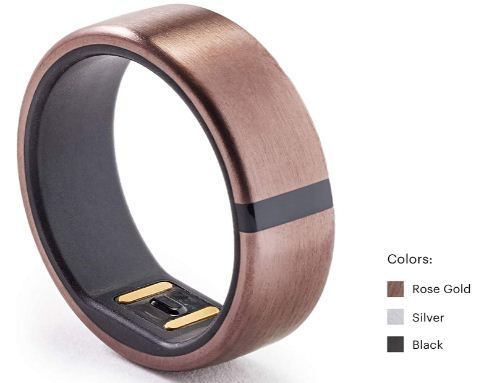 The Motiv ring has a simple working mechanism.
The sensor is located on the underside of the band and rests on the fleshy part of your finger. This is the best vantage point for it to read your heart rate and other metrics accurately.
The data that the ring collects is synced with the app that showcases your activity and progress in terms of the goals you achieve.
---
Pros and Cons
Pros
Small discreet band
Measures fitness and sleep metrics accurately
Long battery life of 3 days
Can store the data without syncing to the app for about 3 days
Comfortable enough to be worn all-day
Has a waterproof design
Cons
Doesn't work well with exercises involving the hands or fingers
Doesn't show recovery rate
---
Unique Features
The market for smart or fitness rings is not a small one. You can find many brands offering many models with varying features.
So what makes the Motiv ring stand out? Here are some unique features:
Design & Functionality
The Motiv ring comes in 7 sizes, so you can easily find the right size. To choose the perfect size, all you have to do is purchase the rather inexpensive sizing set that contains 7 plastic rings of different sizes. You then pick the right size, your preferred color, and place an order online.
The ring has a very sleek and sophisticated design that looks equally good on women and men. It also comes in 3 colors: rose gold, silver, and black. It doesn't have any embedded stones, so it's perfect for people who like low-key and elegant wearables.
It has a plain thick band made up of matte titanium with an LED strip that lights up when you need to either charge it again or sync it with the app.
You can start the synchronization process manually by just rotating the device thrice. The LED will flash purple once, indicating the process was successful.
You don't always have to worry about having your phone with you to sync the data. The ring has enough storage capacity to preserve data for roughly three days.
It also has a waterproof design of up to 50m, so you don't have to take the ring off every time you wash your hands and risk losing it.
As is the point of a smart ring, it is not very heavy, and you will hardly feel it.
Battery & Charger
With the Motiv ring, you get 2 slender chargers housed in a very classy and premium box along with a magnetic casing.
It has a long battery life of 3 days, so you don't have to charge it every day. The charging process itself takes about 90 minutes.
Activity Tracker
The Motiv ring fitness tracker can track basic activities, including the step count, calories burnt, distance, sleep, active minutes, and heart rate.
So, if you go running or skipping, you can assess the progress through the data displayed on the app. It also gives an accurate resting and active heart rate.
Many verified Motiv ring customers compare it with the Fitbit Ionic and the Apple Watch Nike+, and all three models are pretty similar in terms of activity tracking.
Given that the other two are watches and have a larger surface area to detect your activity, it is rather impressive that the Motiv ring's small size gives the other two models tough competition.
Sleep Tracking
Motiv ring sleep tracking is essentially basic. It records the number of hours you sleep and the duration of restless sleep. It doesn't measure light, deep, or REM sleep patterns.
However, it does record your resting heart rate, which is a useful indicator of your health and stress levels.
App
The ring discreetly records data, and if you want to check up on your progress and assess your goals, you can use the app. It collects data from your ring and shows you the result. It is intuitive, easy to use, and not extremely comprehensive.
To track your sleep activity, it displays a customized bar chart that gives a clear view of your sleep pattern for the entire week. You can hover over the chart to see when and for how long you were restless in your sleep.
The app also displays your Motiv ring fitness data in the form of a bar graph containing information and details about the distance you covered, the steps you took, calories you burned, and your heartbeat per minute. All you need to do is to hold and then drag your finger across the chart.
In addition, the app features weekly goals. The default setting is set to 150 active minutes for one week, as the American Heart Associationstipulated for overall good health. However, it studies your progress and increases it with passing weeks.
---
Motiv Ring Sleep Tracker Vs. Its Competitors
One of the biggest competitors of the Motiv ring sleep tracker is the Oura ring.
The Ōura Ring is made of scratch-resistant zirconia and comes in three colors: stealth black, mirror black, and arctic white. However, it is not as compact as the Motiv ring and looks like a plastic ring from afar. But the Motiv ring has a sleek, stylish design.
Both the rings are waterproof, so you can use them while washing your hands, showering, or swimming.
In terms of the features, the Ōura Ring focuses more on health and measures metrics like oxygen level of your blood, body temperature, blood volume pulse, and activity level.
On the other hand, the Motiv smart ring is more of a fitness band that measures calories burned, sleeping hours, miles, heart rate, and steps taken.
To assess the comfort levels, the ŌURA Ring is not very uncomfortable, although it is ostensibly heavy. However, the Motiv ring is very lightweight and is more comfortable and wearable.
While Motiv charges a small fee for the sizing set, ŌURA Ring does this for free. It also detects movement during sleep to identify the various stages of your sleep. Like the Motiv ring, there's no display on the ring and uses an app to display data.
---
Issues & Concerns
While the Motiv ring has many benefits, it comes with a few issues, too.
Prone to Scratches
When you buy a fitness ring, you want it to collect data when you are working out. However, if your workout consists of kettlebells or dumbbells, then you are out of luck.
The Motiv ring gets in the way, and the equipment can scratch up your ring quite noticeably. So you can either put on lifting gloves or take the ring off, but that defeats the whole purpose of buying the ring.
The Motiv Ring is also not particularly suitable for all workouts that include your hands or fingers like punching – even with gloves – as it might still hurt or just pose a hindrance.
Lacks Notifications
Even though some might like the discreteness of the Motiv ring, it doesn't notify you when you achieve a goal.
For example, it doesn't alert you with a soft vibration, flash, or a soft beeping sound if you meet your daily step count.
Heart Rate Graphs
The app tells you your resting heart rate and heart rate during exercise on the fitness activity and sleep bar graph. However, it doesn't feature a separate graph for your heart rate that many customers require.
No Recovery Rate
Since it doesn't measure your heartbeat to formulate a graph, it doesn't show you your recovery rate. This means there is no way to know how long it took for your heart rate to return to normal after your workout session.
---
How To Use The Motiv Ring Sleep Tracker
Once you receive your Motiv ring in your preferred color and size, you first have to set it up.
First, charge the ring. As mentioned above, you get two chargers and a magnetic casing to clip the charger to the keyring. Plug that into a powered charger or a PC to magnetically charge the ring.
If the entire process seems difficult to understand, don't worry. The app explains it in quite adetailed form.
The LED strip glows red when it is charging and turns green when the battery is full.
Next, download the app that is available on both iOS and Android. Then put in some basic information like your height and weight or link the ring to your Google Fit or Apple Health account. The app will then show you all the data.
It also has a two-step verification process for iOS and might request the open beta for Android devices.
---
Specifications
Matte titanium finish
Waterproof up to 50m
Compatible with iOS and Android 6.0 (Marshmallow) and above
Battery life of 3 days
90-minute charging time
Works with Google Fit and Apple Health
Features online security with 2-step verification
1-year warranty
---
Where to Buy
The manufacturer does not sell the ring on its website anymore, but you can order it online on Amazon.
---
Affiliate Disclosure
Affiliate Disclosure: I may earn a small commission (at no cost to you) if you purchase a mattress after clicking a referral link or using a coupon code on this site. That said, all content and opinions on this site are my own and are NOT affected by these payments.
This site participates in the Amazon Services LLC Associates Program, an affiliate advertising program designed to provide a means for sites to earn advertising fees by advertising and linking to Amazon.com.
*Amazon and the Amazon logo are trademarks of Amazon.com, Inc, or its affiliates.
---