NOTE: We earn from qualifying purchases made via Amazon Associates and other affiliate programs. Learn more.
What's In This Mattress Comparison
Thinking About Buying A Foam Mattress Online?
You've come to the right place!
In this in-depth review of Casper, Purple, Leesa and Ghostbed mattresses (their original/base models), we'll compare and contrast these similar products on the following features:
Mattress Construction
Comfort and Firmness
Sleeping Experience
Warranty and Returns
Shipping and Delivery Options
Price
Coupons
Leesa vs Casper vs Purple vs Ghostbed: Which Mattress Is Right For You?
We think the Ghostbed Classic is the best mattress choice if you sleep on your back and need great temperature regulation, as it has the firmest feel of these four and is made of latex gel foam.  The Purple Original is the best choice if you are heavier and definitely has the most unique feel of the bunch.
If you prefer the cradling feel of memory foam, then we think the Leesa feels slightly better for most than the Casper original, although the Casper now has zoned support which some side-sleepers may really love.
When it comes to price, the Purple Original is the most expensive with the others basically the same (after discounts). But the Purple offers a unique body-adaptable feel that is worth the extra price, in our opinion.
Here is a quick summary of how these four mattresses compare (click a link to learn more about a mattress):
| Mattress | Rating | Price w/ discount | Our Take |
| --- | --- | --- | --- |
| Purple | 4.7 | $699-$1,898 | An incredibly comfortable - and affordable - foam mattress that adapts itself to your body like no other. |
| Ghostbed | 4.6 | - on Amazon | An affordable latex-gel mattress that sleeps cool, gives outstanding support and a nice bounce. |
| Leesa | 4.6 | $749-$1,399 | The best one-size-fits-all memory foam mattress sold online (in our opinion). |
| Casper Original Foam | 4.5 | $760.75 - $1,440.75 | The original one-size-fits-all memory foam mattress, recently updated with better support for your spine. |
Keep reading to learn how they compare in detail (5-minute read).
---
Price
None of these mattresses will set you back more than $1,000 for a Queen.
Ghostbed is a bargain – a Queen normally lists for less than $800. Check Amazon for the latest prices.
Of course, the mattress business is constantly in flux with coupons and discounts all over the place.
For example, with our exclusive SleepDelivered 10% discount applied, Leesa is about the same price as a Ghostbed.
Listed below are the latest discount prices for each mattress:
Financing Options (Subject to Approval)
Note: These financing offers are only available to customers in the United States. If you are buying from another country where the mattress company has services, check whether there are financing options available specifically for your country.
Leesa works with Affirm. Qualifying customers can pay in easy monthly installments over 6, 12 or 18 months.
Casper also works with Affirm to provide qualifying buyers with an easy payment option spanning several months at a low-interest rate.
Purple offers Affirm financing at an APR as low as 0%. You pay over 6, 12 or 18 months.
Ghostbed offers easy financing through Klarna. You pay as little as $116 per month (for the Queen size).
Coupons
Casper: Save Up To 25% Now on Casper Original
Purple: Save $800 Now
We don't have coupons for Purple or Ghostbed but check their websites for current offers and discounts.
---
Mattress Construction
There are a lot of similarities in how these four mattresses are made. To start, all four are all-foam mattresses.
Every mattress also uses three layers of foam, except for Casper which uses four.
The primary difference in the construction of these mattresses is in the type of foam used in each. 
Let's walk through each mattress, so we can see the differences.
Leesa's Construction:  three foam layers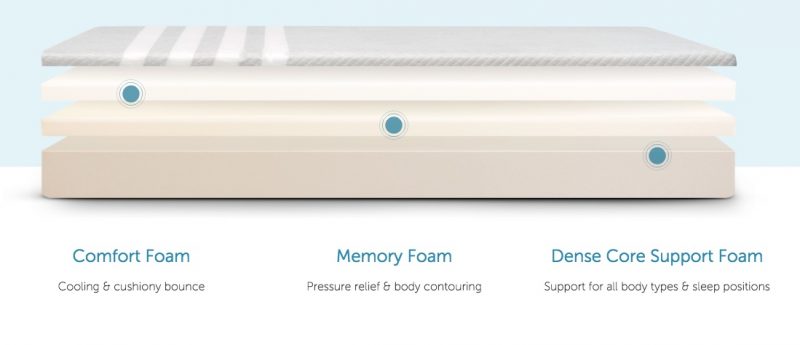 Comfort Layer: 2 inches of LSA200 foam – Leesa uses a special type of foam called LSA200. It has some of the qualities of latex foam such as cooling, support, and responsiveness. But it is more contouring and longer lasting.
Transition/Support Layer: 2 inches of memory foam – this layer allows the mattress to contour around your body when you sleep. It is important in providing pressure relief around areas like your shoulders, hips and lower back. It is especially beneficial for people with back and joint problems.
Foundation Layer: 6 inches of high-density polyfoam provides overall support to the mattress and ensures the mattress does not sag. It also provides additional compression support for heavier sleepers.
Learn more about Leesa's mattress construction.
---
Casper's Construction (Casper Original): Three foam layers

1. Airscape foam comfort layer: This layer has two primary responsibilities: support and cooling. For support, it ensures that your body, and especially the spine, is aligned naturally. For cooling, it has an open-cell structure that boosts air flow, which prevents heat and moisture buildup in the mattress.

2. Memory foam zoned support layer:  This layer provides targeted support and pressure-point relief using zones with variable firmness. The top section is softer to allow your shoulders to sink in while the middle section is firmer to support your back and hips and align your spine.

3. Polyfoam foundation layer: The high-density foundational foam provides compression and anti-sag support, ensuring the mattress lasts for years.
Learn more about Casper's original mattress construction.
---
Purple's Construction:  1 elastic-polymer layer + 2 foam layers
Comfort Layer: 2 inches of Hyper-Elastic Polymer (very unique) – This layer consists of a grid network of columns. The columns respond to body pressure either by remaining upright (along with low-pressure areas such as stomach or lower body) or collapsing (along with high-pressure areas like the shoulders). Thus, the mattress can adapt to every sleeper's unique body physique and sleeping needs.
Transition/Support Layer: 3.5 inches of transitional poly foam – provides compression support, ensuring the mattress does not sag uncomfortably.
Foundation Layer: 4 inches of poly foam – The base provides overall support and longevity to the mattress. Purple's foundation is smaller than that of other mattresses. But it compensates by having a thicker support/transitional layer.
Learn more about Purple's mattress construction.
---
Ghostbed's Construction:  three foam layers
Ghostbed is the thickest mattress, overall, at 11 inches. The thicker base layer makes the mattress more supportive and longer-lasting which is great for couples and heavier sleepers.
Not surprisingly, the Ghostbed mattress is covered by a 20-year warranty, the longest of all four mattresses.
Comfort Layer: 1.5 inches of aerated latex foam – Ghostbed is the only mattress among the four that incorporates a latex foam top layer. This gives it more bounce than the other mattresses. While latex foam is naturally cool, Ghostbed also uses an aerated type of latex foam to make it even cooler and more comfortable. If you are heat-sensitive or sweat a lot at night, I recommend Ghostbed.
Transition/Support Layer: 2 inches of memory foam – To keep the mattress plush and comfortable, a layer of pressure-relieving memory foam is added underneath that provides contouring around the sharp angles and curves of your body. Additionally, it is infused with gel to keep it cool.
Foundation Layer: 7.5 inches of poly foam – Ghostbed has the thickest foundation of all the mattresses in this comparison.
Learn more about GhostBed's mattress construction.
---
Firmness
Although all four mattresses are rated as medium-firm, their actual firmness varies slightly.
Leesa Firmness
Leesa has a firmness rating of 5 to 6, with 10 being very firm.
This means that it feels soft enough to form a nice hug around your body but still firm enough that you won't feel like you are sleeping in a swamp.
This medium-firm balance is because of the LSA200 foam and memory foam combo. LSA200 foam in the top layer is fairly firm while the memory foam in the second layer is soft and plush. This results out in a mattress that is neither too soft nor too firm.
One thing to note is that the mattress may feel a bit too firm on the first night. But by the second night, the LSA200 foam has settled, and you'll feel the softer memory foam layer underneath.
---
Casper Original Firmness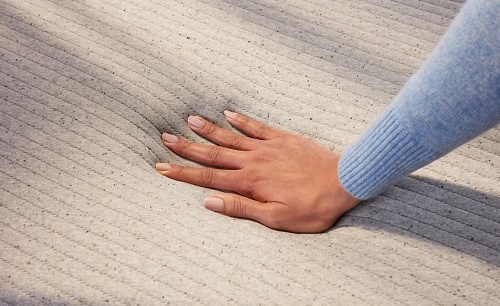 The Casper Original has about the same 5-6 firmness feel as Leesa.
In fact, many Casper and Leesa owners report almost similar comfort experiences with Casper being just slightly firmer.
As with the Leesa, the Casper mattress may feel a bit too firm on the first night or two. This is a common phenomenon with many new mattresses.
Just give it some time, and it will soften up. That's one reason online mattress sellers recommend waiting 30 days before making a return.
---
Purple Firmness
Purple is the most unique of these four mattresses.
Thanks to the Hyper-Elastic Polymer layer at the top, the mattress adapts to each sleeper's needs in a way no other mattress can. My husband and I love our Purple. It's one mattress we've kept and currently sleep on the most, in our bedroom 😉
A side sleeper or someone with a heavy physique will initially feel a softer mattress, because the poly grid columns will collapse under the higher pressure. A stomach sleeper or someone with a lighter physique may report a firmer comfort level.
Most owners say they experienced a medium firm to firm comfort range. So it's probably not for you if you prefer a soft and plush mattress that you can sink into.
For something a bit softer, choose Leesa or Casper.
---
Ghostbed Firmness
Ghostbed is also a medium-firm mattress though it's a bit on the softer side, when compared with the other three.
This is because it has a thinner top layer of latex foam. So the soft memory foam layer beneath is more noticeable.
The thicker-than-usual base layer comes in handy for heavier-bodied sleepers and couples. It ensures the top two layers don't sink in too much, causing sagging and reduced support.
If you want a medium-firm mattress but one that also feels plush and a bit luxurious, I recommend the Ghostbed mattress.
To know more, check out our in-depth Ghostbed mattress review.
---
Sleeping Experience
All four mattresses enjoy high customer ratings, with most owners saying their mattress provides a great sleeping experience.
Of course, the sleeping experience you have will vary based on which mattress you buy, your physique, your particular needs and your sleeping position.
---
Leesa Original Sleeping Experience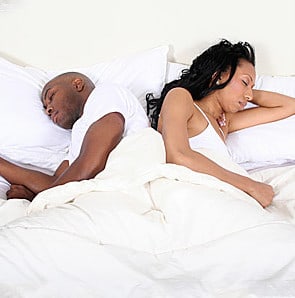 Sleeping on the Leesa mattress almost feels like sleeping on a latex foam mattress. That is to say, it feels cool and bouncy.
For couples looking for a mattress that is great for sex, I highly recommend buying a Leesa. Or a Purple, which also has a nice bounce.
Leesa has no heating issues at all and stays cool through the night.
Because of the top LSA200 foam layer, it also experiences very little motion transfer, another big plus for couples.
While it's certainly not a luxury mattress, Leesa is very comfortable to sleep on.
The one improvement we would like to see is better edge support. There is no dedicated edge support system.
Read Leesa customer reviews to see what they think.
---
Casper Original Sleeping Experience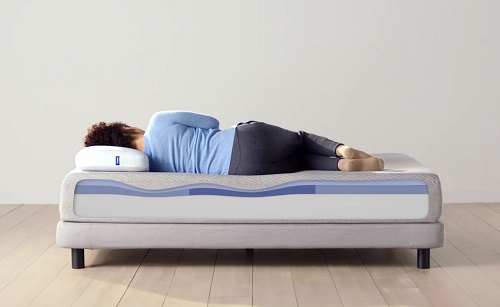 Casper's (original mattress) sleeping experience is closest to that of Leesa. They both have almost the same firmness level and have a similar weakness of weak edge support.
As I mentioned, both Casper and Leesa may feel a bit firm in the first couple of nights, but they soften up quickly.
Thanks to the open-cell poly foam on top, Casper stays cool and fresh although I'd say Leesa is cooler.
So if you are particularly sensitive to a hot mattress, I recommend Leesa.
Casper also has minimal motion transfer and is responsive (bouncy) though not as much as Leesa.
Read Casper customer reviews to see what they think.
---
Purple Original Sleeping Experience
A lot of owners praise Purple's ability to 'know' exactly what firmness they need to sleep comfortably.
This is due to the mattress' top polymer layer, which can adapt to your body like no other mattress does.
It feels soft and plush where necessary and firm and supportive where you need it to be.
The grid elastomer columns that create this adaptive comfort also help reduce motion transfer and maintain airflow, which keeps the mattress cool and fresh.
The top elastic polymer layer feels just as bouncy as latex foam, if not more.
Because of its adaptive sleeping experience, I highly recommend Purple for couples with varying comfort preferences (like me & my husband). The mattress responds to each person's comfort needs differently. It's also cheaper than buying a custom split mattress.
I also recommend it for those with back problems.
Read Purple customer reviews to see what they think.
---
Ghostbed's Sleeping Experience
In my opinion, Ghostbed is the softest of the four.
The combination of latex and memory foam creates a plush yet supportive sleeping surface.
The top layer is made from aerated latex foam, so it feels cool throughout. The gel-infused memory foam layer underneath further enhances the cool sleeping experience.
Being a medium firm mattress, Ghostbed is ideal for most people.
It's especially good for couples and users with a heavier body weight. This is because the mattress is thicker than the others, which allows it to take on more weight without collapsing.
Read Ghostbed customer reviews on Amazon.com.
---
Warranty and Returns
All mattresses, except for the Ghostbed, come with a 10-year warranty. Ghostbed's warranty is 20 years.
Make sure you read the full mattress warranty statement on each company's website before you make a purchase.
All four companies provide generous return policies of at least 100 days.
One thing to note is that the return period is only applicable if you buy on the official website. Some retailers like Amazon offer a shorter return period, usually 30 days.
Leesa
Leesa gives customers 100 days to try out the mattress. But they recommend you sleep on it for at least 30 nights before you decide to return it.
If you still don't like it, they will arrange a free pickup from your home. The mattress is not returned to their warehouses. It's either recycled or donated to a charity. You get a full refund.
If you decide to keep the mattress, it will be covered by a 10-year non-prorated warranty. By non-prorated it means that Leesa will cover all costs associated with repairing or replacing the mattress should either be necessary during the entire warranty period.
Read Leesa's Warranty and Return policies.
---
Casper
Casper also has a 100-day try-out period with a recommendation to sleep on the mattress for at least 30 nights to allow your body to get used to it.
If you would still like to return it after the initial 30-day period, they offer free pickups and full refunds.
Should you keep it, the mattress will be covered by a 10-year non-prorated warranty starting from the date the mattress was delivered.
Read Casper's Warranty and Return policies.
---
Purple
Purple has a similar 100-day trial period for its mattress. To make a return within this period, just contact customer support and they will arrange a pickup from your home at no cost to you. The mattress will be recycled or donated to charity depending on your location.
Purple's warranty runs for ten years, and it is non-prorated. The only costs you will be liable for should you ever make a claim are for transport and handling. Otherwise, Purple is entirely responsible for repairing or replacing the mattress.
Note that the mattress cover has its own separate 2-year warranty coverage.
Read Purple's Warranty and Return policies.
---
Ghostbed
Ghostbed stands out with its lengthy 20-year warranty. This is an indication of its sturdy construction and durability.
Ghostbed's warranty is non-prorated in the first ten years and prorated in the final ten years. In the first half of the warranty, you only pay handling and transport costs if you want your mattress repaired or replaced.
In the final half, you'll pay a percentage of the original price of the mattress to get a new replacement. The amount of money you pay to get a new mattress will depend on how long you've had it. The longer you've had the mattress, the more money you'll pay.
Read Ghostbed's Warranty and Return policies.
---
Shipping and Delivery Options
All four online mattress companies offer friendly and convenient shipping to your address. The mattresses come tightly compressed into a compact box or bag.
Most of these mattresses are manufactured on order, meaning you won't get it just a couple of days after ordering. The average delivery time is 4-10 days.
Leesa Shipping & Delivery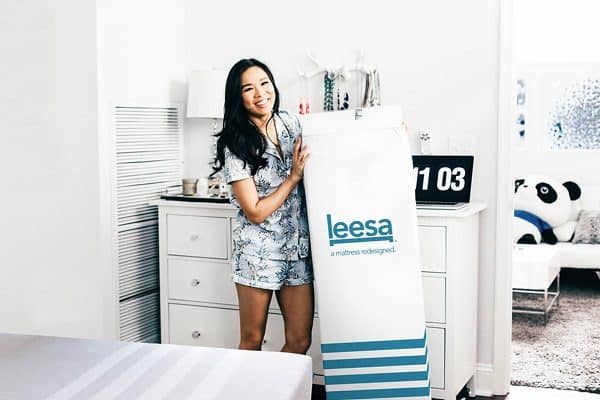 Leesa ships to all 50 states. They do not charge for shipping, not even for customers in Alaska and Hawaii.
You have to allow some time for your mattress to be manufactured after you order. It takes between 4 and ten days for Leesa to prepare your order and send the mattress to your home. They will give you a tracking number when they ship the mattress.
Leesa offers in-home setup and old mattress removal (white glove delivery) for a fee of $150. But if you don't want to pay extra, you can set up the mattress yourself. Two people should have no trouble carrying the box inside and rolling out the mattress.
Casper Shipping & Delivery
Casper ships to all 50 states but only the 48 contiguous states get free shipping. As with Leesa, each mattress is made on order, so delivery takes longer than usual (2-7 days).
The mattress will be delivered via UPS to your door. Casper offers white glove delivery for a small fee. But you can set up the mattress yourself if you want.
Purple Shipping & Delivery
Purple and Ghostbed are the only ones that charge for shipping to Alaska and Hawaii. Purple offers free shipping only to the 48 states in the continental US. For customers in the other two states (and Canada), the shipping fee will be calculated at checkout.
Purple does not offer any special delivery services. So you might want to have a friend or family member nearby to give you a hand in setting up the mattress.
Ghostbed Shipping & Delivery
Ghostbed charges as much as $600 for shipping to Alaska and Hawaii.
If you are from either of those states, you are better off buying Casper or Leesa. Shipping is free to all other states in the continental US.
As with all other companies, Ghostbed has no special delivery services. They will only deliver to your door and then it's up to you to get it inside and unroll it.
---
Leesa is the Best Mattress For You If…
You want a bouncy, cool mattress that is very comfortable and pressure-relieving.
The Leesa mattress uses LSA200 foam and memory foam to provide a comfortable, supportive, responsive and cool sleeping experience. It's one of our favorite budget foam mattresses sold online.
It's also a great option for those who love the feeling of a latex foam mattress but would prefer not to sleep on latex foam.
---
Casper is the Best Mattress For You If…
You are a side sleeper.
The zoned memory foam layer makes Casper a more comfortable choice for side sleepers.
---
Purple is the Best Mattress For You If…
You have a back problem or otherwise need a mattress that provides excellent pressure relief and back support.
Purple is also a great choice for couples, especially if they have different comfort preferences or if one is much heavier than the other.
Purple uses a special type of foam design to provide contouring and pressure relief at a much lower price compared to premium orthopedic mattresses.
---
Ghostbed Is The Best Mattress .For You If…
You want to spend the least and don't mind a slightly softer mattress.
You'll still get a thick, high-quality foam mattress that is comfortable, cool and supportive.
More Purple Mattress Comparisons:
More Casper Mattress Comparisons:
More Leesa Mattress Comparisons:
More Ghostbed Mattress Comparisons:
+
---
Affiliate Disclosure
Affiliate Disclosure: I may earn a small commission (at no cost to you) if you purchase a mattress after clicking a referral link or using a coupon code on this site. That said, all content and opinions on this site are my own and are NOT affected by these payments.
This site participates in the Amazon Services LLC Associates Program, an affiliate advertising program designed to provide a means for sites to earn advertising fees by advertising and linking to Amazon.com.
*Amazon and the Amazon logo are trademarks of Amazon.com, Inc, or its affiliates.
---