NOTE: We earn from qualifying purchases made via Amazon Associates and other affiliate programs. Learn more.
---
Modern homes are designed with the latest trends. 
Today that means clean lines, soft furnishings, earthy colors, decorative pillows, and minimal clutter.
The main focus of a modern room is to provide a welcoming, clean, and warm feel.
Given that modern beds are often stark and simple in design, pillows are the perfect way to add a warm and welcoming touch to any modern sleeping quarter.
There are many options to select from the modern style palette, from simple and plain to elaborately detailed prints.
Listed below are a few new modern pillow ideas that would improve any modern bedroom or living space.
1. Spacious Room With Lots Of Pillows
A large room with several pillows in different patterns over a king-size bed.
Note that the color combination of bedding and pillows in light blue and white and black stripes and a dark blue coverlet are going well with one another.
2. Multi-Color Printed Pillows
Add these beautifully designed multi-color pillows on your bed or couch to enhance the aesthetics of your room!
3. Pillows In Different Fabrics
Pillows in different fabrics and designs with contrasting features always look elegant in a modern room.
4. A Perfect Rest Room
A style room interior with a futon couch with one plain and one graphic pillow over it!
A beautiful palm is sitting on the bench against a brick wall in a white finish and a rug on the floor.
5. White Room With Multi-Color Pillows
Try adding different color pillows on a white sofa in a white interior.
6. A Festive Design Idea
Create a cozy and appealing space this festive season with modern pillows in different patterns and colors.
Consider adding lights surrounding them to create a warm and inviting vibe.
7. Knitted & Woven Pillows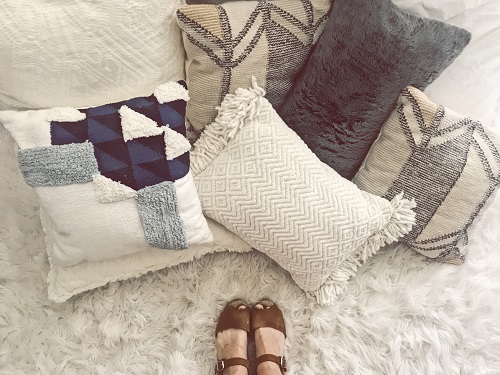 Woven pillows add a great style statement as well as coziness to any space.
8. Native Texture
Adding a bit of hand-sown culture adds age and interest to an otherwise super-clean modern setting.
9. Woven Design Lumber Pillow 
Give a modern touch to your bedroom or living room by adding this woven lumbar pillow on your plain bedding or couch.
10. Old + New + Rustic
Mix-and-match traditional check patterns with rustic, worn pieces to make a modern bedroom inviting and warm.
Next time you shop for a modern pillow, think beyond simple geometric prints and look for fur, quilts, bold colors, and elaborately decorative prints.
Whether you add pillows to your bed or sofa, any of the picks above will enhance your modern bedroom.
---
Affiliate Disclosure
Affiliate Disclosure: I may earn a small commission (at no cost to you) if you purchase a mattress after clicking a referral link or using a coupon code on this site. That said, all content and opinions on this site are my own and are NOT affected by these payments.
This site participates in the Amazon Services LLC Associates Program, an affiliate advertising program designed to provide a means for sites to earn advertising fees by advertising and linking to Amazon.com.
*Amazon and the Amazon logo are trademarks of Amazon.com, Inc, or its affiliates.
---